13 essential tools to create, record, and sell your online course
A complete list of the tools you need to start creating and selling your online course, including real user reviews.
May 25, 2018 by Len Markidan
---
There's never been a better time to teach other people how to do the things you love. 
People from all walks of life are turning to online courses as a way to learn new skills and demand for online courses has never been higher. 
For content creators, this is an incredible opportunity. 
However -- once you've decided that online courses are for you and you've already found the right software to sell online courses -- with so many content creation tools on the market, it can be daunting to try to figure out which tools you should learn and which ones to avoid.
That's why we've put together this comprehensive guide to the essential tools you need to create and sell online courses. We'll be taking a look at a range of tools across every stage of the content creation process, from recording raw video to editing your clips together in post-production. 
First up, let's talk video!
Video recording tools for online course creators
When it comes to learning a new skill, there's no substitute for being shown how to do something. 
Written materials definitely have their place in online courses, but video courses are still the gold standard. To that end, we're starting our journey into the world of content creation tools by focusing on video recording.
APowerSoft Free Online Screen Recorder (Cost: Free)
First up in our list of video recording tools is APowerSoft's Free Online Screen Recorder. Don't be fooled by the tool's utilitarian name - Free Online Screen Recorder is a remarkably capable software tool.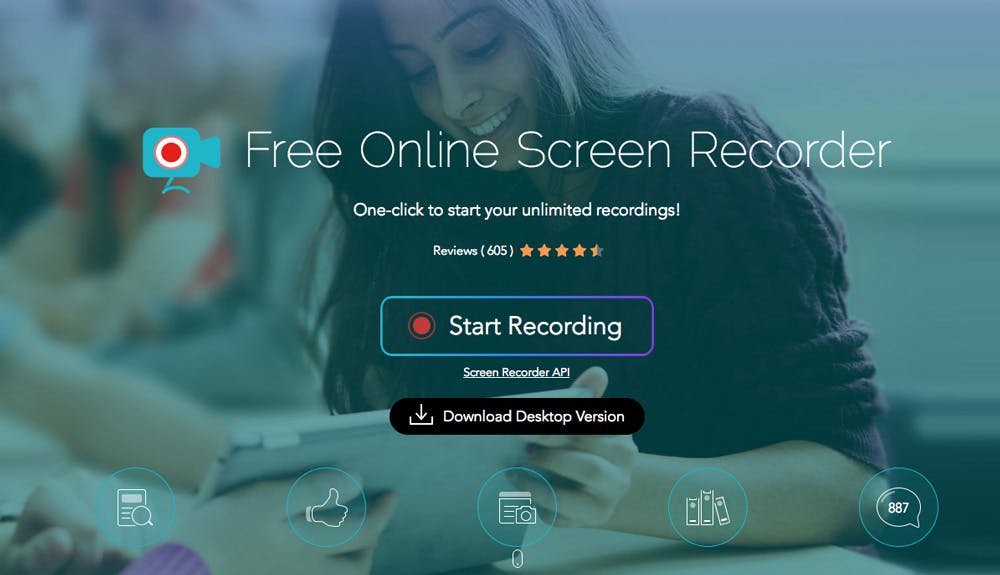 Free Online Screen Recorder comes in two flavors: the free version, which is a web-based application, and a downloadable desktop version, which requires a monthly subscription.
It doesn't get much simpler than Free Online Screen Recorder. 
To get started, simply install the Launcher, then click "Start Recording" on the Free Online Screen Recorder homepage. 
You'll see a resizable box that controls how much of your screen you want to record, which you can stretch, drag, resize, and move to suit your needs. Recording options are accessible via the gear icon in the lower-right corner of the window, where you can change the output format of your video, the video and audio quality settings, and more. 
Pros and cons of APowerSoft Free Online Screen Recorder
APowerSoft Free Online Screen Recorder is a powerful tool that out-performs even some paid desktop software applications. Here's what's great about it:
Very easy to set up and use

No time limits for video recordings

No watermarks on video recordings

Annotation feature is perfect for video tutorial content

Skype and GoToMeeting integration

Easy-to-upload videos to Dropbox and Google Drive
Of course, no software tool is perfect, and APowerSoft's Free Online Screen Recorder is no exception. Here's where the tool falls a little short:
Necessary to install Launcher tool, even if only using the free version

Unable to record footage of full-screen applications (such as video games) unless in Windowed mode
With an average user rating of four out of five stars at CNET, Apowersoft's Free Online Screen Recorder is a great starting point for course creators just getting into recording video.
Ezvid (Cost: Free)
Our next video recording tool is Ezvid, a recording program with some very cool tools and functionality.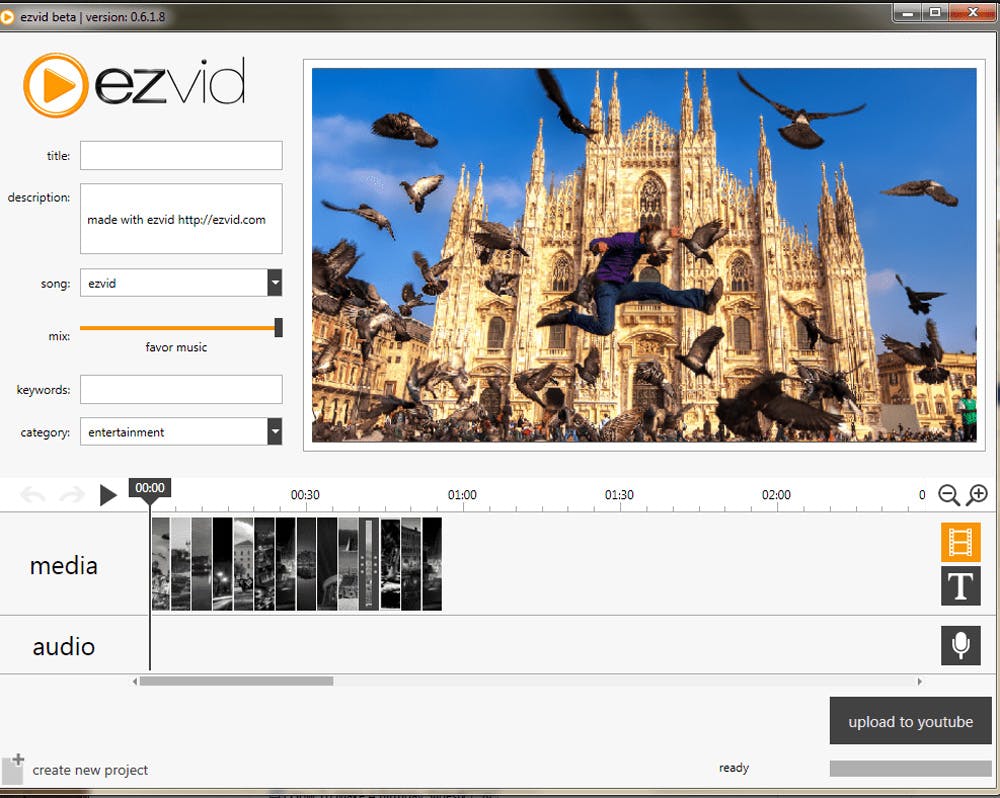 Ezvid does everything you'd expect a free video recording tool to do. It can record high-resolution video footage from any input source including software applications and games, chat windows and VoIP programs, and your computer's webcam. 
In addition to its core functionality, Ezvid offers a range of tools that similar programs do not. 
Ezvid features a voice synthesis tool that allows you to create an artificial audio track for your video's narration or dialogue - perfect if you're not comfortable using your own voice for your video. 
Ezvid also boasts a range of video editing tools, such as video playback speed controls that you can use to speed up or slow down specific sections of your recordings. 
Pros and cons of Ezvid
Ezvid is a powerful software tool with some great features. Here's what we loved about Ezvid:
Powerful video editing tools that other free video recorders cannot offer

Optimized for multi-threaded CPUs and high-end video cards, offering superior performance

Built-in YouTube uploading tool

Advanced functionality, including high-definition output, autosave feature, speech synthesis, and speed controls
Of course, Ezvid doesn't get everything right. What could Ezvid do better?
Only available for Windows

Time limit of 45 minutes per video
Ezvid is one of the best free video recording tools out there. Combining advanced tools with an easy-to-use interface, Ezvid is a great choice for content creators who want to create and sell online courses.
Ezvid has a rating of three stars out of five at TechRadar, with the tool's inability to save video files locally hurting Ezvid's overall grade. However, if you're willing to work around Ezvid's few limitations, it's a great little video recording tool that's definitely worth a look. 
FlashBack Express (Cost: Free)
Next up in our round-up of video recording tools for course creators is FlashBack Express by Blueberry Software.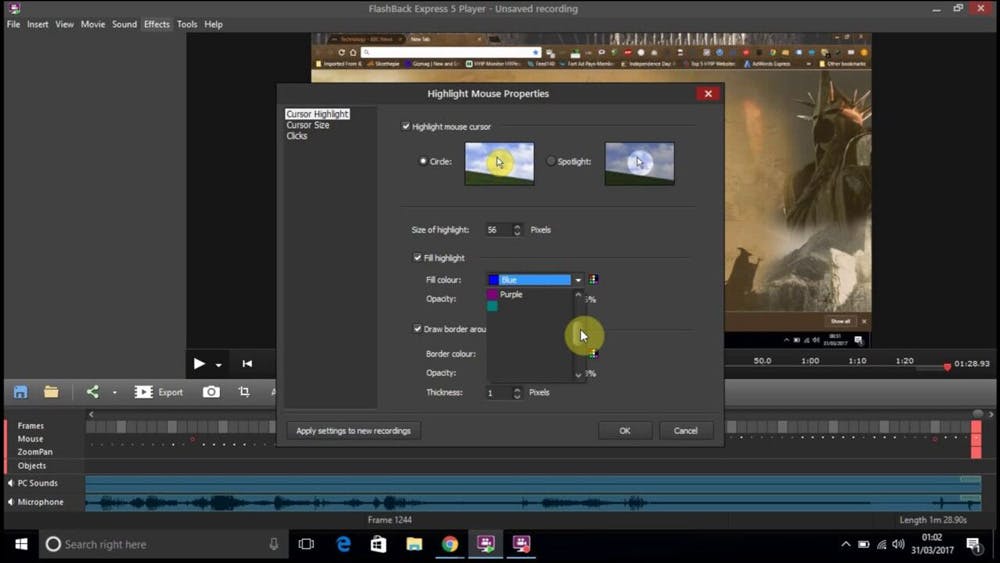 Similarly to other tools in our round-up, FlashBack is available as a free version (FlashBack Express) and a paid version, FlashBack Pro. The pro version has some very handy features, but the free version is also very powerful for a completely free tool.
One of the main advantages of FlashBack Express is that it's so intuitive to use. You can record your entire screen or just a portion of it, add notes to your recordings, and even schedule when FlashBack should begin recording.
Pros and cons of FlashBack Express
FlashBack Express is a very capable video recording tool that's ideal for content creators. What does it do well?
Intuitive user interface and recording / playback controls

Record video from multiple monitors

Notes functionality allows easy annotation of video footage

Scheduling feature

Record audio commentary from various audio inputs including headsets

No watermarks or time restrictions on video recordings
Now we've covered what FlashBack does well, let's look at where it could use some improvements.
Only available for Windows

Software download required

Videos cannot be saved locally
FlashBack Express was awarded an Editor's Rating of four stars out of five and a rating of "Excellent" by the editors of CNET, making this tool a solid, reliable video recording tool for all course creators.
Video editing tools for online course creators
Now that we've covered some tools to help you record your video assets for your online course, it's time to look at several of the most popular video editing tools out there. 
HitFilm Express (Cost: Free)
It's hard to believe that HitFilm Express is free. Boasting tools and functionality that rival those of even professional editing and post-production suites, HitFilm Express is one of the most diverse editing tools available.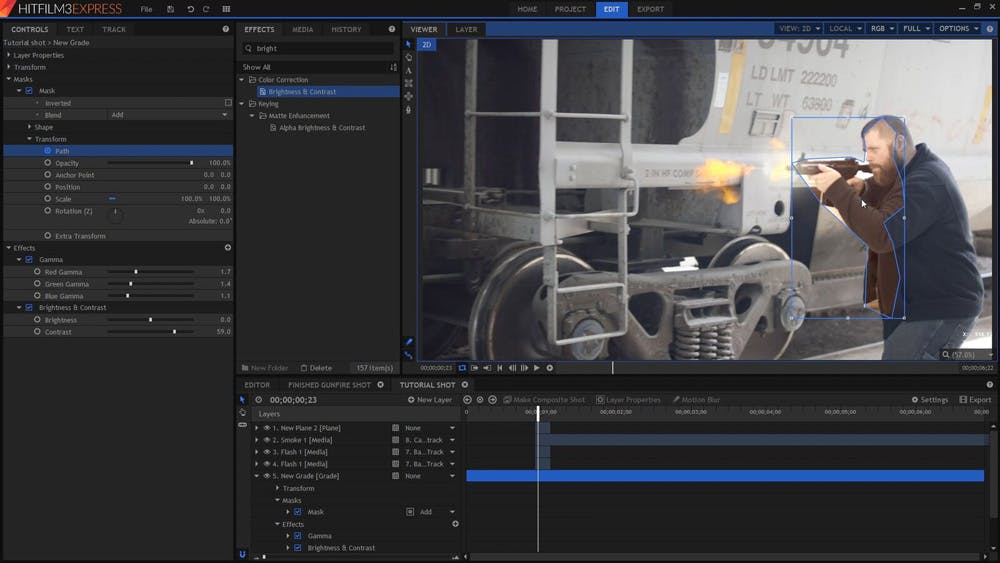 HitFilm Express isn't just a nonlinear editing suite. It's a fully featured post-production and compositing tool that allows you to create rich, visually stunning sequences with visual effects, transitions, titles, and more. The tool supports a wide range of industry-standard production techniques, including chromakey (green-screen), color grading, and visual effects compositing, making it far more than just a mere editing program.
Pros and cons of HitFilm Express
HitFilm Express is a seriously impressive post-production tool. Here's what we love about it:
Fully featured editing and post-production suite that can compete with professional editing suites

Advanced functionality such as chromakey support, compositing tools, color grading, visual effects, and more

Unlimited visual / audio tracks and robust nonlinear editing workflow

Outstanding learning resources and project-based tutorials (with support files)

Active, engaged community of filmmakers
It's hard to find fault with HitFilm Express - but it's not impossible. There isn't much we don't like about HitFilm Express, but here's what the tool could do better:
Steeper learning curve than some editing programs

Limited export / output options

Relatively high minimum system requirements

Irritating download process that requires you to share a link on social media to download the program
Overall, HitFilm Express is one of the best post-production tools out there. Its robust range of tools rivals even professional editing suites, but its steeper learning curve may be a little off-putting to newcomers to video editing. HitFilm Express received a rating of 4.5 stars out of 5 at TechRadar, so if you're willing to get past its slightly clunky interface, there's a lot to like.
Lightworks (Cost: Free)
Next up in our list of video editing tools for online course creators is Lightworks by EditShare.
Lightworks' core strength is its intuitive user interface. Although Lightworks features some of the fancier bells and whistles of professional editing suites, its simplicity and ease of use are what makes it such a great video editing tool.
In addition to its streamlined UI, Lightworks has a range of other features that make it a serious contender, such as low-resolution proxy workflows for working with 4k video; support for native high-definition export up to 4k; and support for YouTube and Vimeo. Lightworks also comes with a library of royalty-free audio and video content, which can enhance even the most basic videos.
Pros and cons of Lightworks
Lightworks is a very capable video editing tool. Here's what we really like about it:
Very intuitive user interface makes Lightworks a solid choice for beginners

Support for 4k workflows / export

YouTube / Vimeo integration

Library of royalty-free audio / visual assets and a wide selection of effects / transition presets

Robust library of video tutorials and learning resources

Available for Windows, MacOS, and Linux
So, now that we've talked about what Lightworks does well, let's look at where it could improve:
Export options limited to 720p resolution

Free version only outputs either MPEG4 or H264 format
Professional video editors may find the free version of Lightworks' export options to be too restrictive, but for most online course creators, it's a reliable video editing suite that's definitely worthy of consideration. Lightworks received a user rating of 3.2 stars out of 5 at G2 Crowd, making it a solid choice for a range of editing projects.
OpenShot (Cost: Free)
Few video techniques can convey complex concepts more effectively than animation, and if you're planning to use animated elements in your online course, OpenShot could be worth your time.
The tool features keyframe editing functionality, allowing you to create incredibly precise animated elements, from motion titles to sophisticated transitions. OpenShot also supports native rendering of 3D elements such as particle systems like snow; camera and lens effects like flares and distortion; and animated text elements for dynamic title sequences.
Pros and cons of OpenShot
OpenShot is a great editing suite. What did we like most about it?
Simple, intuitive UI lets you get to work right away

Solid range of visual effects / transition presets

Strong animation tools including keyframe and curve controls, particle effects, dynamic 3D text elements, and Blender3D integration

Open-source, distribution-agnostic Linux platform

Unlimited visual and audio tracks for complex editing tasks, advanced titling, and more
OpenShot doesn't have many drawbacks, but it does have some. Here's what OpenShot could do better:
Can hang / freeze when working with very large video files or complex projects

Some advanced options and functionality is hidden behind Properties settings
For its few flaws, OpenShot is a solid video editing tool with some very handy functionality. It's also one of the most highly awarded tools in this guide, having won the following awards:
Best Linux Video Editor, 

WebUpd8

, 2010

Most Revolutionary Program, PortalProgramas, 2011

Best Linux Application, TechRadar, 2011

The Best Free Software, 

Zwodnik

, 2013
OpenShot also received a rating of 4.5 stars out of 5 by Capterra users and 4 out of 5 stars by users of SourceForge, making OpenShot one of the most critically acclaimed free video editing tools out there and a solid choice for all online course creators.
Upgrade pick: All-in-one screen recording and editing software for course creators
If you want a more premium tool that handles both recording and video editing well — and you're willing to pay for it — then there's another option that you should consider.
ScreenFlow (Cost: $129 with a free trial)
For those of you who don't mind paying for Mac screen recording software, ScreenFlow might be a great option for you.
With ScreenFlow, you can do anything you can think of in terms of a mac screen recorder and video editor. For example, you can record specific parts of the screen through cropping, zooming in and out of footage, adding annotations, callouts, and more. It's got all the bells and whistles you'd expect from a $129 app.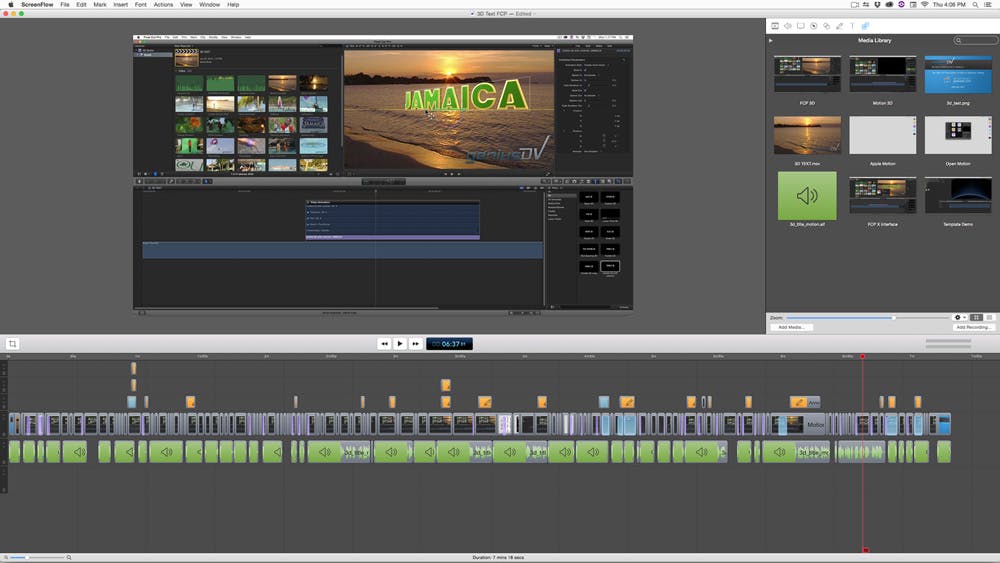 Pros and cons of ScreenFlow
ScreenFlow has lots of great features, which you'd expect for a premium product. What are the best parts?
It's incredibly easy to use

It's far more stable than many of the free tools

The audio capture is best-in-class

ScreenFlow offers full-screen 2880x1800 resolution recording, which none of the free tools have

Integrations make it easy to publish videos directly to YouTube, Google Drive, Dropbox and Facebook

Fast customer support via phone and email
If you're considering ScreenFlow, it's also important to know about a couple of cons:
Only available for Mac

While you're on a free trial, every video you export will be watermarked until you pay

If you want "premium" support, you need to purchase a more expensive package ($209)
The 10-Step Product Bootcamp
Your next successful project starts now. Learn everything you need to know to create AND launch your next digital product in 10 steps.
Get access
Document editing tools for course creators
Now that we've looked at some of the best free video recording and editing apps available, it's time to turn our attention to document editing software.
Many of the best online courses blend video instruction with text-based lessons and supporting documentation. No two people learn in precisely the same way, and some course content is better suited to text-based lessons than video. That's why we recommend including some written resources as part of your online course. Let's take a look at some free tools that can help you assemble your course's supporting content.
Canva (Cost: Free and premium plans)
The first document editing tool we'll be looking at is Canva - although calling Canva a "document editing tool" isn't really fair to this remarkably diverse tool.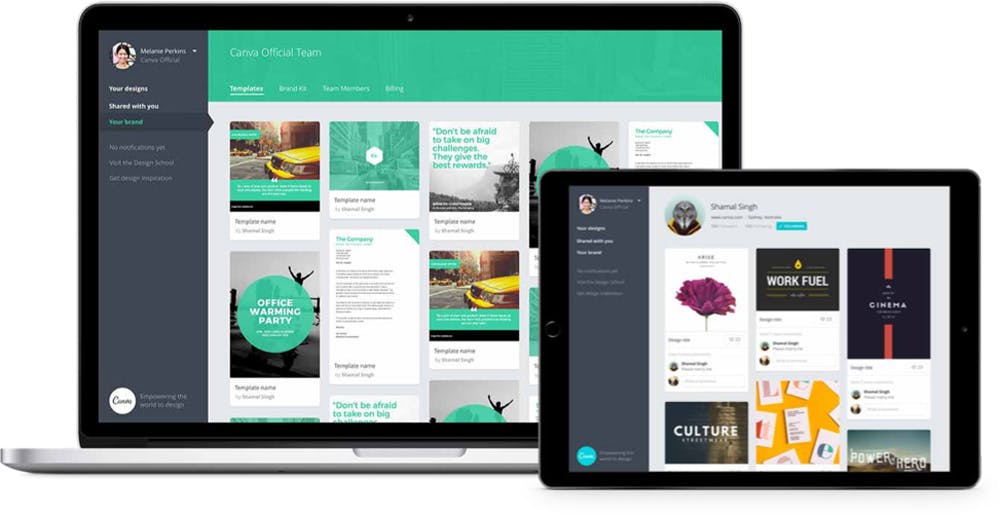 Canva allows you to create a wide range of documents, from banners and business cards to postcards and presentations. One of Canva's strengths is its primarily visual, drag-and-drop interface. Canva offers a broad selection of typefaces, visual assets, and presets to help you create stunning visual documents in mere minutes. You can also upload your own visual assets such as logos, images, and even patterns to create a strong, cohesive brand across your online course content.
Pros and cons of Canva
Lots of people love Canva, and with good reason. Here's what we love about it:
A huge selection of document presets and templates, including templates similar programs overlook such as event schedules, calendars, and mood boards

An effortless, highly intuitive drag-and-drop interface that lets you focus on creating, not learning specific tools

A broad selection of visual assets including on-trend typefaces and stylish imagery

Bespoke pricing for nonprofits, students, and educators
Of course, Canva doesn't get everything right. Here's where Canva misses the mark:
Monthly plan costs $12.95 per month (if billed monthly - $9.95 per month if billed annually)

Some stock imagery options unavailable on free plan

Lacks PDF editing support
Generally speaking, Canva is a strong document editing solution with an effortless user interface that emphasizes creation rather than forcing users to learn proprietary tools. With a rating of 4.5 stars out of 5 at PC World, Canva is a reliable little workhorse that lets you create beautiful documents to accompany your online courses.
Inkscape (Cost: Free)
Inkscape is a curious tool. It's primarily a vector graphics editor, putting it in the same category as products such as Adobe Illustrator and CorelDRAW. However, what's really interesting about Inkscape is that it allows you to combine vector artwork with text-based assets to create engaging supporting documentation for your online courses.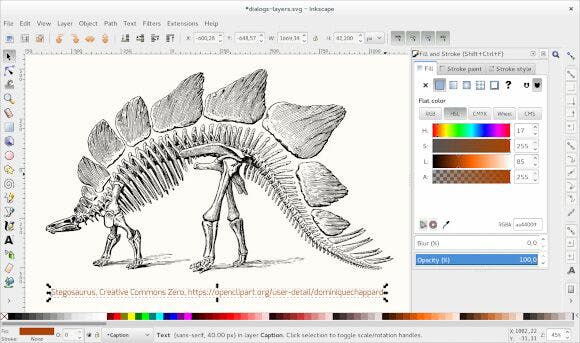 Inkscape is unique in that, in some ways, it's closer to desktop publishing programs such as Adobe InDesign or QuarkXpress. Inkscape offers a great deal of control over text-based content while providing a range of tools to control visual assets and page layouts.
Pros and cons of Inkscape
Inkscape is a great little vector editor with some solid text editing functionality. Here's what we really liked about Inkscape:
Solid vector editing tool with strong text editing functionality

Offers great degree of control over each element, including individual pen strokes, shapes, and paths

Command-line operations for advanced users

Can export to PDF

Open-source, GPL license
Inkscape does fall a little short in some areas. Here's what we found a little lacking:
User interface is not as intuitive as some other document editing tools

Smart objects (layers, editable shapes, etc.) do not always export to other programs properly

No print CMYK compatibility
Overall, Inkscape is a remarkably capable document editing tool with excellent vector editing functionality and a broad set of text editing tools. Inkscape has a user rating of 4.3 stars out of 5 on G2 Crowd, making Inkscape a popular, reliable document editing tool for content creators.
FormSwift PDF Editor (Cost: Free)
As its name suggests, FormSwift is a PDF editing tool - no more, no less. Rather than trying to cram in a bunch of largely useless bells and whistles, FormSwift focuses on doing one thing really well, which is creating and editing PDF documents.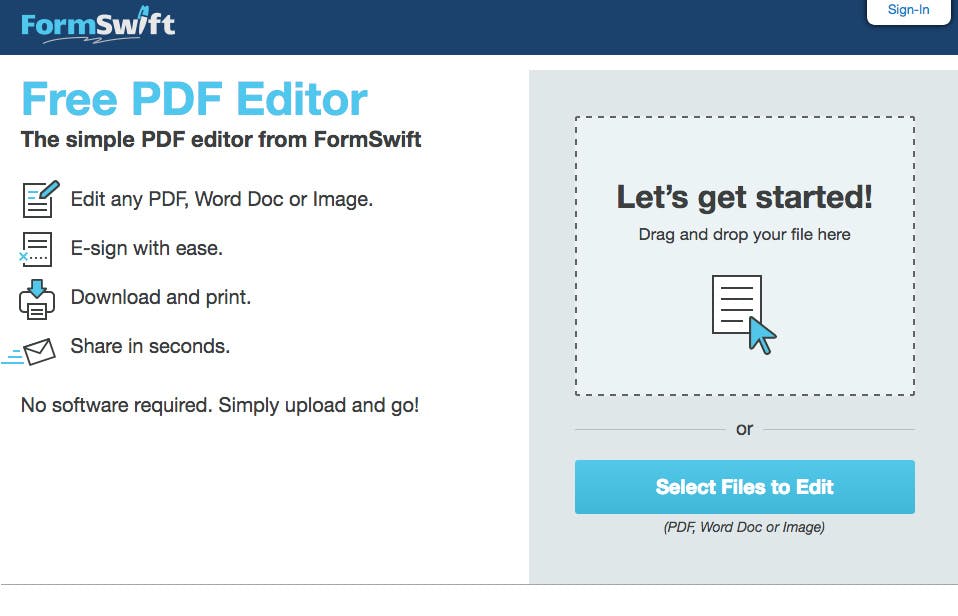 Actually using FormSwift is as simple as dragging an image, text document, or existing PDF into the FormSwift UI. Best of all, there are no downloads or installation requirements, as FormSwift is an entirely web-based app.
Pros and cons of FormSwift
FormSwift is a refreshingly lightweight application that doesn't try to do too much. Here's what we really liked about it:
No download or installation required

Very fast document conversion from image / text document to PDF

E-sign capabilities

Redaction tool

Paper-to-PDF conversion tool for mobile devices

Effortless drag-and-drop interface
The beauty of FormSwift is that it doesn't try to reinvent the wheel. As such, there's only one thing we didn't like about FormSwift - and it's a pretty minor quibble:
Account registration required to save/share documents
FormSwift is ideal for creating and editing PDFs. It's that simple!
Project management tools for course creators
We've produced and recorded our raw video footage, cut it together and added some visual pizzazz with video editing software, and compiled our supplementary lesson resources with document editing tools. All we need to do now is bring everything together with project management tools.
MeisterTask (Cost: Free)
The kanban style of project management, which was pioneered at a Toyota manufacturing plant in Japan during the 1980s, has become incredibly popular in recent years. Our next tool, MeisterTask, is a kanban-style project management app.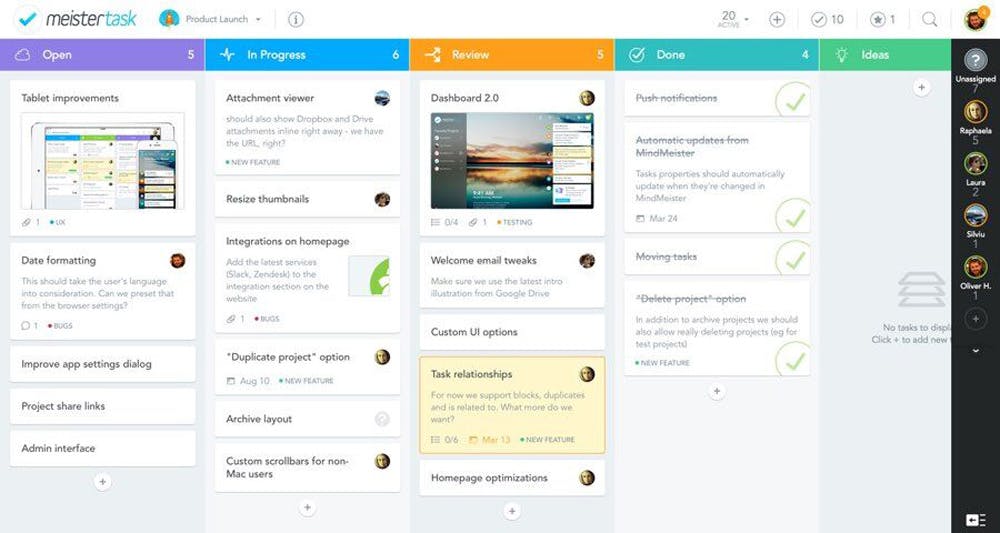 Although ostensibly designed for teams, individuals can get a lot of mileage out of MeisterTask. The tool allows you to create custom kanban-style workflows that break projects down into individual stages. Team members or project owners can then assign others or themselves to certain stages of a particular task, allowing you to see at-a-glance where you are in the wider project workflow. Unlike many other kanban board apps, MeisterTask offers users an individualized dashboard from which users can see and plan their day's activities depending on their current project. MeisterTask also features built-in chat functionality, eliminating the need to rely upon another chat service like Slack.
Pros and cons of MeisterTask
There's a lot to like about MeisterTask. Here's what we really enjoyed about this tool:
Simple, intuitive user interface that makes project management straightforward, even for relatively complex projects

Wide range of third-party integrations including Dropbox, GitHub, Google Drive, and Slack

Easy file sharing between users and built-in instant message chat functionality

Relationship management tools allow users to assign specific team members to particular stages of projects

Cross-platform, multi-device sync feature allows you to work on multiple projects from multiple devices seamlessly
So, now that we've identified what we liked about MeisterTask, what could it do better?
Many of MeisterTask's functions and features are team-oriented, making them of little use to solopreneurs or individual content creators

Not a great deal to differentiate the tool from similar tools on the market
MeisterTask is a solid choice for a project management tool. With a user rating of 4.5 stars out of 5 at Capterra and 4.5 stars out of 5 at G2 Crowd, it's also one of the most popular and widely trusted tools of its kind.
Asana (Cost: Free)
Asana is a popular project management tool used by companies including Airbnb, GE, NASA, Spotify, and Uber, to name a few.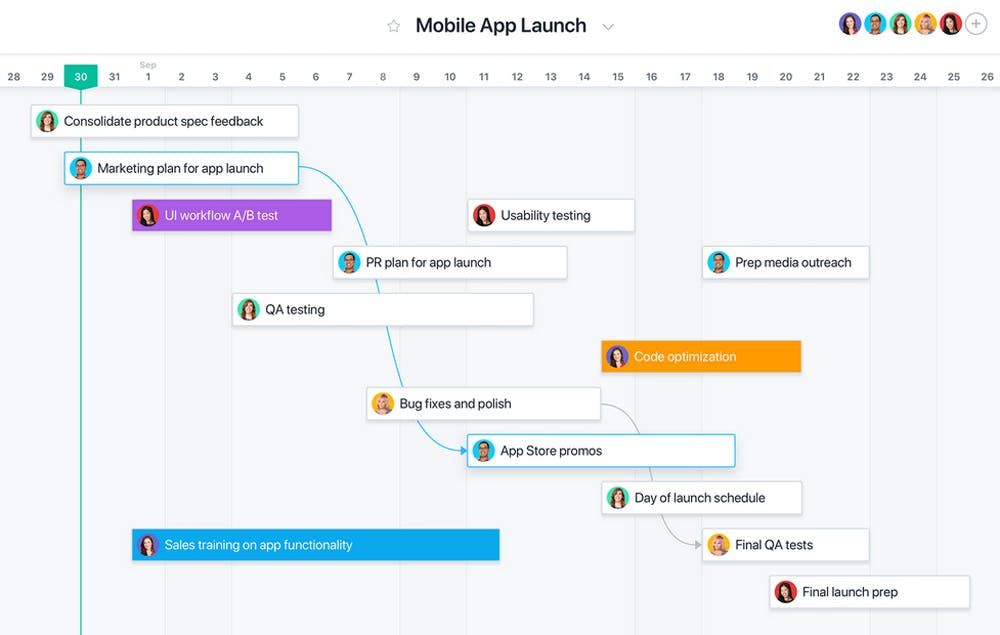 One of Asana's greatest strengths is that it can be configured to manage a range of different project types. This flexibility makes Asana a great choice for content creators, as the goals, timelines, and objectives of each project can be easily customized and configured to meet your needs, no matter how simple or complex your project may be.
Asana also keeps assigned tasks and conversations about those tasks in the same place, which is really handy if you're working on complex projects or collaborating with several other people.
Pros and cons of Asana
Asana is a powerful and flexible project management tool. Here's what we really like about it:
Easily configurable to accommodate a range of project types

Support for Gantt charts/multi-user progress tracking

Attach files to project stages or individual contributors to keep project documentation organized

Integrations with Box, Dropbox, Google Drive, and OneDrive for easy file sharing/management
Of course, Asana isn't perfect. Here's what we didn't like as much:
Search function can be clunky

Completing tasks can archive associated messages, which can make finding them later difficult

Documentation / tutorials is a little lacking
Despite its few flaws, Asana is a robust and flexible project management tool that can handle everything online course creators need to keep up with their content workflows. Asana received a rating of Excellent and an Editor's Choice award from PCMag.com, as well as a user rating of 4.3 out of 5 stars at G2 Crowd, making Asana one of the most popular and trusted project management tools on the market.
Trello (Cost: Free)
Trello is arguably the best-known project management tool out there.
Like some of our other project management tools, Trello is a kanban-style tool, meaning that projects are broken down into various stages, through which"cards"can be moved from one phase of the project to another to provide a visual representation of where you are in a project.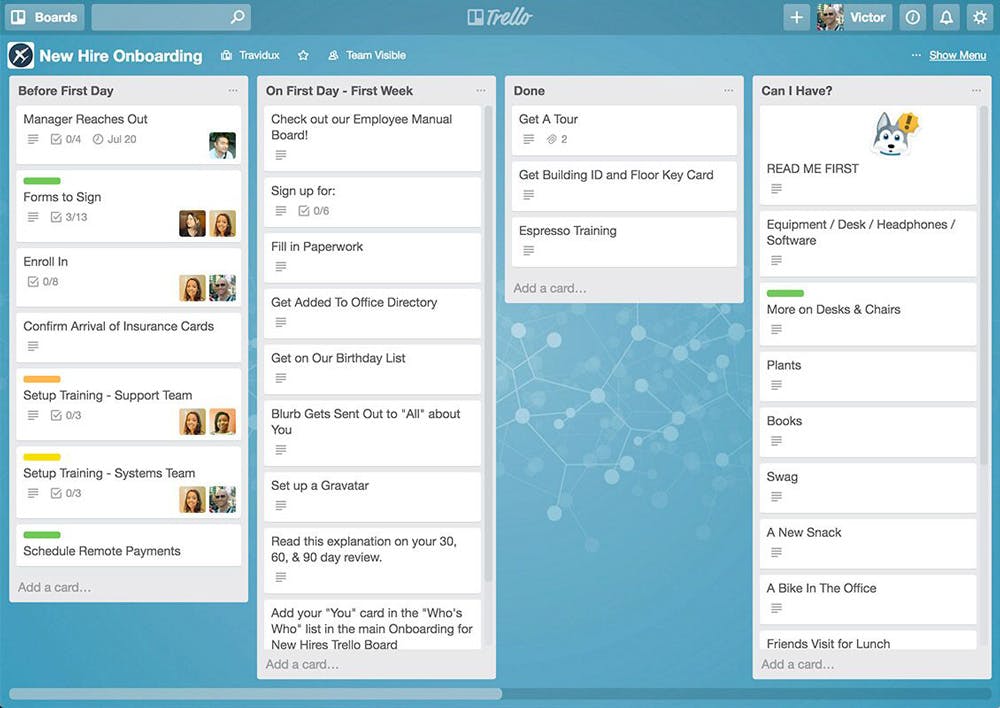 Using Trello is as simple as it looks. After creating your project, you can use Trello's system of boards, lists, and cards to stay ahead of where you need to be. Simply drag a card from one project phase to another to move that task along the pipeline, and examine individual cards to see details for that particular part of the project. One of the coolest things about Trello is that it's just as useful for planning your next vacation as it is for managing a complex, multi-channel project. If whatever you need to do can be broken down into stages, to-do lists, and other subtasks, Trello makes it almost effortless.
Pros and cons of Trello
Trello has become incredibly popular in recent years. Why does everybody love it so much?
A clean, intuitive user interface that makes project management easy

Solid collaborative tools including notifications, automated alerts, due-date tracking, and more

Automatically syncs Trello boards across all connected accounts and devices

Custom color coding and file asset management tools offer a great deal of customization and task prioritization

Third-party integrations with many leading services including Dropbox, Evernote, GitHub, and Slack
Trello is pretty great, but it's not perfect. What could Trello do better?
Deleting tasks can be surprisingly difficult if you haven't done it before

Card descriptions have to be manually saved before moving cards to other project phases

The relative lack of labels may be too restrictive for power users

No support for vertical stacking of tasks in Trello's kanban view

Forced horizontal scrolling can be distracting for users with ultrawide monitors
Overall, Trello is one of the best project management tools for content creators. Trello has an average user rating of 4.4 out of 5 stars on G2 Crowd, which makes it one of the most trusted and popular project management tools available.
How Podia can help online course creators
As course creators ourselves, we understand the unique challenges of creating and selling content for online courses.
That's where Podia comes in.
We've built a range of tools to help content creators make and sell online courses, all of which are accessible from your Podia dashboard.
Video hosting
There's certainly no shortage of video hosting solutions out there. From YouTube and Vimeo to Wistia and VidYard, course creators have plenty of choices of where to host their video content. However, between limitations on the kind of content you can upload to restrictions on everything from duration to output formats, you're at the mercy of whichever platform you choose.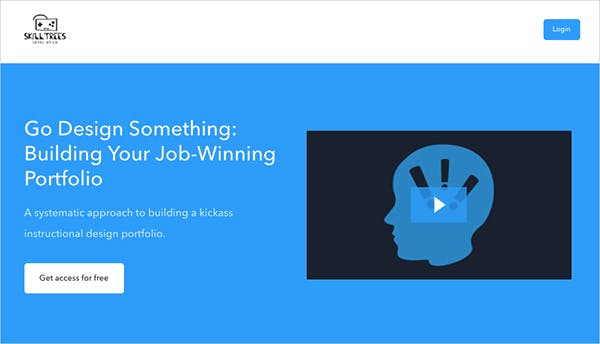 By hosting your video content directly on Podia, you can rest easy knowing your videos won't be taken down without warning, monetized by other companies' ads, or deleted mistakenly by automated content audits or copyright take-down notices.
Email marketing
To this day, email marketing remains the most powerful sales channel for course creators. In fact, email marketing is so effective that for every dollar spent, email generates a return of approximately $38!
Services like MailChimp are awesome, but Podia's email marketing services were designed with content creators like you in mind.
We can help you build your email list, refine your messaging to maximize open rates, and design beautiful emails that are as delightful to look at as the rest of your content. You can even create drip campaigns to nurture prospective students as they become more familiar with you and your courses.
Landing page software
Landing pages are crucial to the success of any online marketing campaign. There are plenty of great landing page tools available to content creators, including Unbounce and Instapage, but if you want to keep everything in one place, Podia's sales page tools can help you build strong, engaging sales pages that drive conversions - all without leaving Podia.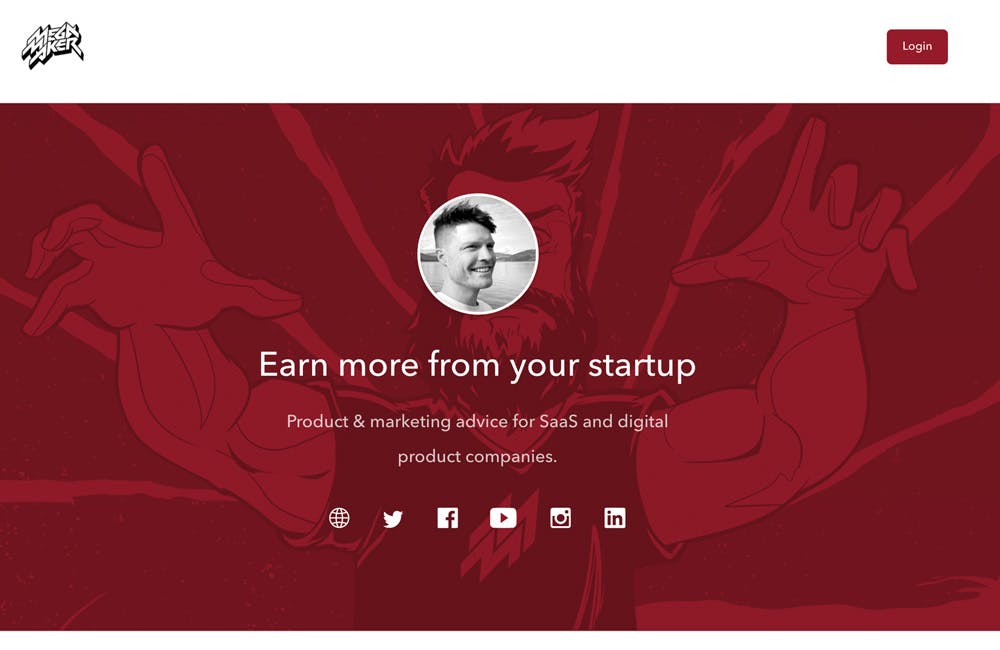 Podia's sales pages look beautiful, but they're also optimized to drive conversions, gather email addresses, and tell your story.
Content delivery
As a content creator, you know that actually producing your content is only half the battle - you need to get your products in front of motivated customers if you're going to earn the kind of money your content deserves.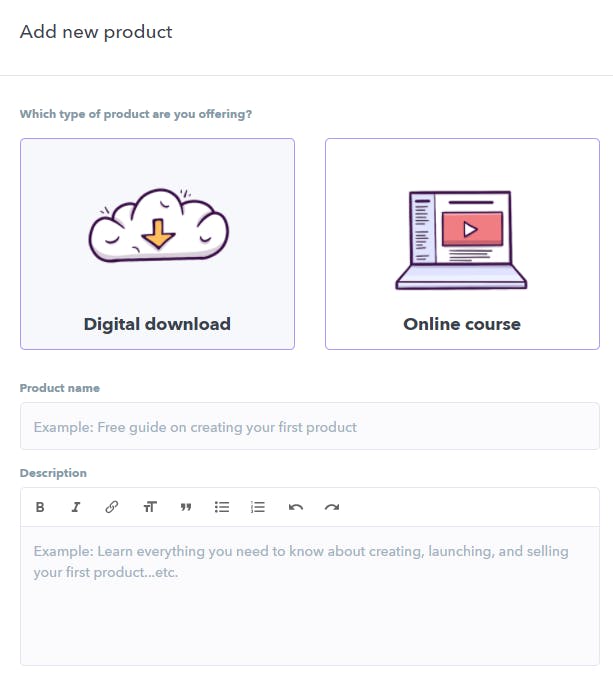 Podia's storefronts are designed to help you sell any kind of content including courses, digital downloads and memberships. Best of all, customers don't need to register a Podia account to purchase your products; all they need is an email address and a credit card and they'll be learning from you in seconds.
Access management
Once you've established your digital storefront for your online course content, you need to manage that content. Podia makes it effortless to manage who sees what and when.
With password protection and a range of other features, Podia takes the hassle out of managing access to your content. You're a content creator - you worry about creating amazing content, and let us worry about keeping everything safe.
E-commerce software
Launching an online business used to be as much of a technical endeavor as a business venture. With Podia's built-in checkout tools, you'll never have to worry about wrestling with another e-commerce platform ever again.
Our e-commerce tools were built to make it as easy as possible for content creators to start selling their content. You don't need to be a developer or an economics major to start selling on Podia.
Simply create a product, connect your PayPal or Stripe account and let Podia power your checkout flow from start to finish, including transaction processing, detailed sales records, and more.
An artisan is only as good as her tools
There are literally hundreds of content creation tools available, and we've covered our favorites in this guide.
Whether you're an experienced content creator or are thinking of selling an online course for the first time, we hope that this list of tools has given you some helpful ideas on how you can improve your content creation workflow.