How to earn more money as a developer
Grow your salary without losing your weekends (or mind). Here are six active and passive ways to earn more money as a developer.
August 27, 2019 by Taylor Barbieri
---
You want to test out new skills. (Don't we all?)
You want more money while you're at it, too. (Same.)
Maybe you're looking to get a promotion, new job, or transition into full-time self-employment.
Either way, your day job isn't cutting it for you financially, and you're considering other options. You know you can earn more money as a developer, but taking on yet more coding projects sounds about as pleasant as skinny-dipping in the subarctic.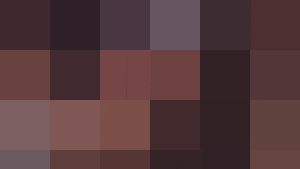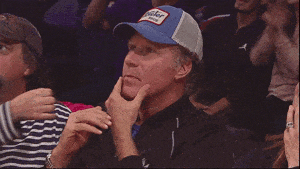 Fortunately, spending your life hunting for a missing semicolon on line 54 isn't your only option for making more cash as a software engineer.
To prove it, we'll go over six methods to earn more income -- half active, half passive -- today. So if you want to pad your pockets without ditching your weekend, read on.
3 ways to earn active income as a developer
Unlike passive income, which usually requires a lot of front-loaded work and then brings in a trickling stream of income after the initial launch, active income requires an ongoing commitment.
In exchange, your profits are more stable and sustainable over the long-term -- but you might have to lighten up your Netflix binge schedule to fit them in.
Or, alternatively, combine it if you use our first method -- coaching.
#1. Coach and mentor other developers
Development is a broad field that's changing every day.
That gives you an opportunity to use your experiences and insights for new entries into the industry. It gives you the chance to become a programmer mentor or coach.
A chance that comes with endless niching possibilities, at that.
You could, for example, focus on helping developers who work with a particular language -- such as Eliot Sykes, who coaches Rails developers -- or in a particular field, like natural language processing (NLP).
Or, like John Somnez of Simple Programmer, you could offer life coaching to other developers.
Alternatively, instead of trying to attract individual coaching clients, you may increase your earnings and impact by working with small businesses instead.
94% of employees said they would stay with their current employer longer if their employer invested in their learning and development.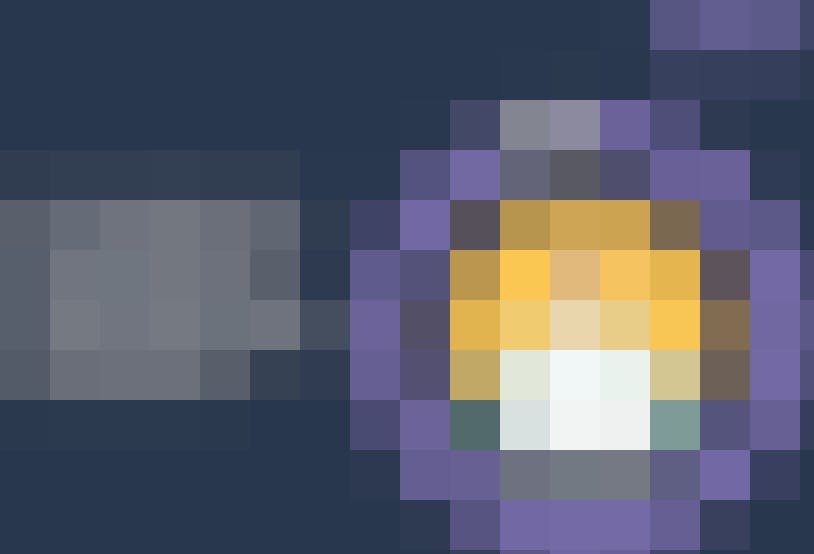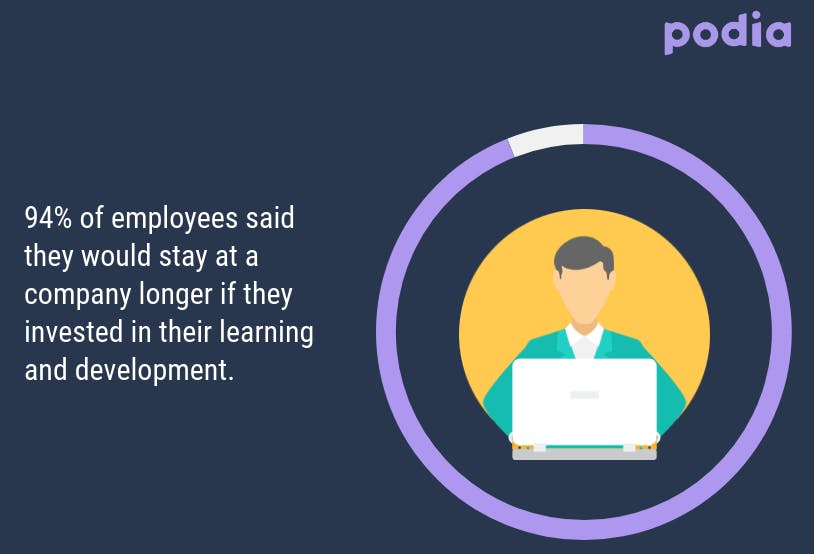 However, not all businesses have the time or expertise to coach employees who want further training -- that's where you can come in. There's no easier way to get consulting clients than filling an existing need.
And whether you work with private clients or a business' employees, mentoring can be a win-win situation for both you and your mentees.
47% of people consider mentors to be important and 29% say they're very important.


Of those with mentors, the average relationship lasts about 3.3 years, and the mentee and mentor talk for around 4 hours a month. All of that translates to a lot of billable hours for you as a developer career coach.
(About 156 billable hours, to be exact.)
But there's a downside to that -- with your hours dependent on single clients, losing a mentee could put a serious crimp in your monthly financing, even if you feel like you have too many clients for it to be an issue. That's what our next strategy addresses.
#2. Sell membership plans and coding boot camps
You've probably noticed you keep getting the same questions and giving the same advice on coaching calls, to colleagues, or in online forums.
Why not distill your advice into a membership plan where you can reach more people and increase your hourly earnings?
True, memberships will require more time from you each week or month than something like an evergreen course, but you can usually earn more from them because of their length.
After all, memberships are popular. At least 92% of millennials and 70% of retirees have an active subscription service, and of recurring subscriptions, 46% of them are media-based.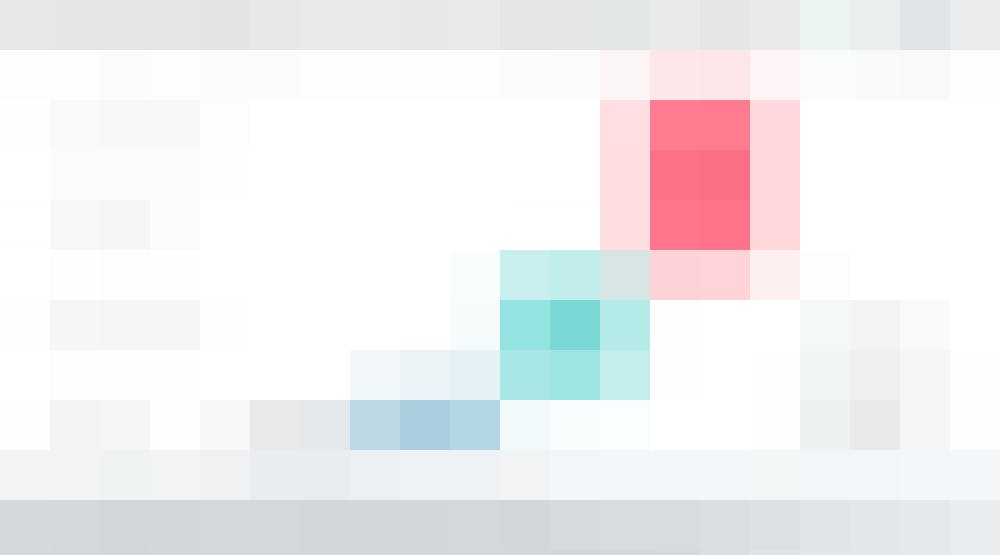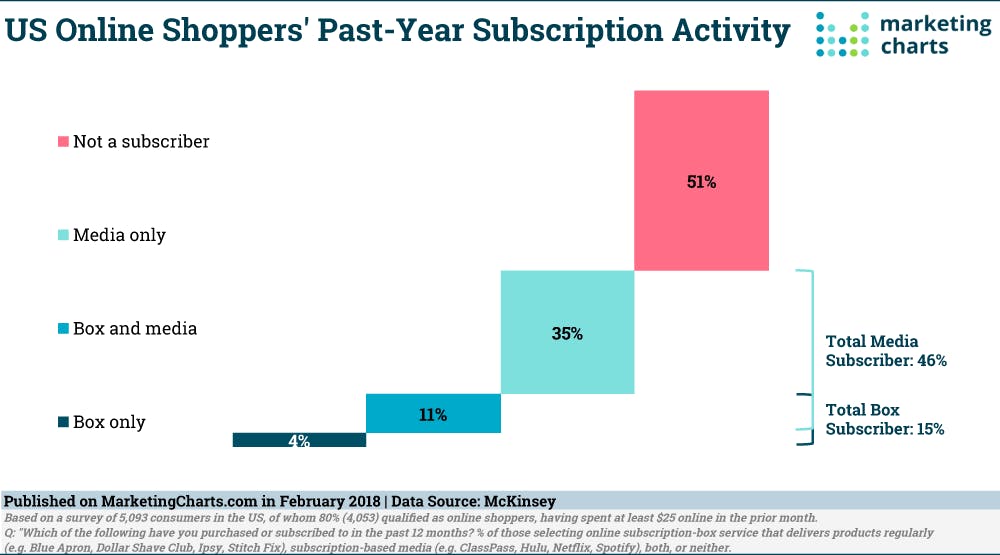 Aside from their popularity, memberships are also incredibly flexible. You can change your membership's structure to accommodate your schedule and desired income.
You could, for example, start a mastermind group where you support and administrate a group of like-minded people coming together to solve a very specific problem for a set amount of time.
Alternatively, you can create a group coaching program and limit membership enrollment to once or twice a year, or run regular cohorts.
For the ultimate flexibility, you could offer an open running membership program like like Steve Smith of devBetter.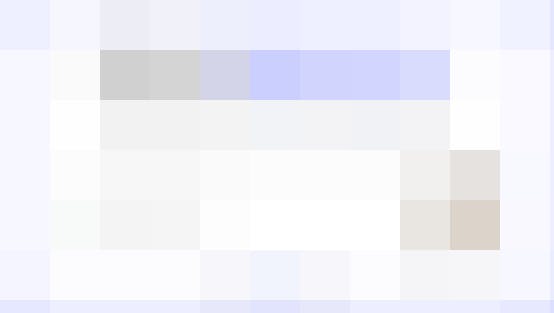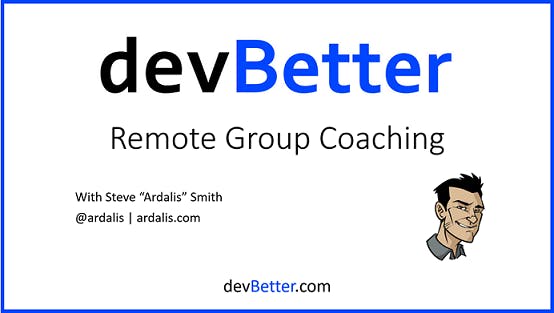 As for what your membership includes, it could run the gamut from live group coaching, private coaching, pre-recorded videos and pre-written content, exclusive webinars, and more.
On the pricing side, you can price your membership site at whatever price tag you think reflects the value and quality of your members will receive.
Patrick Shyu, for instance, charged $6 for his monthly membership, although it's not uncommon to see memberships charging in the high two-digit or three-digit figures for monthly fees.
There's one last thing that membership sites have going for them as an income stream, too: they're far more scalable than standalone products. Put plainly, they can grow to three times their size without three times the work.
However, as with private mentoring, their scalability comes at the price of higher commitment.
If you'd like an active income stream without the same time sink, the third solution -- creating a product for a specific niche -- may fit you better.
#3. Create an app or website for a specific niche
Apps and websites strike a sweet spot between active and passive income streams -- while they can require upfront effort, they only need as much ongoing work as you've designed them to require.
And with global mobile app revenue totaling over 365 billion in 2018 and projected to be worth 935.2 billion by 2023, they've got serious profit potential.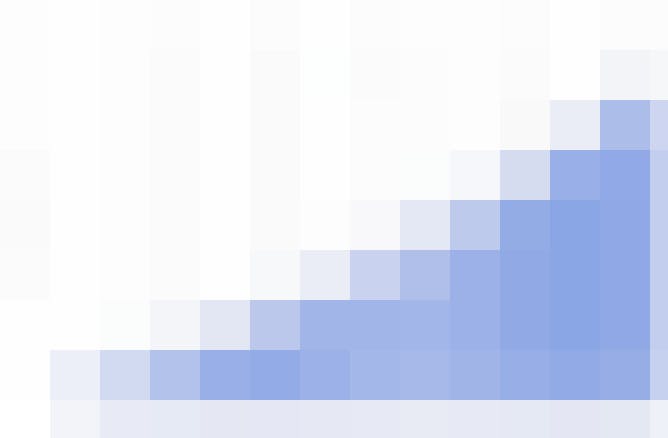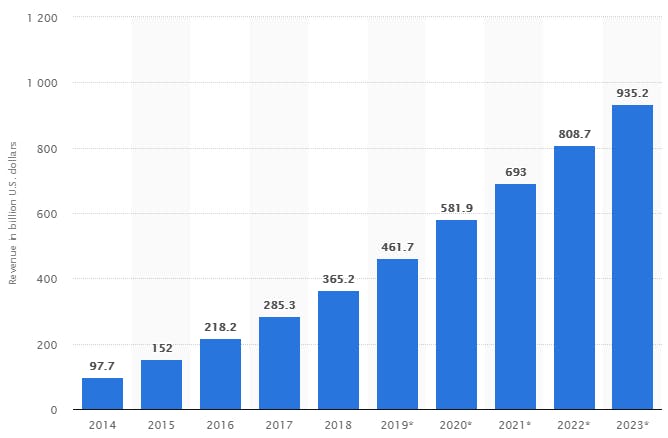 For example, the one-page website builder, Carrd.co, is run by two people and earns nearly $25,000 per month with over 20,000 users.
Likewise, this Wall Street trader-turned-physician earned over $70,000 over seven years by selling 10 apps.
These two examples aren't anomalies, either.
Part of the (probable) reason these kinds of profits are so common is how cheap customer acquisition is for apps. On average, it costs only $2.89 to acquire a new user.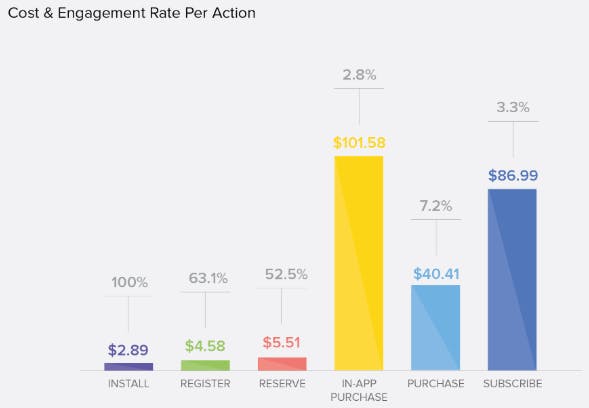 With it costing an average of $101.58 to acquire a user who makes an in-app purchase, however, consider designing apps or websites that target niche groups with high disposable incomes.
To that end, it's worthwhile to validate your product idea first by researching your target audience and creating a product prototype before releasing a final sellable product.
Next, you'll want to investigate different monetization strategies for your app.
If you want to offer a free app, you could monetize it with ads, paid tiers, or in-app purchases.
A quick note of caution here, though. However you choose to monetize your app, stay cognizant of dark patterns.
Dark patterns are design and technical strategies designed to get users to unwittingly hand over data, make unintentional purchases, or make it hard for users to delete/exit an app or unsubscribe from a service.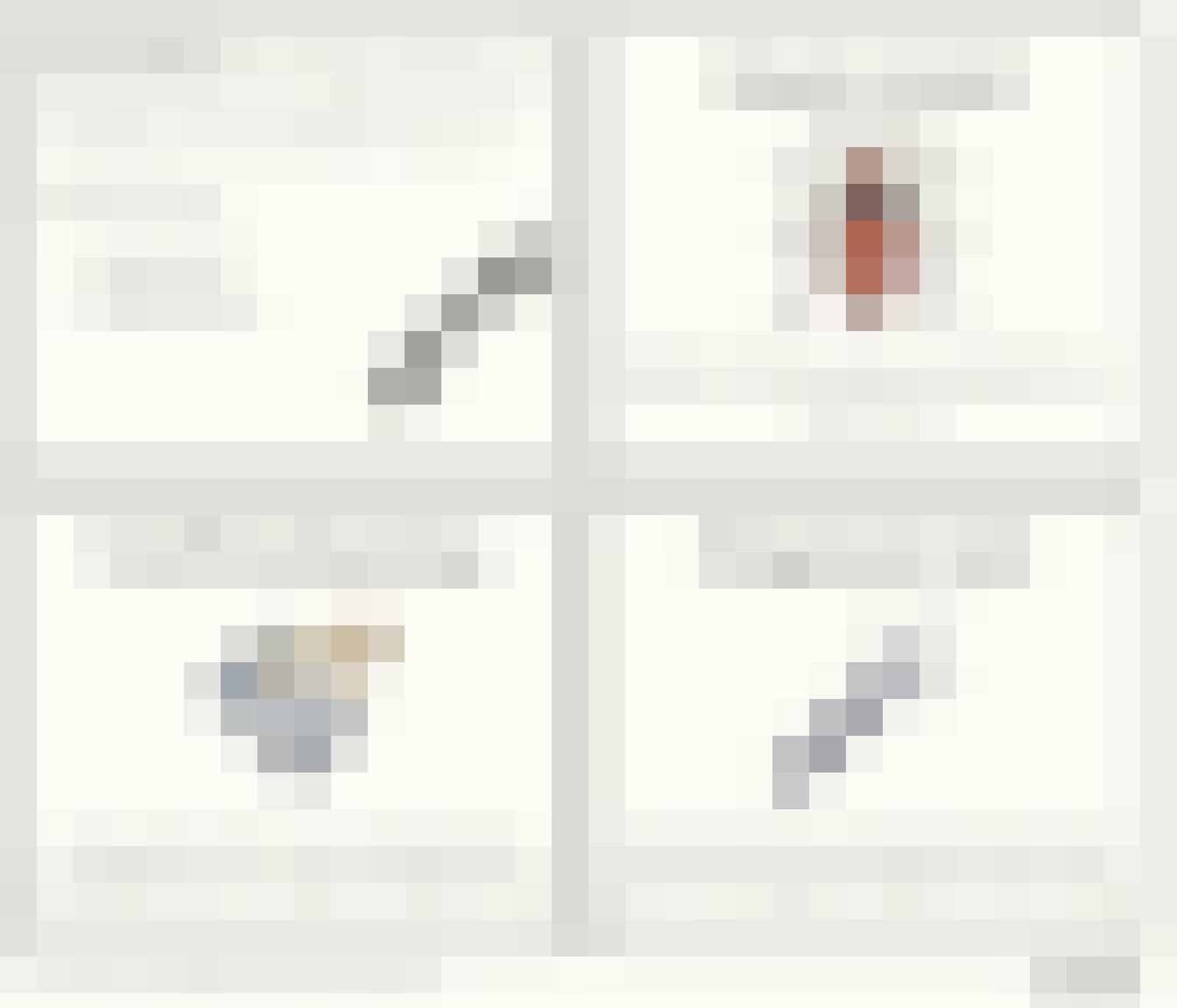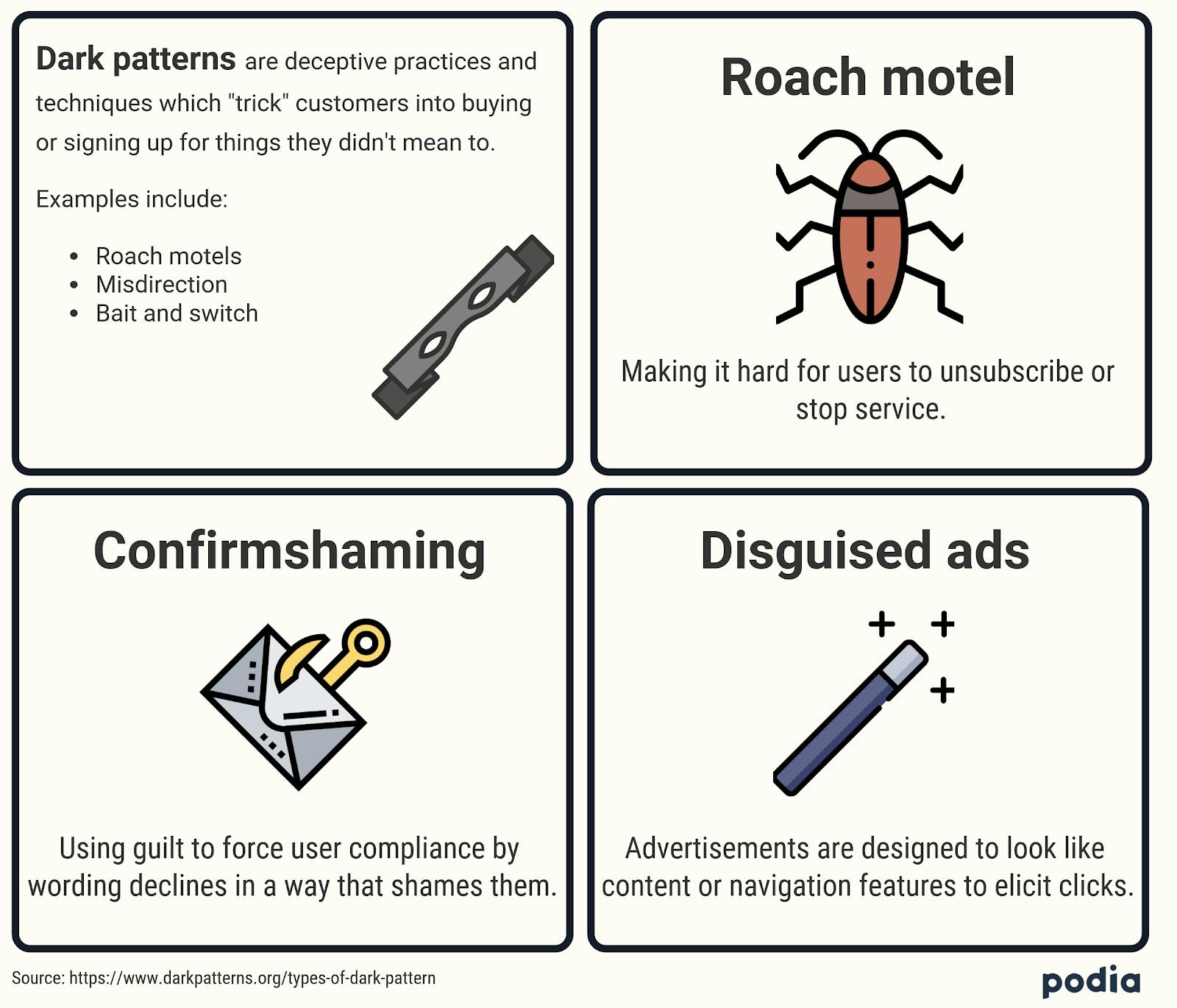 Not only are dark patterns an ethically questionable approach to business and earning your customers' loyalty, but politicians are introducing legislation to ban their use as well, which means your app could face fines or lawsuits in the future if they include them.
Grow your membership
Join thousands of creators receiving our weekly articles about launching, growing, and thriving as a creative entrepreneur.
OK, so that covers our three active income streams. As for the passive streams . . .
3 ways to earn passive income as a developer
Passive streams don't generate the same waves that active income streams will, but that can be its own blessing. Check out our three favorite methods for netting passive income as a developer.
#1. Monetize free content
Not everyone wants to offer paid content or services, and that's OK.
Nevertheless, there are ways you can realistically monetize your content without charging visitors or selling their data.
You could easily monetize your podcast by seeking out sponsors, joining an affiliate program, or offering paid product reviews, for example.
The podcast JS Party does just this and features several sponsors per episode.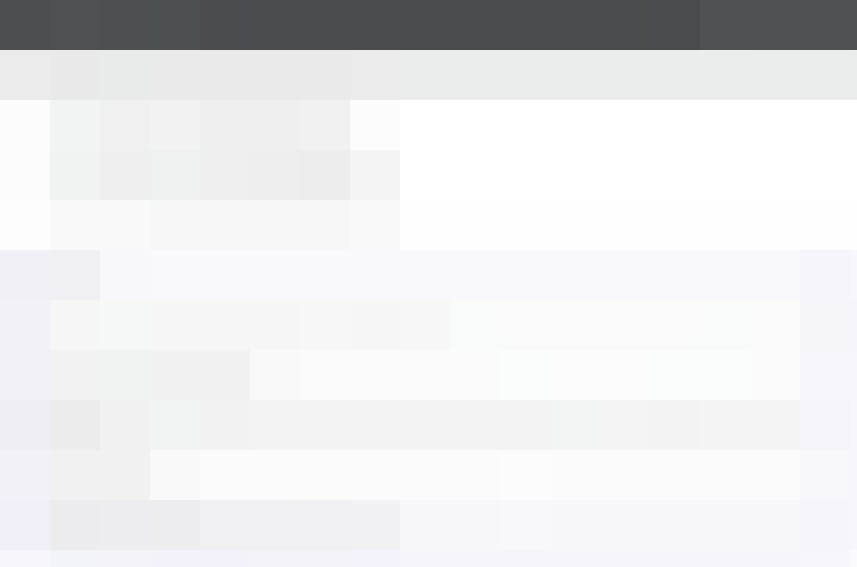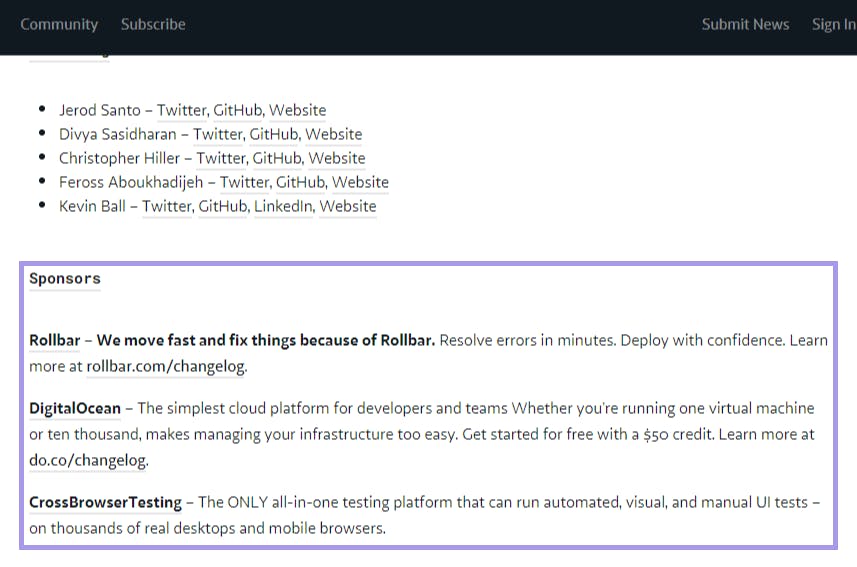 Sponsorships can be a win-win for podcasters and their sponsors given that 54% of consumers are more likely to consider brands they heard advertised on a podcast.
If you want sponsorships from brands that sell physical products instead of digital ones, you may have better luck in the visually heavy YouTube where you can show off and demonstrate the product's features.
YouTube is good for more than just product reviews -- it's also a hit with people as an educational platform.
64% of people have said that YouTube helps them to learn new skills for personal and professional advancement.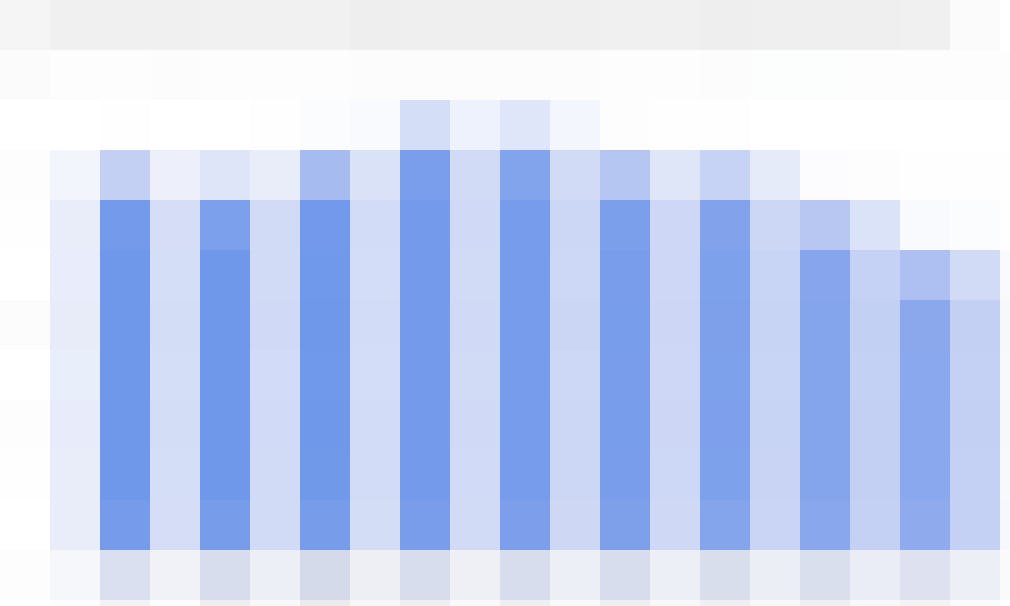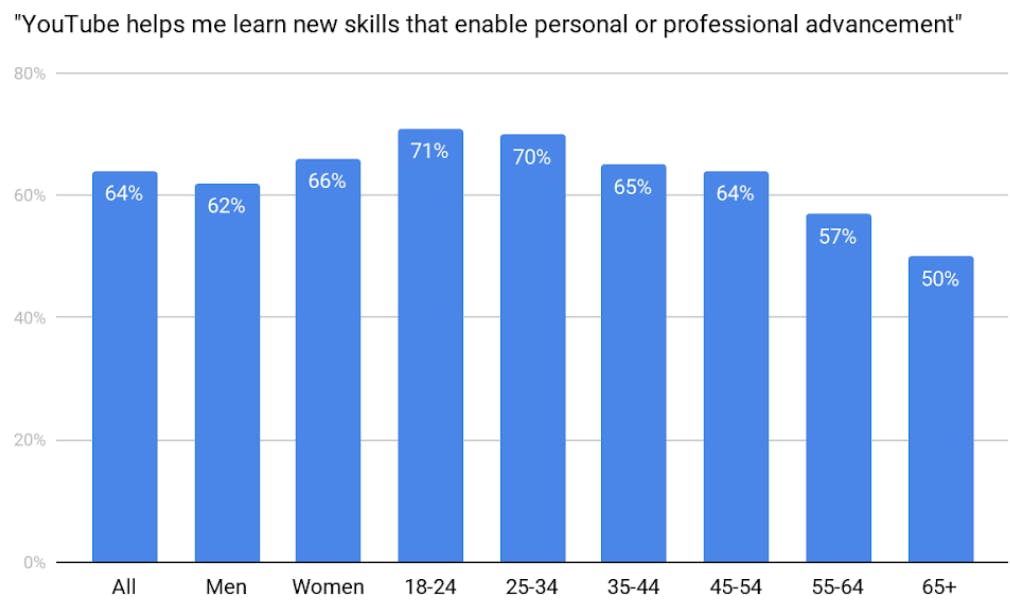 To that end, even if you're not yet ready to attract sponsors, you could easily earn money from your podcast, video, and written content by accepting contributions from your followers, such as how Derek Banas does for his YouTube channel.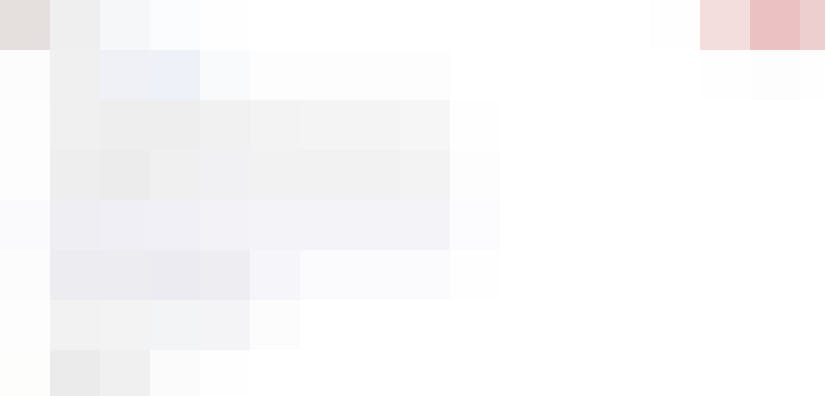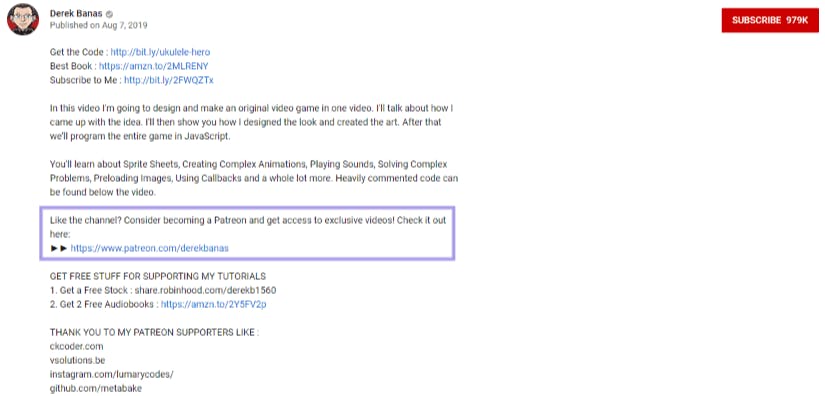 Whether you have a large or small following for your content, you could benefit from using affiliate and referral links to generate revenue.
For example, you could position yourself as a micro-influencer in the development field, review products you enjoy in everyday life, and earn through affiliate and referral income (think of it like the Wirecutter, but more niche).
Basically, if you have free written, video, or audio content, you don't have to turn them into paid digital products in order to earn a profit from creating them.
You could just as easily attract sponsorship or join affiliate and referral incomes to profit from products you talk about in your free content without restricting access to your followers.
However, if you have some free content that's doing amazingly well with your followers, you may want to expand upon it and package it into a (reasonably priced) online course.
#2. Sell online courses
Online courses are a huge money-maker for creators across industries because they speak to others' desire to better themselves.
They can also foster connections and access to information for people who otherwise couldn't have had because of geographic borders, lack of funds, and et cetera.
For example, the average cost of tuition at a public college for 2018 to 2019 was $10,230 -- that's quite a high fee to pay each year for four years, and probably out of reach for many would-be developers.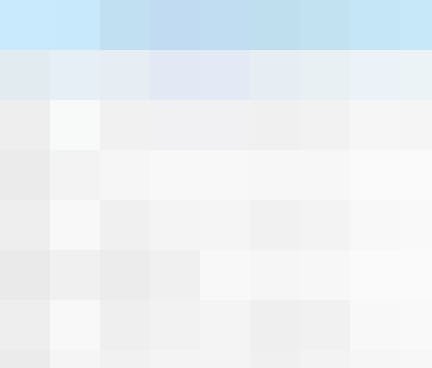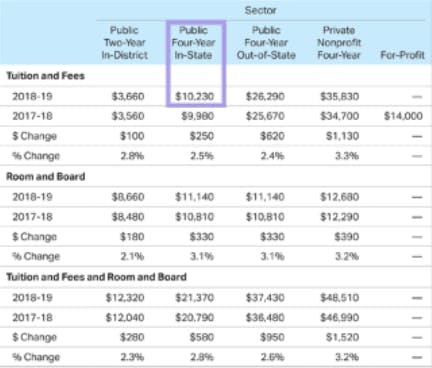 Despite these rising costs, major companies like Google, Apple, and IBM no longer require employees to have degrees.
So just where are aspiring developers supposed to learn about software development if they can't afford to or don't want to get a computer science degree?
Your courses could help.
With software development jobs projected to grow 24% between 2016 and 2026, there will be plenty of need for new developers on the market each year, and the knowledge they need will probably change much more quickly than any college course can offer.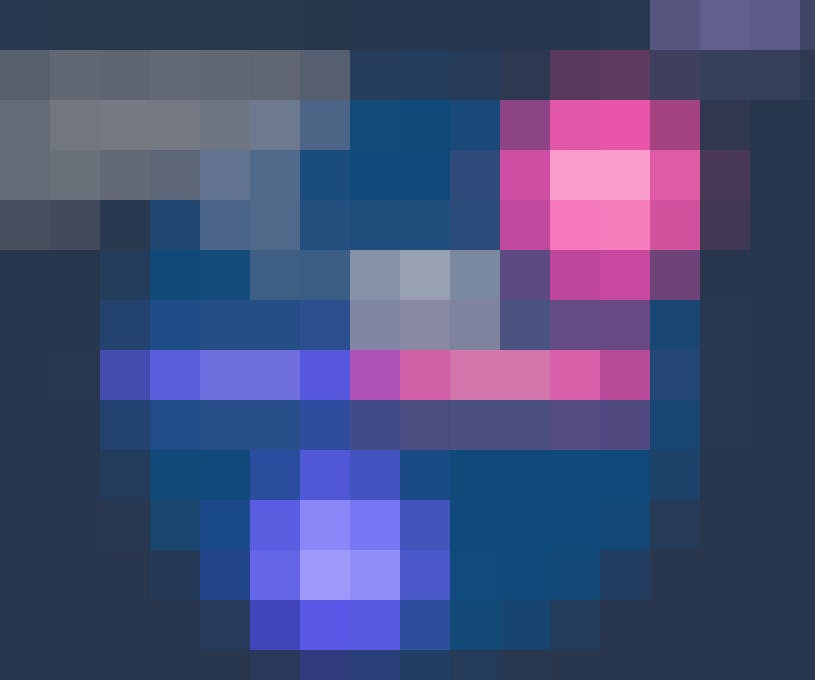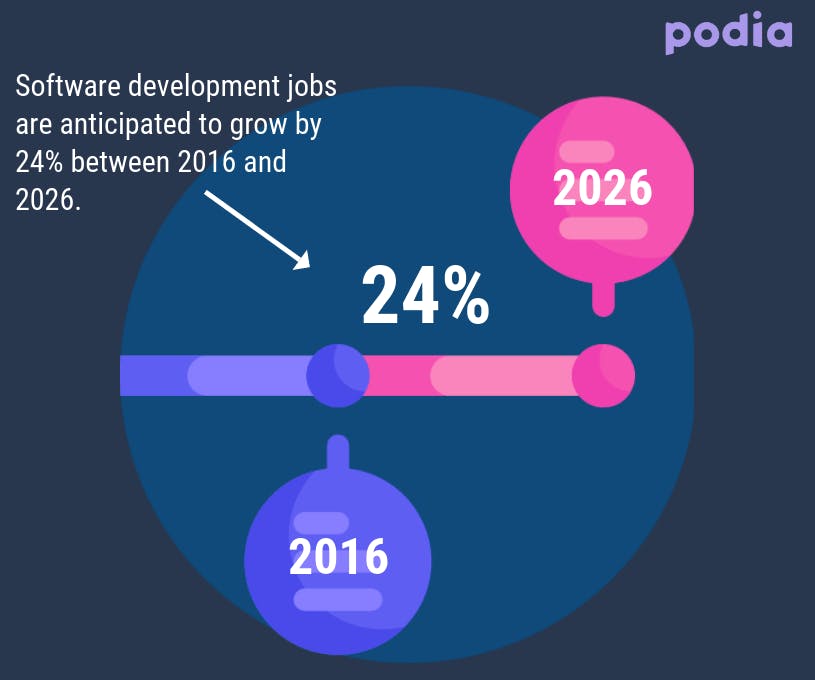 Your courses could help bridge the gap between the skills that students either can't learn or can't afford to learn at a university and the cutting-edge skills employers are looking for in tomorrow's developers.  
While you could create a course on any topic imaginable, it's better to focus on one core topic per course and break them into more manageable chunks, as creator Reuven Lerner learned from his first online course launch.
To make your course content the best that it can be, take a page out of Reuven's book and practice teaching the material several times, such as through webinars.
This can help you understand how you could improve the "flow" of your delivery, find holes in your explanations or lesson plan, and refine your teaching style.
As you're practicing teaching, feel free to add a little personality into your videos and including live sessions to make the material more interactive and clear -- it can go a long way in creating engaging online courses.
But with all of the hard work that goes into an online course -- creating a curriculum, recording and editing videos, live coding sessions, and more --you're probably wondering how much you should charge for your online course.
On the one hand, you should charge enough to reflect the value that your students will get from the course.
Sites like Pluralsight, for instance, can justify the prices they charge students because of the high-quality courses they offer their students.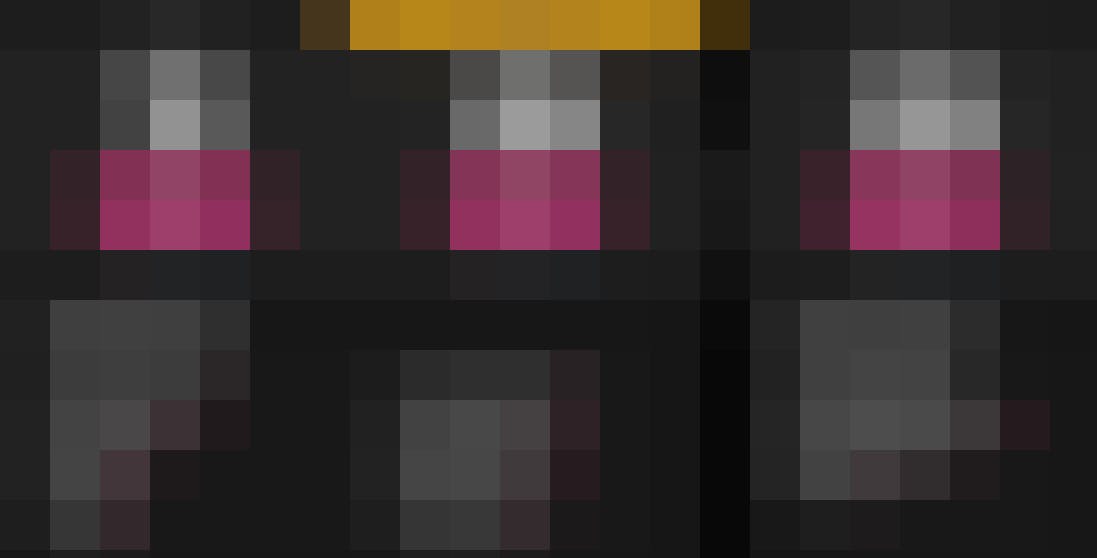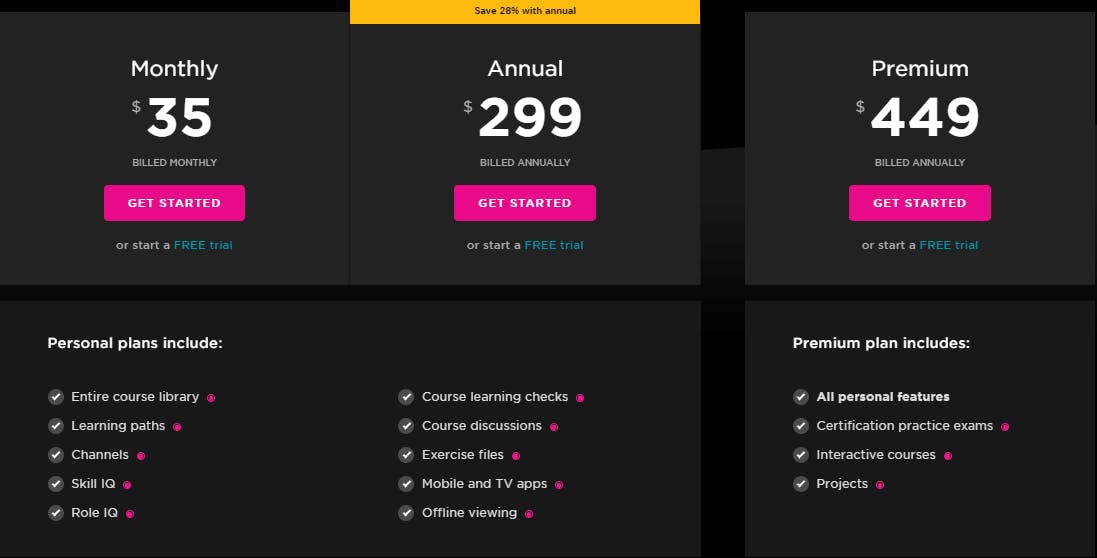 Yet, on the other hand, you don't want to price your products so high that you price many of your students out.
One way to overcome this pricing dilemma is by creating multiple narrowly-focused courses that are reasonably priced.
According to Reuven Lerner: "More people will buy because it won't be at that really expensive price point . . . and then they'll come back because they'll finish it more quickly. They'll feel like, 'Oh, that wasn't too much money…' and they'll buy your other courses."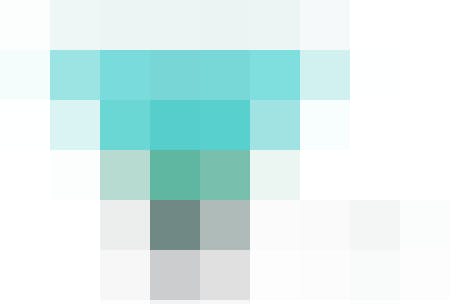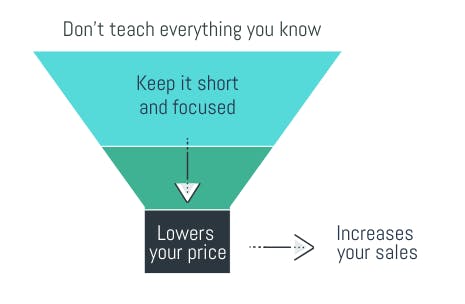 Another way to profit is by selling multiple smaller courses or digital downloads in bundles, as WACAMLDS did for their "End-to-End Python Machine Learning Recipes & Examples: Tabular Data Analytics" bundle.


Incidentally, something that would be an excellent complement to your online courses -- and even a gateway product to lead them to purchase your online courses -- is digital downloads, which is our third passive income source.
#3. Sell digital downloads
For a passive income source that requires even less time (usually) than an online course, you could sell digital downloads from your website or a marketplace.
Digital downloads include things like ebooks, guides, checklists, and case studies that share compact lessons with your readers. They're a huge hit with consumers if the 40,000 software development-related ebooks in the Kindle store are any indication.


Digital downloads don't need to be long -- many are just a few pages, and it's not uncommon for digital downloads to be heavily comprised of screenshots or graphics.
It's generally better to focus digital downloads on one core topic and create a series of short- to medium-length books than one mammoth ebook.
This can help your readers learn from your downloads without becoming bogged down in the details.
If you don't fancy yourself a wordsmith, don't sweat it -- downloadable audio (such as audiobooks), earned $253.1 million in revenue between January and July of 2018, so they're certainly a viable income stream for developers, too.
As for how much you should charge for your digital download, prices vary drastically here, as well. Michal Zalecki sells his Mastering Jest: Tips & Tricks for JavaScript Developers book for $9, but was running a special promotion when I came across his product page.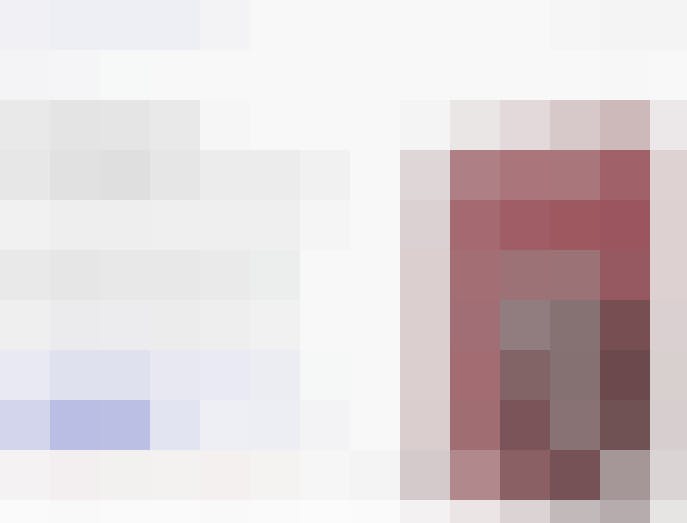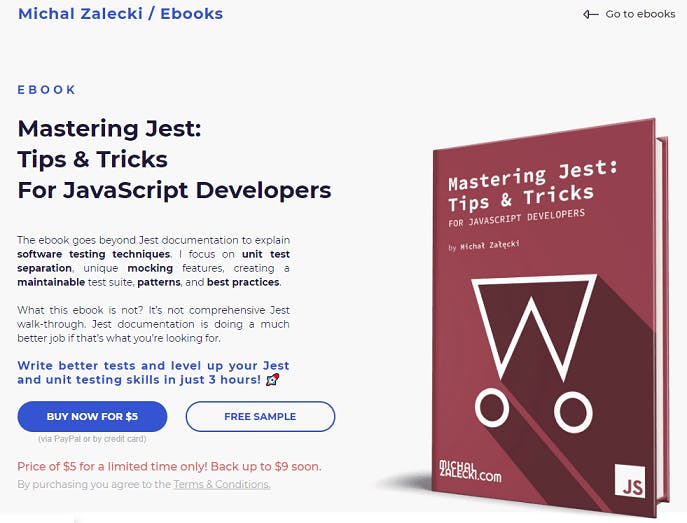 Similarly, Erik Dietrich sells his Starting to Unit Test: Not as Hard as You Think for $4.99 for the Kindle version and $12.99 for the print version.
Although Michal and Erik's ebooks are priced significantly lower than something like an online course, that's not a bad thing.
After making an initial purchase, you could send your customers nurturing emails to help them get to know you and your brand better, and convince them to eventually making another purchase from you.
Another way to profit from lower-priced digital downloads is by using upselling or cross-selling techniques during the shopping process, as Michal did for his ebook's sales page, to increase a customer's overall order value.


If you'd like to make it easy-mode and not get bogged down in yet more code to make cross-sells, upsells, digital downloads, online courses, and just about every other income stream on this list painless, Podia makes it a cinch.
In addition to a digital download generator, you can check out how easy it is for yourself with a two-week free trial.
Otherwise, I've -- hopefully -- made my point now. There are tons of methods for earning more income as a developer, and while they may involve a lick of code here or there, none of them consign you to long hours in Notepad++.
That's gotta be a win, right?
Diversify your development income
Developers have far more opportunities for increasing their earnings than waiting for promotions and raises.
Specifically, there are six income streams -- three active and three passive -- that developers of any experience level can start without investing too much time or money, including:
Offering professional or life coaching to other computer scientists

Creating a membership program with group coaching or resources

Releasing a custom-made app or website targeted to a specific niche

Monetizing free blog, video, and audio content by seeking out sponsorships or joining affiliate programs

Producing an online course

Designing digital downloads like ebooks, case studies, and audiobooks.
So go forth, developers, and start spreading your knowledge, growing your income, and seeing where your hard work can take you.