7 easy-button strategies for growing a YouTube following
Tired of lackluster YouTube channel growth? Use these seven techniques to grow your YouTube following organically.
January 24, 2020 by Taylor Barbieri
---
You're watching yet another video from a creator you admire, and you're trying to crack the code: How can you make a video as awesome as theirs when you have a much smaller budget and team?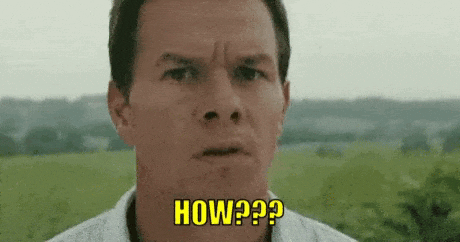 Your YouTube channel won't grow if you release new content every day or become a video production pro (although these can help to a degree). 
But YouTube channel growth will come if you regularly share excellent content that answers viewers' questions, even if that question is, "What can I watch to pass the next 20 minutes?"
Of course, making it easy for YouTube to index and recommend your content will help, too. 
This guide will introduce you to seven methods any creator can use to build and grow a following of devoted YouTube subscribers. 
That said . . .  none of these are quick fixes that guarantee overnight success. 
Will they pay off? For sure. But it's going to take some time, and it's going to take some committed hustle. Short of hiring a professional ad agency, there are no quick wins in social media, and nothing goes viral by luck alone.
So, with that caveat out of the way, let's dive right into tactics that really work -- even if they're not overnight.
How to grow your YouTube channel with 7 tactics 
Among the many ways to see YouTube channel growth, seven of the most effective tactics include:
Sharing content your followers want to see 
Optimizing your videos for watch time
Improving your YouTube SEO
Engaging with your audience on YouTube
Posting regularly
Using calls-to-action (CTAs) in your videos and descriptions
Creating a channel trailer 
Let's dig into the tactic from which all others can spring: sharing relevant content. 
Tactic #1: Post content your followers want to see
What you think your audience wants to see and the content they actually watch are probably very different. 
After all, viewers use YouTube for a variety of reasons. 
57% of people go to YouTube to be entertained, for example. 
54% want help solving a problem, and 38% are looking for inspiration and motivation.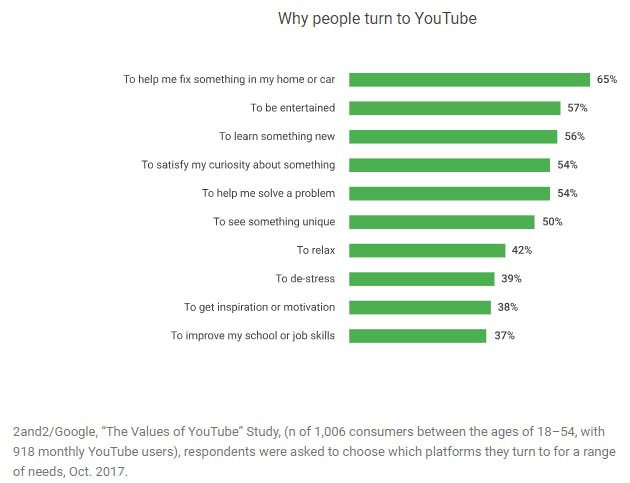 So before worrying about keywords (which are important, don't get me wrong), focus on creating videos your followers want to watch. 
Creating content around a keyword without getting proof it's a topic your viewers want to see is like building a house on marshland. 
Sure, everything may work out fine, but more likely than not, it will end up in hours of misdirected effort. 
To find out what your customers want to see, conduct competitor research to discover what topics are trending on related channels. Next, look for holes in their content to see how you can make your videos more valuable. 
Don't forget to conduct customer research for a richer picture of what your customers want to learn about, too. 
It's not uncommon for customers to have a content itch that's not being scratched. A little audience research can help you see if you could be the one to scratch it for them -- and reap the rewards, too. 
So, just what kind of content should you create?
Sumo recommends timeless, evergreen content that will be relevant for years to come. 
Take this video from Squatty Potty as an example. It's highly unlikely toilet humor will ever go out of style, or that parents will stop buying training toilets for their children.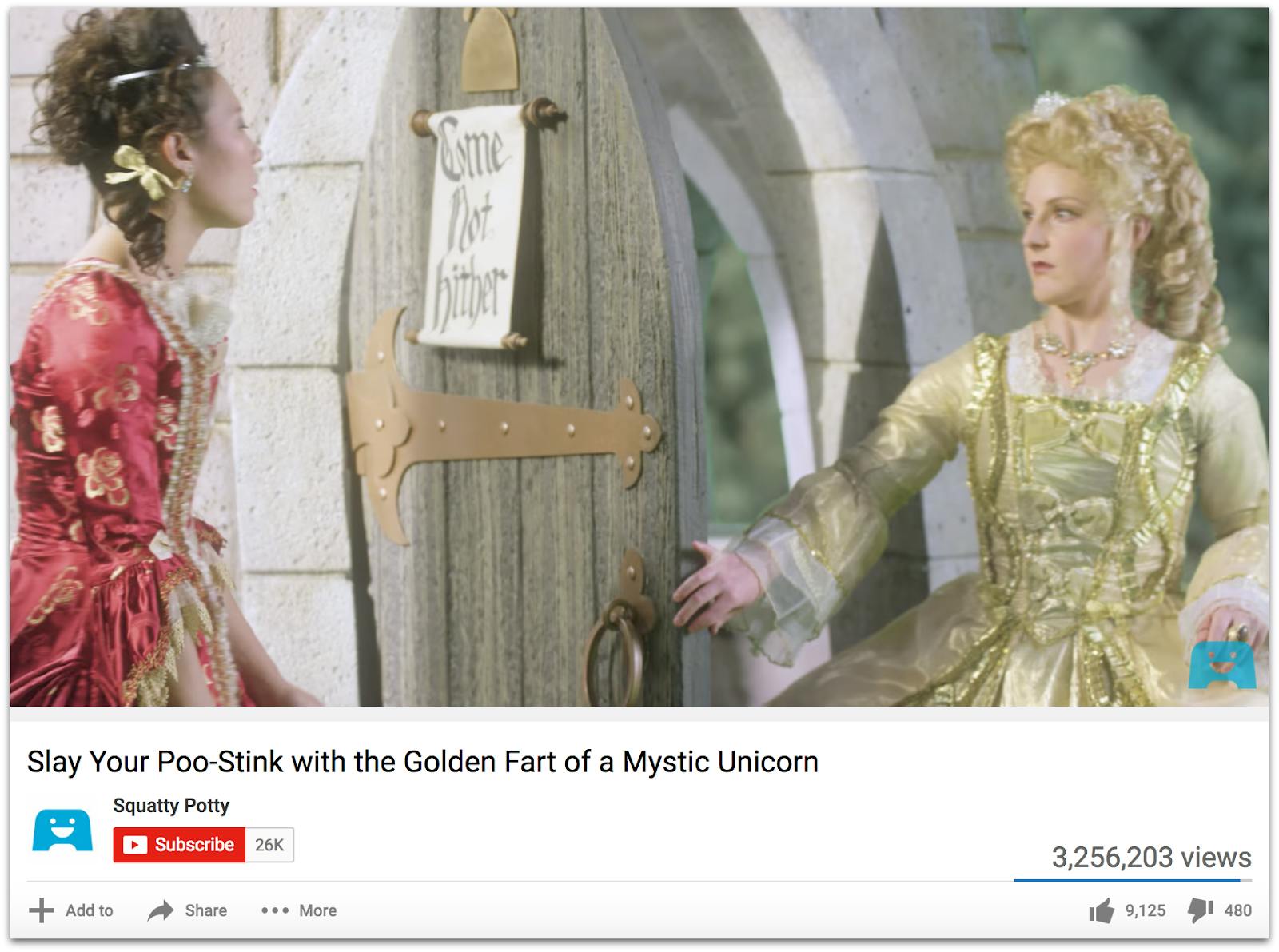 Most creators will probably see the best results by creating a mix of evergreen and trending content, however. 
As you release videos, don't be disheartened if you don't see instant channel growth. 
It takes time for your audience to get to know and trust you. It also will take time to figure out what content works best with your viewers. 
Creator Marques Brownlee, for instance, currently has over nine million YouTube subscribers. 
But Marques wasn't an overnight success — in fact, he created 78 videos before getting 100 subscribers.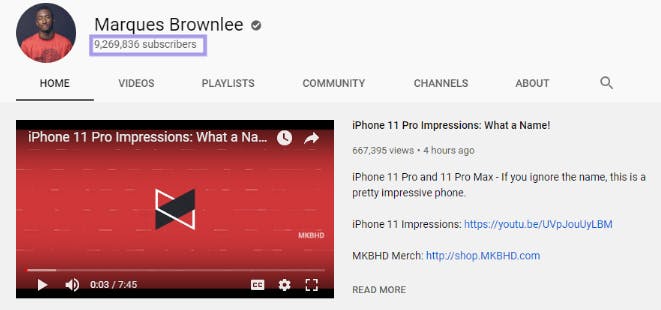 If you see a growing following but few website visits, email signups, or sales from YouTube, rethink your video strategy. 
46% of consumers have made a purchase after watching a branded social media video, so video definitely deserves a place in your marketing funnel. 
One way to convert more customers with your YouTube channel is by including links to landing and product pages in your video descriptions. 
On occasion, you could publish videos promoting your products or host product Q&As, too. 
Lastly, always release videos about topics your audience is actively searching for. Then, direct them to your website, email list, and digital products as ways to get more in-depth information.
Unfortunately, you can't just create a video covering key information and call it a day -- you need to optimize your video to increase watch time (and satisfaction) while you're at it. 
Tactic #2: Optimize for watch time
The average length of a video on the first page of YouTube was 14 minutes and 50 seconds.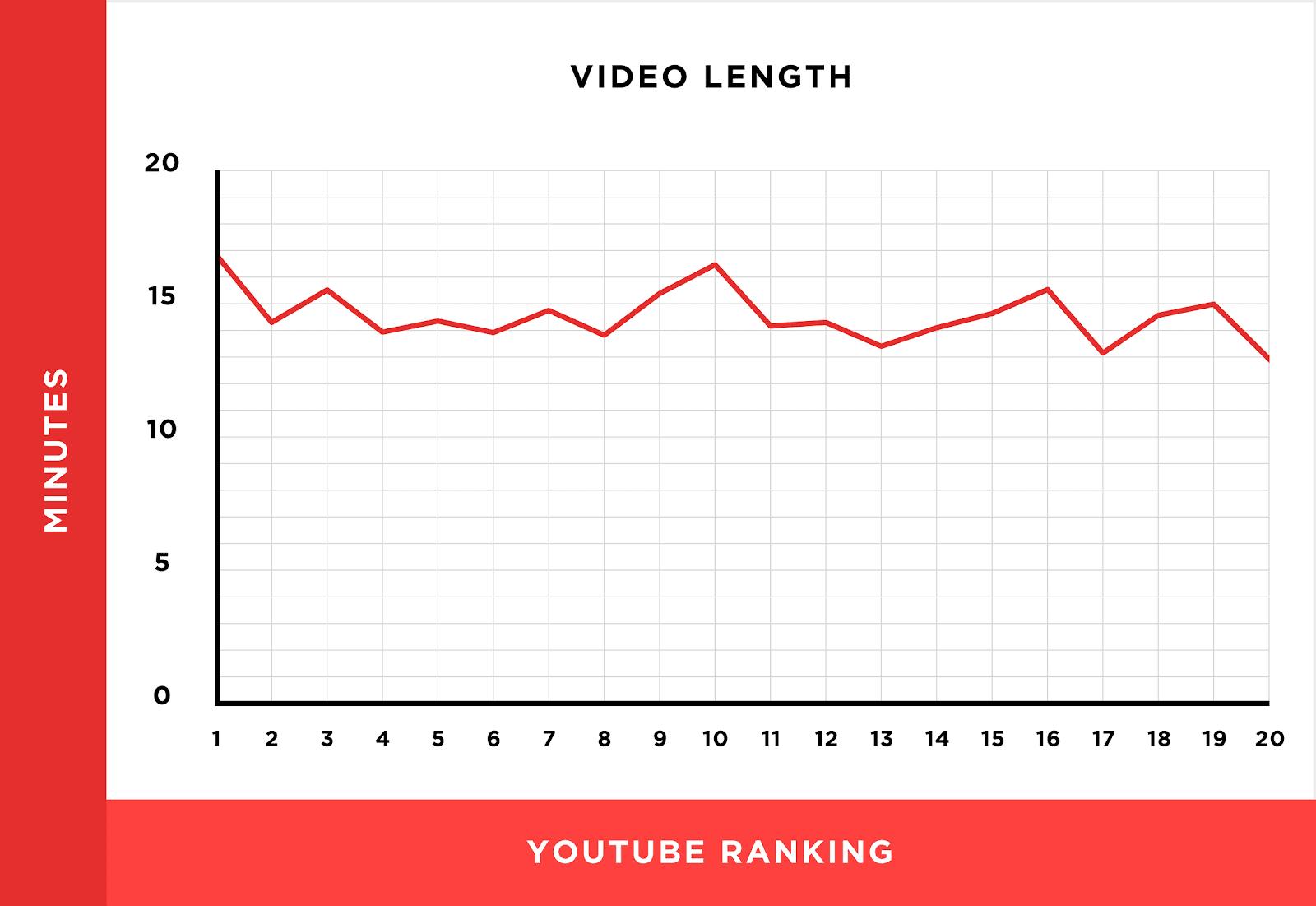 Does that mean your videos should also be under 15 minutes?
Not quite. 
Make your videos as long as they need to be to both appease your customers and encourage watch time so YouTube will recommend more of your videos. 
YouTube defines watch time as the time a viewer spends watching your videos. 
YouTube has also said that the more minutes a viewer watches from your video and channel, the more likely your content and channel will be recommended to others. 
That said, while watch time is important, having a multitude of short videos doesn't guarantee more watch time. 
Your videos' ideal length depends on your audience's preferences and how long it takes you to cover a topic in a given video, among other things. 
HubSpot said they saw the most YouTube engagement with videos just under two minutes in length, such as this 99-second video on topic clusters.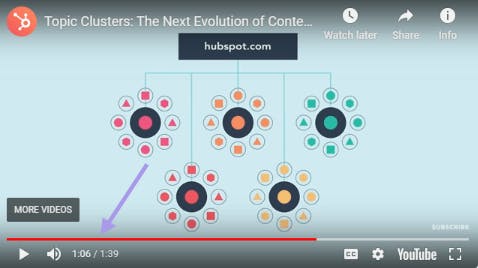 This serves to demonstrate the golden rule for video length: your content should only take as long as it needs to cover a topic. No more and no less. 
Otherwise, viewers may feel overwhelmed with how much information was in a short video, or feel that a long video dragged on for too long. 
When you consider that 86% of U.S. viewers have said they use YouTube to learn new things, five minutes should be a good starting point until you discover your optimal video length for your audience. 
OK, with video length covered, we'll next go over how to get your videos to rank well even if you aren't a household name. 
Tactic #3: Use the right keywords
A few years ago, Buffer was in a pickle: their YouTube channel was struggling even though they produced top-notch content. 
By upping their YouTube SEO game and optimizing their videos around certain keywords (plus other tactics), their subscriber count grew by 59% in 30 days.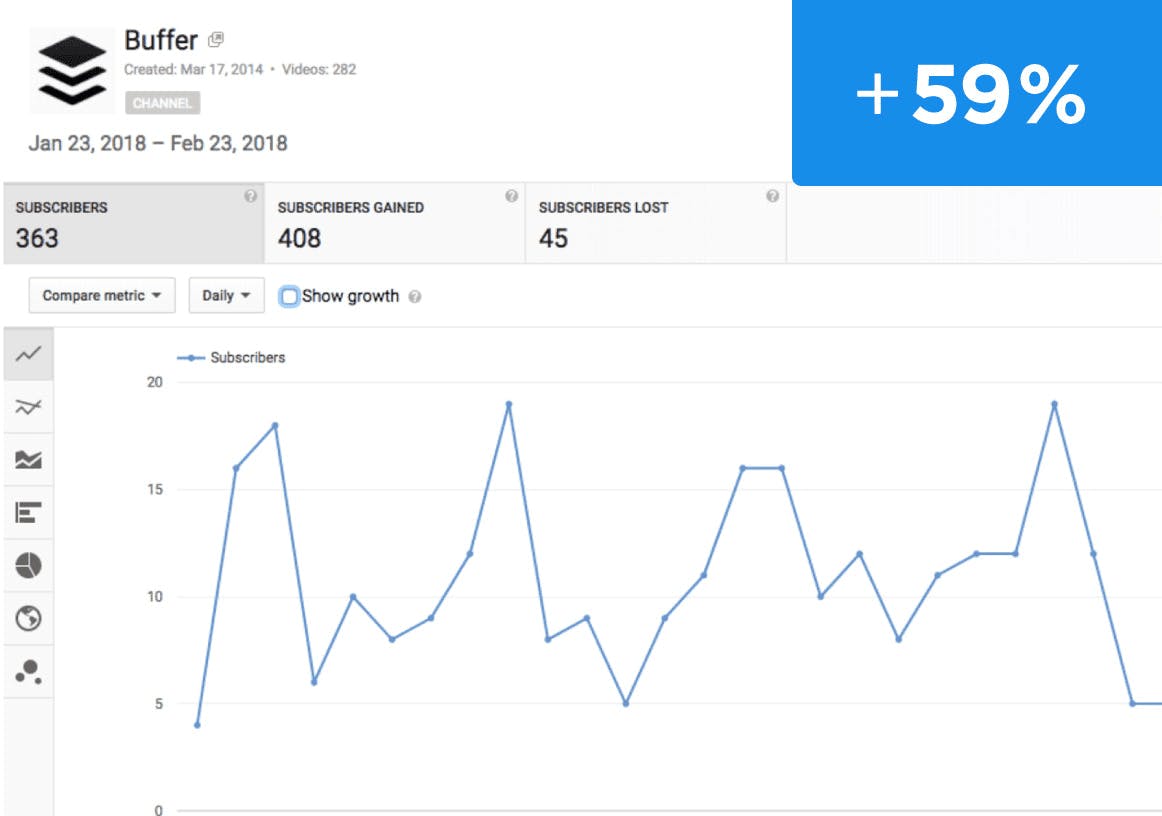 Keywords are like directions on a map that YouTube uses to find and recommend your content to other users. 
Therefore, it's essential to pick relevant keywords and include them in key places on your video's page. 
To pick the "right" keyword, use free keyword research tools like KeywordTool.io or vidIQ's keyword tools. 
These simple SEO tips and this YouTube SEO guide from Ahrefs should help, too.  

With your keywords in hand, use this YouTube guide to optimize your channel for SEO. 
You can start by creating an eye-catching headline that includes your keyword(s). 
38% to 45% of YouTube videos ranked with an exact match keyword -- or the exact term a viewer searched for -- in their title. 
Another 55% to 62% of titles ranked without using the exact match keyword. 
YouTube is good about understanding synonyms and variations of a word. The video search engine also prefers titles with natural-sounding language instead of strings of keywords. 
For those reasons, don't sweat it if you can't naturally work in your target keyword — people should still be able to find your videos. 
Let's look at a real-world example. 
When I searched for "calligraphy for beginners", YouTube's top search result was this: "How To: Calligraphy & Hand Lettering for Beginners! Tutorial + Tips!".

This title doesn't exactly match "calligraphy for beginners", but it does include "calligraphy", "for beginners", and is written in a natural-sounding way. 
Note that although research found that the top 20 videos on the YouTube search results page had titles between 47 to 48 characters, on average, it's fine if some titles are a little lengthy.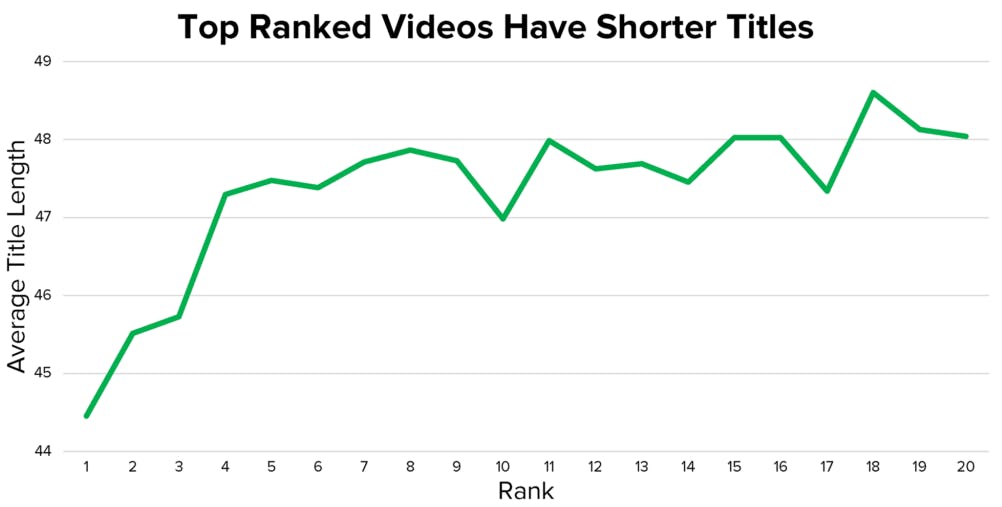 The norm isn't always the rule, in this case.
Outside of taking care of your title, include keywords elsewhere, such as your video tags. 
Google recommends using a set of tags that can be used for any of your videos. 
They also recommend using tags that incorporate keywords from your title in addition to updating your tags whenever new search trends appear. 
Don't forget to use keywords in your video description, either. Your description is arguably the most valuable way to promote your content after a keyword-rich title.  
Google recommends describing your video in one to two short sentences and picking one or two keywords to feature at the beginning of your description. 
Even though video descriptions themselves tend to be short, you'll still want to use your description copy as your top online salesperson. 
To that end, speak to your viewers' goals and search intent, include links back to your website, social media channels, and landing or product pages. 
As for what your description should look like, Dearly Bethany's well-linked YouTube description is worth mimicking. It's clear, well-organized, and doesn't make users hunt for a description through a deluge of links first -- just the most important CTAs.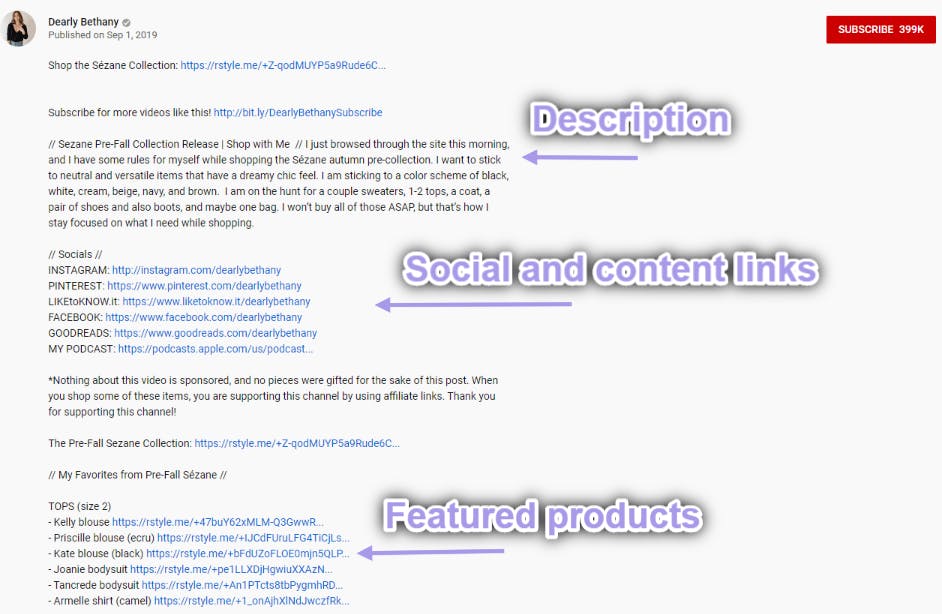 Lastly, create playlists for your content. 
Playlists don't help with SEO per se, but having pre-sorted content -- such as these well-organized playlists from The Home Depot -- can make it easier for viewers to find and watch more videos.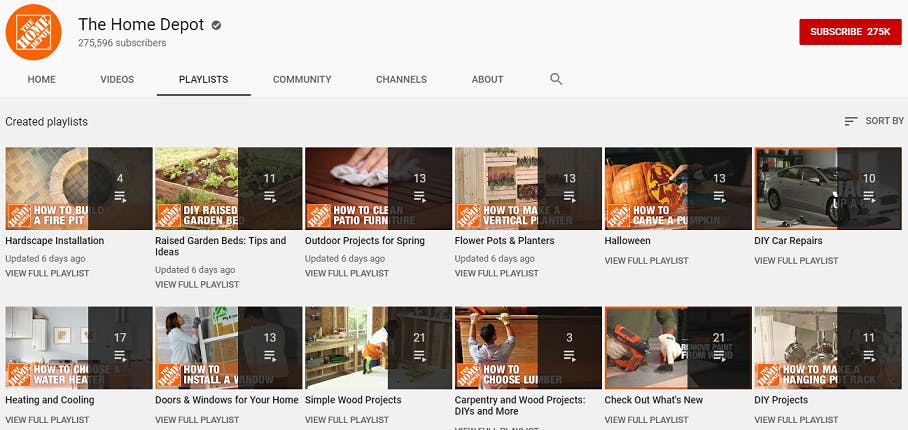 Essentially:
There are plenty of ways to boost your YouTube SEO, such as including keywords in your video title and description. 
One way you may be able to rank even higher doesn't include keyword research (phew, right?), but does require communication and friendliness. 
Tactic #4: Engage with your audience
If you owned a restaurant that prepared excellent food but whose waitstaff was cold and distant, you wouldn't get many repeat customers. 
The same applies to YouTube. 
If you don't engage with commenters on your channel or join discussions on other brands' videos, you're losing out on mounds of potential traffic and views. 
According to research by Backlinko, highly-ranked YouTube videos often had many comments. The average video on the first search results page had around 5,000 comments.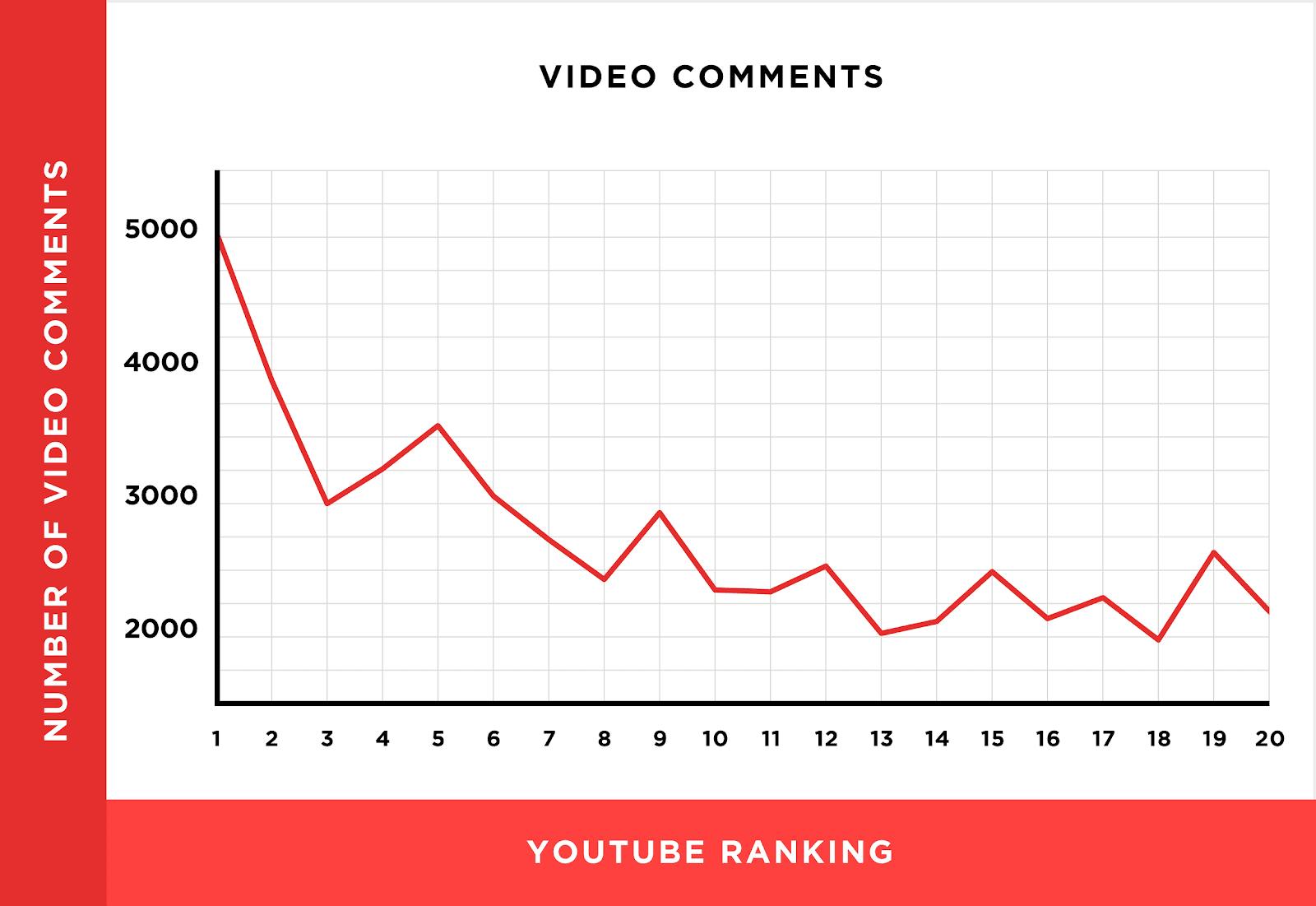 Therefore, you'll want to do as much as you can to encourage genuine comments on your videos. 
When responding to comments on your channel or commenting on other videos, make sure to offer something interesting or insightful to the discussion. 
"Thanks!" or "Nice video!" are okay once in a while, but they won't cut it if you're serious about relationship-building and raising awareness for your business.  
After all, 84% of consumers have said being treated a person, not a number, is important for winning their business.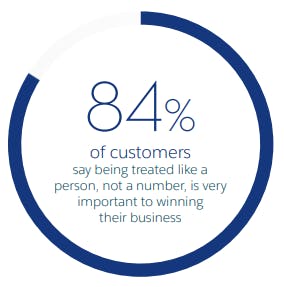 Another 58% of consumers have said human communication with a company would increase their likelihood of spending money with a brand. 57% said human communication would increase their loyalty to that brand. 
To put a long story short: Commenting is important for connecting with your audience. 
Creators Dane and Stacey of the YouTube channel Daneger and Stacey are great about responding to many of their comments and offering friendly and thoughtful responses. 

Aside from commenting on users' videos, there are other ways you can engage with your YouTube followers. 
Like GoPro, you could feature videos of customers using your product, or outline how using your product has benefited them.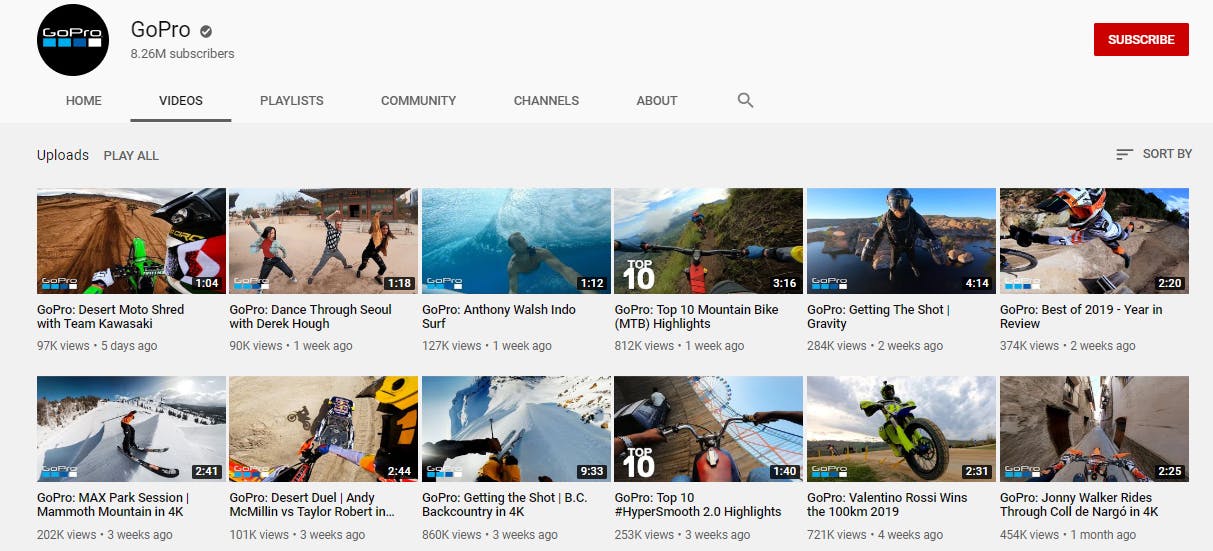 To complement your pre-recorded content, you could host live Q&As on YouTube, as well. 
The bottom line is it's essential to engage with your audience on YouTube.
Doing so can build interest in and trust from your viewers. It can also signal to YouTube that you have valuable, highly watched, and highly commented upon content. 
Again, though: you can't just release a few videos here and there to engage your audience. You should also release new content to stir up discussions and viewer interest. 
We've got that covered in the next tactic.
Tactic #5: Consistently release new content 
It can be tempting to release an endless stream of YouTube content. 
After all, 48% of consumers are more likely to share videos with friends before other types of content. 
The fact that 48% of marketers produce between 10 to 30 videos per month piles on more pressure, too.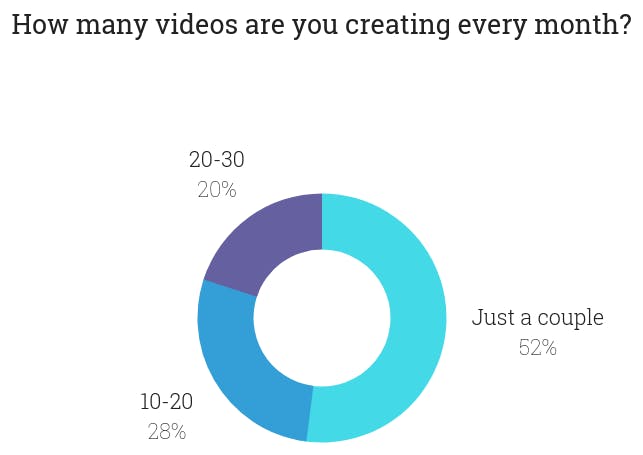 As a smaller creator, you don't need to post new content every day to grow your channel. However, you should have a regular posting schedule, so viewers know when to expect new content. 
Cheap Lazy Vegan's channel header says she releases new content every week, and a quick glance at Debt Free Dana's videos shows that she usually posts weekly, as well.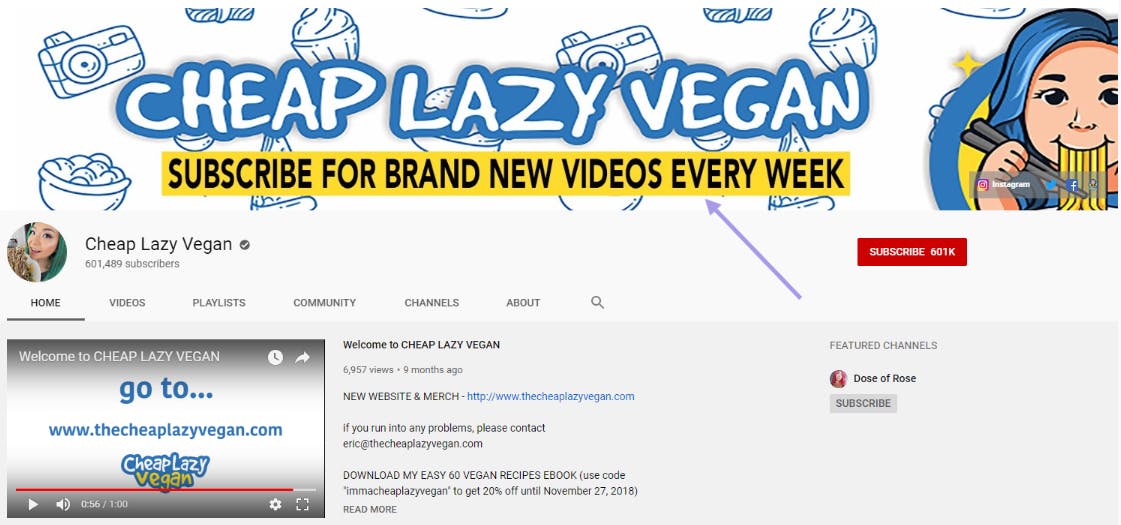 Don't feel any need to make your own publishing schedule match. How often you should create new content is entirely up to you. 
Creator Graham Cochrane, for instance, credits posting at least once a week for several years as important to his success. 
Moment, conversely, produces three videos a week, and they've said it's a struggle for their team. 
As a solopreneur or small team, it's more realistic and manageable to release two to four new videos per month until you can up your video production budget. 
If you're stuck for content ideas for those two to four videos, do some competitor and customer research to see what topics are trending.
You could also post demos or tutorials of your product offerings since 68% of people have said they enjoy learning about new products and services through short videos.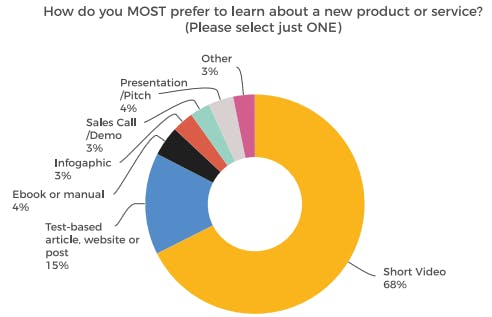 Finally, you could also share excerpts of your lessons if you sell online courses. Check out this bootcamp to get started for free today.
The 10-Step Product Bootcamp
Your next successful project starts now. Learn everything you need to know to create AND launch your next digital product in 10 steps.
Get access
Otherwise, this is what you need to remember:
Though it's important to produce relevant content for your audience, it's equally important to produce videos on a regular schedule so you won't fade from your viewers' memories. 
And, while you're at it, slap some CTAs onto the canvas.
Tactic #6: Use calls-to-action in your videos
You don't want people to watch your YouTube videos and go about their day. 
You want them to subscribe to your channel, comment on your videos, visit your website, or even purchase from you. 
One way to get viewers to take action is by including calls-to-action (CTA) in your videos and video descriptions. 
Many creators include a spoken CTA towards the end of their video and relevant links in the description box. 
Creators can also include in-video CTAs to accompany their spoken CTA by using YouTube cards and end screens. 
Cards are in-video links that viewers can click on to go to another video, website, or complete a poll, among other things. 
Cards appear as a small "i" icon in the top right corner of a video. 
Viewers can click on the icon reveal cards for other content links, as in this video on how to outline and structure an online course from Podia.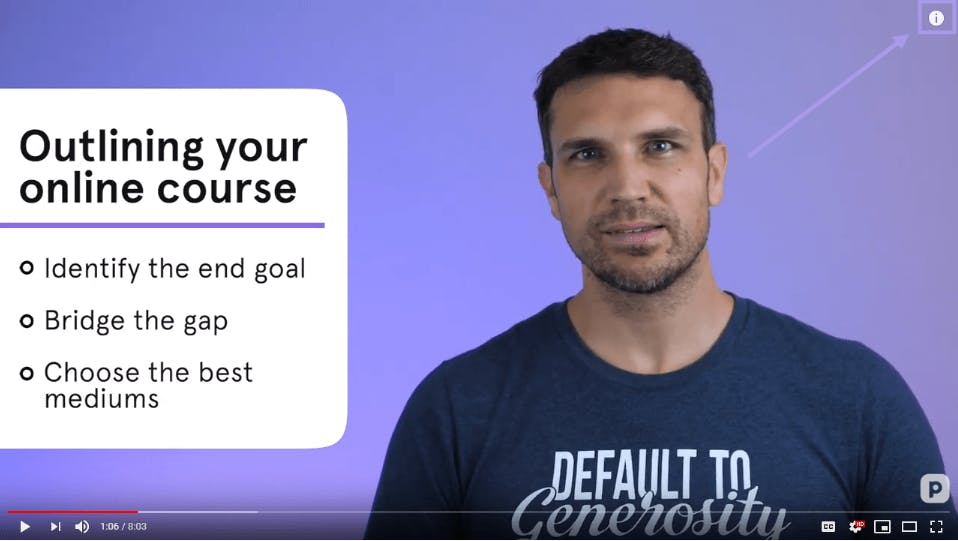 In this video from Lavendaire, the cards link to her other video playlists.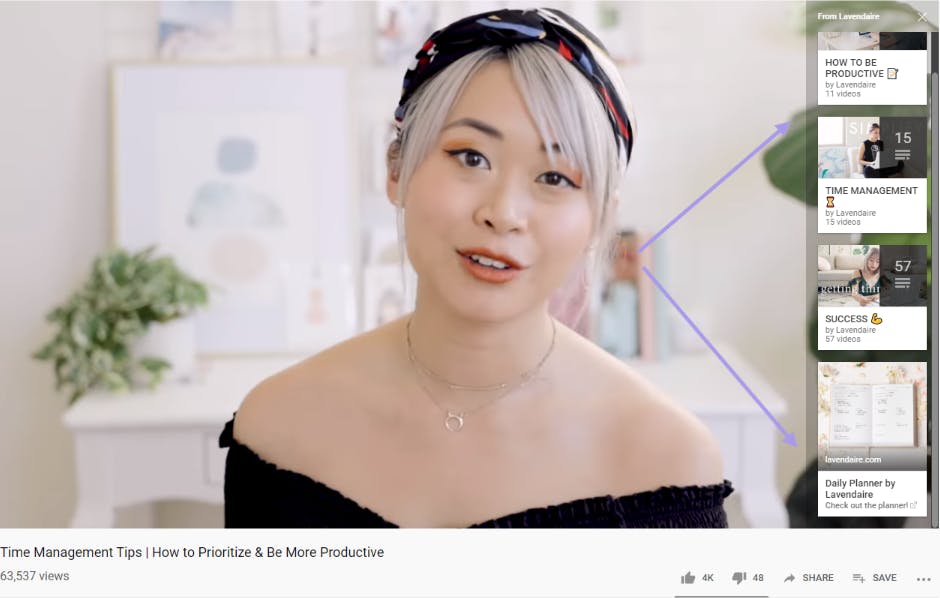 Cards could also link to your website, sales page, or individual videos, among other things. 
In addition to cards, you can use end screens to encourage viewers to take action. 
End screens are screens that can appear in the last five to 20 seconds of your video. They can promote up to four elements.
This end screen from Cole and Marmalade, as an example, encourages viewers to subscribe to their YouTube channel and view a related video.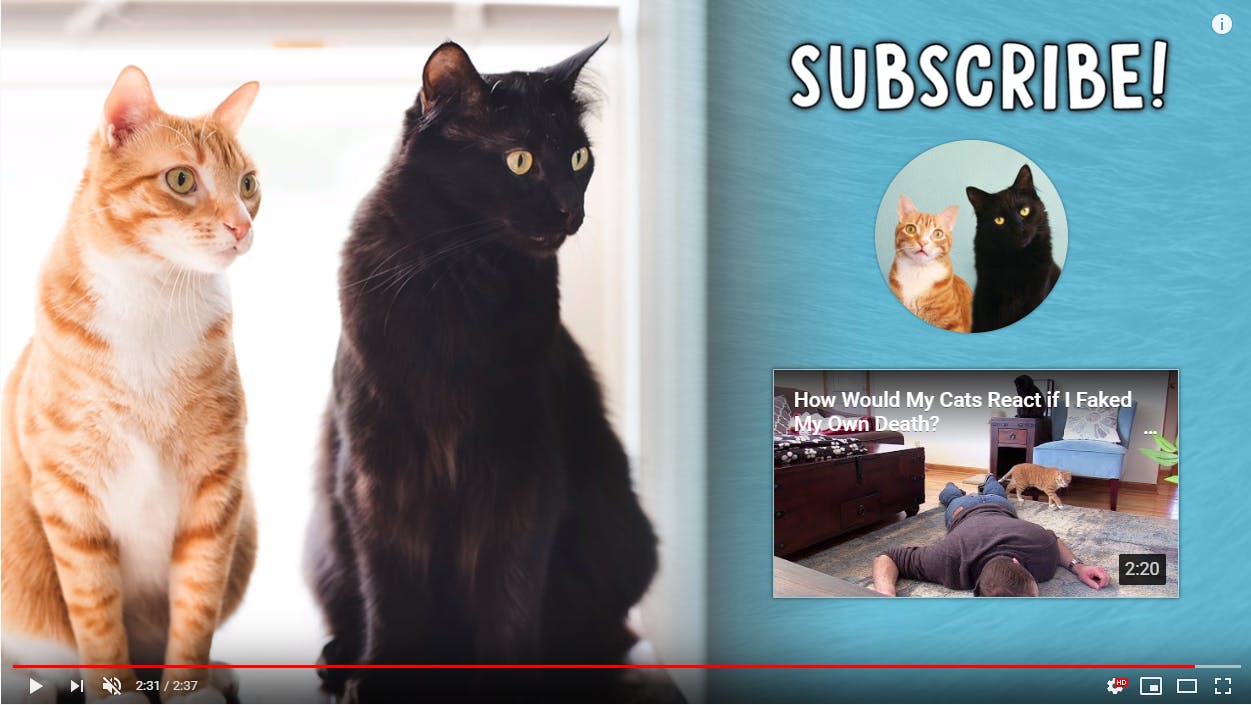 Including CTAs in your YouTube videos is incredibly simple. You could include a spoken CTA at the end of your video, or include clickable cards and end screens in your video. 
Now, there's just one last topping to worry about on your YouTube sundae: 
Viewers may not want to subscribe until they feel that they know and trust you -- no one wants to be spammed with notifications, after all. 
Just how can you appeal more trustworthy and personable to viewers? 
With a YouTube channel trailer, of course. 
Tactic #7: Create a channel trailer 
A YouTube channel trailer is like your channel's "about" page, but in video form. 
You wouldn't have a website without an "about" page, and you really shouldn't have a YouTube channel without a trailer, either. 
You can use your channel trailer to tell viewers who you are, what your brand is about, and what they can expect from your content. 
Welding Tips and Tricks introduced himself, mentioned how often he posts, and shared excerpts from his past videos in his trailer. 

Mike Boyd, on the other hand, used his channel trailer to share one of his most popular videos. Mike's approach could give viewers an idea of what they can expect from his channel.
Given that 72% of consumers expect brands to be positive contributors to society, you could also use your channel trailer to explain how your brand aims to make a difference.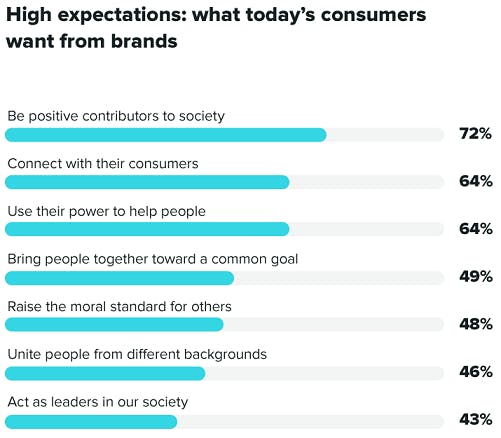 If you sell online courses, you could share a course excerpt in your channel trailer, too. 
(While you're here, why not sign up for a no-credit-card-required, 14-day Podia trial to see how easy it can make selling online courses?). 
However you choose to format your channel trailer, don't make it seem too formal or polished.
90% of consumers respond best to brands with authentic content, so a video that appears like a genuine conversation and not a scripted recording can go a long way in making you seem relatable and likable. 
Bottom line: 
Channel trailers are a quick way to teach viewers about your brand before they watch your content or subscribe. 
True, not every YouTube channel needs a trailer. 
However, every channel should have a trailer, especially since they're easy to create and can help to win over more viewers. 
You can start growing your YouTube following today
You're not going to grow your YouTube following overnight -- but it won't take years to build up a modest following, either. 
Seven reliable ways to grow your following include:
Posting content your audience is actively looking for or would enjoy watching

Optimizing your YouTube videos to maximize watch time

Using the right keywords so your videos can be more easily found and recommended

Engaging with your audience through YouTube comments and featuring your customers on your channel 

Regularly releasing high-quality content for your viewers to enjoy

Including CTAs such as cards and end screens so you can encourage viewers to subscribe, visit your website, and et cetera

Creating a YouTube trailer where viewers can learn more about your brand
Although there are many approaches to building your YouTube following, all are achievable with just a little bit of research and a can-do attitude. 
Don't let self-doubt hold you back any longer, and begin implementing the tactics that can help your YouTube channel grow today.