How to take a break without losing all of your customers
You need a break from your business -- and that's okay. Find out how to take a break without losing customers or hurting your business.
April 10, 2020 by Taylor Barbieri
---
You needed a vacation, like, yesterday. 
Your business is giving you stress, feelings of burnout, frustration, and a whole bunch of other negative feelings. Still, you're afraid of losing everything if you step away for even a few days. 
But what if I told you could take a break without losing all of your customers?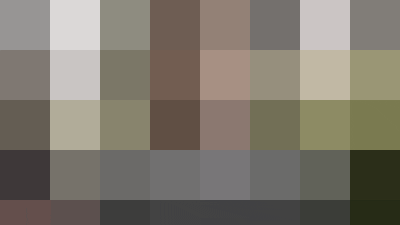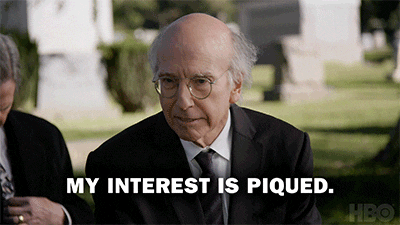 Countless other entrepreneurs have shown it's possible to take a break without sinking your business. In fact, it could be one of the best things you've ever done for your business. 
So, are you ready to start taking better care of yourself and want to keep your business in good standing while doing it? Then join us as we walk through three simple steps towards taking a break as an entrepreneur. 
How to take a break from your business without losing all of your customers
Step #1: Identify the root cause of why you need a break
Before you take a break, understand both why you need a break and for how long you should go on break. 
Taking a break simply because you're tired or stressed or burnt out won't help much in the long-run unless you can mitigate the source of stress once your break is over.  
For instance, have you ever taken a break -- whether from your business or from past employment -- and felt beaten down and tired just days after your return? 
You wouldn't be alone. 40% of workers said the positive effects of vacation lasted for only a few days after returning to work. 24% said those effects dissipated immediately.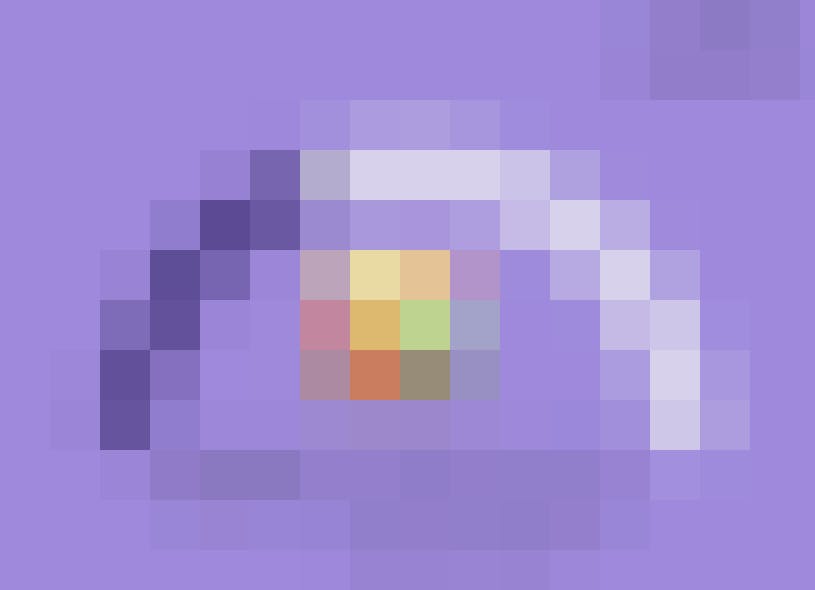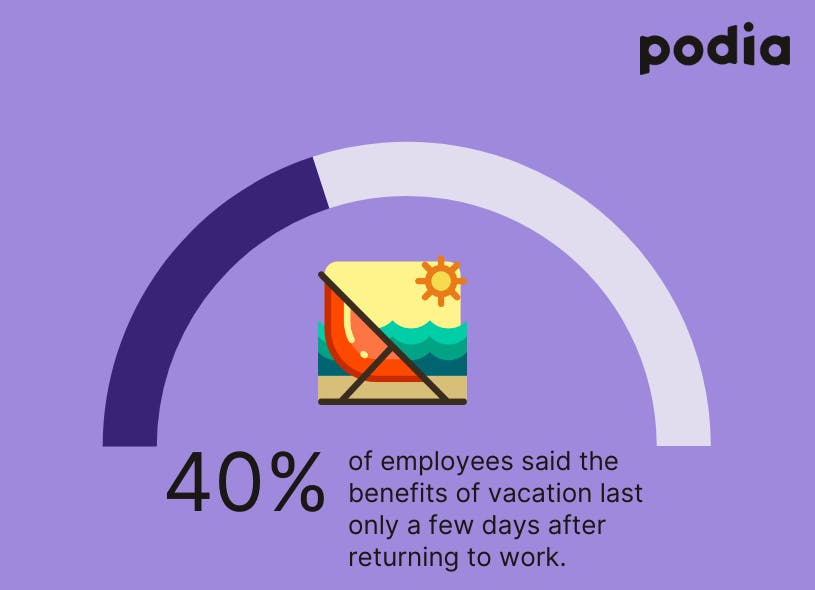 Let's say you're overwhelmed because you feel your to-do list grows endlessly -- a common problem for creators. 
After all, small business owners are responsible for 4.2 roles, on average. 28% of small business entrepreneurs also said that not having enough time was a struggle for them as a business leader.
To reclaim some of your time, you could automate certain business tasks so they can happen without your direct involvement.
As an example, you could use a social media management tool to share posts on your social media channels. An email marketing platform could help to streamline your email marketing efforts.  
You could also use a landing page builder, so you no longer have to build each landing page from scratch. 
If your workflows are sufficiently optimized and you're still running endlessly, you still have options. You could hire your first employee, delegate to a virtual assistant (VA), or outsource certain tasks. 
Don't feel bad or "lazy" for delegating tasks. 37% of small businesses outsource a business process, with 24% doing so to increase efficiency.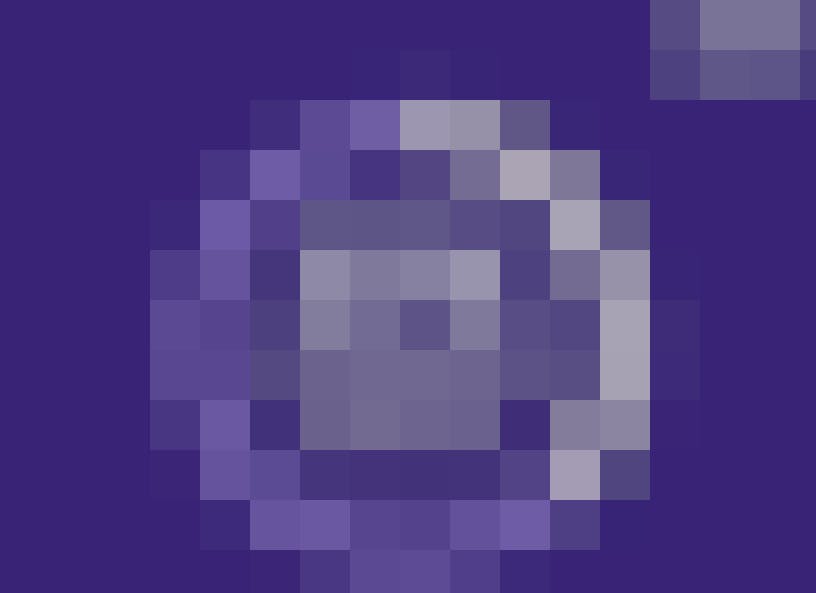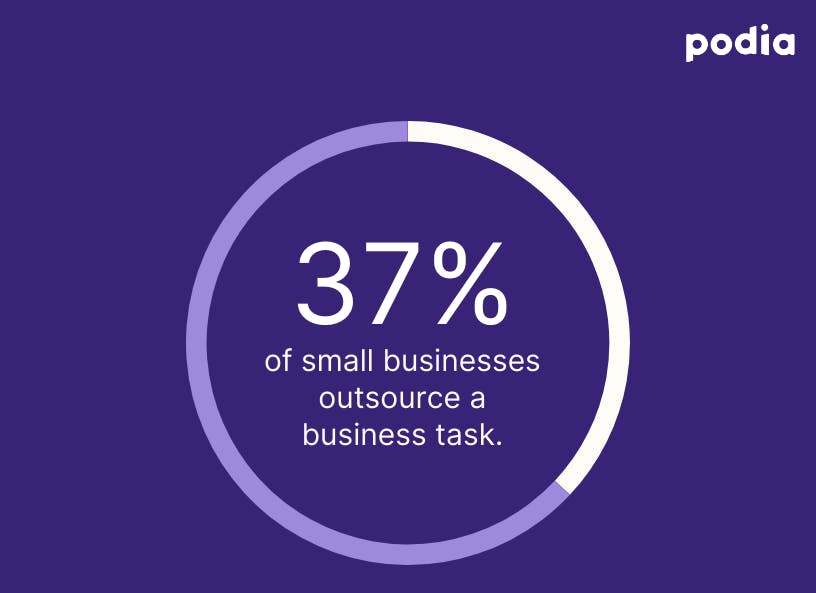 In fact, outsourcing can help you devote more attention to tasks that are a match for your talents. 
Consider Amy Vetter's example. 
Amy began to feel drained from managing all of her business' daily tasks herself. After hiring a VA, Amy felt that she had more time and energy and could devote more time to tasks she excelled at. 
But what if your workflow isn't the issue -- what it's in your attitude? Perhaps you're struggling to cope with perfectionism or aren't sure how to deal with impostor syndrome. 
In those cases, you may want to consult with a mental health practitioner so you can have a healthier outlook. 
Maybe multitasking is your number one foe, or procrastination always finds a way to foil your plans. In these instances, a business or productivity coach may be able to help you get your work ethic back on track. 
Whatever the case, take some time before your break to identify the root of your stress. Doing so can help you avoid, or at least contain, those obstacles in the future. 
Step #2. Determine how long your break should be
After figuring out why you need a break, you next need to map out how long you should go on a break. 
Of course, the length of your break will depend on what you can reasonably afford to take. 
Many freelancers give themselves two weeks or less of vacation, although longer or more frequent breaks could arguably be much more impactful.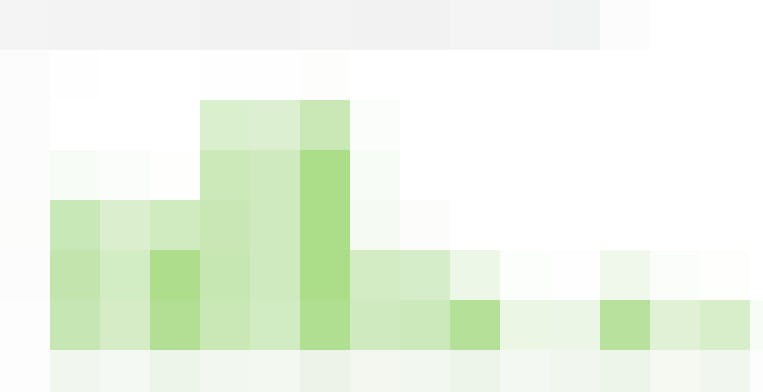 But entrepreneurs have taken breaks of all lengths. 
Entrepreneur Kianta Key took a five-day vacation, which helped her to relax and reminded her of why she started her businesses. 
On the opposite end of the spectrum, Joellyn Fergusson took seven months away from her business. Her break helped her to learn about her mindset and what she needed to change in her business. 
If a lengthy break still isn't financially feasible for you -- or you simply need a break sooner than later -- you could take shorter breaks instead. 
Dr. Tana M. Session takes off at least two Fridays per month from her business. David Howell takes a week each quarter for himself. 
To start taking breaks like Tana and David, you'll need to start penciling in firmer boundaries in your schedule. 
64% of Americans struggle to plan vacations because of uncertainty in their personal schedules. Another 57% have trouble planning vacations because of uncertainty in their professional schedules.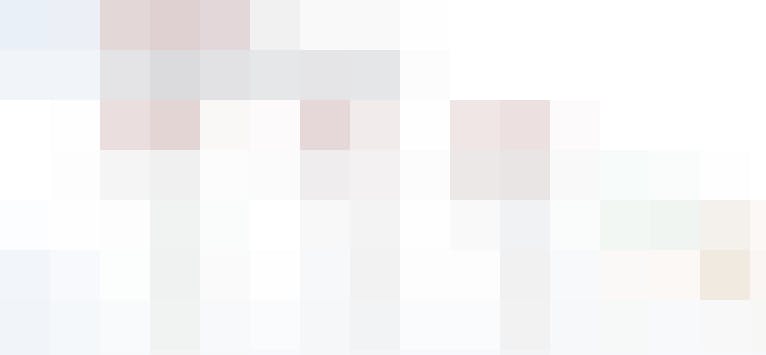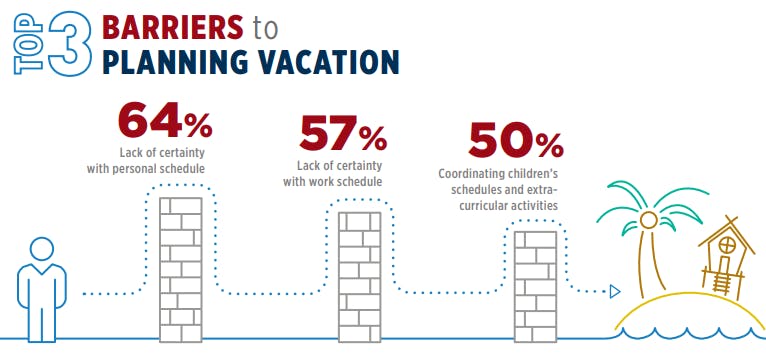 A few weeks or months before your planned break is the perfect time to re-arrange your schedule so you can take time for yourself. 
Listen, it's okay -- and even preferable -- to take a break from your business. Yes, there will be obstacles, but there will always be obstacles. And the longer you put it off, the higher the chances are that those obstacles will get harder to cross.
So, set a timeframe for your break. Then, move on to actively planning it.
Step #3: Start planning for your break
92% of freelancers work on vacation, and 60% of freelancers feel they must work while vacationing.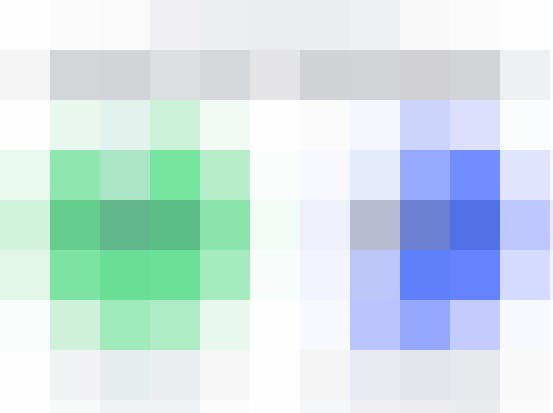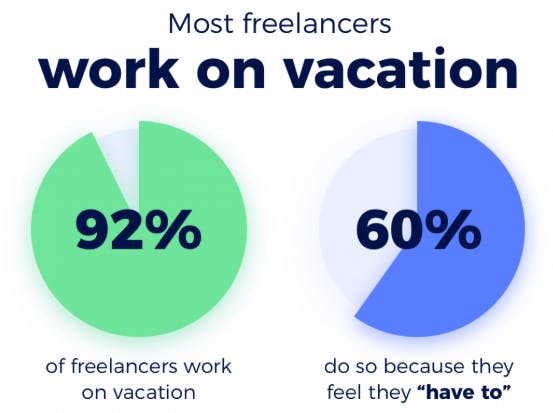 But you may not want to do the same. 
Research has shown that relaxing from work is essential for improving health and wellness. 
One study found that relaxation and detaching from work positively influenced workers' health and wellness after returning from their vacation. 
Another report found that relaxation and pleasure from activities, among other things, were important for the strength and persistence of positive effects of vacation. The effects were important for both during and after the vacation, though to a lesser extent. 
Therefore, start planning as far in advance as possible to prepare your business for your leave. 
First, decide if you'll temporarily close your product pages or stop pitching clients while you're away. 
This freelancer stops pitching clients at least a week before going on vacation. They also notify regular clients of their break at least a few weeks before going away. 
If you plan on taking a longer break -- say, two weeks or more -- and plan on temporarily closing your product pages, make sure to follow their lead and notify your customers a few weeks in advance. 
Four to six reminder emails, a handful of social media posts, and an announcement on your website should do the trick.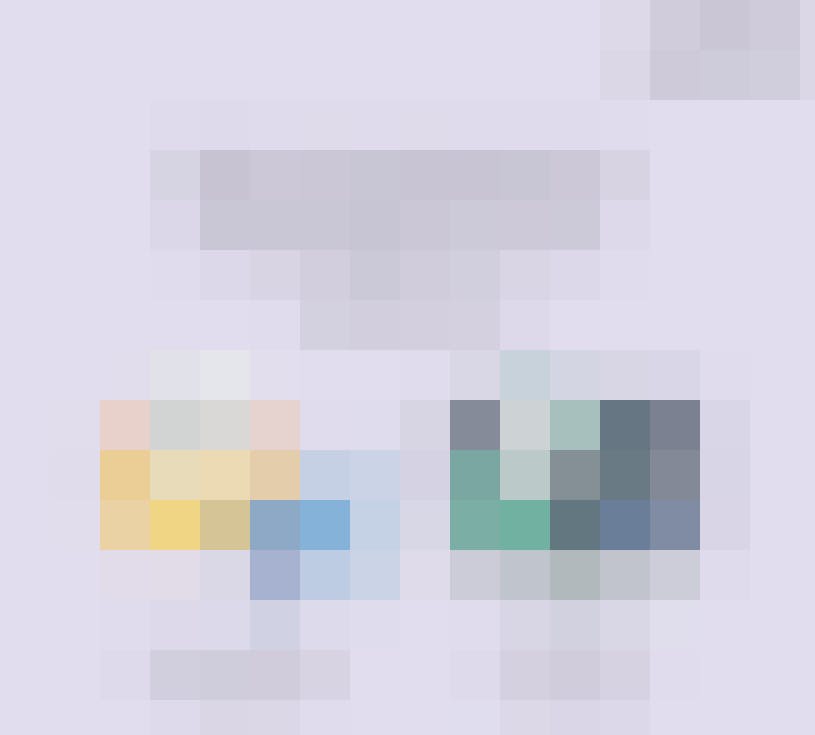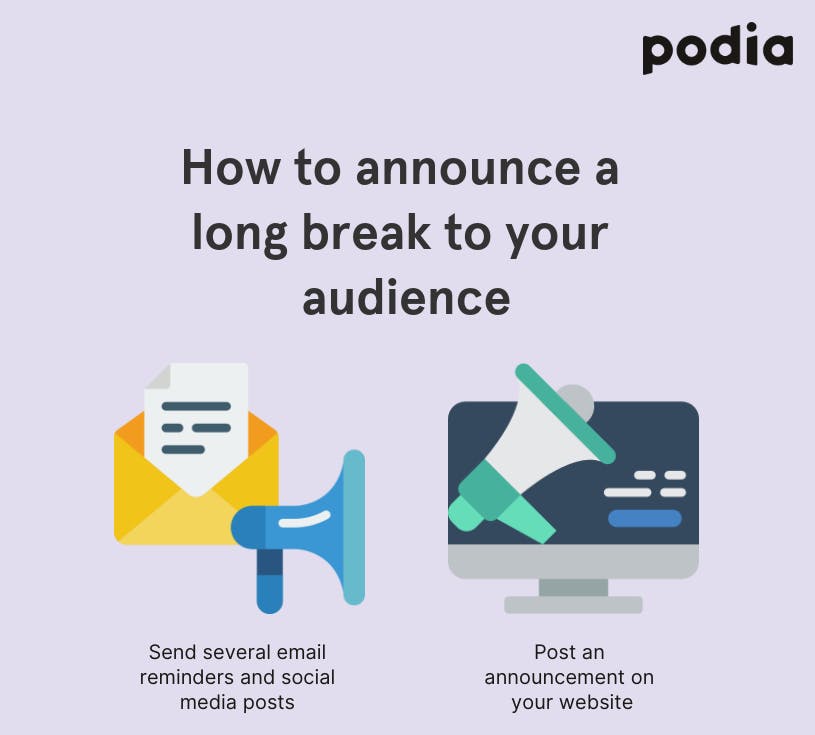 If you want to continue accepting sales, you'll probably want to hire a VA (and use these tips for getting the most from your virtual assistant). 
That way, someone will be able to process customers' questions while you're away. 
This can, in turn, keep sales coming into your business. Keeping your business open and having someone on hand to help customers can signal to your customers that you want to deliver a consistent customer experience even while you're away. 
Whether you keep your product pages open or not, chances are there are still certain tasks that will need attending to. After all, your inbox, customer questions, and social media feed won't suddenly pause themselves since you're out of the office.  
In that case, automate certain tasks if you haven't done so already. These top zaps for online businesses can help you get started with automating different business processes. 
In that same vein, consider if you want to continue releasing content for your business, such as blog posts, videos, or social media posts, while you're away. If so, you'll need to create and schedule that content before you leave.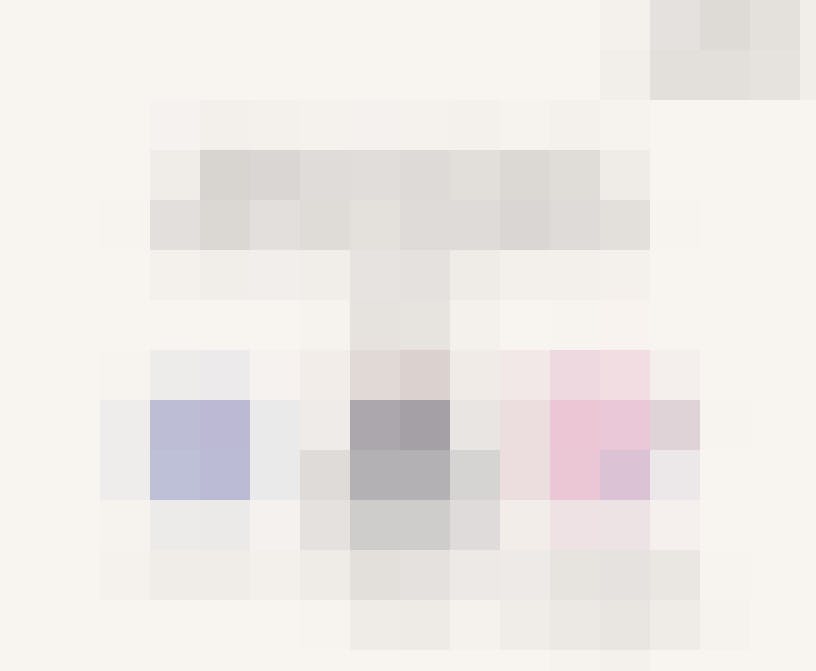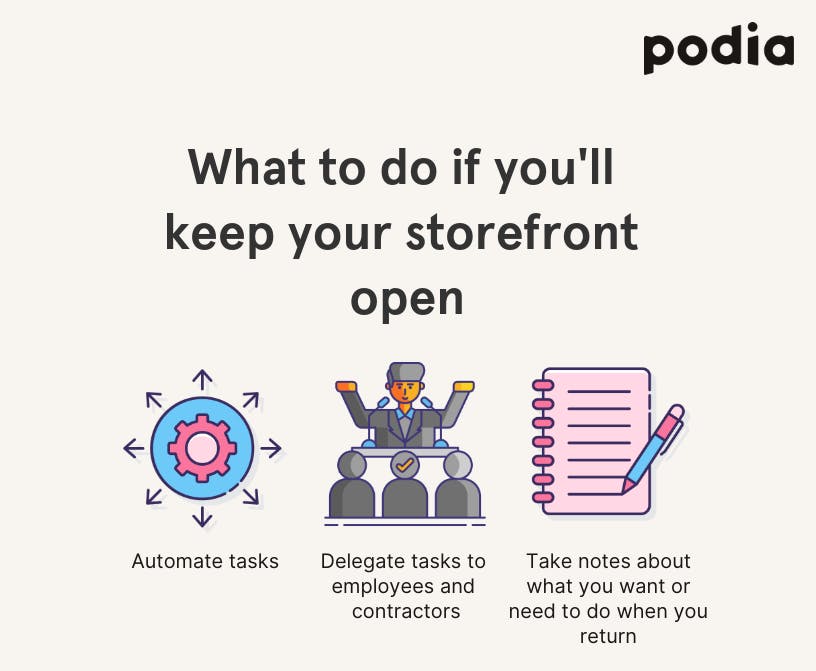 You should also delegate tasks to your VA, employees, or contractors so your business can still run smoothly without you. 
Though it may take a little extra time, it's better to be as explicit as possible with employees and contractors about how to complete certain tasks or manage certain situations. 
After a mishap while she was on a business trip, entrepreneur Janet Attard outlined how employees should handle certain situations. 
Specifically, she assigned one employee with handling problems while she was away and described what employees should do if a situation arose. 
She also ensured that third-party resources had one another's contact information so they could work together without Janet's explicit go-ahead. 
Finally, to round out your business prep, make a list of what you should tend to once you're back. Were there contractors you wanted to work with, or marketing campaign ideas you wanted to bring to life?
If so, write them down somewhere so you can return to them after your vacation. 
This way, you can jump right into the groove of things once you return. 
Preparing your business for your break basically comes down to automating repetitive tasks, preparing content and social media posts to share while you're away, and delegating to others. 
But the last -- and arguably, most important -- thing to do before kicking back and relaxing is to inform your customers about your upcoming absence.  
Step #4: Notify your customers
I get it -- you're afraid to tell your customers that you're going on a break. 
43% of freelancers have felt they had to hide a vacation from clients.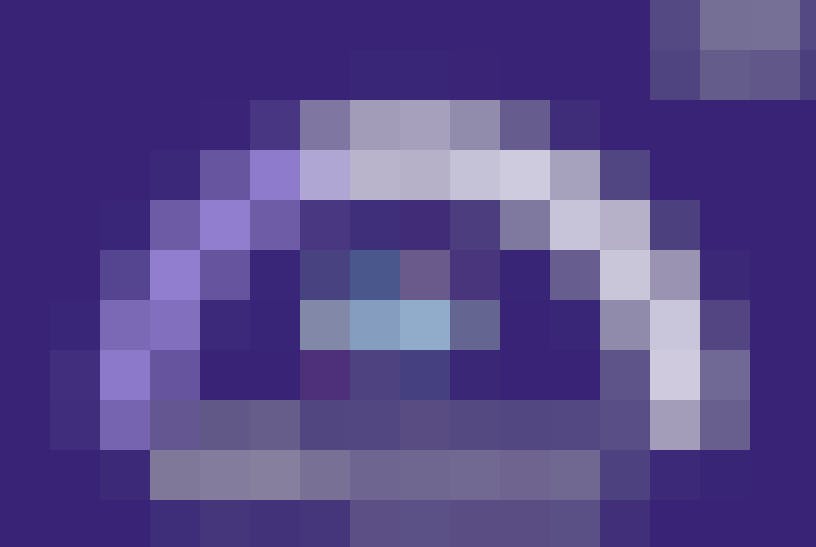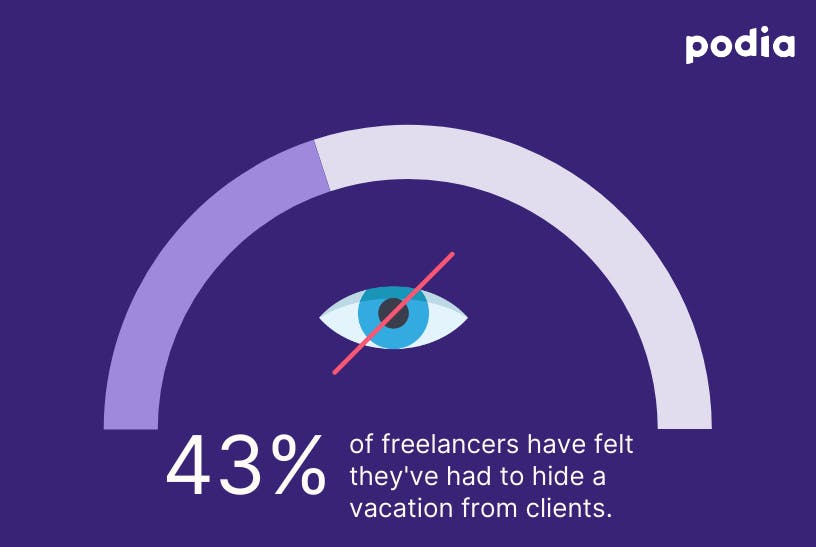 You're worried that they'll think you're abandoning them and flock to a competitor. Or maybe you're afraid they'll think you're neglecting them. 
But don't let that stop you from taking a break. Because here's the thing: customers and clients who value what you offer won't begrudge you for taking time to unwind. 
They'll know that creatives, just like everyone else, need time to recuperate from the stresses of running a business. 
And here's another thing: Of all the reasons why consumers leave a business, the business owner taking a break ranks pretty low, if at all. 
40% of consumers leave a business because they felt unappreciated, and 33% left because they weren't able to talk to a person, for example.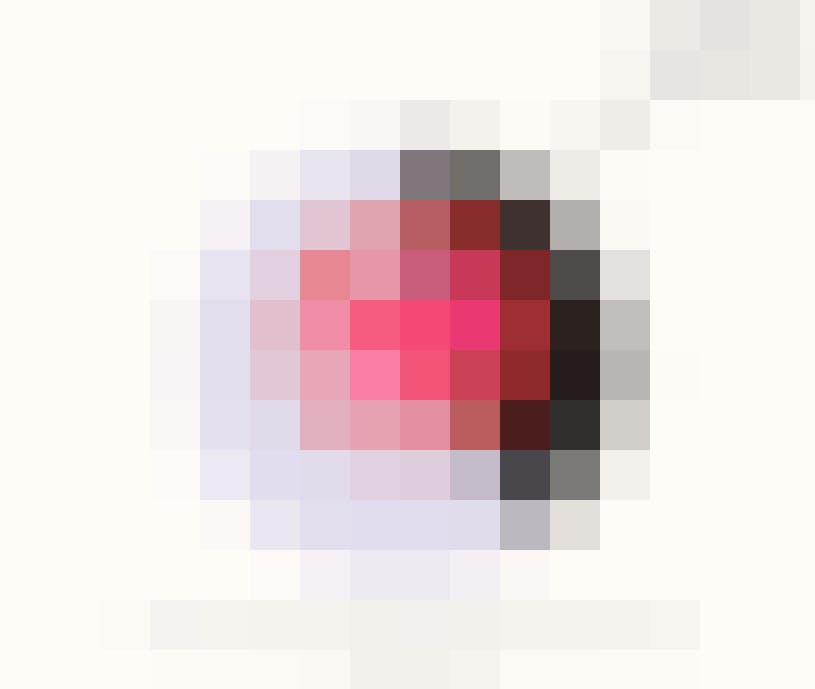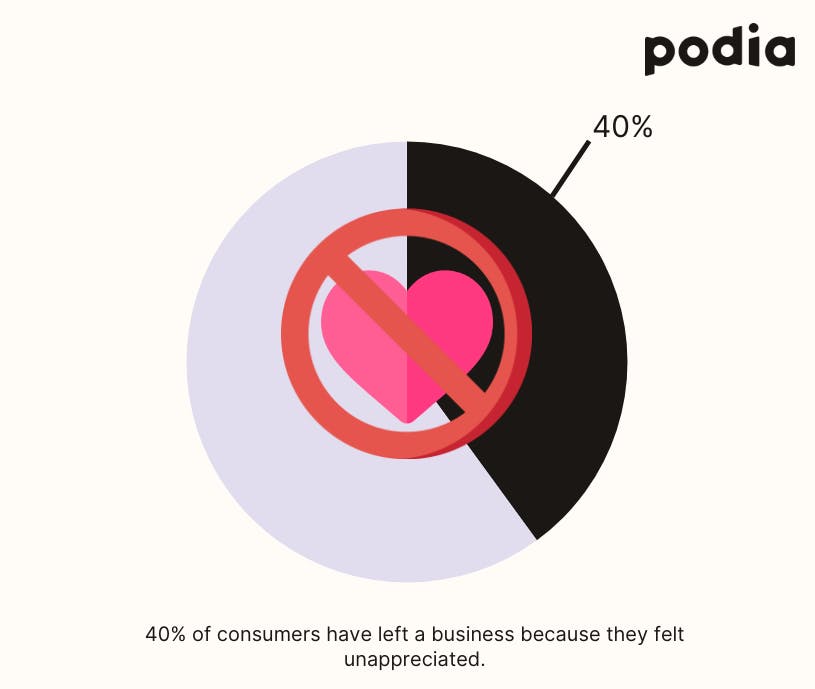 So instead of fretting about a break, you could invest in giving your customers a better experience, communicating more clearly with your clients, or some other proactive measure. 
Additionally, plenty of freelancers have taken breaks and found that it didn't negatively impact their businesses. This Pinterest strategist found that their clients "were totally cool with [their taking a break]."
Similarly, this freelancer discovered that nothing bad happened while she was on a break.
And if you do encounter customers who are a little peeved about your break, consider (professionally) parting ways with your clients if an explanation doesn't work. 
To minimize any negative feelings of your taking a break, notify your customers as early as possible. Earlier is always better, although a month in advance would seem to be the minimum for most entrepreneurs. 
Make sure to send multiple reminders via email. A few updates or a pinned message on your social media channels wouldn't hurt, either. You could announce your break through a blog post, as Elan Creative Co. did.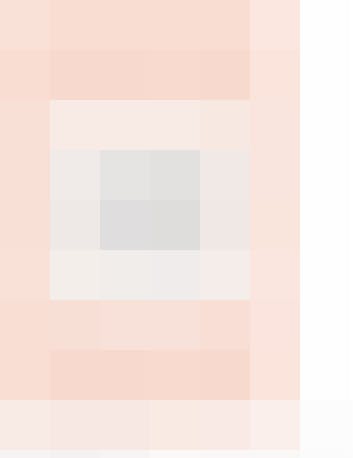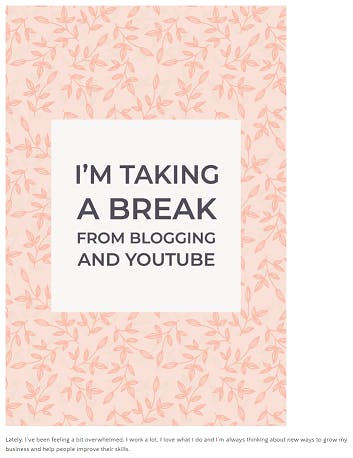 Also make sure to outline how often you'll be available to answer messages, if at all, and who your customers should contact if they have questions. 
Laura B. Pointdexter, for example, includes clear instructions on her email and voicemail out of office messages detailing how to reach her and when she'll return from her break. 
Lastly, explain how the break will (or won't) affect your customers, and what you're doing to make the break as minimally disruptive as possible for them. 
Yes, it really can be that simple.
But we're always in the business of making even the simple more seamless, so here are some email templates you can use to notify your customers about your break. 
Email templates for telling your customers you're taking a break
Email #1: Four weeks before your break
There's something you should know . . . 👉
Good morning, [NAME]!
This is [YOUR NAME] from [YOUR BUSINESS].
I love creating products from awesome students like you. In fact, helping others is the entire reason I started my business. 
I just wanted to give you a heads up that I'll be taking a temporary pause.
I'll be out from [DATE] to [DATE] and won't be answering my email or social media messages. 
Here's what that means for you:
[Address three to five common questions about your absence, and/or link to a FAQ page on your website]
If you have any questions, feel free to reach out by responding to this email. 
All the best, 
[YOUR NAME]
Email #2: Three weeks before your break
Did you get last week's memo? 🤔
Hi, [NAME],
It's [YOUR NAME] again. 
Are there any questions you have for me about [PRODUCT/TOPIC]?
If so, now's the time to send them my way. 
I'll be away from [DATE] to [DATE] and won't have access to my emails, though my virtual assistant, [NAME], will be available to answer questions. (Note: Omit this last line if you won't be using an assistant.)
So, what can I help you with?
Just reply to this email, and I'll get back to your ASAP. 
Best, 
[YOUR NAME]
Email #3: Two weeks before your break
Have a burning 🔥 question to ask? Do it before I go
Hello, [NAME]
I just wanted to send a quick reminder your way:
I'll be out from [DATE] to [DATE] for a vacation. While I won't be available to answer questions then, my assistant, [NAME], will gladly help you out. (Note: Like last time, just omit this line if you won't be directing customers to another contact.)
In the meantime, is there anything I can help you with? 
Just shoot me an email, and I'll gladly be of service. 
All the best, 
[NAME]
Email #4: One week before your break
The clock is ticking ⏰ -- let me help you now
Hey there, [NAME], 
I know I've emailed more than usual the past few weeks, but here's the thing:
I'm going to be on a much-needed break to recharge my batteries from [DATE] to [DATE]. I won't be available to answer emails then, but my assistant, [NAME], will be able to help you out. 
I just wanted to follow up again to see if there was anything I could help you with before I go on my break. Here are some commonly asked questions about what will (and won't) change while I'm away: [link]
So, if there's anything (and I mean anything) I can help you with, just reply to this email. I'm always happy to help out. 
Cheers, 
[NAME]
Email #5: Two to three days before your break 
Any last words (or questions) before I pack my bags? 🧳
Good morning, [NAME]!
It's [NAME] again. 
I'm heading out on vacation starting [DATE], and boy oh boy, am I excited. 
But the thing is, I can't fully relax until I know that my customers and followers (that includes you) are taken care of. 
So, if there's anything you need from me, whether that's help with a purchase or a simple question, please reply to this email, and I'll happily help. 
Have a great day!
[NAME]
Take a break from your business so you can serve your customers better
I get it -- working 12-hour days, seven days a week can feel mandatory if you want to keep the customers you worked so hard to earn. 
But unless you take periodic breaks away from your work, stress, frustration, and burn out will probably eat you up within a few months, if not a few weeks. 
Fortunately, you can take a break from your business without losing your customers. To prepare your customers and business for your break, you'll want to:
Figure out what is causing you so much stress or frustration in your business and identify ways to mitigate those issues when you come back from vacation. 

Determine for how long you need (and can afford) to go on a break for 

Ready your business for your break by automating and delegating tasks, preparing and scheduling content to be released, and et cetera

Send your customers several notifications through email, social media, and your website that you're going on on a break, and how you break will or won't affect them
All of that sounds pretty doable, no?
So start planning your break now so you can start basking in relief, relaxation, and a welcome respite from your business. 
Your customers and creative juices will thank you for it. 
Looking for ways to better your business once you're back from vacation?
Sign up for Podia's weekly newsletter for advice and tips on marketing, product development, entrepreneurship, and more.