7 dead-simple ways to make money with an email list
Your email list is a cash cow you can take to market week after week. Uncover seven ways to make money with an email list in this guide.
March 3, 2020 by Taylor Barbieri
---
You're scouring your email marketing dashboard for the umpteenth time. 
Your eyes are tired.
Your patience is thin.
You put in the legwork to build an email list from scratch, but no matter how much you pivot and experiment, you're just not getting any financial traction.
Making money with an email list is supposed to be easy, and you followed all of the email "best practices" out there, so what gives?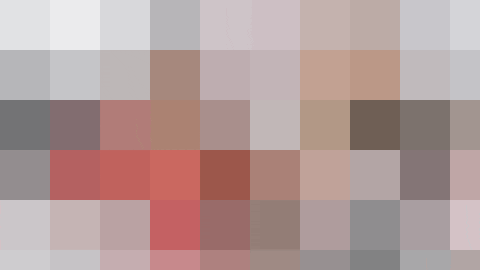 The problem may not be that you're writing "bad" marketing emails. Instead, you may need to refresh your email monetization strategy. 
And don't worry -- revamping your approach doesn't require thousands of subscribers or fancy tactics. 
We curated seven ways any creator can use to make money with an email list. Today, we'll cover each in-depth, including the what, why, and how behind each. 
Sound good? Then let's dive right in.
#1: Share information about your products and business 
Many creators feel uneasy about promoting their products via email and rarely, if ever, talk about them. 
But they shouldn't. Emails are a great way to educate others about your products and business.
61% of consumers like to receive marketing emails that provide information. Around two-fifths of consumers said promotional emails give them an additional incentive to purchase something. 
83% of people prefer receiving communications from companies through emails, too.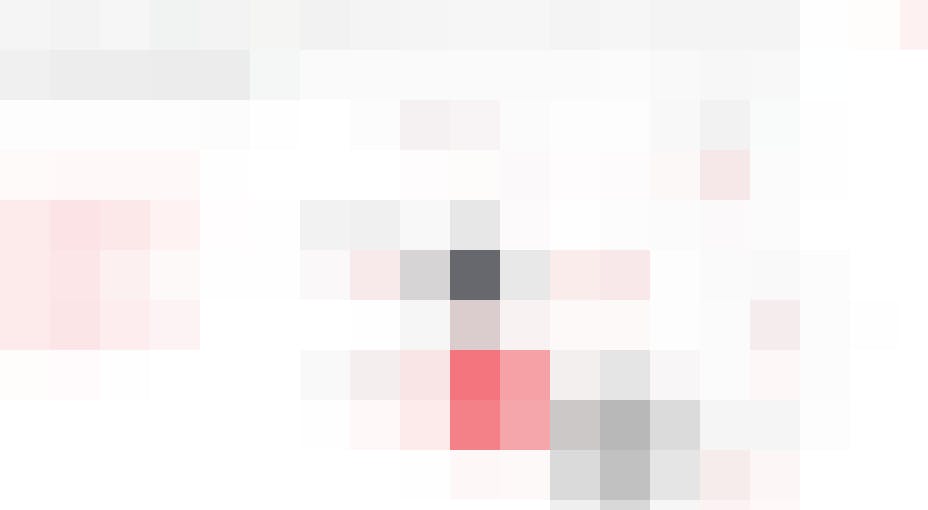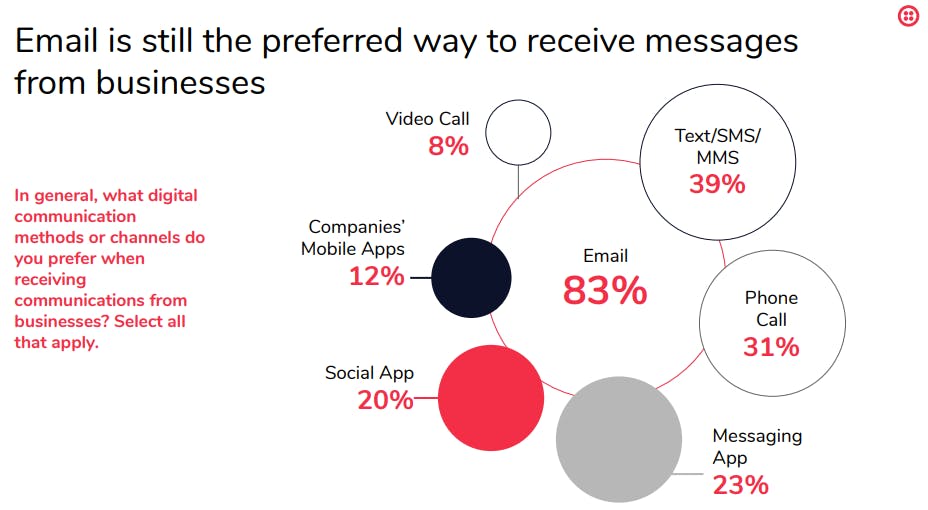 Customers won't just be happy that you communicated with them via email -- they'll show their happiness in revenue.
75% of shoppers will reward companies that communicate using their preferred channel. These rewards can take the form of a website visit, purchase, or something similar. 
But that's not an excuse to turn your emails into an endless stream of self-promotion. 
Keep your emails at a ratio of 80% informative content and 20% promotional content when starting out. You can adjust this ratio after getting a better feel for subscribers' preferences and behaviors.  
And when you do send out great sales emails, keep overt promotions to a minimum -- a little subtlety goes a long way. You put in a lot of hustle to get your subscribers, so when you're trying to convert subscribers to customers, tread with care.
One way to educate subscribers about your products without beating them over the head with them is by including customer reviews and testimonials. 
As an example, Eight Sleep included reviews from three athletes and fitness professionals in the email below.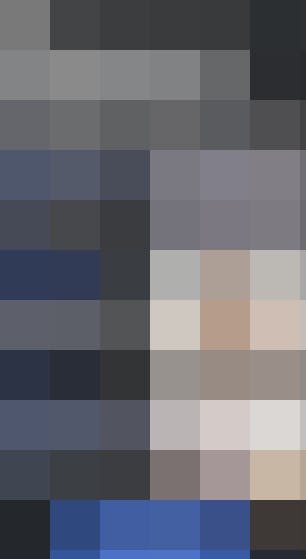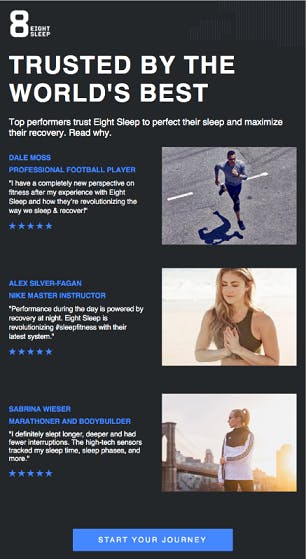 The reviews highlighted how their smart mattresses help people sleep better and facilitate recovery from physical activity. 
In addition to reviews, use sales emails to talk about how subscribers could benefit by using your product. 
Wealthsimple's promotional email is worth copying, especially for creators who don't like tooting their own horn.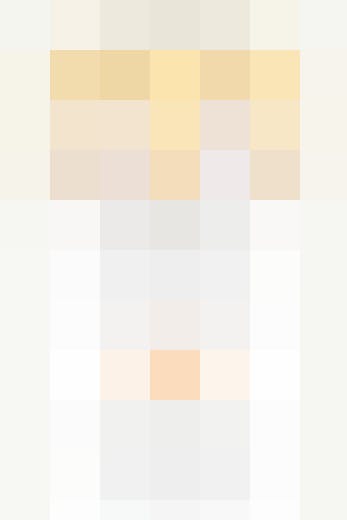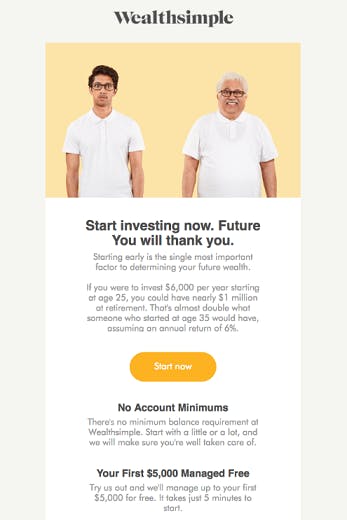 Their email starts off by telling their subscribers how they could benefit by investing from a young age.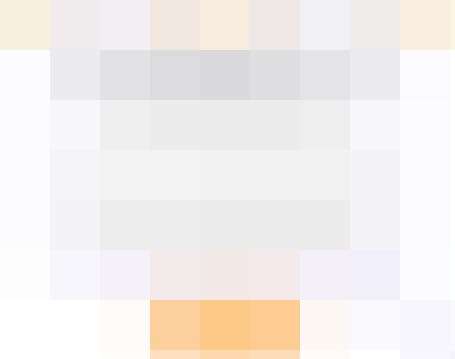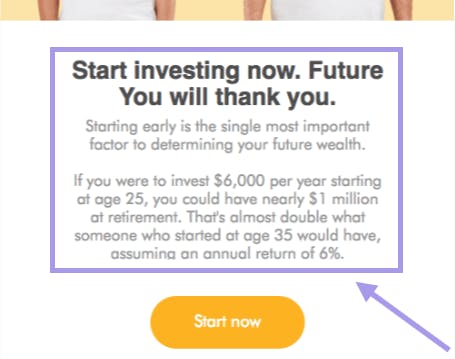 They then included a CTA where subscribers could sign up for Wealthsimple.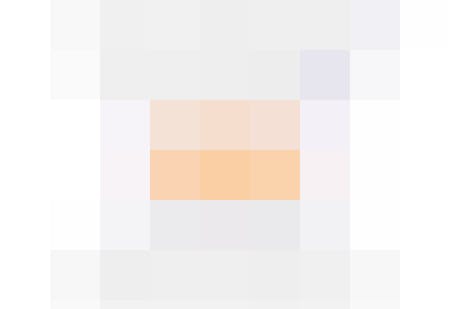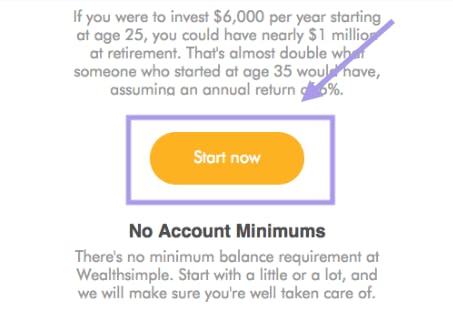 It's only after outlining the benefits of investing early and giving subscribers an opportunity to sign up did Wealthsimple talk about themselves.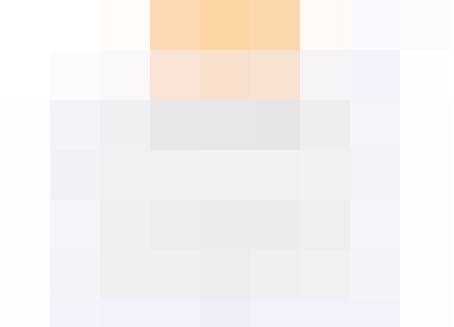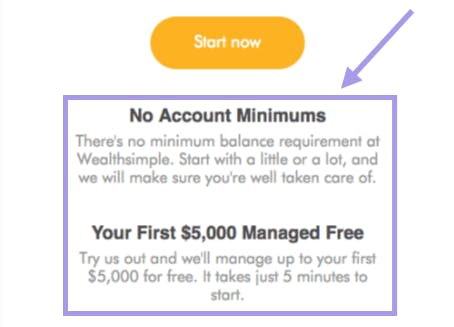 Wealthsimple's approach was clever for a few reasons. Firstly, it plays to consumers' preferences and unique concerns. 
When making purchasing decisions, 62% of shoppers want content that speaks to their individual needs and pain points. 43% want the content to be more educational than advertorial.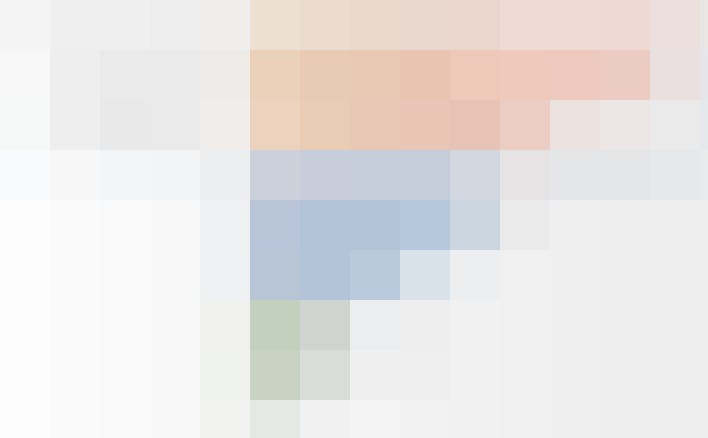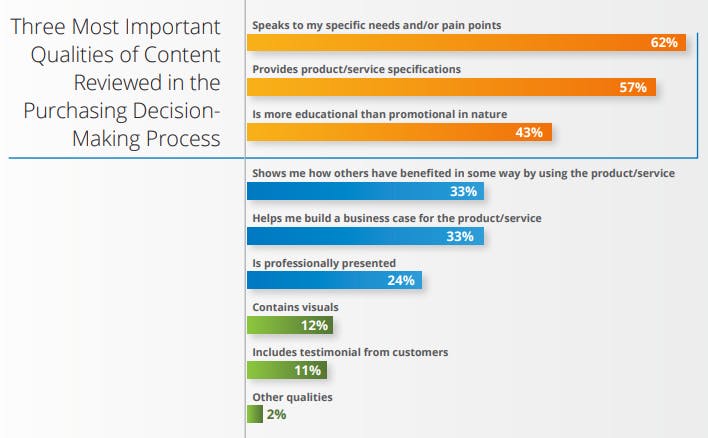 Wealthsimple's email addresses both of these points. Their opening section talked about how subscribers could evade the pain point of not having enough saved for retirement. 
In fact, most of their email talked about how subscribers could benefit by saving for retirement at a young age. It was only in the bottom third that Wealthsimple talked about what made their service unique. 
So, as you can see, it's definitely possible to sell through your emails without impersonating a cheesy '80s used car salesman. The key is to overcome your aversion and approach it thoughtfully -- do that, and subscribers are happy to hear about your products.
Of course, sometimes, you need to get a little more targeted than that to make money with your email list, and that's where our second strategy comes in.
#2: Offer a tripwire to your email subscribers
Sure, the name brings to mind espionage and intrigue, but there's nothing sneaky about using tripwires in marketing (when done the right way). 
A tripwire is an inexpensive product you offer a would-be customer. Creators can also offer tripwires to customers who may be about to leave their business.
 A classic example of a tripwire is the old school Columbia House model of offering cassettes dirt cheap to get people in the door.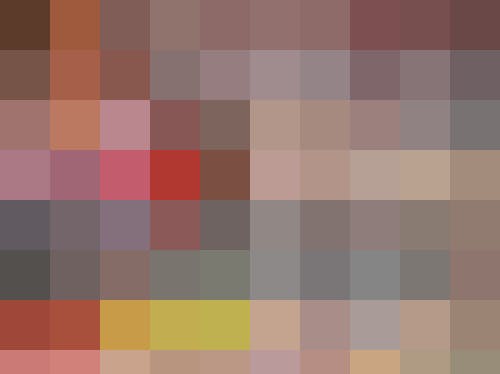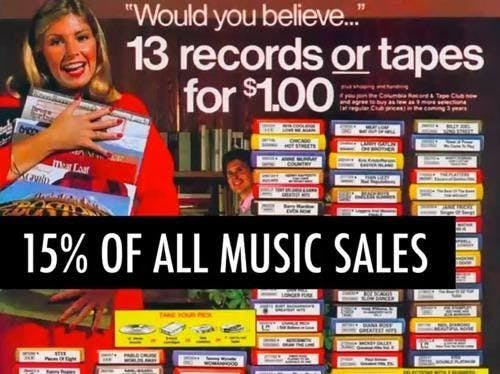 (For our younger readers, think if Spotify offered you 13 DRM-free album downloads for a dollar.)
And that is, ultimately, the purpose of a tripwire -- to get more customers into your sales funnel. This way, you can send them further nurturing marketing content, so they'll make additional purchases in the future. 
Besides that, a tripwire product gives customers the opportunity to see how high quality even your least expensive products are. 
Half of repeat customers make a repeat purchase within 16 days of their initial purchase. A low-cost tripwire could be the perfect appetizer to have your subscriber hankering for your higher-priced "main course" products.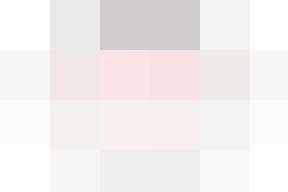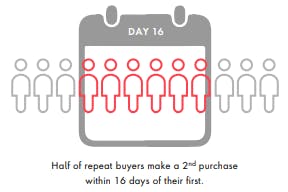 But you shouldn't use the time in between a customer's first and second purchase to only convince them to buy more. 
Use your emails as an opportunity to develop that customer's trust in your brand and demonstrate that you care about their success. 
93% of brands agreed that consumers are more likely to spend with businesses they feel connected to, after all.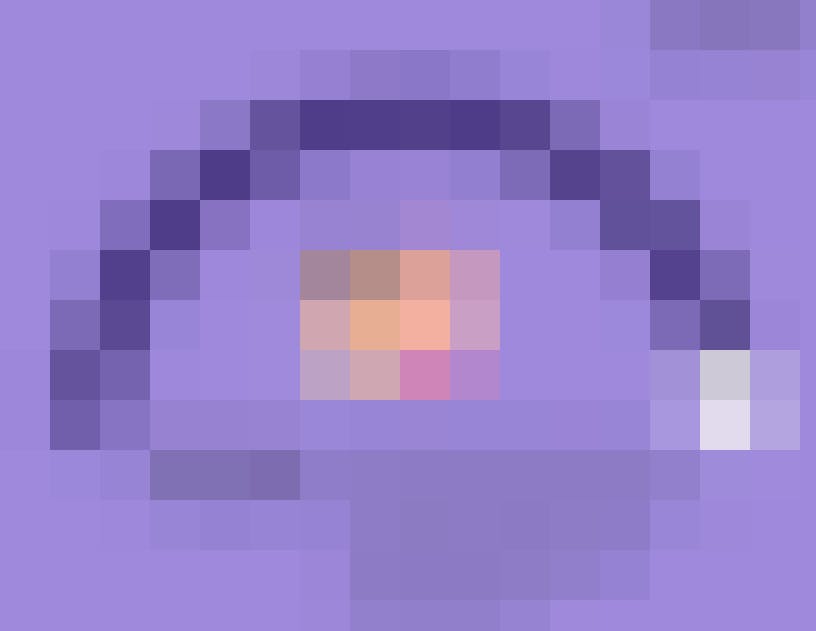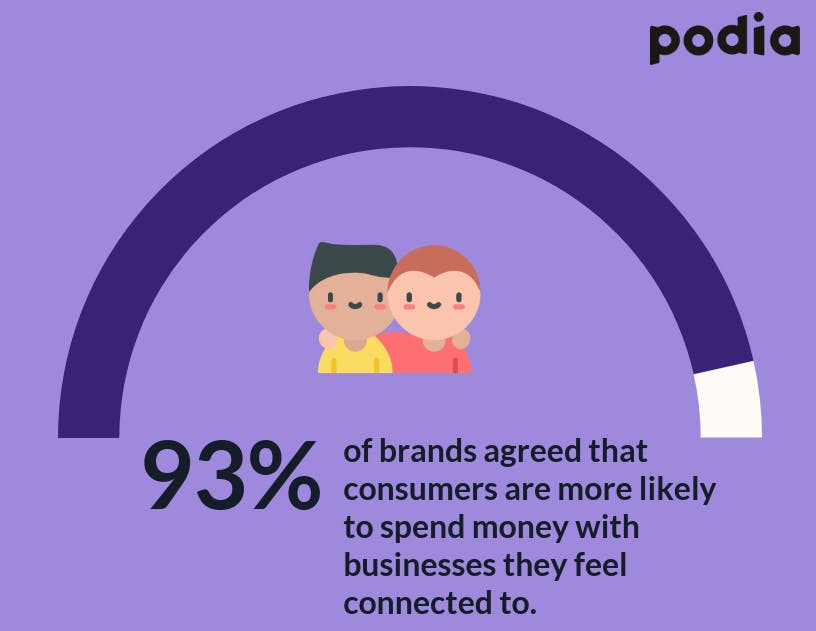 Additionally, 80% of consumers who made a one-off purchase described their experience as positive. Despite that, only 67% were likely to make a repeat purchase within the next three months. 
You can develop your customer-brand relationship by sending personalized emails, surveys, and asking for feedback. Hand-picked content and product selections based on their preferences and behaviors can be a big hit, too. 
Now that we've talked about using tripwire offers for new customers, let's look at using them for retaining customers. 
Let's assume a customer stops purchasing products from you or stops paying their membership fees. 
You could offer them a tripwire in the form of a free product or membership month. You could also offer a steep discount so they'll purchase the same or a similar product. 
As you can see, a tripwire can help attract new customers and re-engage ones who may churn. 
But how much should you charge for a tripwire without hurting your bottom line?
There's no definite price range, though many are between $5 to $50. 
This entrepreneur saw a 46% conversion rate from a $7 digital download tripwire. However, that doesn't mean you should also price your tripwire at $7.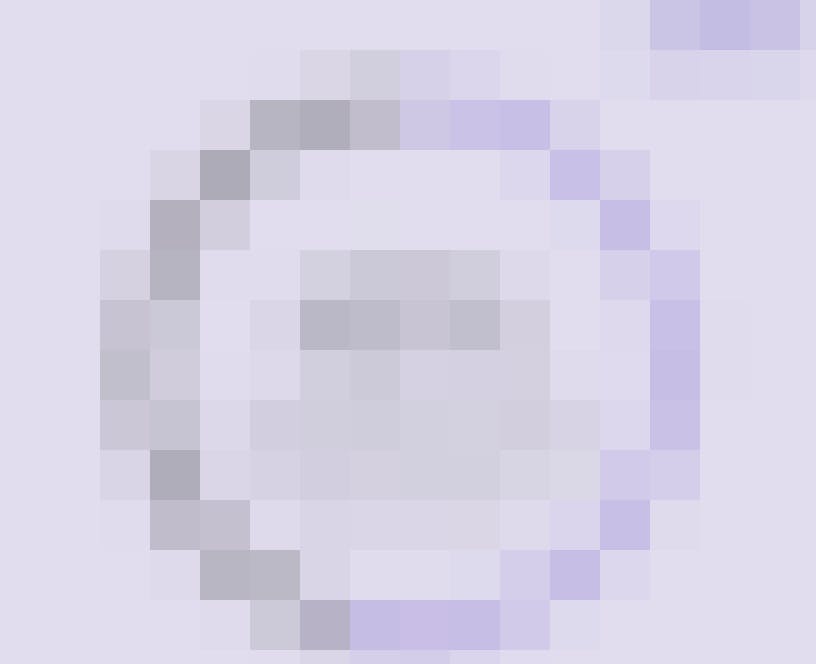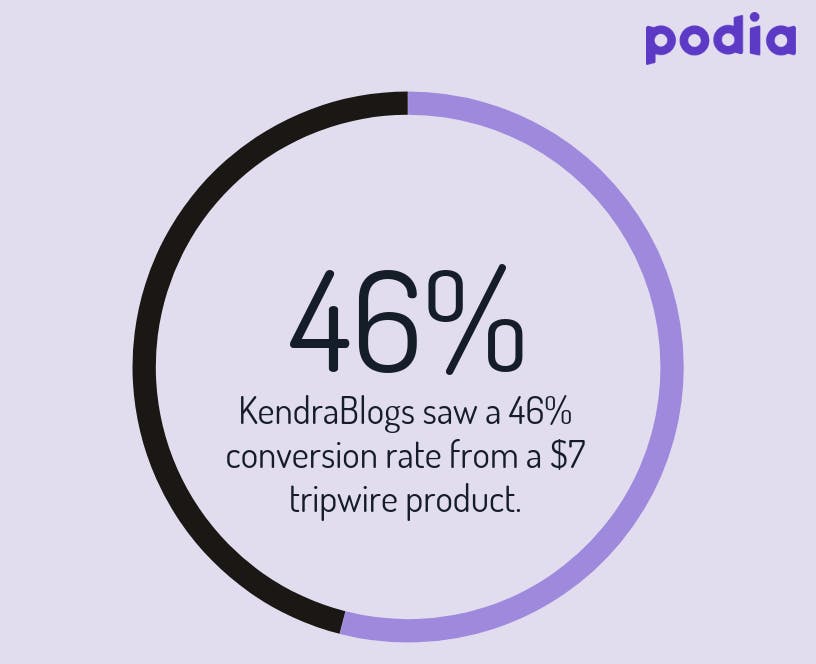 Because each niche is unique, test different prices until you find one that maximizes your conversions and earnings. 
This entrepreneur tested multiple prices for her tripwire, from $18 to $97. She eventually settled on a full price of $97 and a discounted price of $36. 
Whatever price you pick, it should be significantly cheaper than your existing product offerings, so customers will see it as an irresistible offer. 
Now, our third tactic pairs nicely with tripwire products, and is incredibly easy to implement through email. 
#3: Upsell and cross-sell through your emails
Upselling and cross-selling can convince customers to purchase higher-priced or advanced products during the checkout process.
But you can also upsell and cross-sell via email, too. 
Let's say a group of subscribers has shown interest in your online course, Korean Vegetarian Cooking 101. 
There are a few ways you could upsell your course. 
The first is to send a sales email about a limited-time offer where customers could purchase Korean Vegetarian Cooking 101, but also get access to a live cooking masterclass.
Evernote used this approach in the email below. They encouraged subscribers to both upgrade their plan and take advantage of a limited-time deal for an extra six months of the upgraded plan.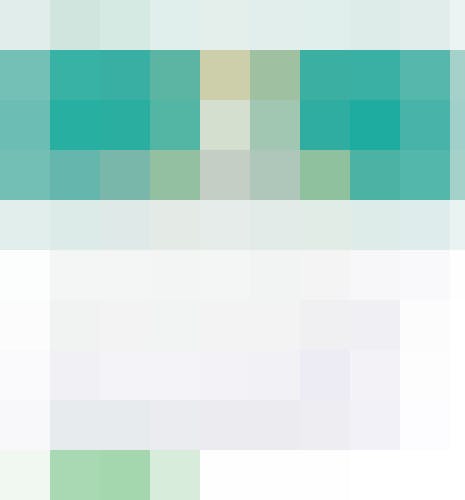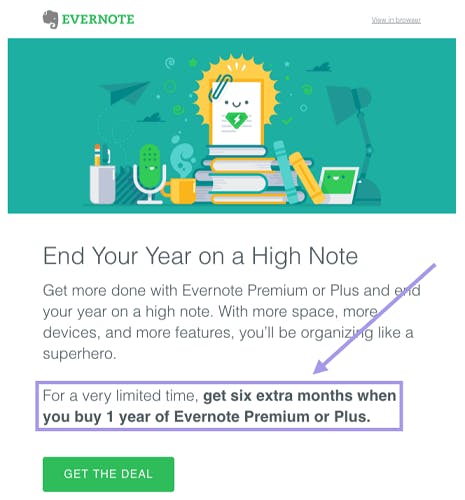 You could also promote a bundle that includes your cooking course and downloadable cookbooks and recipe cards.
The upsold version of your product doesn't always have to include extra content, however. Consumers have said they would pay up to 16% more for better service.
68% of consumers would pay up to 15% more if they were guaranteed a better experience, and 52% of shoppers would pay for a speedier and more efficient customer experience (CX). 
Therefore, you could also use more hands-on customer support or personalized onboarding as part of your upsell. 
An upsell email could also encourage subscribers to upgrade from a free version of your course or membership to a paid one. 
Medium used their email to outline all of the benefits the subscriber could reap by upgrading to a paid plan.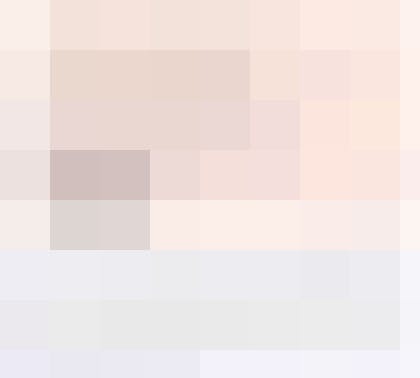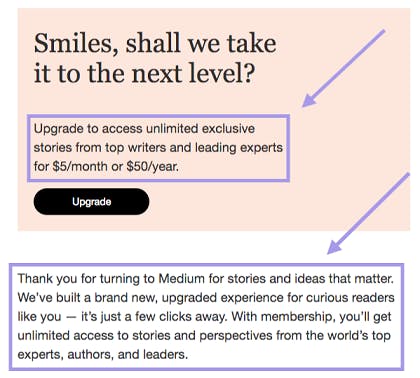 As for cross-selling, you could recommend products your subscribers may enjoy based on what you know about them from email and other customer data. 
For example, you could send customers who purchased your Korean Vegetarian Cooking 101 class an email cross-selling your Korean Vegetarian Cooking Hacks course.
This email from Casper, a mattress company, makes for a good cross-selling email even though it promotes a free service. Their email spotlights the Casper Sleep Channel, which could complement a Casper mattress purchase.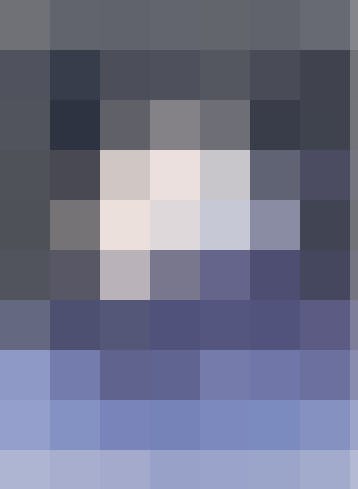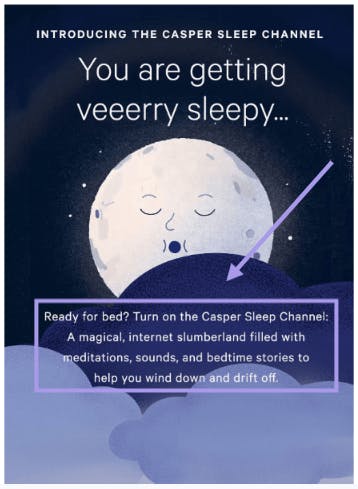 Likewise, Methodical did an excellent job of cross-selling coffee and coffee-related products within the same email. This approach could be helpful for customers looking for coffee swag or a new brew.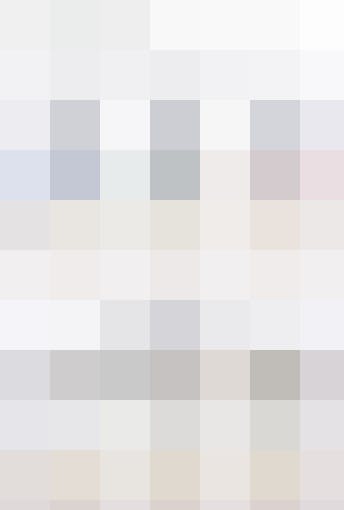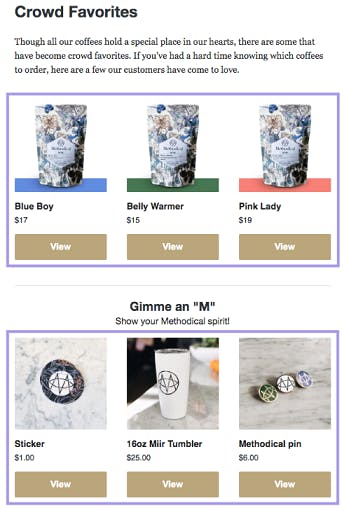 Basically:
Upselling and cross-selling aren't only for your checkout process -- they can be used via email to convince warm leads to make a purchase. 
OK. All of the methods we've talked about so far have focused on getting people to purchase your products in some way or another. Our next method focuses on how to turn your email into a sellable product. 
#4: Create an exclusive paid email tier 
Though paid email tiers aren't quite as widespread as membership sites, they're gaining in popularity. 
BuzzFeed, as an example, offers a $5 per month or $100 per year paid email subscription where members can access exclusive news stories.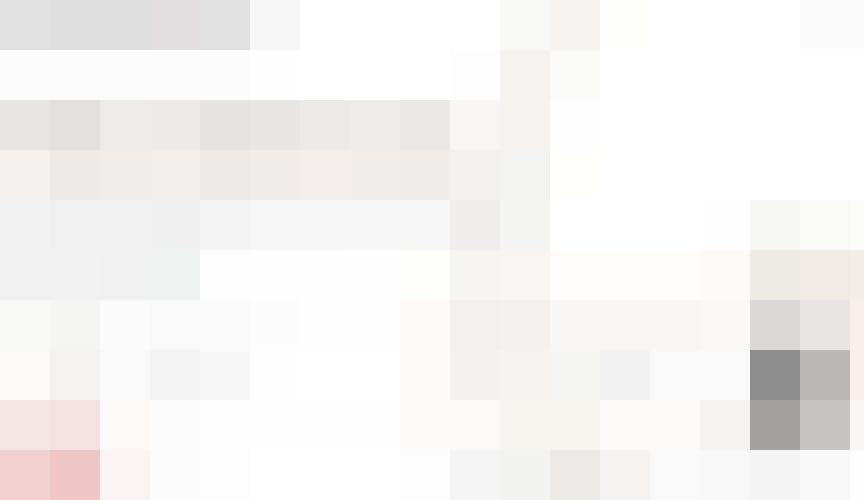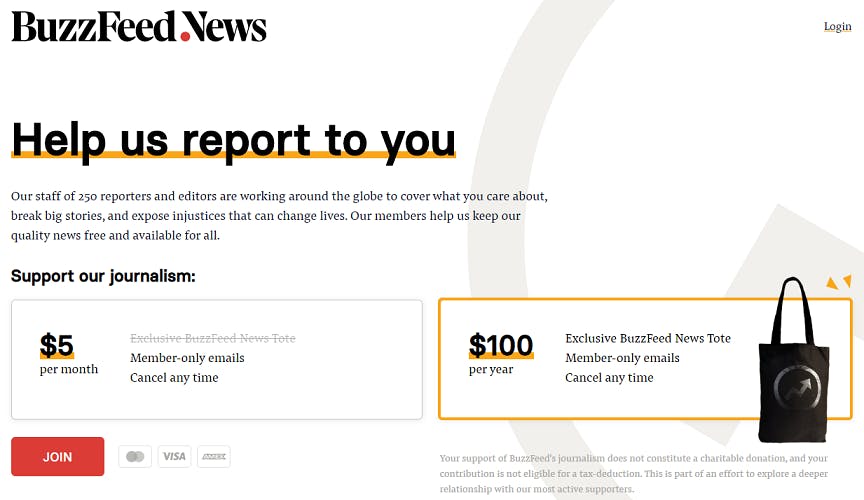 Likewise, this entrepreneur charges $30 per month or $300 per year for access to Off the Chain, his email newsletter about cryptocurrency and blockchain.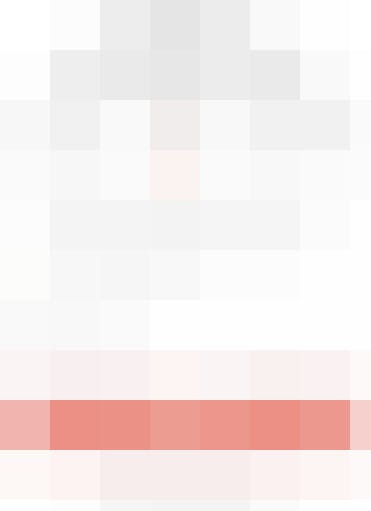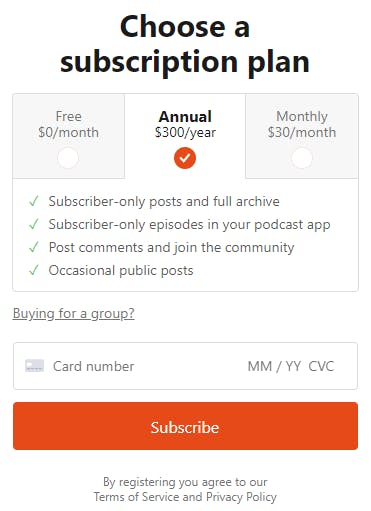 Of the many reasons why creators should create paid email tiers, two key ones are validating product ideas and saving time on product development. 
Let's go over these benefits briefly. 
Let's assume you had a great course or membership idea but didn't want to create a full product without getting customer feedback and sales first. 
A paid email tier would allow you to create and get feedback on your future course or membership without having to create a full-fledged product in advance. 
Plus, crafting a well-written email each week will take less time than creating a course or membership site content on a regular basis. 
Besides that, an email subscription gives you much more room to try new ideas or pivot than a more formal membership site would. 
By offering a paid email newsletter, you can deliver curated and high-quality content to your customers. This content can be much more digestible than longer videos or blog posts, to boot.  
64% of consumers prefer short articles from brands. 42% of consumers have said they've become more selective about the content they consume, as well.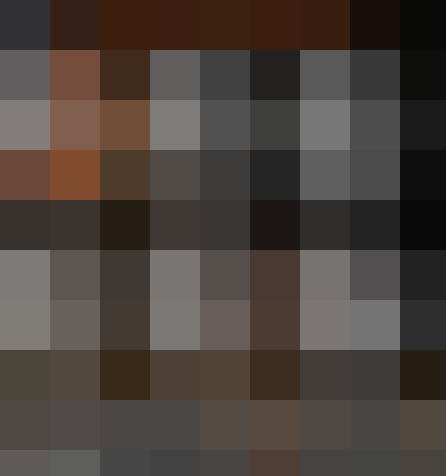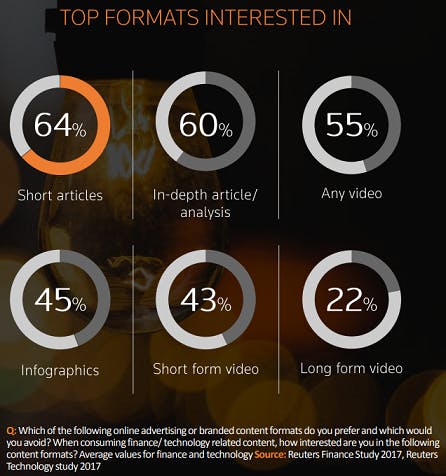 A paid email newsletter that delivers hand-selected and high-quality content may just be what your subscribers are looking for and willing to pay for. 
Every few months, you could turn these emails in a digital download so your subscribers can access the content easily. 
You could also share your emails as members-only posts if you host your digital products on Podia. You can sign up for a Podia free trial here to see how easy it is to create membership posts and design member-friendly content. 
Otherwise, our next tactic is all about having friends in the right places, and whether you realize it or not, you probably already do.
#5: Promote your affiliate links to your subscribers
Contrary to what you may think, you are an influencer.
And if you're looking to earn more from your email list, embrace your role as an influencer and use your emails to recommend products or services that could help your followers (besides your own, of course). 
After all, 88% of consumers were inspired to make a purchase based on something they saw from an influencer. 19% of Americans have purchased a product because an influencer recommended it, as well.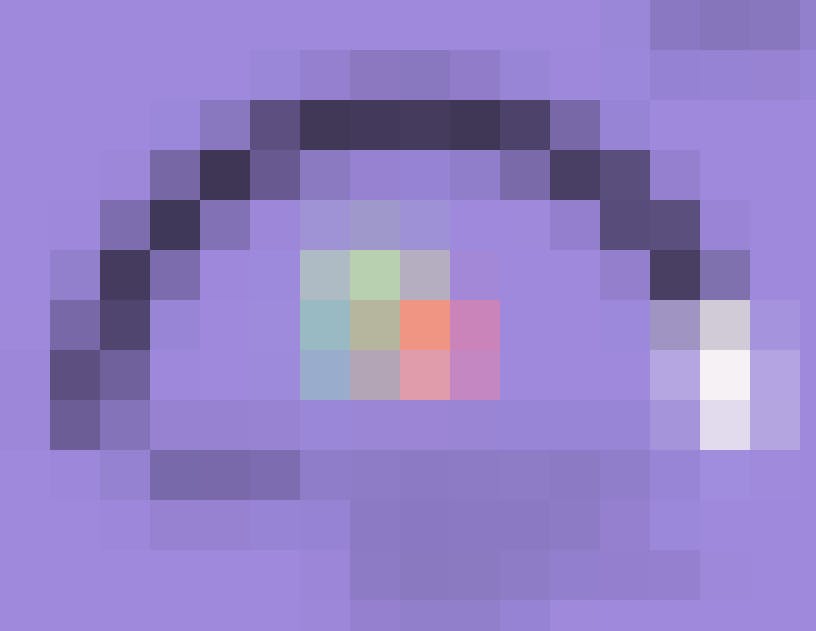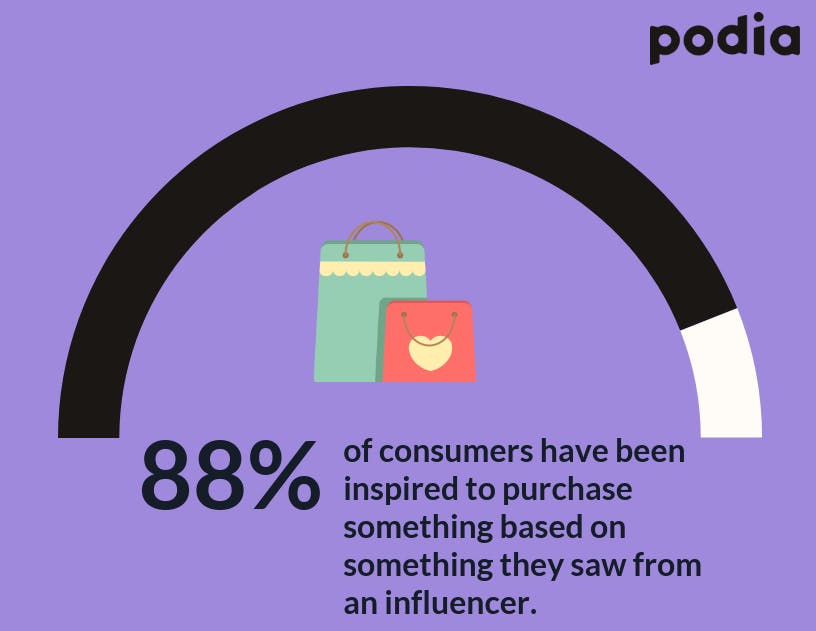 One way to monetize both your influence and email list is by sharing affiliate links in your emails. 
Tutorials and listicles are two easy and customer-friendly ways to include affiliate links. As an example, you could talk about 11 of the products you used to lose weight, and include relevant affiliate links within the email. 
You could also mention tools or services you recommend to achieve some goal or task, such as how The Podcast Host did in this email.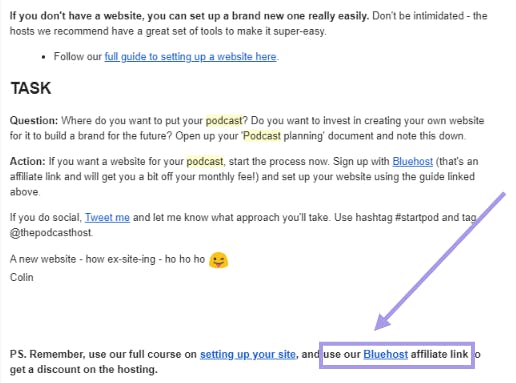 However you choose to include your affiliate links, make sure to share them sparingly and tastefully so your subscribers won't be turned off by constant promotions. 
Additionally, as with any affiliate or endorsement program, disclose your relationship with the brand you're promoting per FTC guidelines. 
Keep those guidelines in mind for the next tactic, as well.
#6: Get your emails sponsored
As a more established creator, you've probably been asked to create sponsored posts or videos for another company. Why not create sponsored emails while you're at it?
More and more brands are offering companies the opportunity to sponsor emails (check out The Financial Brand and eLearning Industry for an idea of what sponsored emails entail).
As a creator with a dedicated audience, it's something you should consider, too.
Sponsored emails provide a win-win-win situation for subscribers, creators, and the sponsoring brands. 
Subscribers can be introduced to businesses they may be interested in but not otherwise have known about. 
Creators can benefit by increasing their position as an influential figure in their field. Sponsoring businesses can benefit from an increased brand reputation and trust in their business. It can also help brands reach more people. 
37% of people ages 18 to 34 said they would trust a brand after seeing sponsored content from an influencer. 63% of consumers trust what an influencer says about a business more than what the company says about itself, too.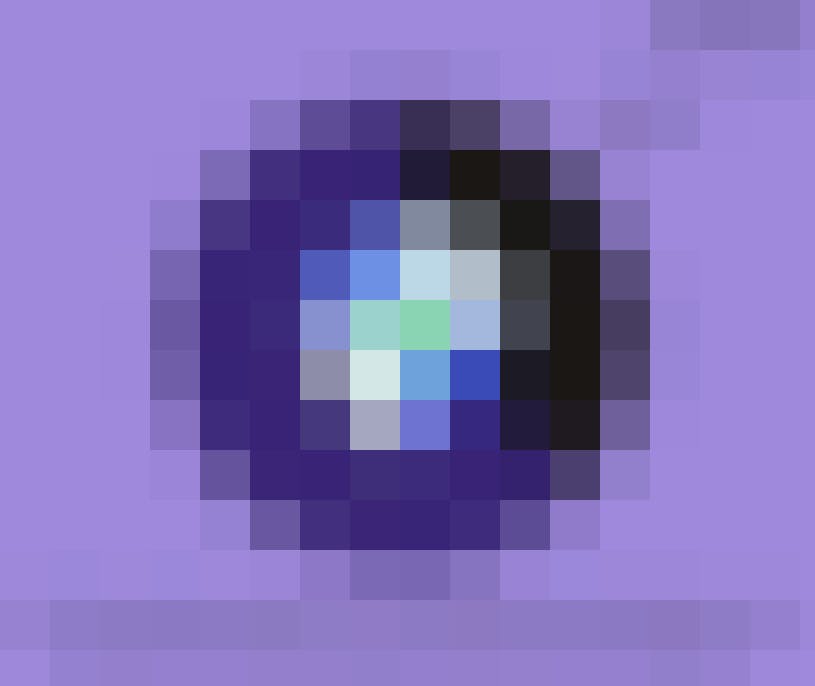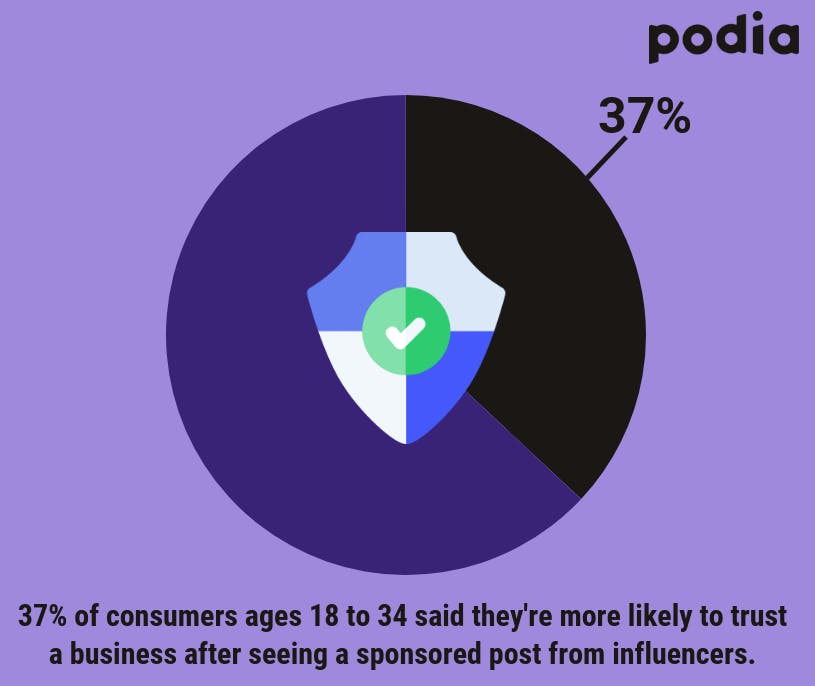 As with sponsored videos and posts, sponsored emails don't have to be overly promotional.
Consider this email from Whole 30, which talked about Chipotle's new Whole 30 diet-compliant menu items. 
The email also mentioned how subscribers following the Whole 30 diet would benefit from increased food options at the restaurant.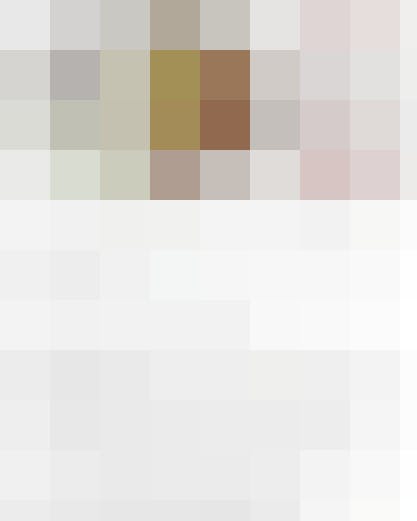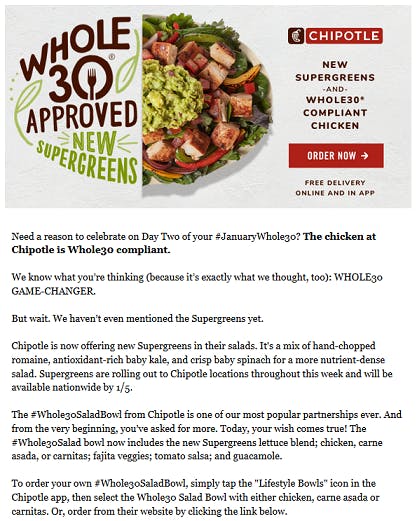 Focusing on products your audience would enjoy can deepen trust in you as a creator and influencer. 
As with sales and promotional emails overall, don't run sponsored emails too frequently -- six to seven a year should be enough for most makers. 
Additionally, don't forget to accept sponsorships only from related brands you genuinely believe will help your customers. Otherwise, you may chip away at your audience's trust in you. 
Phew. All of the monetization methods we've covered so far, from educating your customers to sharing affiliate links, can culminate in our final monetization strategy, where your customers can help monetize your list on your behalf. 
#7: Generate word-of-mouth (WOM) and referrals 
Because email provides a direct communication channel between you and your customers, it's a great place to ask for something as intimate as a referral or review.
But you may be wondering: Why invest in generating customer testimonials and referrals when you're looking to directly profit from your list?
Well, people often go to friends and family when they're looking for product recommendations. 
53% of American consumers discover new products through friends and family, with 57% of Americans trusting friends and family the most after discovering a new product or business.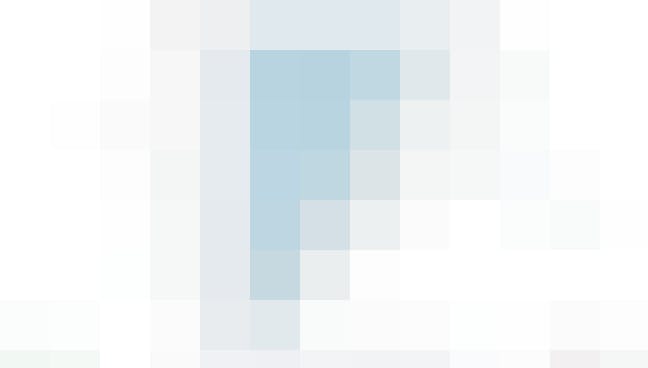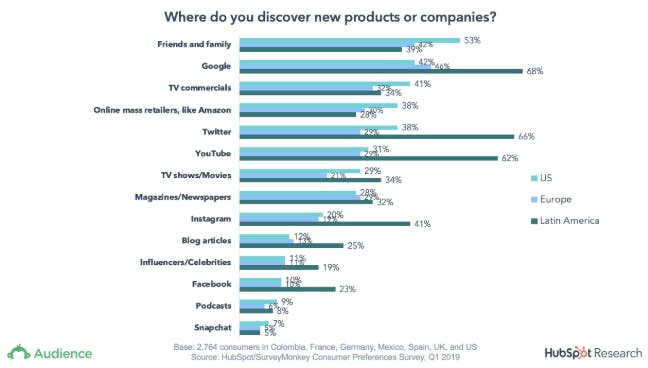 Besides that, 49% of consumers said they would share a positive review online or on social media if they had a positive experience with a company. 
Therefore, it makes little sense to not ask for recommendations or online testimonials when customers are already primed to do so. 
Creators have a few options when it comes to asking for referrals or testimonials. The first is to simply ask for them. 
As an example, HotelTonight, an online travel app, asked their subscribers to share photos of their hotels.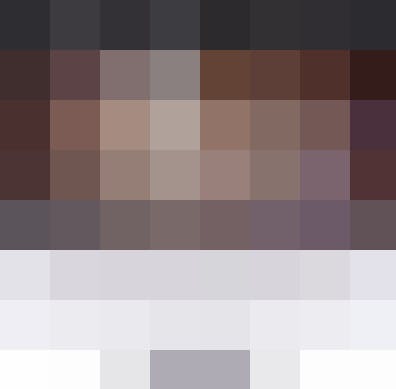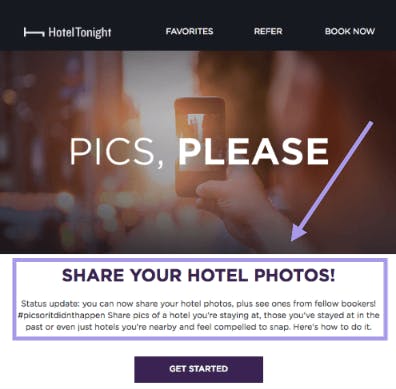 However, given how valuable WOM can be for a small business, giving your subscribers or their friends, an incentive can only help. 
You could offer their friends a free reward or product, as Clear did. Clear encouraged subscribers to forward a free three-month guest pass for their friends and family to use.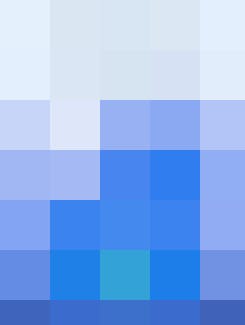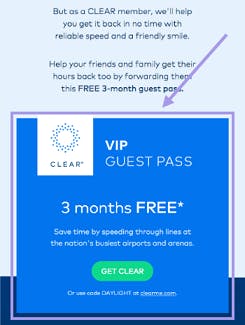 Airbnb, on the other hand, gave referrers a unique referral link to share. 
Referred Airbnb customers receive a discount off of their first stay while referring customers can receive financial compensation.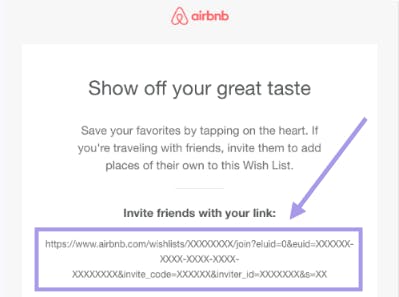 To wow your surprises and keep things fresh, you could follow Betterment's example and offer tongue-in-cheek advice before asking for a referral.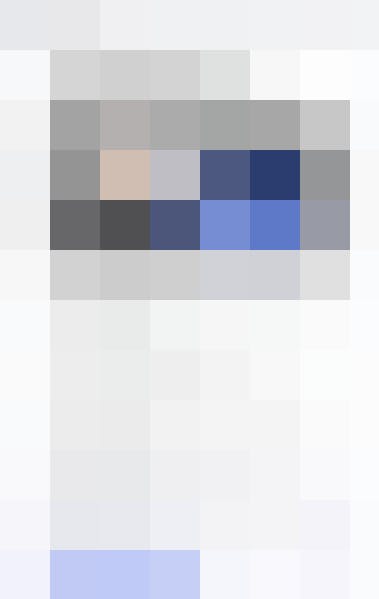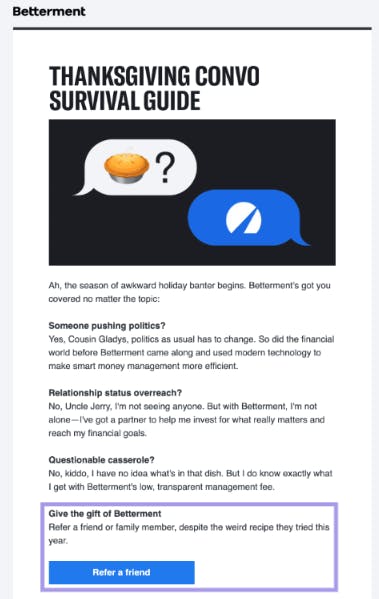 Look, however you ask for and incentivize referrals, don't discount them as an email monetization strategy. 
Because though WOM is more of an indirect email marketing strategy, it's one you -- and your bottom line -- certainly won't want to overlook. 
Monetize your email list today with these 7 strategies 
Making money with an email list isn't an overnight process.
But it's not a gargantuan heave to do, either.
Just keep these seven strategies in mind: 
Sharing educational content about your products 
Using a tripwire offer for would-be customers
Using email to upsell or cross-sell products 
Creating a paid email tier 
Promoting third-party affiliate links 
Seeking email sponsorships 
Encouraging referrals
And, remember, if you're not making any money as it stands with your email list, there's not a lot of room to falter here. At worst, you try some of these strategies and they fizzle out, while at best, your carefully built email list starts making you money.
It's a real "nothing to lose, everything to gain" kind of situation, and so far as risks go, that's the best you could ask for.
Build your email list and grow your business
Join thousands of creators receiving our weekly articles about launching, growing, and thriving as a creative entrepreneur.