Answer these 4 questions before launching your online business
Starting a business is exhilarating, but things can turn chaotic if you're not prepared. Ask yourself these 4 questions to help your business succeed.
June 12, 2018 by Taylor Barbieri
---
You've spent the past few weeks or months coming up with online business ideas.
And I get why: Starting a business is exhilarating, empowering, and may be your ticket out of your 9-to-5.
But -- and this is a big "but" -- there are some key questions that you need to ask yourself before starting a business.
If you don't, you hurt your chances of succeeding and can squander precious time and money in the process.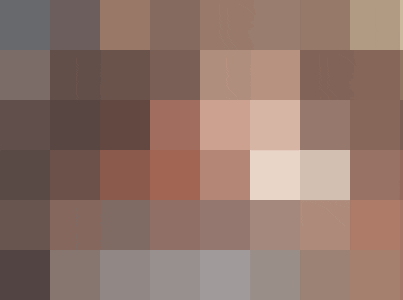 So before you go any further, you need to consider these four questions when starting a business:
How much will it cost to run my business?
Is this the best idea for my lifestyle?
How will I market my products?
Where will I sell my products?
First, we'll take a look at one of the most popular -- and hard-to-answer -- questions out there: How much does it cost to start a business?
Question #1: How much does it cost to start a business?
A third of small businesses started with less than $5,000, although many companies have started with much less (and much more) than that.
As an example, this English entrepreneur started her business for under 1,000 pounds, while this entrepreneur started his for just $6.95 per month to cover the cost of hosting.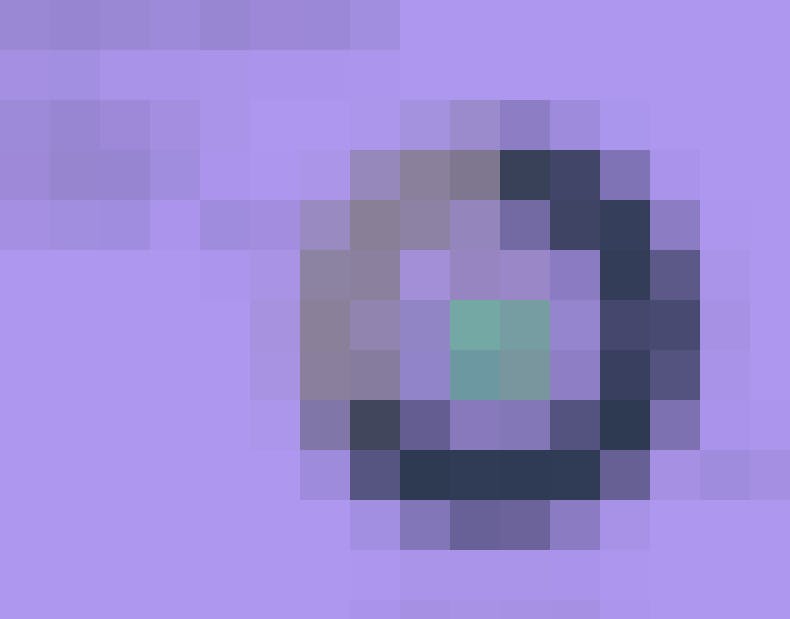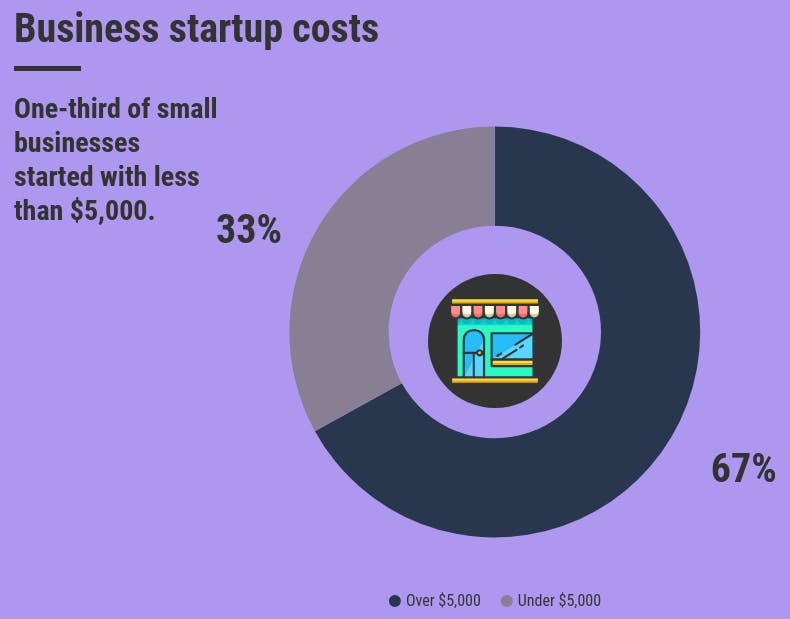 Conversely, one survey found that entrepreneurs paid an average of $16,662 to launch their side-hustle in its first year, but earned an average of $12,609 from working 11 hours a week.
While these numbers are just averages, they indicate your typical side-hustler may not break even in their first year and potentially carry a deficit because of their new business.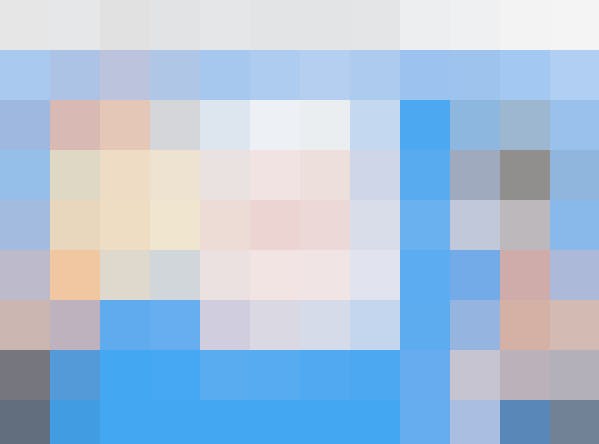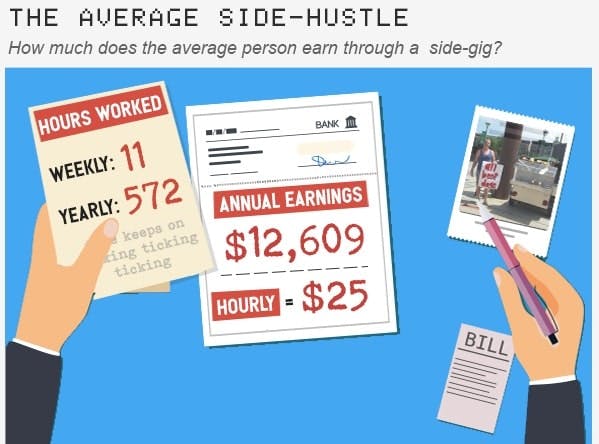 Wondering just what you'll need to buy when launching an online business -- and what you can save for later?
When setting up a business, some of the most common expenses include:
Domain names

Website hosting fees

Site hosting

Sales, use, and income taxes
After you've reviewed your savings, you need to calculate something called your burn rate and runway to see how long you can be in business using that money while you're waiting to make a profit.
Your burn rate is a measurement of how much money you're spending per week or month on business-related expenses, while runway calculates how long you can be in business given your burn rate and monthly income.
Curious to know your business' burn rate? Then use this handy burn rate calculator to find out in just a few clicks.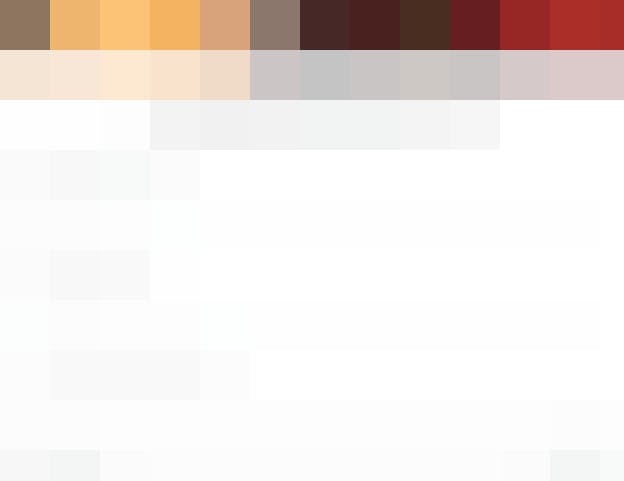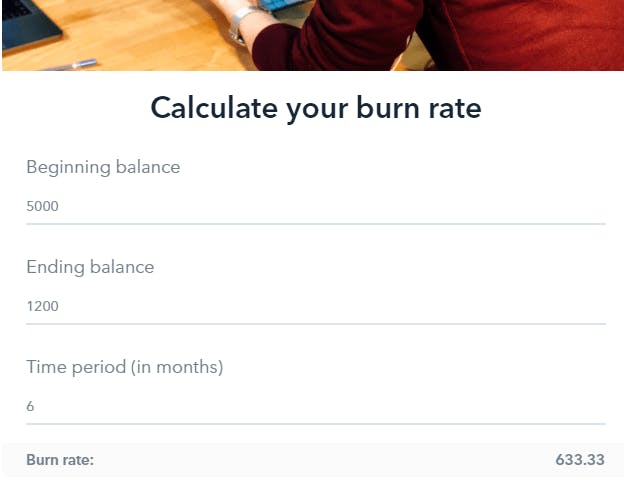 Because the profits from a business are so variable, it's important to know where each dollar is being spent and what you need to spend on to increase those figures -- and as you can see from the calculator above, those calculations can be done in just a few seconds.
To summarize:
The first question you should ask yourself when coming up with online business ideas is how much it will cost.
While many can be started on a shoestring budget, you'll need to invest in some products and services to help your business grow and thrive.
But determining if it's financially possible for you to open your business is just one of the things you should consider when picking a business idea -- you should also figure out if it's a good fit for your lifestyle and aspirations, too.
Question #2: Is this the best business idea for me?
When you're considering online business ideas, you should ask yourself:
How much money and time you can give your business

How much money you want to earn from it

What business fits with your current and ideal lifestyle

If people will be willing to pay for what you want to sell
Let's comb through how much time and money you can invest in your business first.
According to one survey, of the almost four in 10 Americans who side-hustle, 11% of side-hustlers work on it weekly.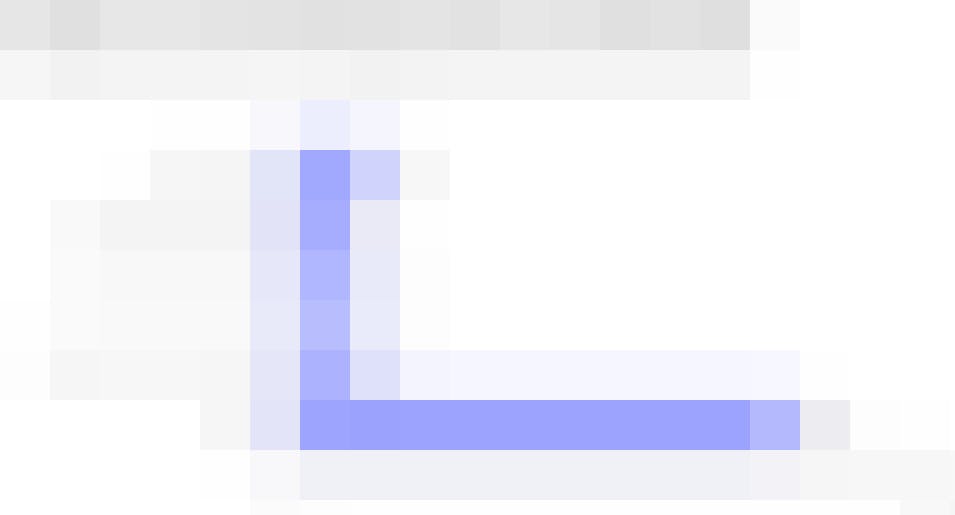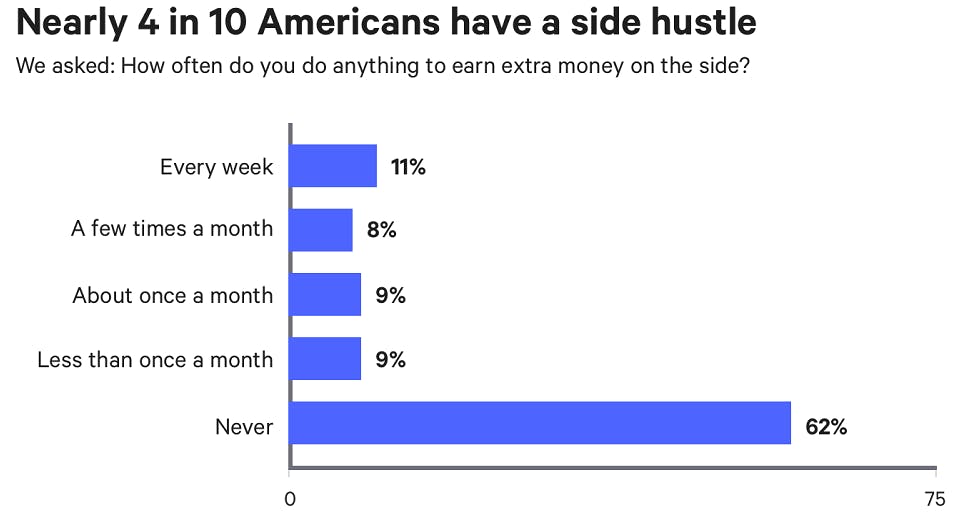 Not too bad, right?
After all, you probably spend five to six days a week on your full-time job.
Then again, 41.9% of side-hustlers gave up time with friends and family, and 38.7% gave up on sleep to work on their businesses.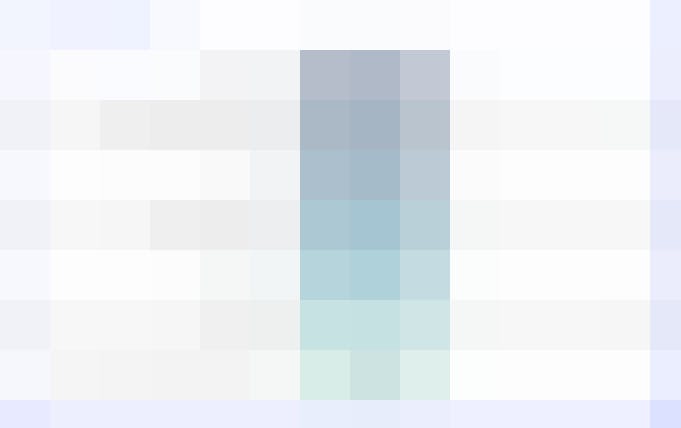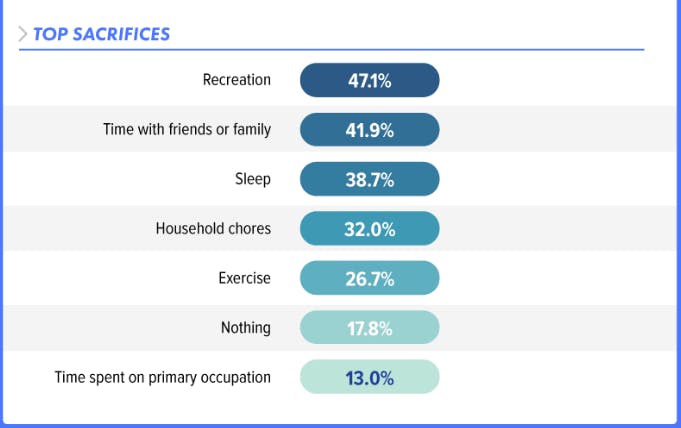 On the one hand, picking up a side-hustle means that you'll probably have to trim time from other aspects of your life, like missing an occasional night out with friends or less time on your hobbies.
However, cutting out significant amounts of time from your friends and family, sleep, hobbies, and more is not a healthy or sustainable way to grow your business in the long-term, nor is it something entrepreneurs should aspire toward.
Both for your health and that of your relationships, it's best if you look for a side-hustle that won't eat up too much of your time.
Which leads us to our second point and third points: figuring out what kind of money and lifestyle you want your business to give you.
While some people want to grow their side-hustles into full-fledged businesses to replace their current jobs, others are content to have a side-hustle remain a source of additional income.
Whatever you're looking for, it's possible to have a side-hustle that fits with your financial and lifestyle goals.
For example, blogger Alyssa Padgett earns around $200 per day in passive income from book sales, which fits with her life as a full-time traveler.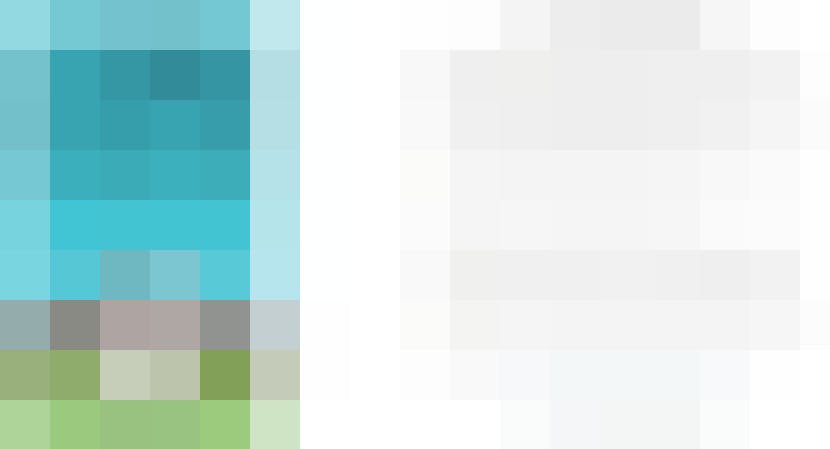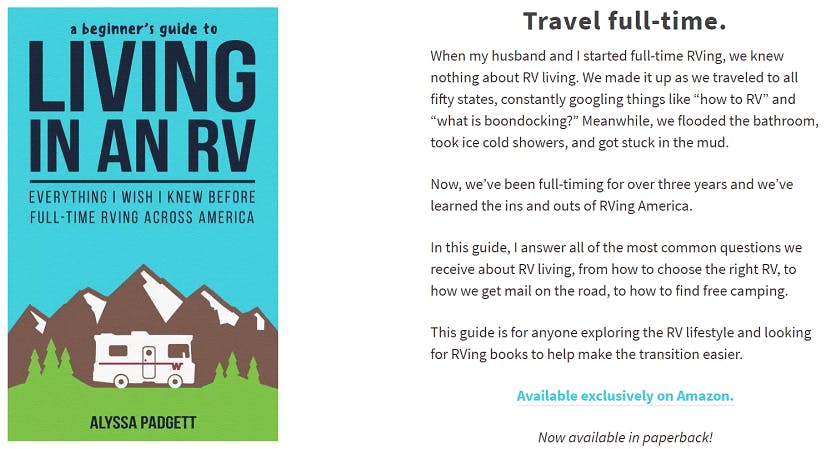 Similarly, Nate Dodson originally ran a microgreens business due to an interest in urban farming, but now earns between $40,000 to $50,000 a month selling a course teaching others how to run a similar business.
Still, what if you're planning on offering a service and not a product?
Then maybe your business could start off as this side-hustler's did. While she works full-time as an in-home caregiver, she drives earns around $2,000 per month driving for Lyft-- not too bad for a side job, eh?
Ah, but perhaps you're looking for the best of both worlds -- a service-based side-hustle that could grow into a full-time job.
Then you'll love Abbey Ashley's story.
Abbey started her virtual assistant business when she was on maternity leave.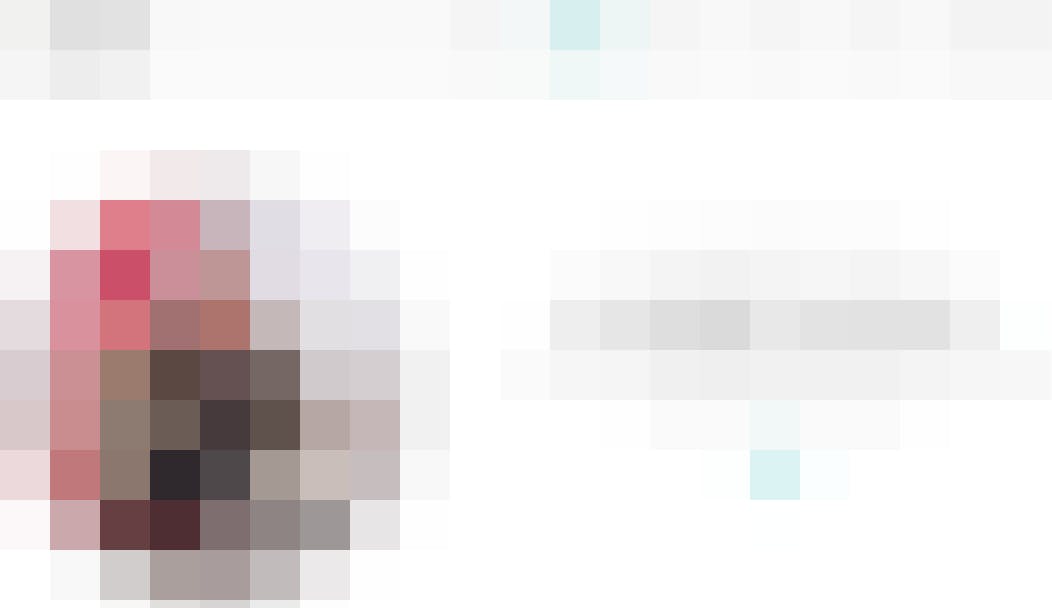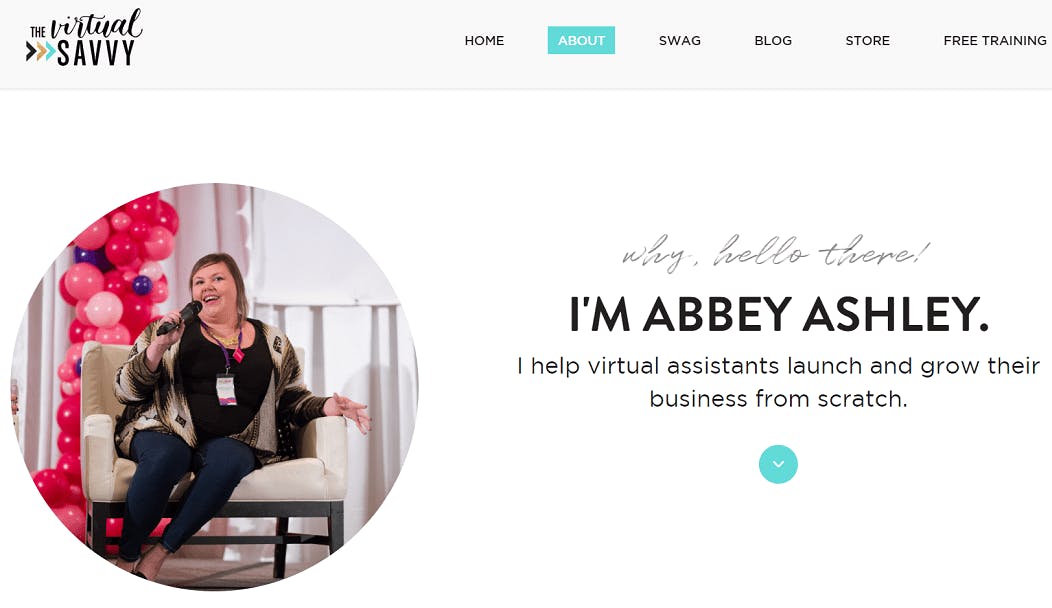 Within one month she had sold out of her services, and within four months she had to bring on contractors to help her with her work. She currently helps other aspiring virtual assistants launch their own businesses using digital products such as online courses and memberships.
Aside from being an inspiring story about creating a business that fits with your lifestyle, Abbey's example is notable for another reason -- she was able to transition her service-based business to a digital product-based model.
Having a service-based business gives new and veteran creators the perfect springboard for creating your own collection of profitable digital products, from ebooks and other info products to a mastermind program or membership site.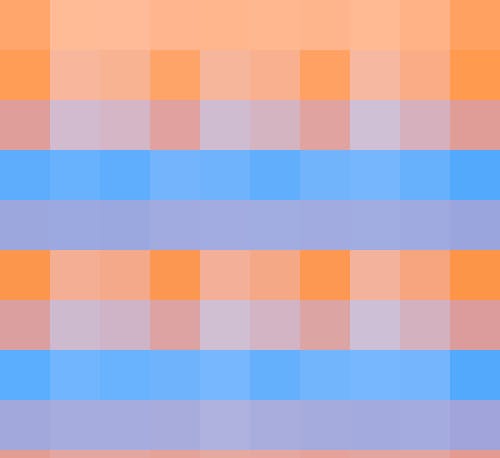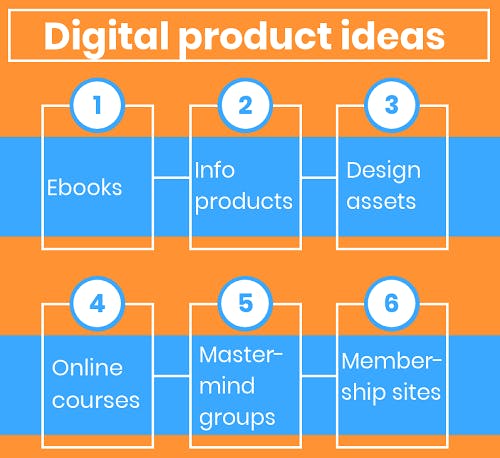 But before you can launch a profitable business like any of the entrepreneurs we've mentioned above, let alone add some complementary products into the mix, there's one final question you need to ask yourself: "Will anyone pay me for my products and services?"
To answer that question -- and save a lot of time, money, and effort in the process -- you should first launch a minimum viable product (MVP), which is a prototype version of your intended or potential final product.
It's a smart business move to launch an MVP before you release the final version of your product for a few reasons.
Firstly, it lets you validate your product idea -- do enough people want your product that they'd be willing to pay you for it and you could make a profit from it?
Secondly, it lets you learn more about what your audience is looking for in a product so that the next version of your MVP, and ultimately your final product, can be a hit as soon as its released.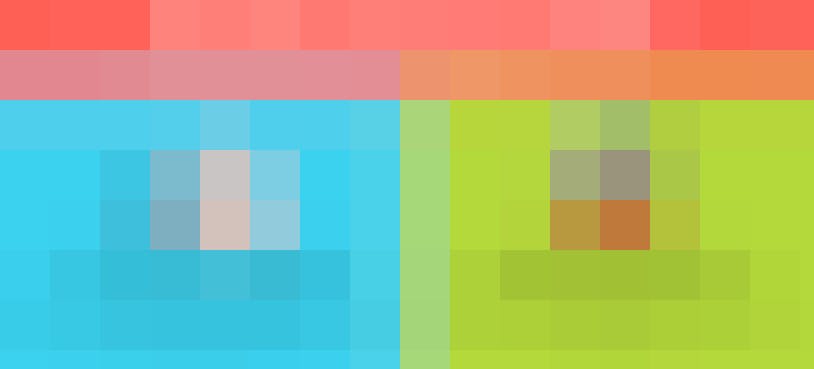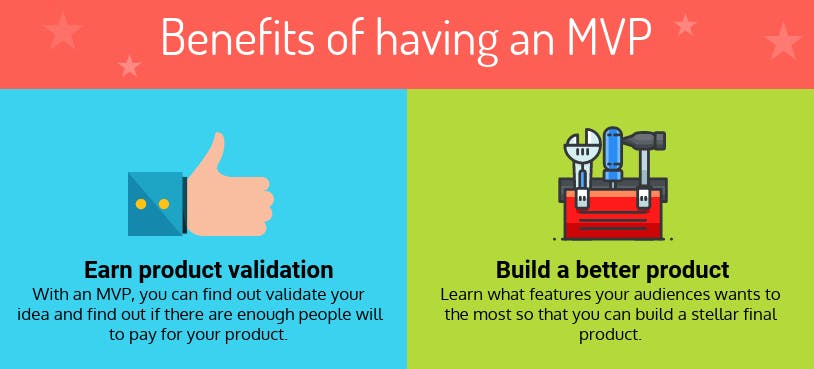 In other words, launching an MVP is the final step in determining if a business idea is a great fit for your income and lifestyle goals, as well as your current financial and living situation.
But despite all of the market validation you receive when testing your product, it still won't sell well unless you learn how to market it -- which is what the next question digs into.
Question #3: How will you market your products?
Even if you haven't settled on a business idea yet, now is the time to start thinking about how to market your new products.
While your product is in development, you can start building a name for yourself and gaining your audience's trust so that when you do launch your product, you'll have people who are interested in buying what you're selling at hand.
You don't have to have a huge budget to market your products, either -- there are numerous marketing platforms and strategies that you can use for free or very low cost.
Take content marketing as an example.
Content marketing is the use of content like blog articles, videos, podcasts, infographics, and free digital downloads to educate or entertain your audience so that as they're comparing products, they'll keep your brand and products in mind.

Now we know what you're thinking: "If I give out lots of free information, I'll never make a sale!"
On the contrary -- by providing free information to educate your audience, they'll begin to see you as a reliable brand for information and consider your products when it comes to making a purchase.
And more importantly?
Customers love content from brands.
57% of consumers have said they made a purchase because of valuable content that brands shared, while 89% feel that it helps brands' messages to stand out from all of the marketing noise out there.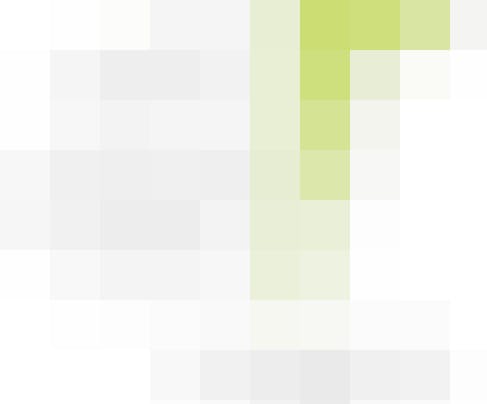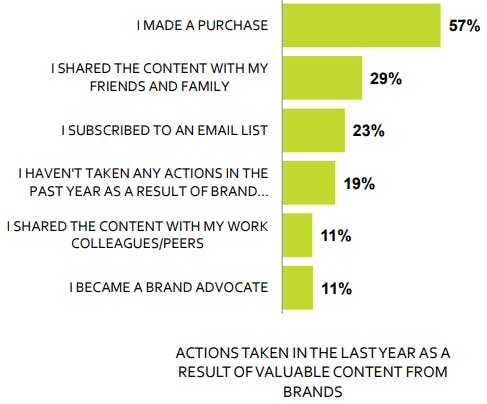 As for getting all of that great content in front of your audience, you may want to utilize social media marketing.
40% of digital consumers use social media when researching new brands or products, so maintaining an active online presence can be a low-cost but high-ROI marketing strategy for your company.
Still, there's one more piece to the marketing puzzle. After people find your brand through social media and fall in love with your content, how can you convert them from a visitor to a lead -- or even a customer?
That's where email marketing comes in.
Email marketing involves sending helpful content -- and occasionally promotional messages -- to people who have subscribed to your email list.  
We've covered email marketing and the best tools to boost your email marketing game before, so we'll just keep this bit short: Email marketing is one of the most sensible things you can do to grow your business in the long-term.
Email marketing has an average ROI of around $41 for every dollar spent, and 50% of consumers over the age of 25 prefer brands to communicate with them over email.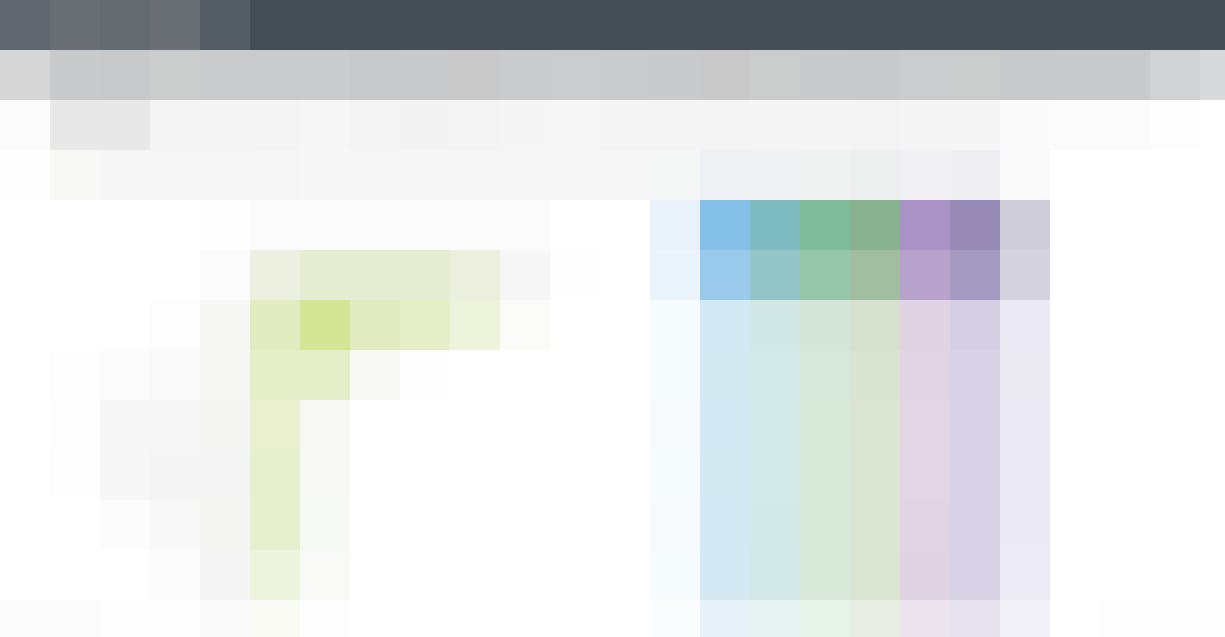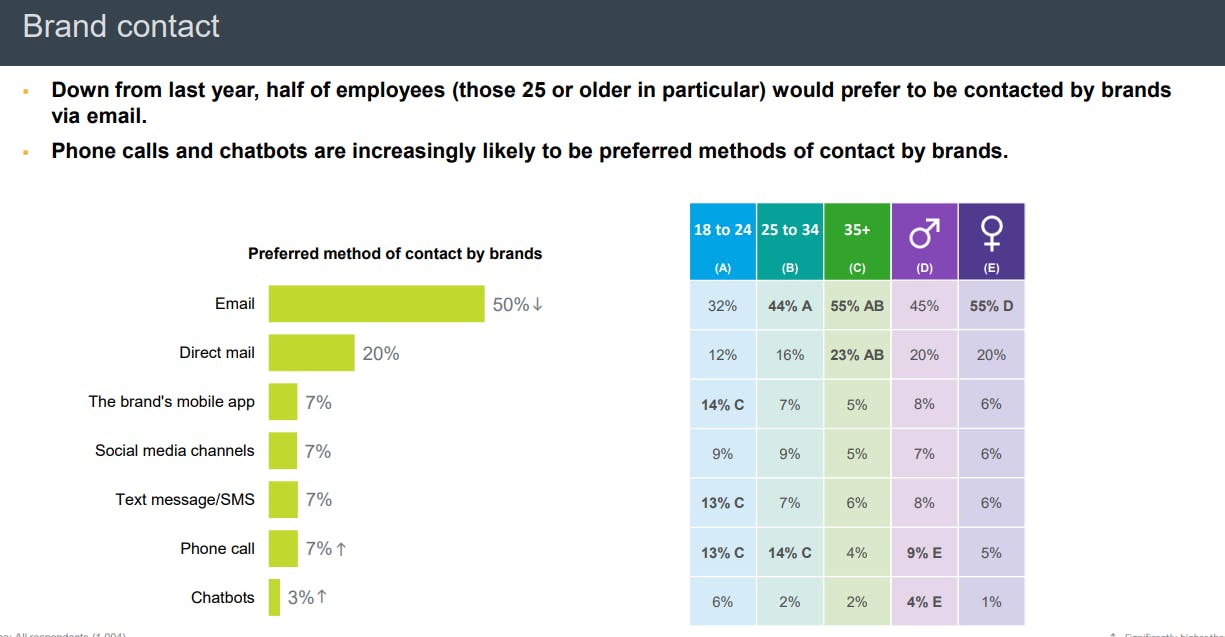 ‍
When used in conjunction with each other, promotional strategies such as content, social media, and email marketing can help you to attract sales without spending an arm and a leg.
Before you can make a sale, however, there's one final thing to determine -- where you'll sell your products.
Question #4: Where am I going to sell my digital products?
You're probably thinking of two places to sell your digital products: Your business website, or a third-party platform.
Selling digital products on your own website seems like the most sensible option from a financial perspective, but it also puts all of the design and technical burden on your shoulders.
Just consider a site built with a CMS such as WordPress, which requires multiple plugins, coding, and technical savvy to sell online courses and host membership sites.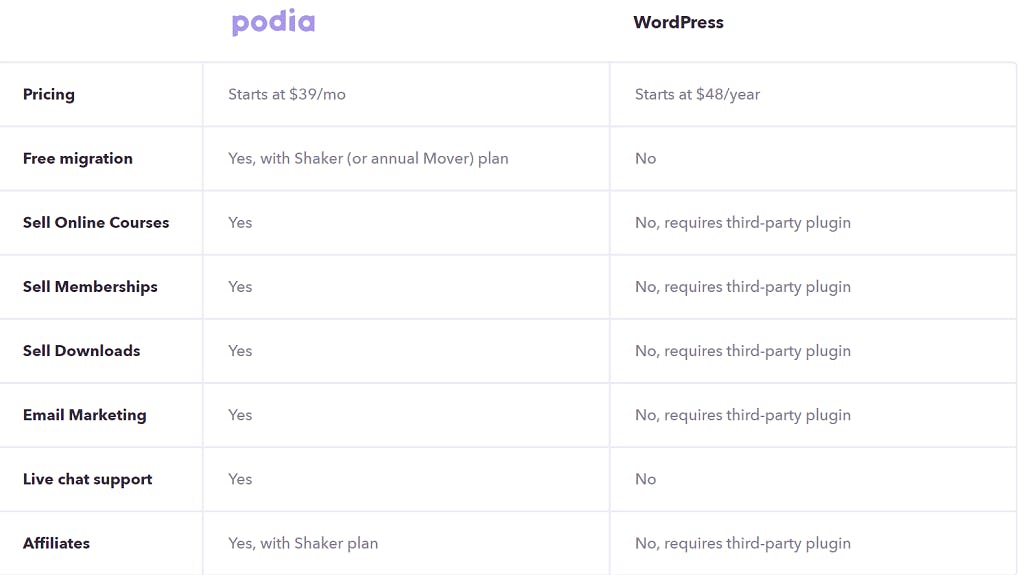 Can you feel the technical headache WordPress users experienced when they found out that the Yuzo plugin -- which had over 60,000 active installations -- was targeted to redirect visitors to websites promoting scams?


But maybe you're someone who doesn't want to deal with the hassle of setting up and hosting your own website.
True, third-party platforms can take a lot of the burden off your shoulders.
However, that lightened burden often comes with higher price tags, limited website functionality, and a limit to what kind and how many products you can sell.
(In most cases, anyway. More on this in a second.)
Don't forget that if you sell more than one kind of product, your content will probably be spread across multiple platforms, too, which means extra services to pay for, monitor, and maintain.
For example, Thinkific only allows you to sell online courses, while Memberful only lets you sell membership sites.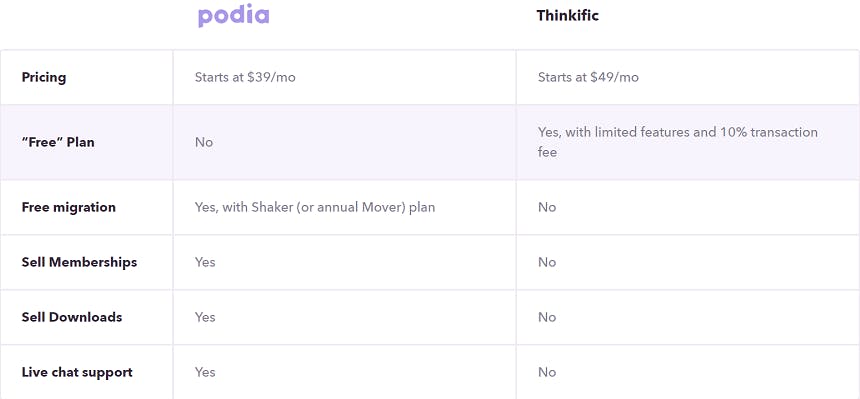 Kajabi similarly limits creators to selling only online courses, but also comes with a steep subscription price and a limit on how many products you can sell.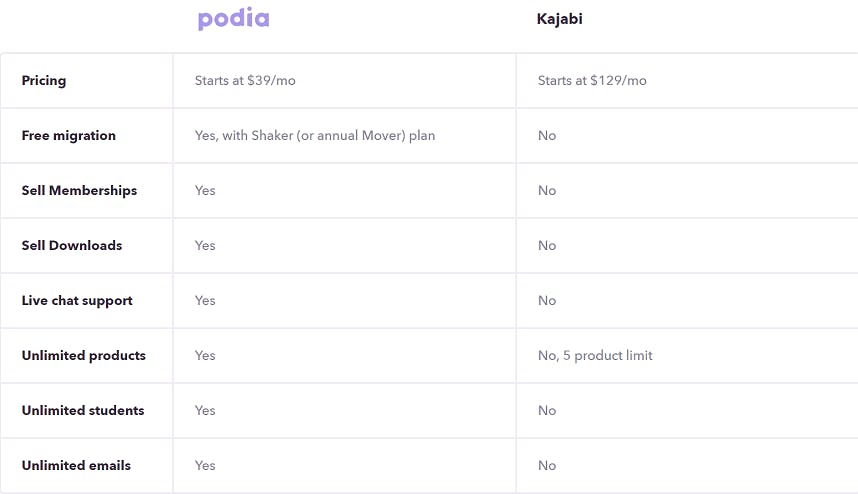 Call us crazy, but not selling digital downloads with your courses and membership sites, let alone hosting them in the same place, is a massive -- and unnecessary -- cut to your profits.
Now, if you're a creator who wants to focus more on running your business than playing catch-up across multiple platforms, there's another choice.
Podia was designed to include everything a creator needs to launch and run a successful site without being bogged down in technical hassles and integrates with services like PayPal and ConvertKit so you can operate seamlessly.  
Podia also allows creators to sell as many online courses, memberships, and digital downloads as they like without any additional fees or charges.
And did we mention how intuitive the interface is? Try it out for yourself with a free, no-credit-card-required 14-day trial.
The 10-Step Product Bootcamp
Your next successful project starts now. Learn everything you need to know to create AND launch your next digital product in 10 steps.
Get access
At this point you might be thinking: "I don't want to overthink things right now. I'll pick whatever platform is cheapest and then move to a different one as my needs grow."
That's understandable.
But consider this: Small business owners spend 17 days a year worrying about their business outside of their regular working hours and spend around 20 hours a week on marketing it.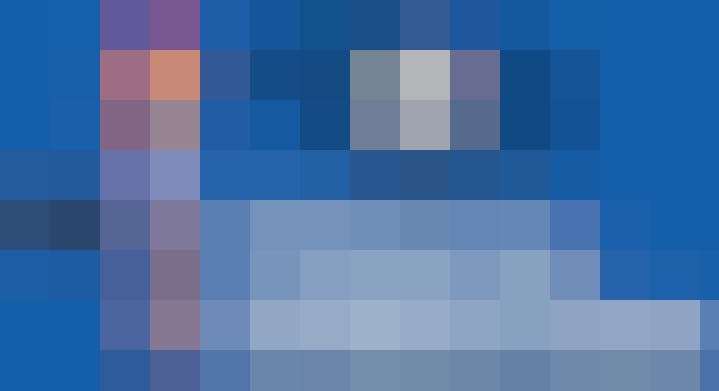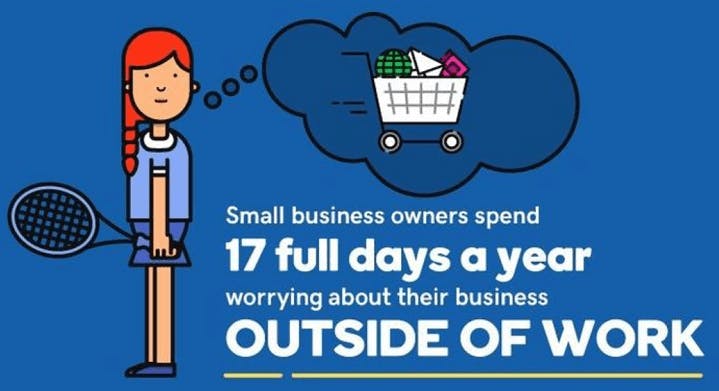 If you use a website platform that already has essential business features built into it and which integrates with other business services, you could cut down on the amount of time you spend marketing and worrying about your business.
That's definitely worth a little extra consideration up front, no?
So, to put things in a nutshell:
In contrast to the many steeply-priced and feature-limited platforms out there, you can use Podia to sell as many courses, memberships, and digital downloads as you like without any technical wrangling.
With features like that, your decision-making process will be a lot shorter.
Answer these questions to make your business a success
Launching a successful business isn't just a matter of picking an idea and chipping away at it until you reach profitability.
While you're still mulling over business ideas, you should ask yourself a few questions to determine what business idea will ultimately be the best for you and your income and lifestyle goals, including:
How much will it cost to start and run my business?

Does this business idea fit with my current and intended lifestyle?

How will I market my products so that I can increase my chances of making sales?

Where can I sell my products to make my business more efficient?
Considering how much impact your answers to these questions can have on your business' products, marketing, and growth, taking a few extra days or weeks to mull them over would be a wise decision.
You know the old adage about being meticulous: "Measure twice, cut once?" The same holds true for business.