The no-frills guide to YouTube ads for digital product creators
As a digital product creator, you should use YouTube ads to promote your business. Find out the why, how, and how much in this guide.
January 24, 2020 by Taylor Barbieri
---
Your sales numbers and budget have been growing steadily for the past few months.
To keep up the momentum, you're thinking of leveling up your ad game. 
But you're in a pickle.
You can't hire a full-time ad professional, nor a full-time videographer to produce and edit videos for you. 
Besides, you're hesitant to invest too much into YouTube ads before feeling it out more.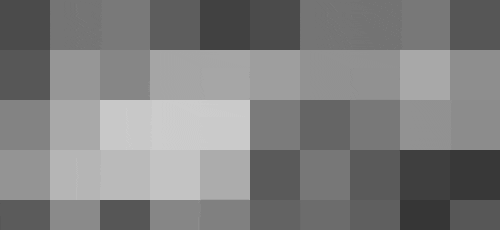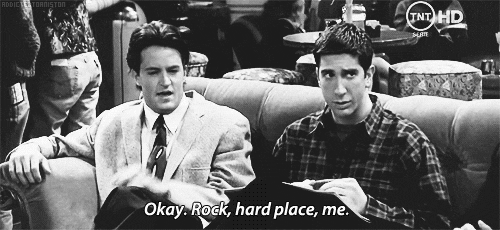 YouTube ads have helped countless companies grow their brand awareness and sales figures.
But let's be honest: YouTube advertising can get confusing. 
In this guide, we'll cover the basics of YouTube ads for digital product creators. 
So let's get to business!
Why advertise on YouTube?
YouTube is a great platform to advertise on. 
YouTube has a huge user base -- over two billion as of May 2019.
Besides that, people use YouTube for everything from education to shopping.
You can use YouTube ads to target viewers based on their demographic information and previous searches.
And trust us, videos and video ads can have a huge impact on customers' buying processes. 
That's not all that surprising when considering that a majority of people from each major age group use YouTube.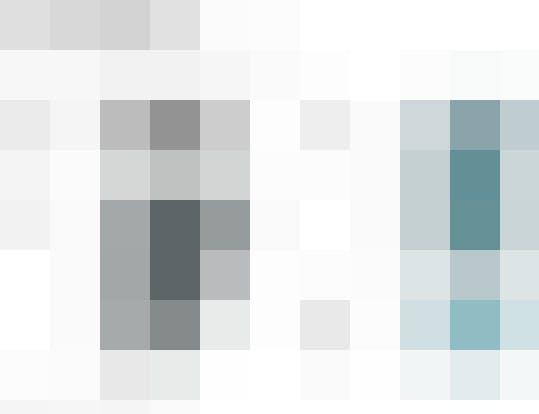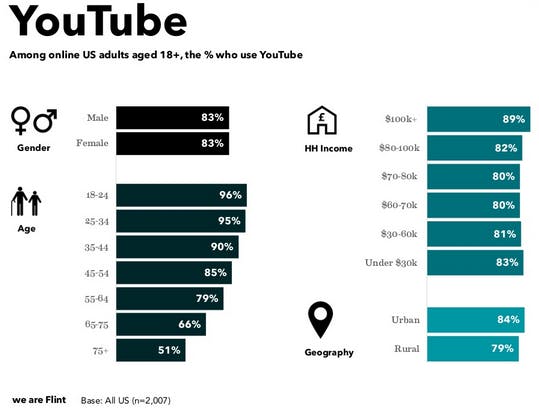 Far from being just a tool for brand discovery, YouTube is also good for product research. 
80% of shoppers who watched a YouTube video related to a purchase they planned on making said they watched a video at the beginning of their buying process, for instance. 
In fact, over 50,000 years of product review videos were watched between July 2015 and June 2017. Plus, 90% of consumers said they discover new brands and products on YouTube.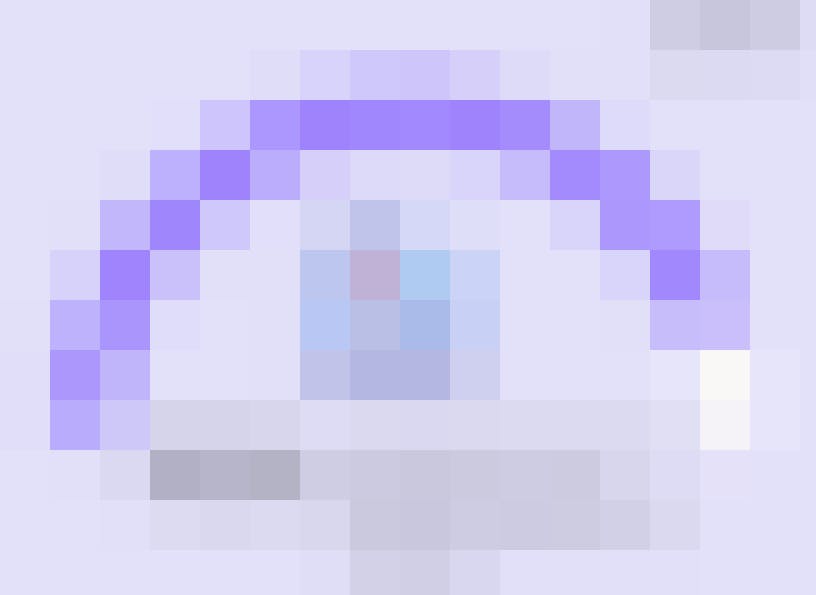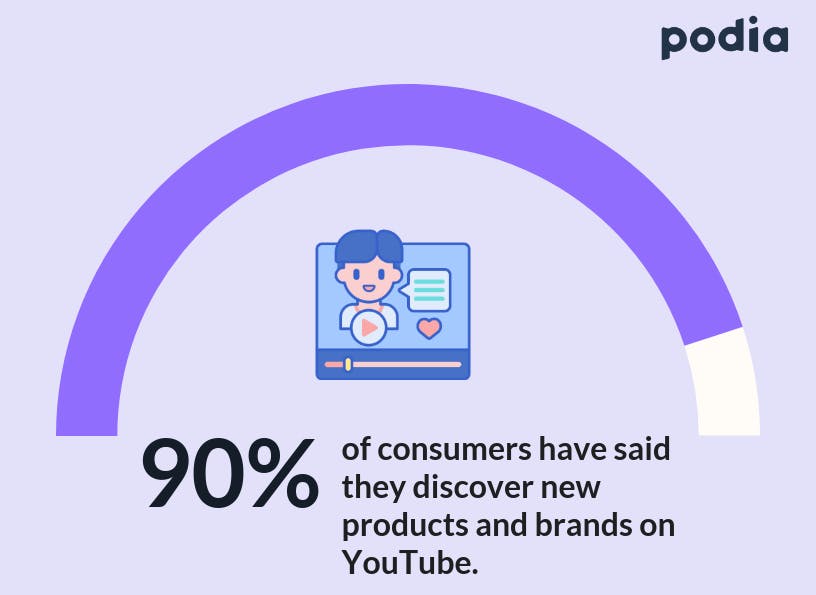 YouTube and YouTube ads, in particular, are excellent marketing tools, as well. 
Consider Nord VPN's example. 
They used YouTube performance ads and saw 13,000 conversions. The conversions cost five to seven times less than their target cost per acquisition for search and display ads.
Likewise, Fashion Days used TrueView for Shopping ads. They saw a YouTube conversion rate increase of 72%, a decreased bounce rate, and increased engagement, among other benefits. 
This is the sum of it:
From an enormous user base to highly targeted ads, YouTube is a worthwhile advertising platform for businesses looking for wide-reaching and sophisticated marketing campaigns.  
But if you're wondering what type of ad you can use to stand out, stay tuned for the next section. 
What types of YouTube ads are there?
There are six types of YouTube ads: display ads, overlay ads, skippable and non-skippable ads, bumper ads, and sponsored cards. 
Display ads appear to the right-hand side of the main video but above the suggested videos list. They only appear when viewers are watching a video on a desktop. 


This display ad for Curology appeared after I clicked on a video about pore strips, as an example. 


The second type of ad -- -overlay ads -- appears in the bottom 20% of your video. This overlay ad from Honey was shown in an Epicurious cooking video.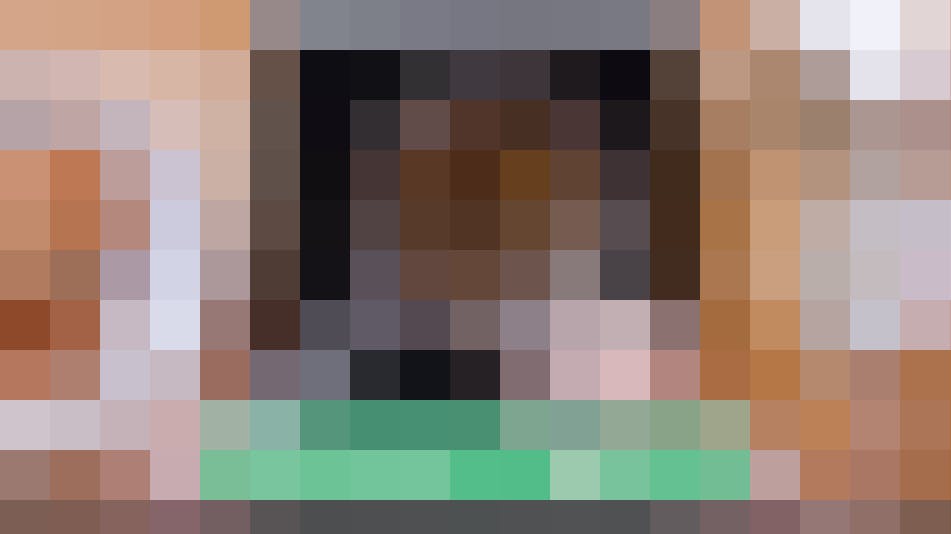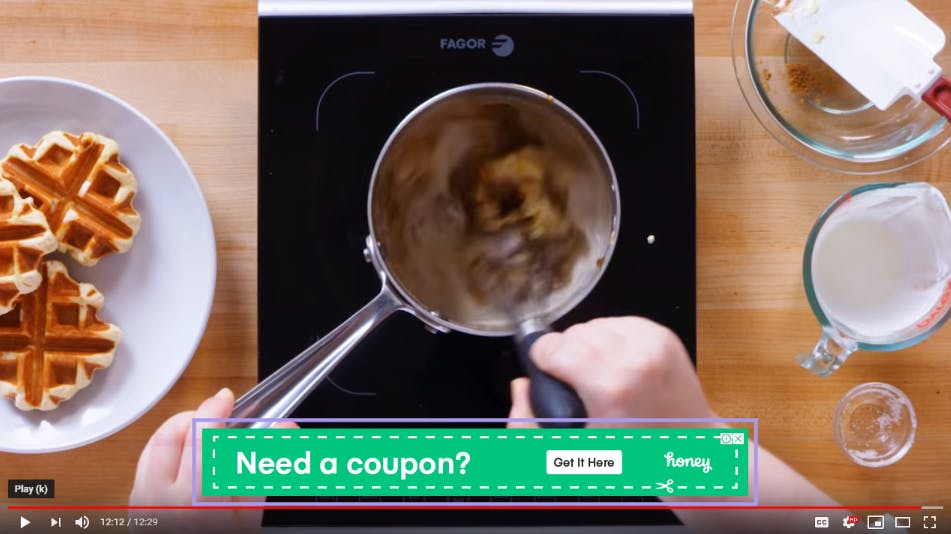 Like display ads, they only appear when a video is played on a desktop. 
The third type of ad is arguably the most prevalent on YouTube: skippable ads. 
As their name suggests, skippable ads are ads viewers can skip after watching them for five seconds. Skippable ads can be placed at the beginning, end, or middle of a video.
This ad for Peloton appears at the beginning of a video. After five seconds, I had the option to skip it.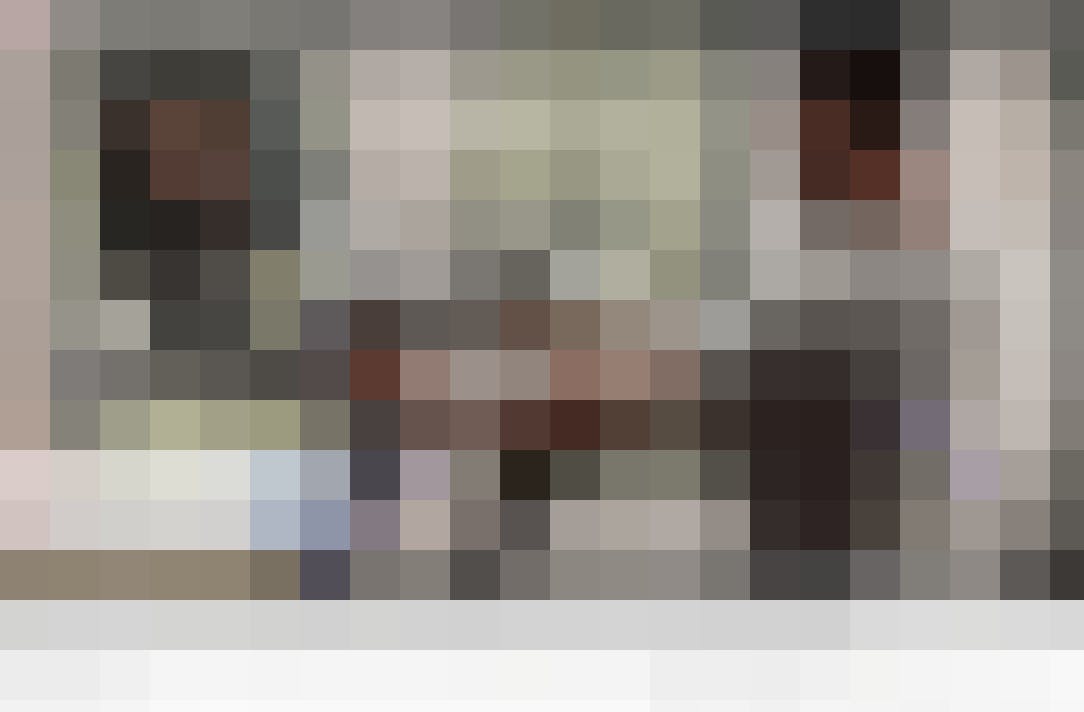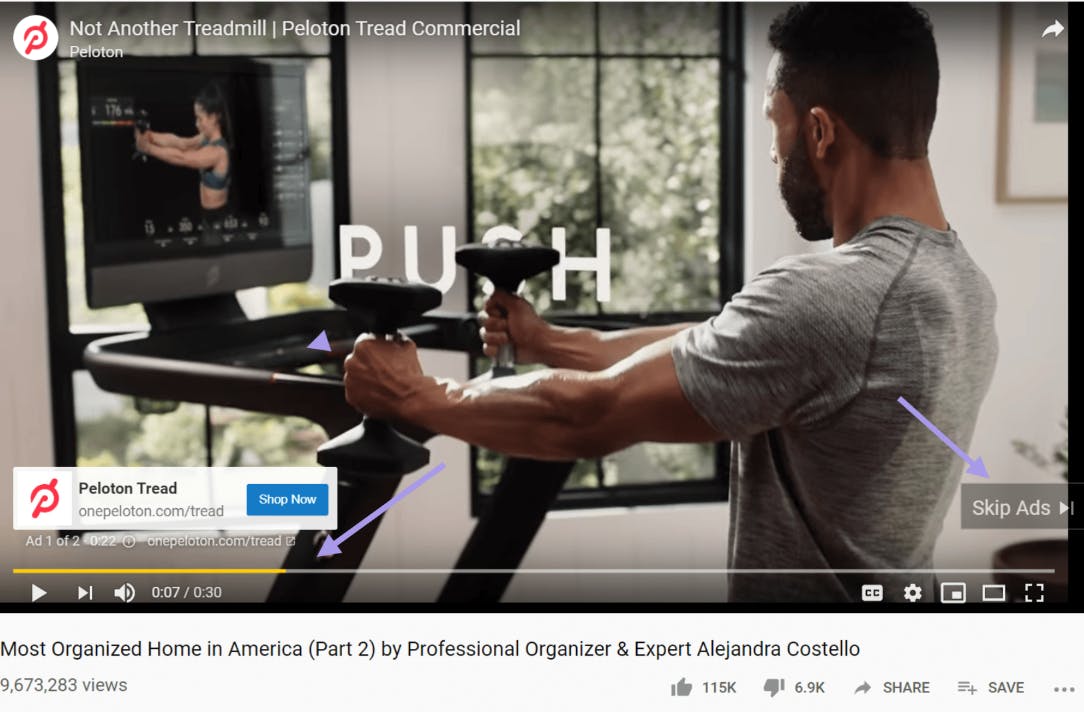 Skippable ads are more versatile than other ad types. They can show up in videos played on desktop, mobile, TVs, or gaming consoles. 
Non-skippable ads play only on desktop and mobile devices. They can be placed either in the beginning, end, or middle of a video.

Bumper ads are non-skippable ads of up to six seconds that play before the main video plays, such as this six-second ad from Swarovksi.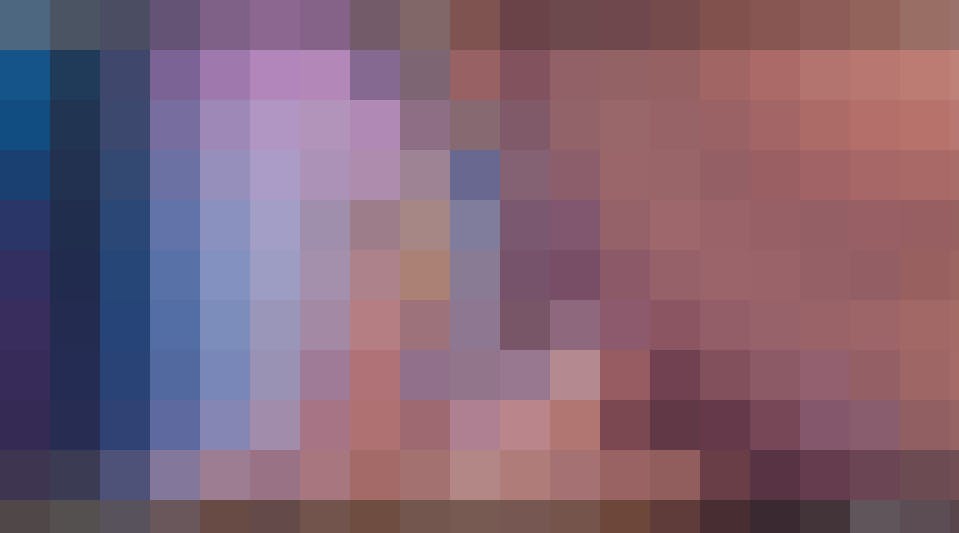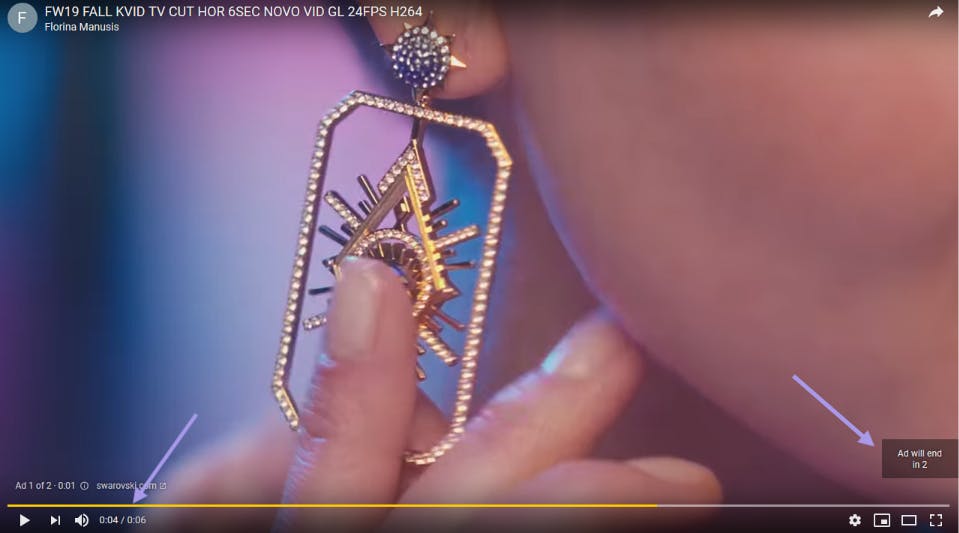 Although you probably won't see as many bumper ads as other YouTube ad types, they're still quite effective. 
A study of 122 bumper ad campaigns from 2016 found that 70% of brands saw a significant increase in brand awareness. The companies saw an average increase of 9%. 
The sixth and final ad type is sponsored cards. These can appear as either a small "i" icon in the upper right-hand side of your video or as content blocks on the video. 


Apple featured a card in their video ad that promoted an upcoming Apple event when I clicked on the "i" icon of their card.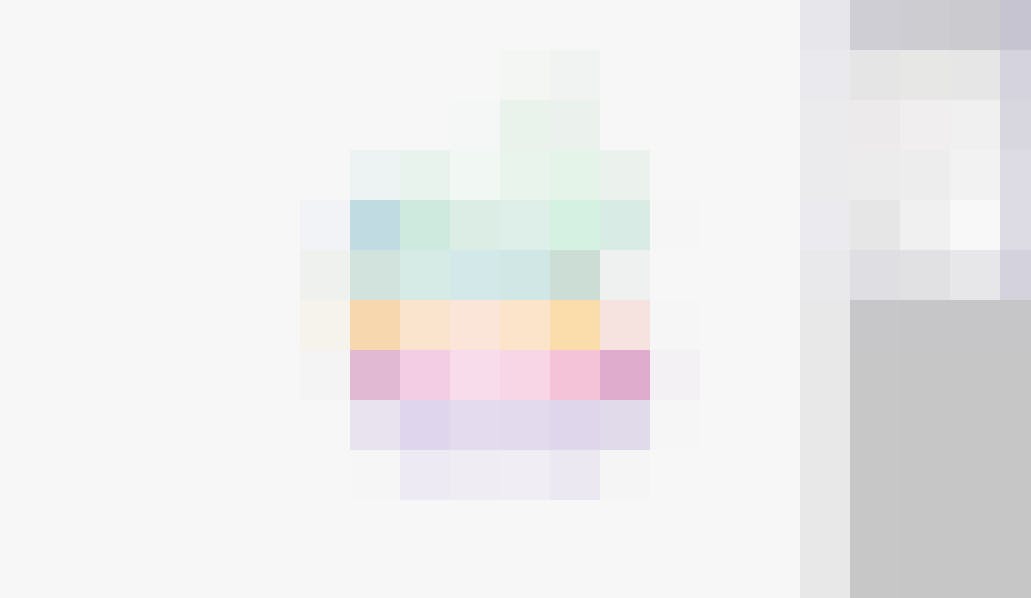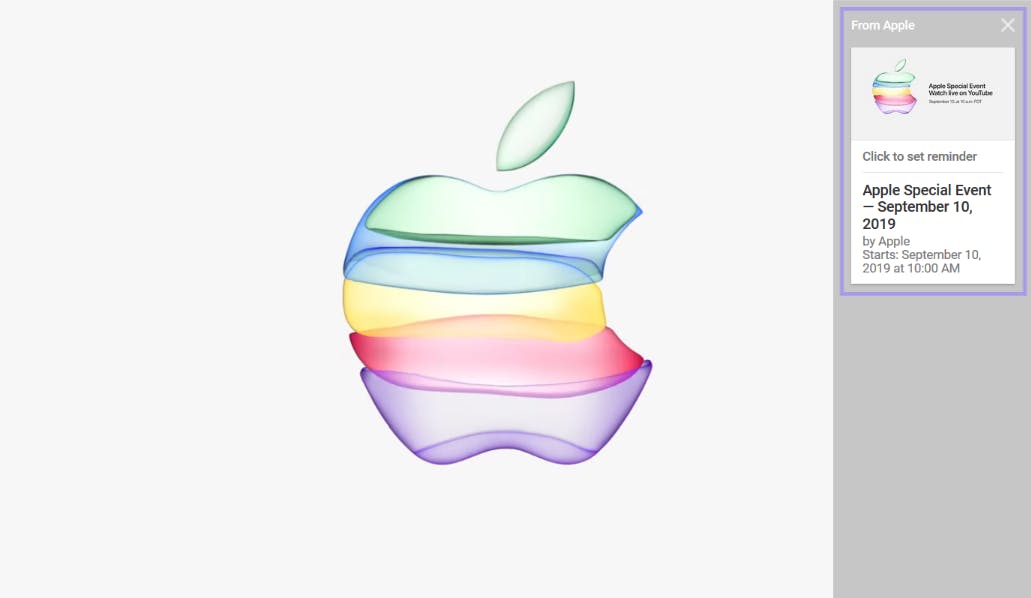 While there are only six types of YouTube ads, there are ways you could tailor them to fit your marketing needs. 
You could opt for TrueView ads, where you only pay for ads viewers opt to watch. 
There are two types of TrueView ads: in-stream ads and discovery ads. 
Viewers must watch TrueView in-stream ads for five seconds. After five seconds, they have the option of continuing to watch or skip your ad. 
If viewers engage with your ad or watch 30 seconds (or the duration of the ad if it's under 30 seconds), then you pay for that view. 
If viewers skip your video after that five-second period, you don't need to pay. 
This ad for Oui by Yoplait is likely a TrueView in-stream ad since it lets me skip after five seconds.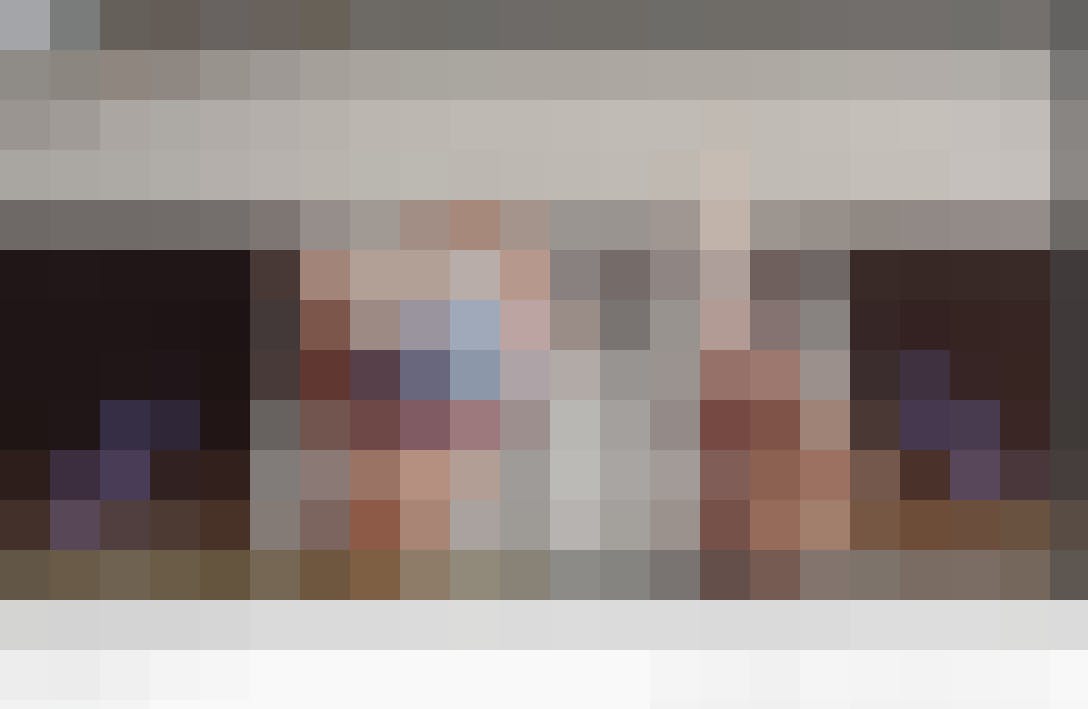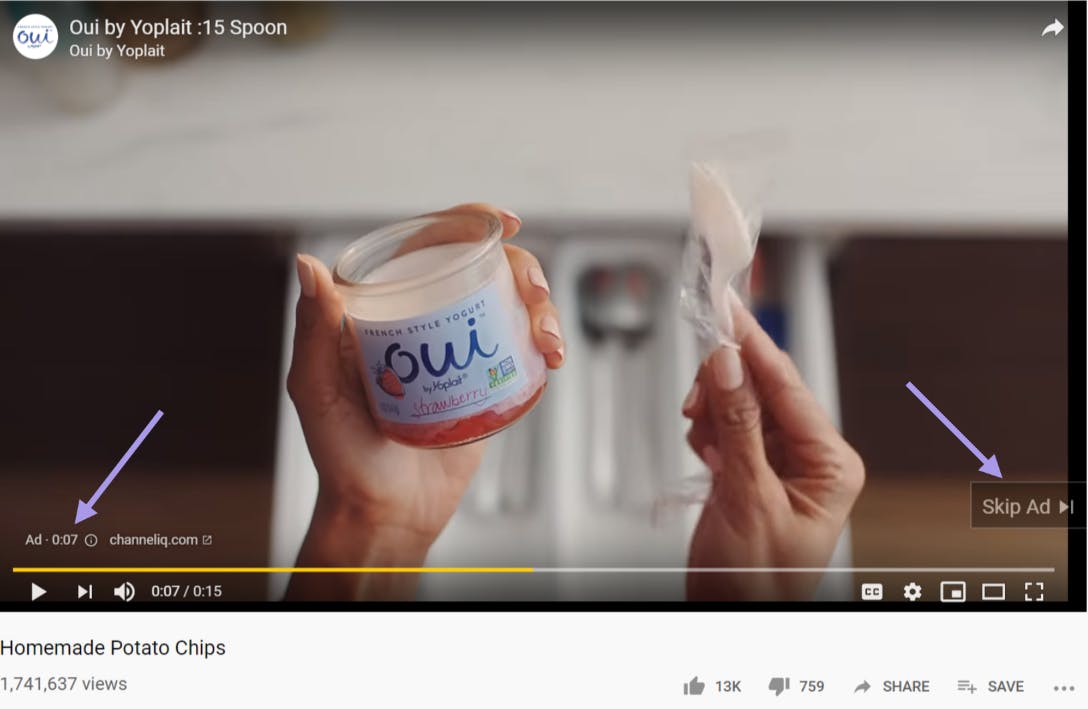 The second type of TrueView ad is a "discovery" ad. 
Discovery ads don't appear in a video. 
Instead, they appear on search pages and watch pages. This Shiseido ad was displayed at the top of the search page when I queried "vegan skincare."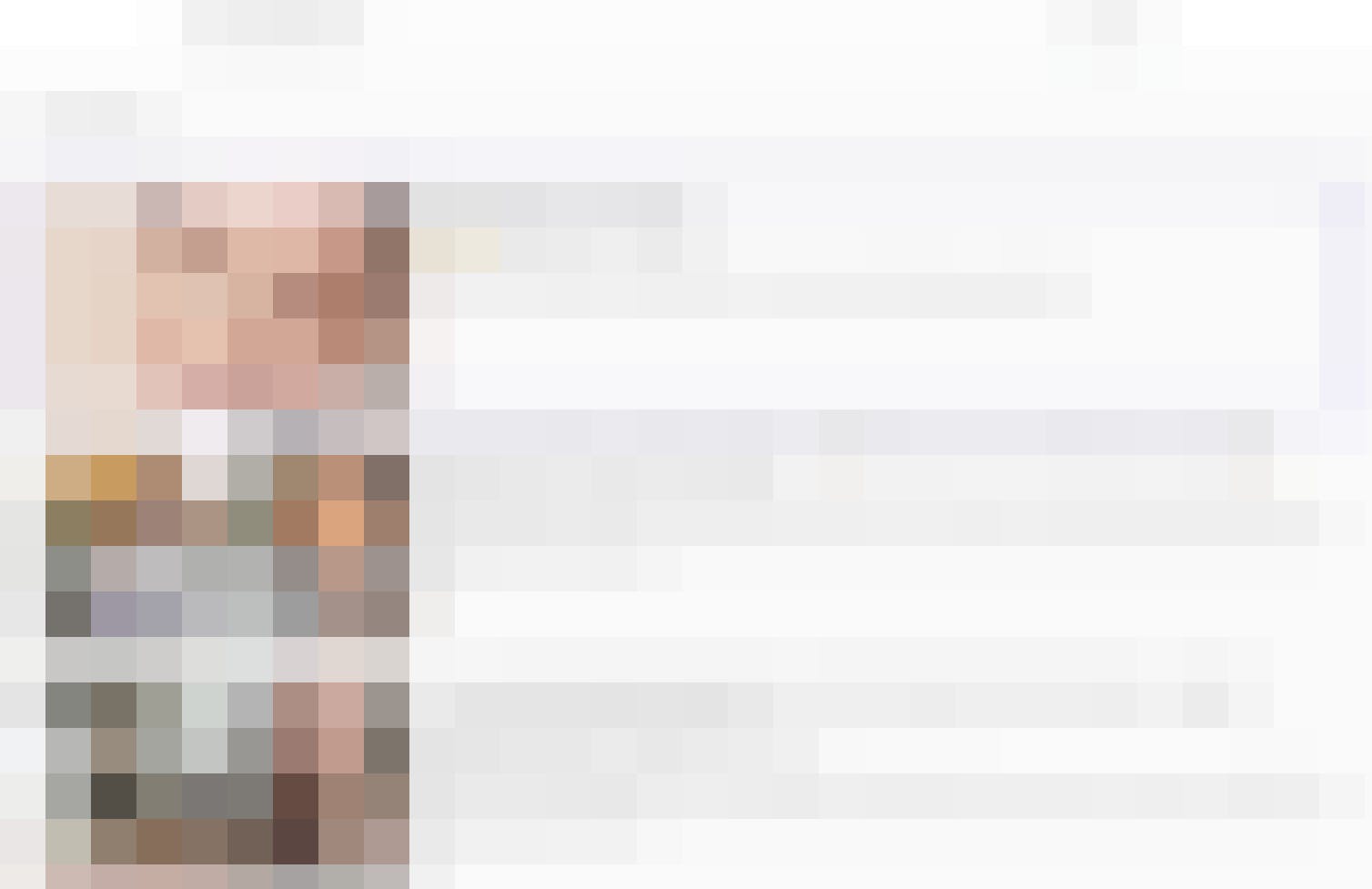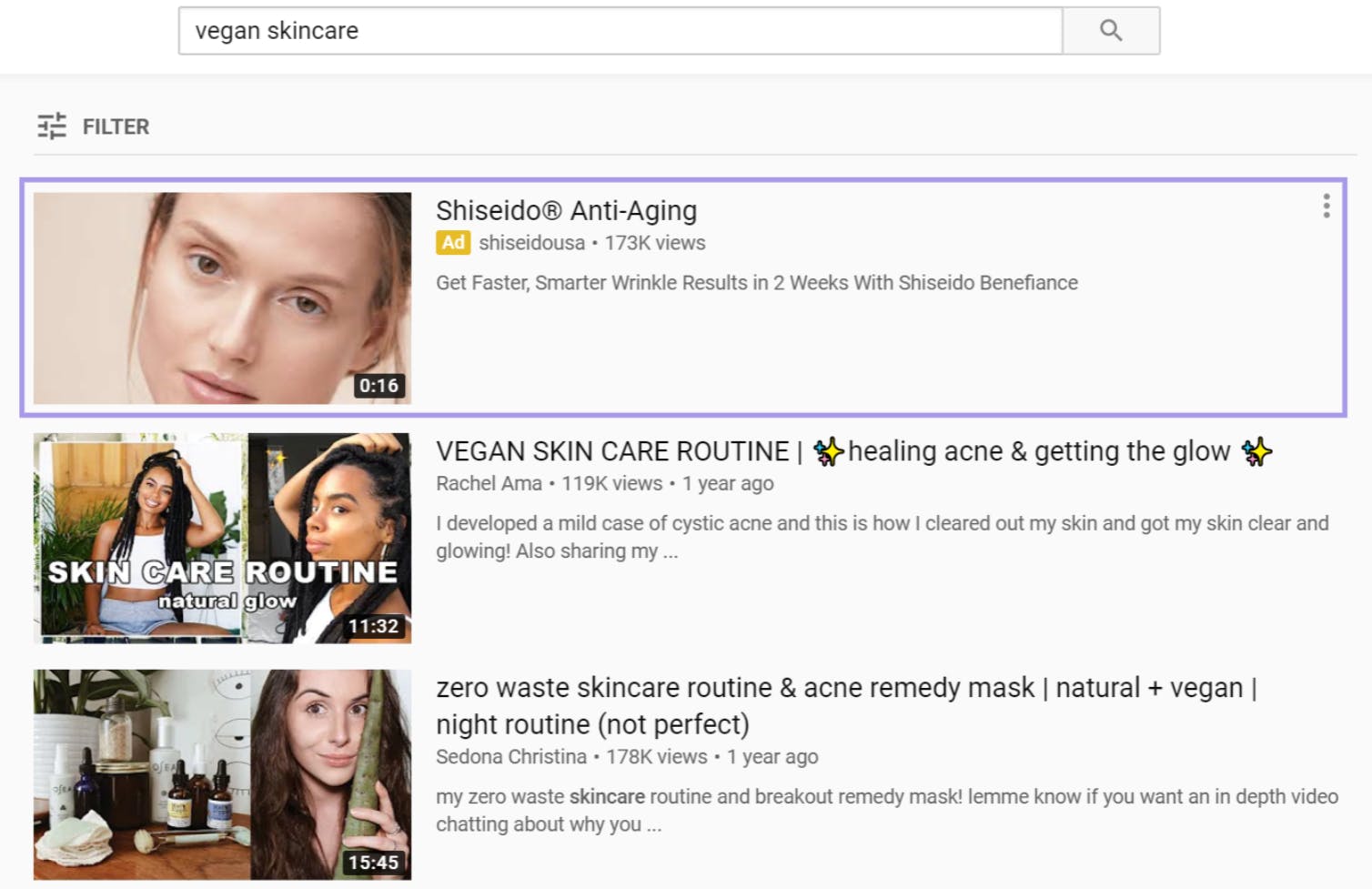 When a viewer clicks on a discovery ad, the video won't play. Instead, it will take viewers to the full video page. 
Look:
Getting started with YouTube ads isn't difficult, but it can be a little confusing if you're new to digital ads. 
However, this uber-comprehensive guide on how to set up a YouTube ads campaign from Social Media Examiner should help you get started. 
As a creator, you have an assortment of YouTube ads to pick from. 
Some, like TrueView ads, allow you to only pay for ads your viewers watch for 30 seconds or engage with. Others are limited to viewers on certain devices. 
But with all of the ad variations out there, you must be wondering how much you'll need to budget. 
The answer is a little knotty, so read on for the nitty-gritty. 
How much does it cost to advertise on YouTube?
YouTube advertising costs vary heavily based on your niche, budget, and how many people you're aiming to target. 
Nevertheless, Google recommends starting with at least $10 a day for local campaigns. 
Don't forget, advertising on YouTube isn't limited to the costs of the ads themselves. You may also need to hire someone to edit your videos or manage your ad campaigns. 
Because YouTube ad campaigns vary so much in price, let's take a look at some examples. 
This creator spent $7.01 on their first YouTube ads campaign, which lasted for two days. They earned back only $2 of their original investment.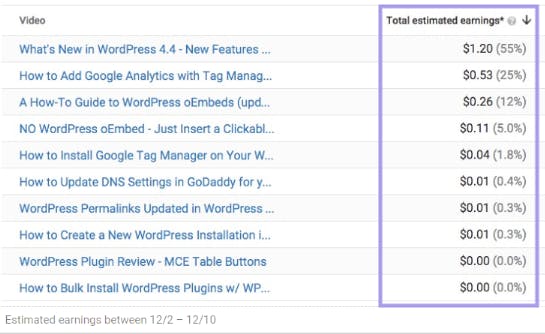 Even so, they noticed their YouTube ad campaign significantly increased their watch time. This could help in terms of encouraging YouTube to recommend your channel and content to others. 
Despite having a small following, few videos, and only about four weeks of regular uploading, the campaign also brought in 10 to 15 additional subscribers. The ad campaign led to their video being embedded on other sites, as well. 
Candy Japan spent nearly $14,000 on their YouTube campaign. The company also paid about $3,000 for their ad's animation and around $100 for a voiceover artist to narrate their video. 
Although viewers placed orders with Candy Japan, they didn't earn back their investment even after accounting for customer lifetime value (CLV). That being said, they were close to breaking even. 
Lastly, OkDork spent a few cents per view. Additionally, they paid cost per acquisition rates as low as $5 for customers who had a CLV of around $250.
There's no set amount you'll need to get started with YouTube ads, though several hundred dollars is likely the minimum for a weeks-long campaign. 
With YouTube ad formats and costs out of the way, let's explore ways to make your ads more effective. 
Best practices for advertising on YouTube
Around 62% of YouTube mobile advertising receives viewers' attention.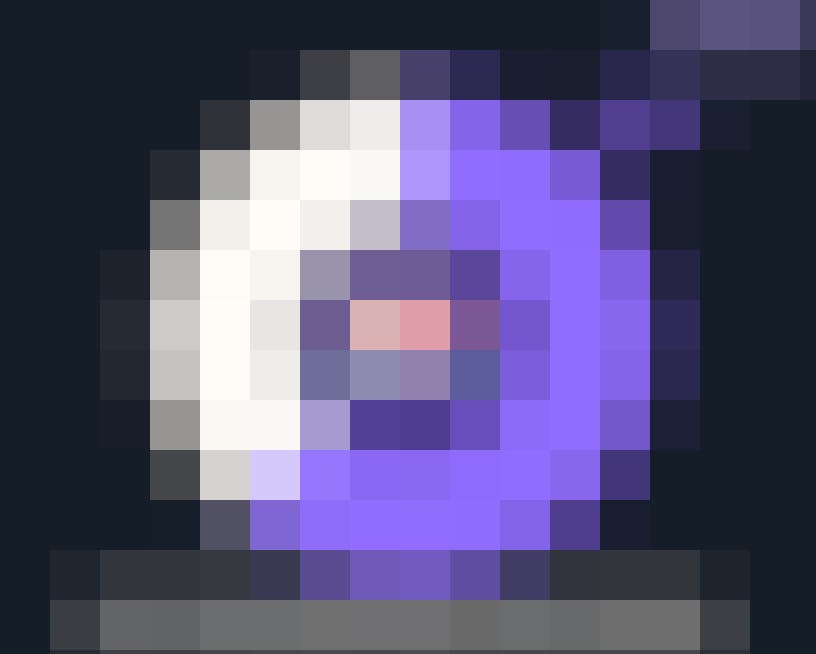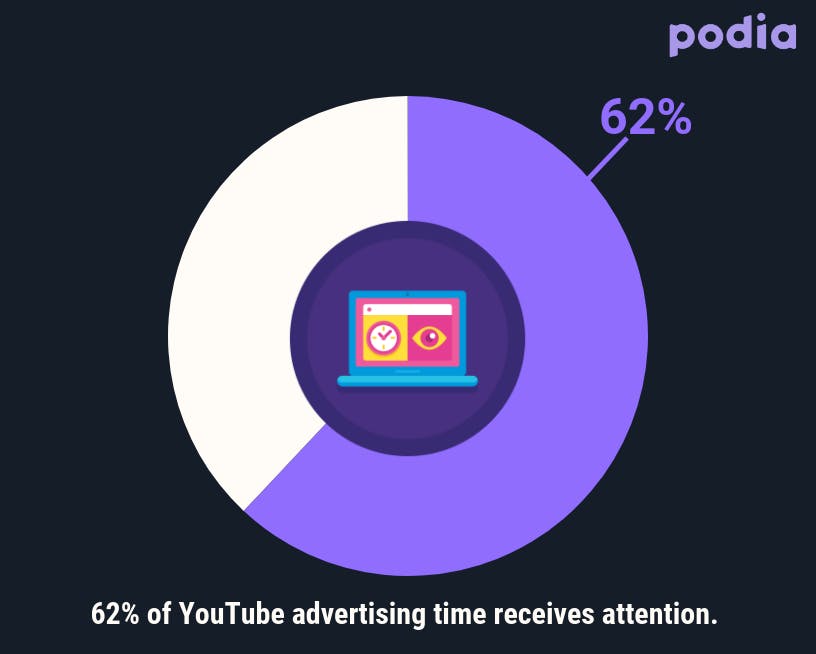 Besides that, paid YouTube advertising is 84% more likely to be paid attention to than TV advertising.
But just because viewers are more likely to watch YouTube ads doesn't mean you can cut corners. You should still aim to be compelling, succinct, and speak to your viewers' emotions. 
One way to be compelling is to make the first few seconds of your ad attention-grabbing. 
This Sleep Number commercial piqued viewers' curiosity within the first few seconds. Their ad opened with a couple asking if they could have both soft and firm sides to their mattress.
This ad from Lunya opens with a bold claim: "Bedtime has a new dress code."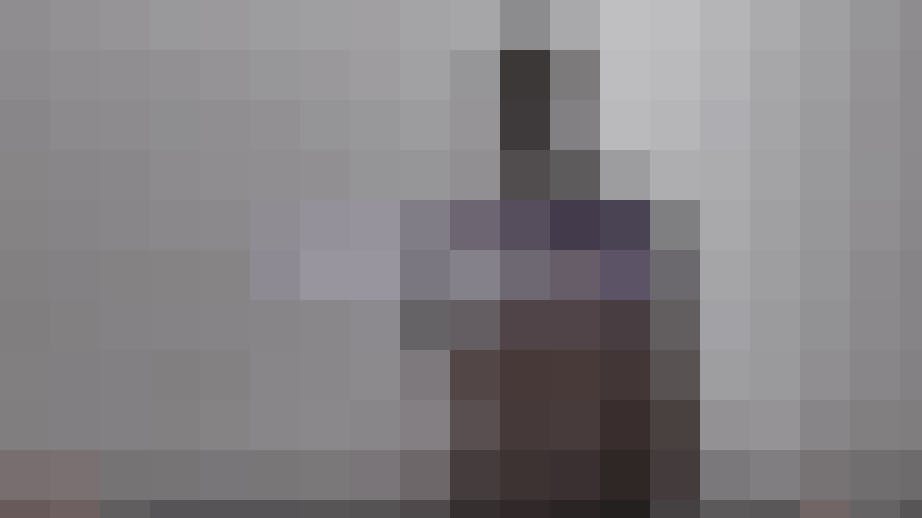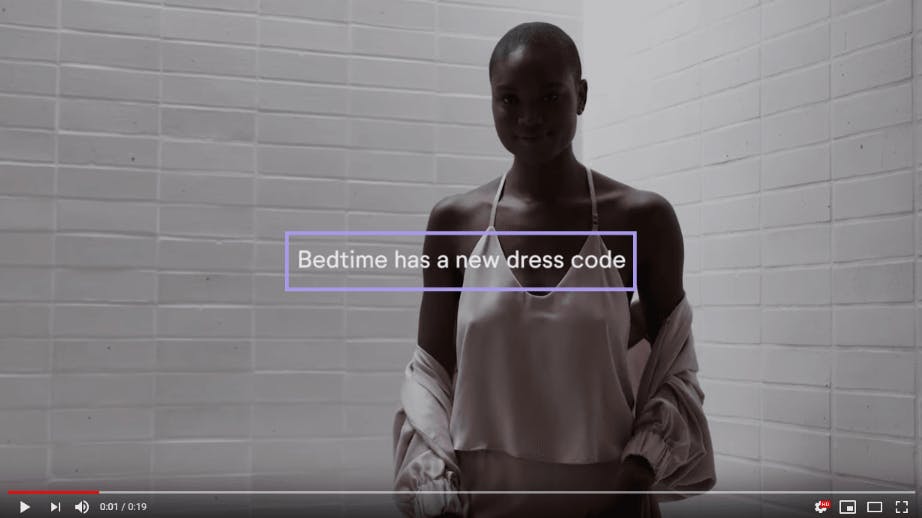 Plant-based meal delivery company, Purple Carrot, followed a different path. Their ad began with a visually-stunning montage of foods prepared with their meals kits and recipes.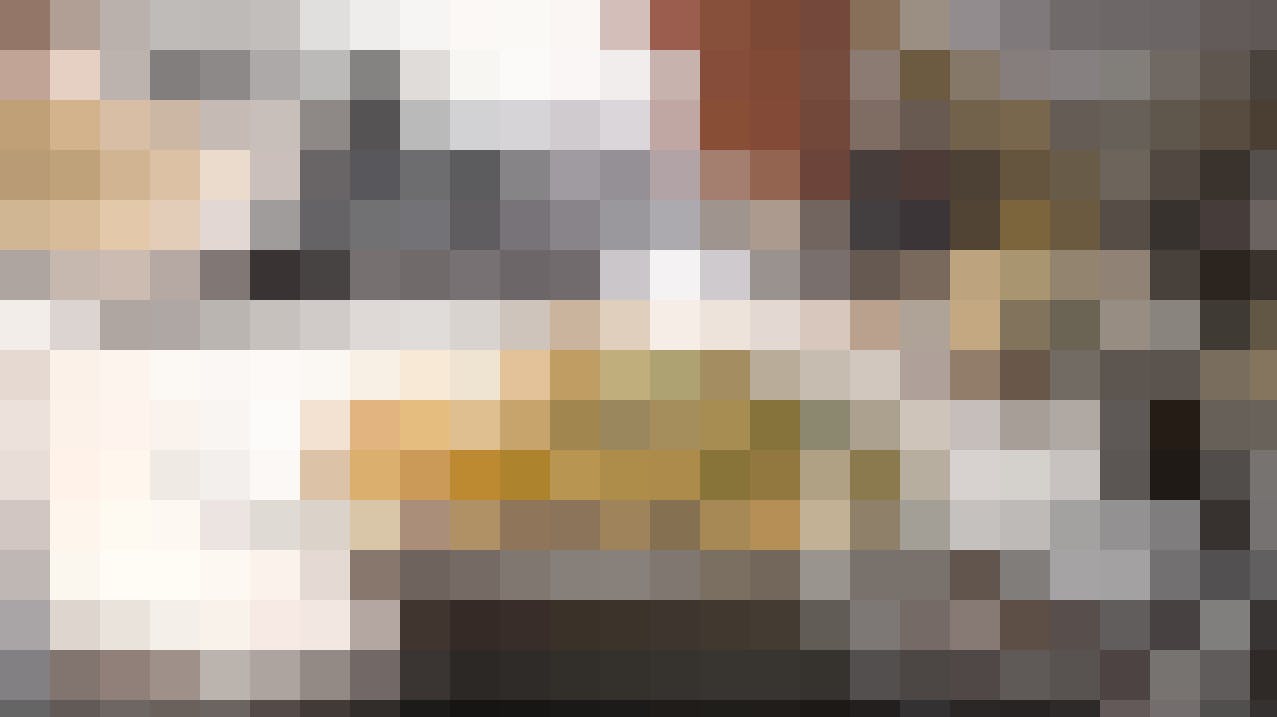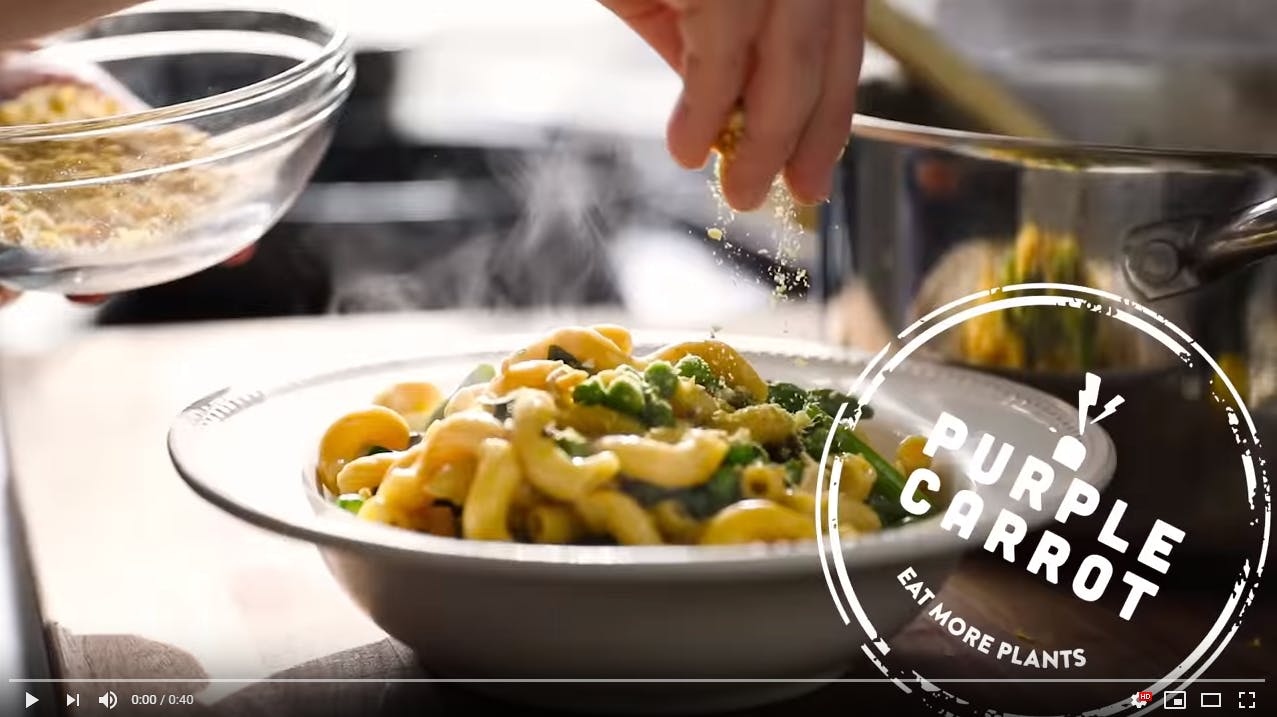 But a great opening can only retain viewers for a few seconds. To have viewers stick around longer, you'll need to entertain them or offer something valuable. 
For TrueView ads, Google also recommends creating video content that builds a relationship with your viewers and which engages them, among other tips. 
Let's look at some examples. 
CurioustyStream's ad for their First Man documentary opens with an attention-getting scene of a human cracking open the "tree" separating the viewer from the man. It then delves into the story of human evolution.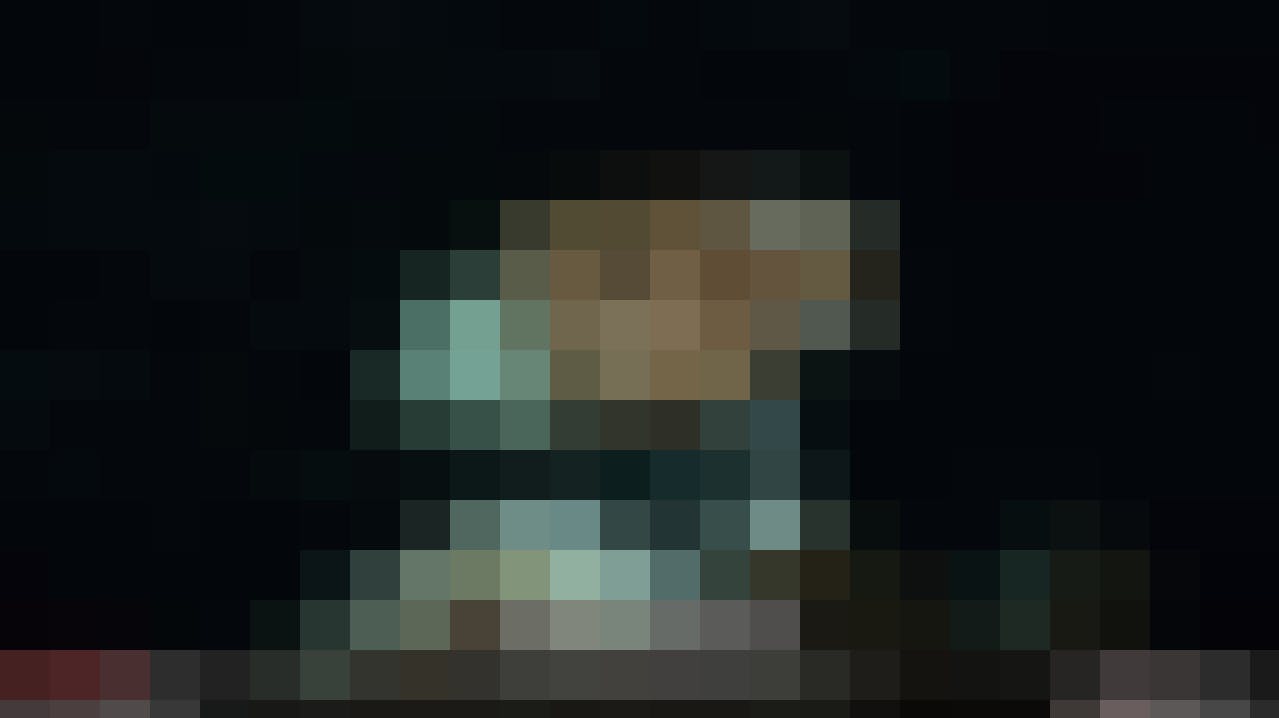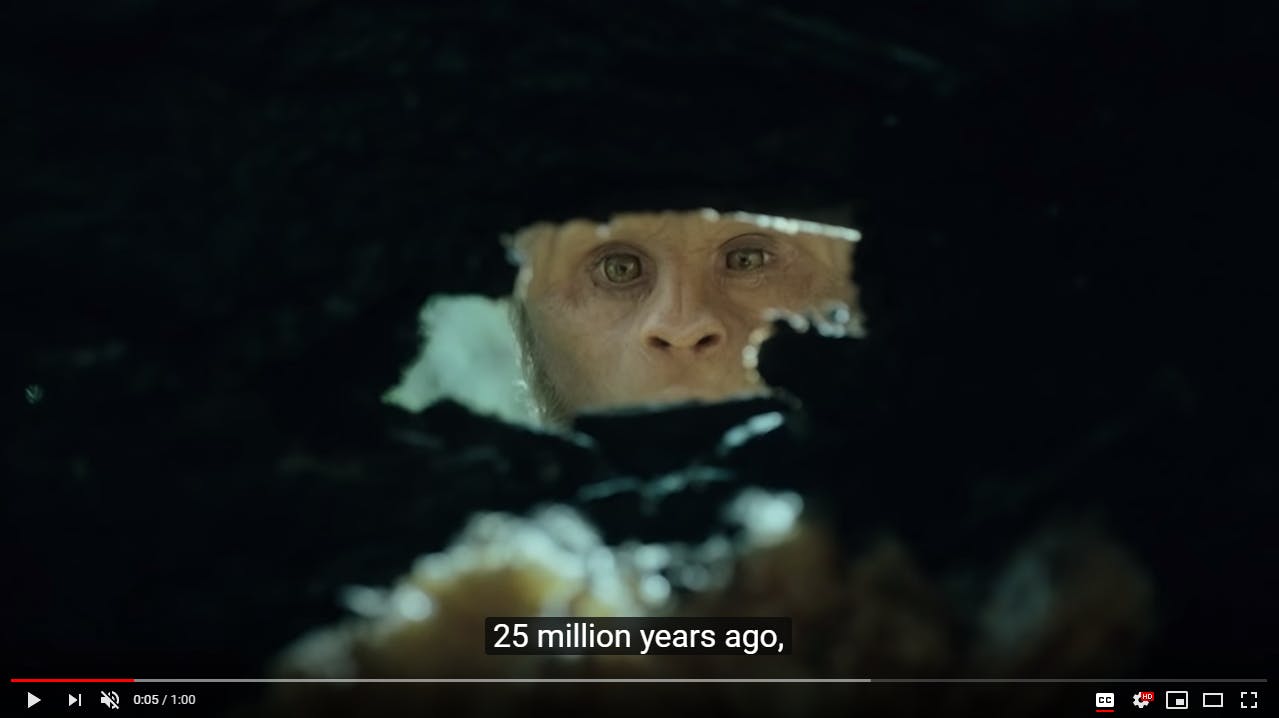 This ad for Jack Black beard grooming products departs from the typical ad format of singing their products' praises. 
Instead, it teaches viewers how to groom their beards using Jack Black products.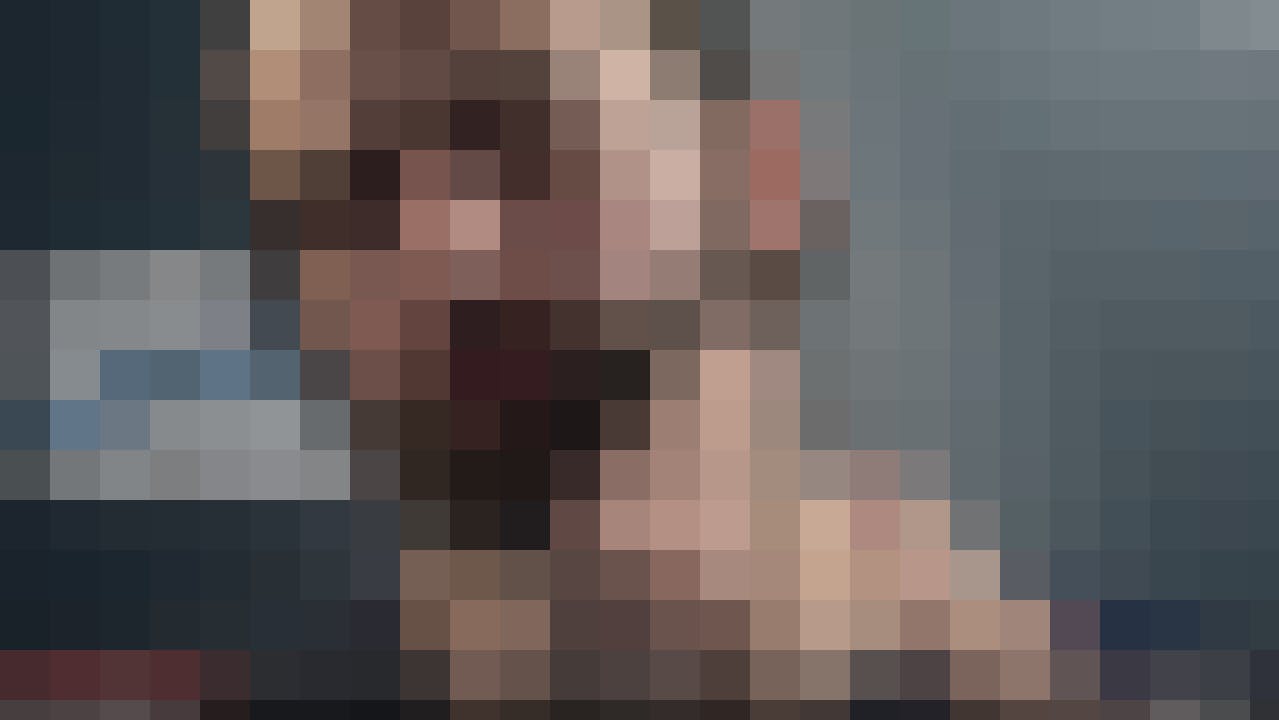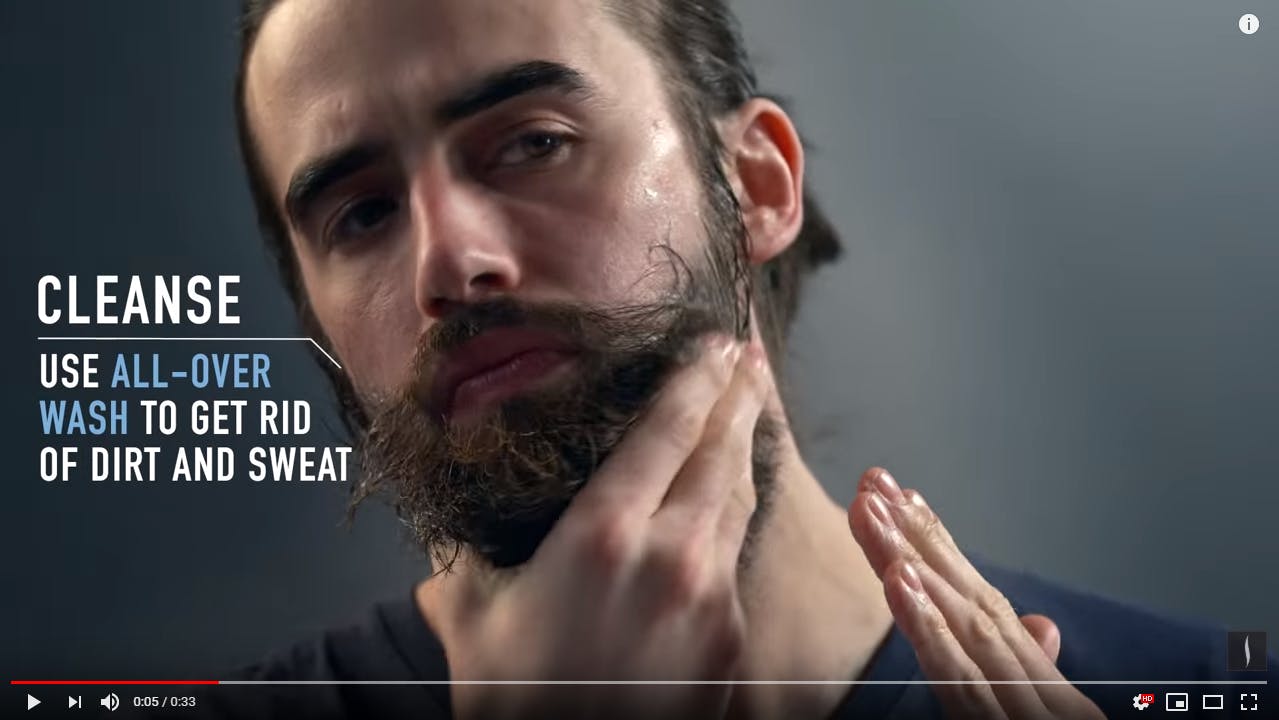 Even if you don't have a physical product, you could use your ad to teach viewers something within sixty seconds. 
Let's say you sell online courses about building confidence and self-esteem. Your brand's ad could share several 10-second tips about how viewers can develop their confidence today. 
However you format and design your ad, including a video card (which appears as a small "i" icon in the top right of the video) can be very helpful.
Cards can be used to promote a special event, more videos from your channel, or business website, among many other things.
Apple, as an example, uses a card on their iPhone 11 ad to take viewers to an iPhone 11 product page.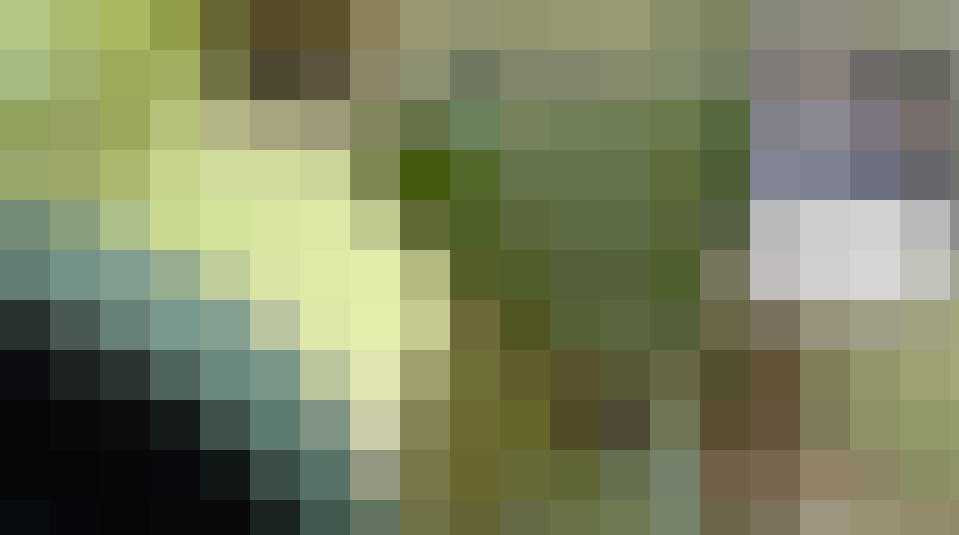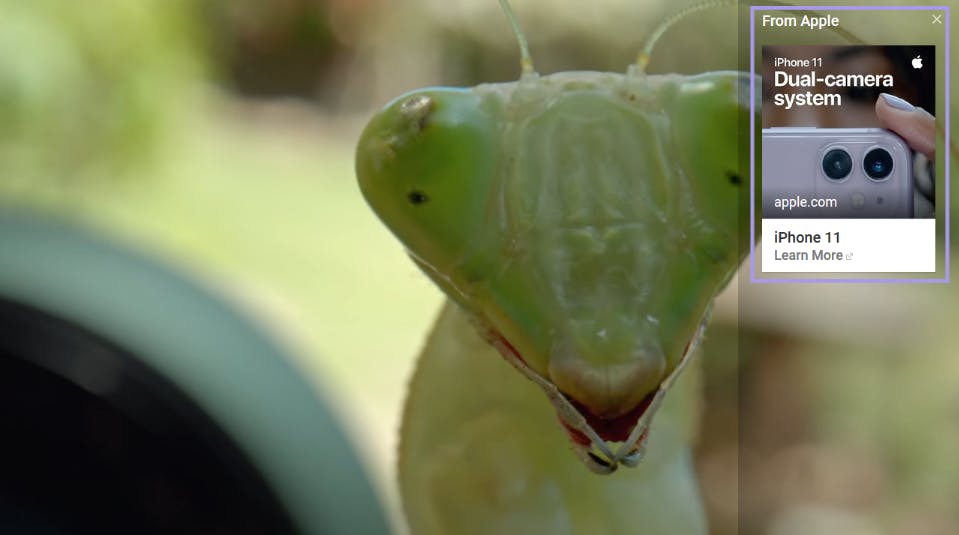 As a digital product creator, it would be a savvy move to use cards to link to your product sales pages or even a landing page to build your email list. 
Haven't had time to create a sales page that converts just yet? 
Build one -- and your next product -- in 10 days with our bootcamp.
The 10-Step Product Bootcamp
Your next successful project starts now. Learn everything you need to know to create AND launch your next digital product in 10 steps.
Get access
Otherwise, to increase your ads' efficacy and your brand's exposure, pair them with influencer outreach and collaborations. 
Now, what if you're not planning on using skippable ads?
Many of the same rules apply. 
For bumper ads that last only six seconds, for instance, Google recommends focusing on one purpose. 
They also recommend making the most of your six seconds and creating a series of bumper ads to complement one another. 


If you opt for overlay ads, make sure to have a curiosity-inducing claim. Couple it with a powerful CTA that drives your viewers to action. 
Honey claims, "If there's a better price, we'll find it," and then encourages viewers to "unlock coupons".
Who wouldn't want to click to see if Honey lived up their claim?


LinkedIn took a similar approach.
They outlined the benefits viewers could have (reaching over 600 million members) by using their service. 
It also played into their sense of curiosity and skepticism by encouraging viewers to "see how".


As with cards, your overlay ads don't always have to advertise your brand directly. You can also use them to give away free digital downloads, promote a free trial, or another offer. 
By doing so, they can join your email list and enter your sales funnel. 
Take Salsify as our final example today. 
Their overlay ad promoted their Product Content Readiness Checklist. The ad took viewers to a landing page and a form to complete before receiving the download. 


Basically:
Whatever type of YouTube ad you choose, make them compelling, concise, and relevant to your customers' interests. This can help to convert viewers into subscribers.  
With a brand as excellent as yours, it shouldn't be too hard. 
You can get started with YouTube ads today
Incorporating YouTube ads into your marketing strategy may be one of the best things you do (aside from signing up for Podia for a free two-week trial, of course).
YouTube has over two billion users, many of whom watch YouTube ads to completion and use the platform as an educational or product research tool. 
The six ad types you can use to grow your business with YouTube include:
Display ads which appear to the right of the main video and above the suggested videos list

Overlay ads that appear in the bottom fifth of the video

Skippable ads that viewers can choose to skip after five seconds

Non-skippable ads that viewers must watch before the main video begins

Six-second bumper ads that appear at the beginning of a video

Sponsored cards that viewers can click to visit other sites and content from your brand 
While each ad has its own benefits, the approach you should take to creating killer ads is very similar regardless of the ad type.
For each ad, you should try to make sure that it:
Piques viewers' curiosity. With how many ads they're bombarded with, you need to give them a reason to watch your video to the end.

Concise. Most ads can be skipped within five seconds, so try to convey your message as early and succinctly as possible. 

Valuable and relevant. A majority of brands use ads to talk about how wonderful their products are. Why not use your ads to teach viewers something valuable or entertain them?
True, there will probably be a little bit of a learning curve as you learn how to adapt YouTube ads for your business. 
But with a little patience and creativity, you'll soon be on your way to a stunning and viewer-converting YouTube campaign like a pro.