Introducing messaging for your online business
Get to know your customers, understand their challenges and learn what they want.
Validate products
Rather than "building in the dark" (which is what most creators do), you can now validate your product ideas (and be sure they'll sell!) before putting in a lick of work.
Boost sales
Podia is the ONLY product platform with integrated live chat, which will help you stand out and sell more products and memberships.
Make reaching out convenient for your customers
Live chat gives your customers a reliable way to reach you when it's convenient for them, whether they're in North America, France or the Philippines!
Help people even when you're not there
Capture customer questions, feedback and requests even if you're sleeping. When you're ready to respond, return to any conversation without skipping a beat.
How does live chat fit into my business?
Live chat offers a direct line of communication between you and your customers. It's like having a live sales person on your site at all times who can answer questions, assuage fears, overcome objections and motivate people to take action.
Beyond selling, live chat also allows you to learn about your customers and gather feedback regarding potential or existing products; having access to those valuable insights will make your product roadmap stronger and your marketing more effective.
And the best part? As your chat conversations are happening, all of the data will be captured so you can easily return to conversations, resolve issues and keep track of trends.
Customer support
Answer questions, provide guidance, help with troubleshooting, enhance customer onboarding and more.
Up-selling & Cross-selling
Boost your average order value by mentioning relevant products to customers who may be interested.
Engage prospects & build trust
Offer a more personalized touch to existing customers and build trust with leads by answering questions, offering incentives and overcoming doubts.
Gather customer insights, feedback & requests
Learn about your customers' challenges and what they want, gather feedback, record requests and so much more.
Why use Podia's messaging for live chat?
The real question is: why not?! Our live chat fits seamlessly into your website (no plugins or additional software required) AND it's included in all paid plans at no extra charge.
Integrates with your website seamlessly
Unlike a chat plugin or external software, our live chat tool integrates seamlessly with your website, which means all of your conversation and sales data will live together in one place. 
Included at no extra cost
While other chat platforms charge hundreds of dollars per month (we pay $700/month!), our live chat tool is included in your Podia plan at no extra charge.
Not available on any other product platform
Integrated live chat is new and 100% exclusive to Podia customers; you won't find it on any other digital product platform!
Chat in any language
Because our customers are all over the world, our chat tool supports 22 languages, with more being added all the time.
How does live chat fit into my Podia website?
Live chat integrates directly with your Podia website, letting you keep your business streamlined and keep all of your tools and data in one place. With live chat, you'll now have another way to engage leads, boost sales and build customer relationships, without any additional cost or software. And because live chat is included in all of our plans, there's no need to "upgrade later" as your business grows and evolves.
Everything in one place

No extra software or plugins

No extra bill at the end of the month

No need to upgrade as your business grows and evolves
What features are included with the live chat tool?
Live chat includes everything you need to start or reply to customer conversations, plus the right tools to engage leads and make more sales.
Set your status
Let customers know if you're around or away.
Get notified when chats come in
Enable chat notifications so you never miss important conversations. Turn them off when you're not around or when it's time to focus.
Set your availability (coming soon)
Let customers know when you're typically online and what they can expect in terms of response time.
Add a greeting (coming soon)
Include a welcome message that will automatically appear any time a customer opens a chat or sends a message.
Add coupons directly (coming soon)
Boost sales by sending your customers free products or coupon codes directly into your conversation.
What will my live chats look like?
When a customer sends you a live chat, you'll see the customer's name and a link to their profile. As with everything else on Podia, live chat works and looks beautiful on all devices, including mobile, tablet, and desktop.
Here's what you will see…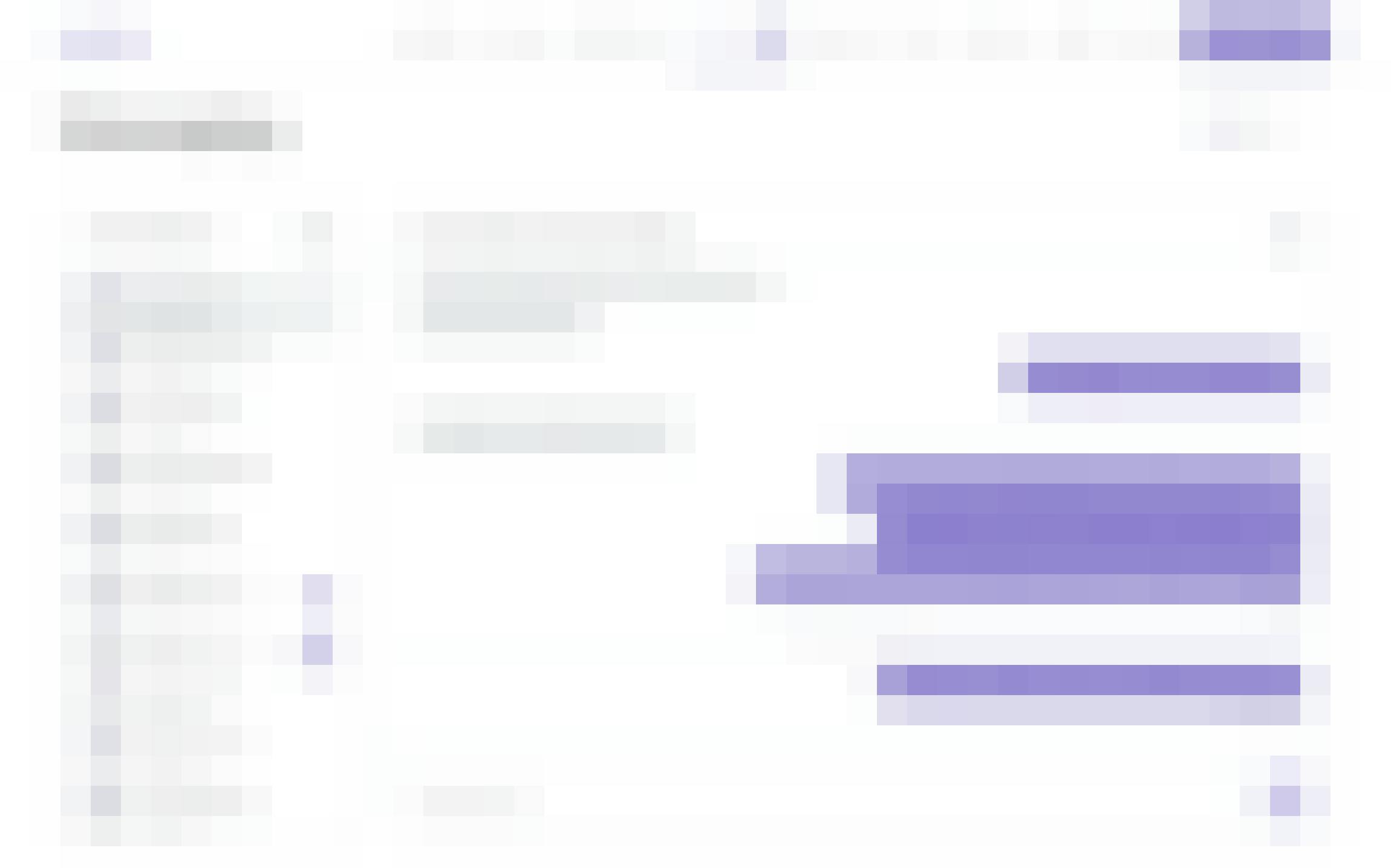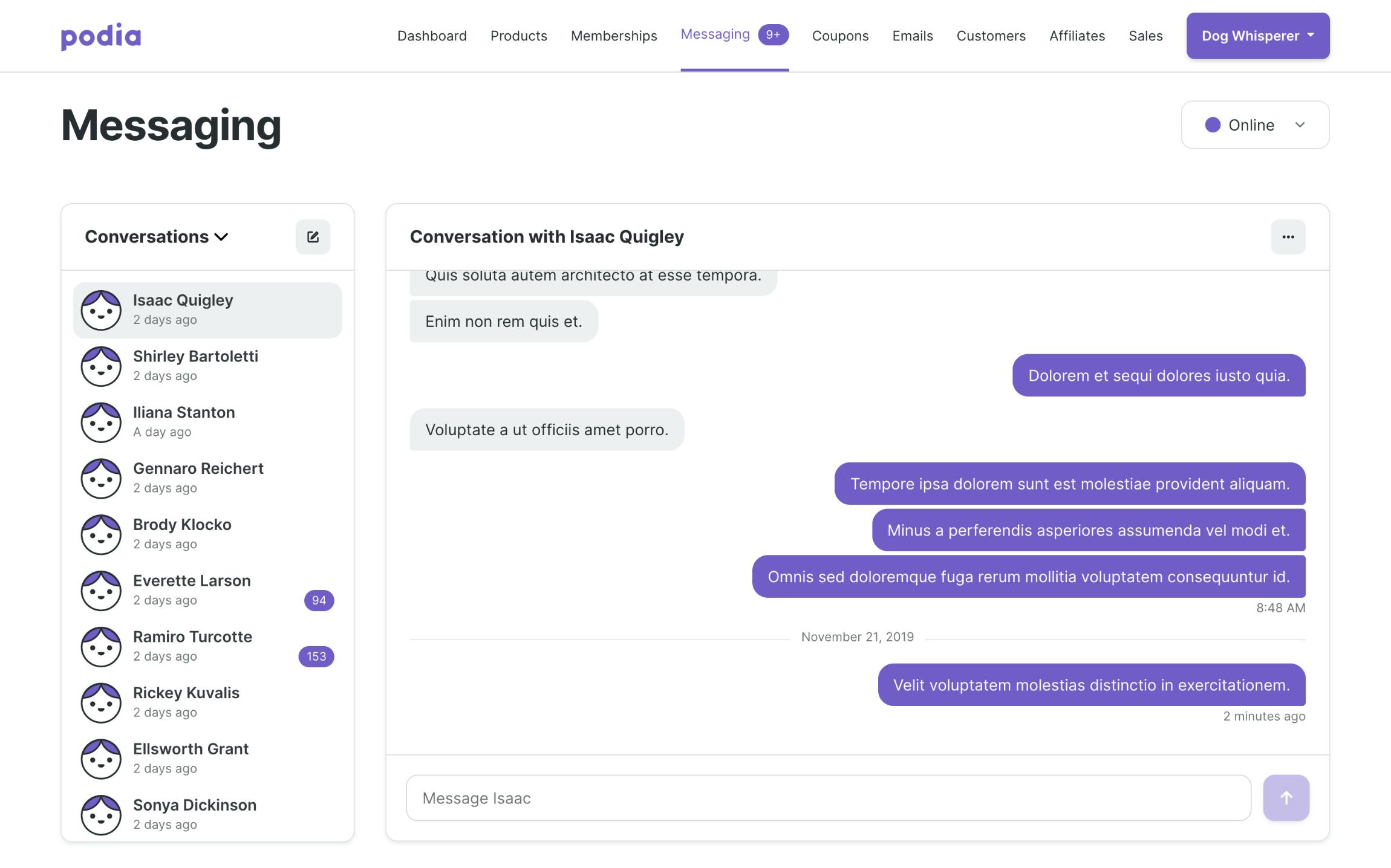 …and here's what they will see…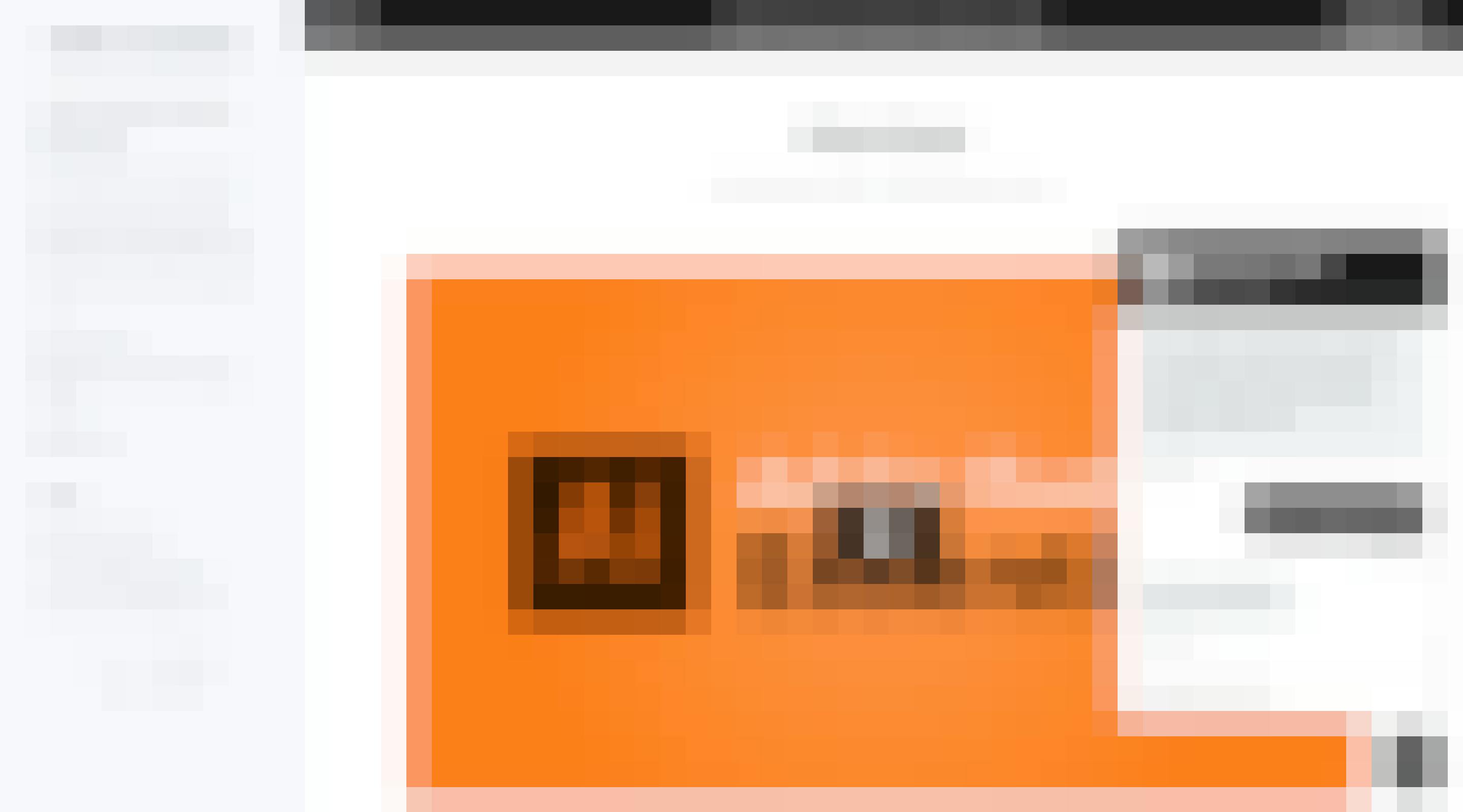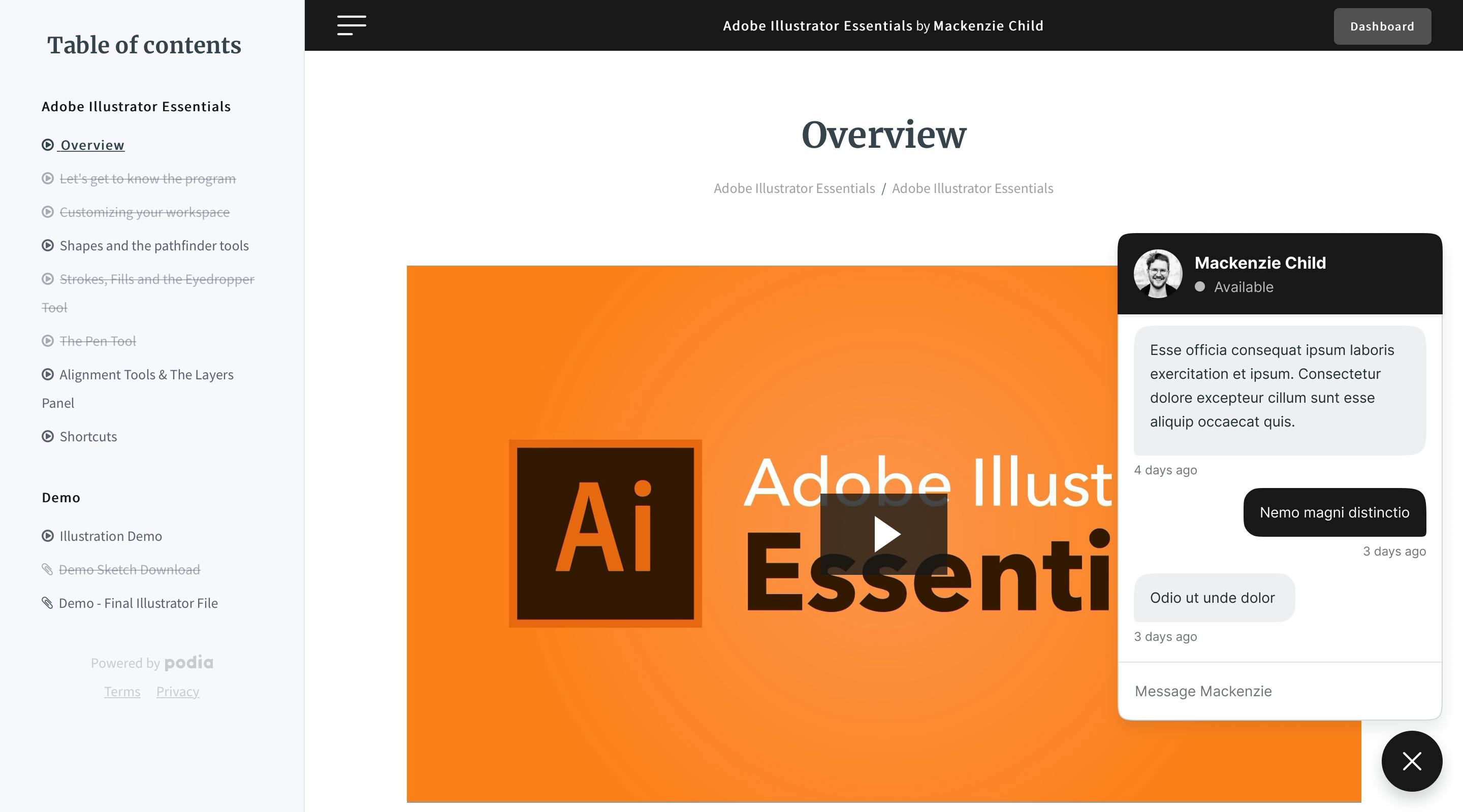 Try Podia free for 14 days
Join 25,000+ creators who are already using live chat (at NO extra charge!) to engage customers and sell more products.