7 tasks that digital entrepreneurs can outsource
Digital creators are busy people -- too busy not to outsource these 7 tasks. Check out how, why, and what tasks to outsource to grow your business.
August 7, 2019 by Taylor Barbieri
---
Your plate is piled to the ceiling with tasks.
You design your products.
Market them.
Offer customer support.
Manage your website and product pages.
And you feel like there's not much more you can take on without your quality of work and mental health taking a major hit.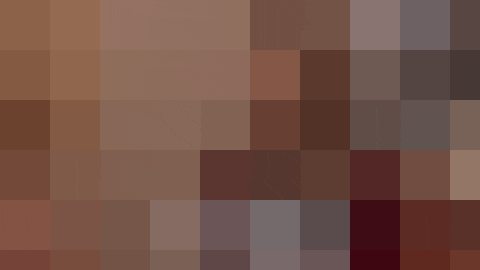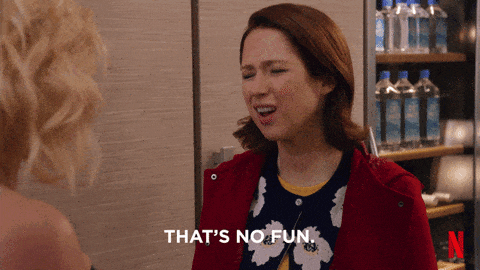 From financial, health, and productivity perspectives, it makes sense to outsource these tasks so you can focus on the tasks where your skills can make the most impact.
But it can be difficult figuring out what to outsource and what to keep in-house if you've never outsourced work before or if your budget is limited.
That's what this guide aims to alleviate. Today, we'll go over the seven easiest and smartest tasks to outsource so you can lighten your load and get back to what matters -- creating.
The first one is an easy sell if, like me, you'd rather time travel to have words with Pythagoras than spend hours crunching numbers.
Task #1: Bookkeeping and accounting
If you're earning less than five figures from your business, you can probably manage your business' finances using a tool like QuickBooks.


If you're earning more than that, then working with a freelance bookkeeper or accountant can greatly simplify your financial situation.
Accounting and bookkeeping services for small businesses can help you to:
Estimate and manage quarterly pay tax payments

Pay use tax on business purchases

Manage your cash flow so you can afford all of your business tools without having to take on unnecessary debt

Follow state- and country-specific tax rules
Unlike accounting software, a bookkeeper or accountant can give you personalized advice and answer questions in greater detail since they're familiar with your specific tax situation.
In fact, some bookkeepers specialize in helping professionals in certain fields, which can offer you more peace of mind and clarity than working with a general small business accountant or bookkeeper.
The Musician's Bookkeeper, for example, specializes in bookkeeping, tax preparation, and financial guidance for freelance musicians.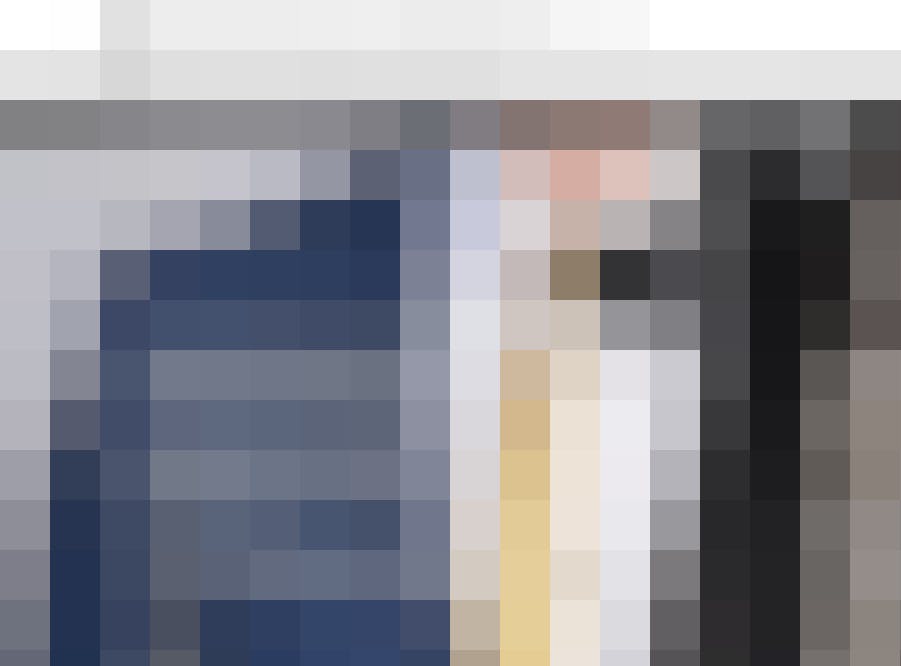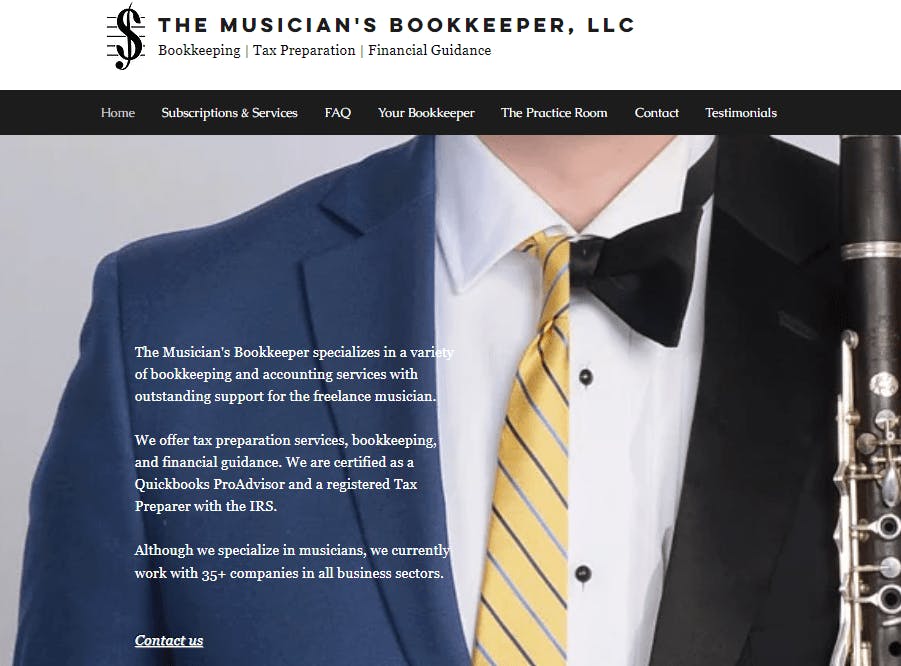 If you're more of a do-it-yourself kind of person, there are plenty of accounting firms like Key Figures that can teach you how to manage your business' finances, too.  
Regardless of whether you need an ongoing or one-time relationship, you don't need to wait to work with an accountant until you're making sales -- accountants can also answer your questions as you're figuring out how to start a business from home, too.  
With 29% of startups failing because they ran out of cash, having an extra pair of eyes from the very beginning can help you to develop healthy financial habits.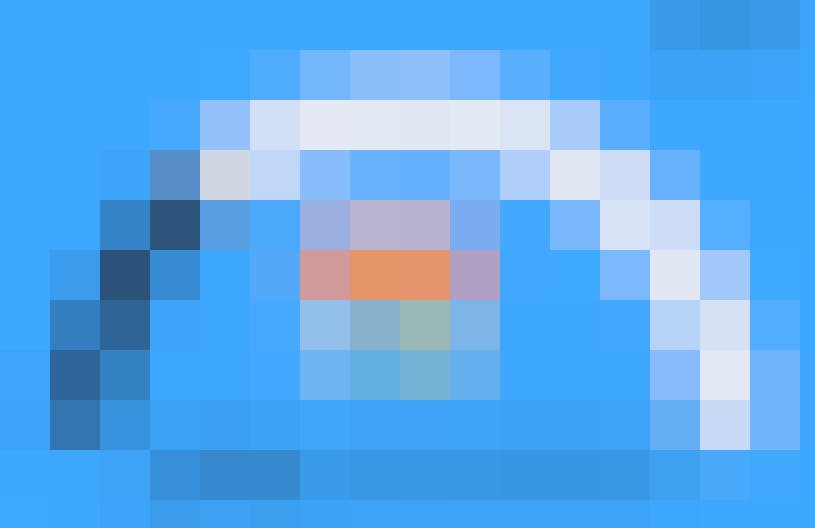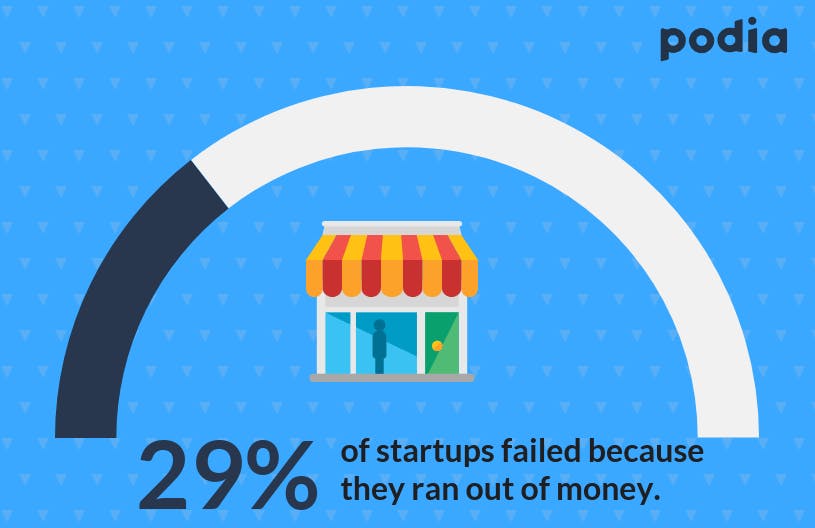 So to wrap up:
As a small business owner, accounting services are among the first you should consider outsourcing (unless you really enjoy analyzing tax codes -- I won't judge).
Bookkeepers and accountants can help you to manage your business' cash flow in the very beginning, make smart purchases, and stay in-line with your country's tax laws, among many other benefits.
They're not the only ones who can help, though. Designers can do a lot for your business, too.
Task #2: Website design
There's a lot more than goes into designing a well-functioning website than a nice WordPress theme.
A whole lot more.
26.9% of website visitors will wait only one to three for a page to load, and 32.3% will wait four to six seconds, for instance.
45.4% of visitors said they would be less likely to purchase something if the page load speeds were slower than they were expecting. 36.8% said they would be less likely to visit that website for the same reason, too.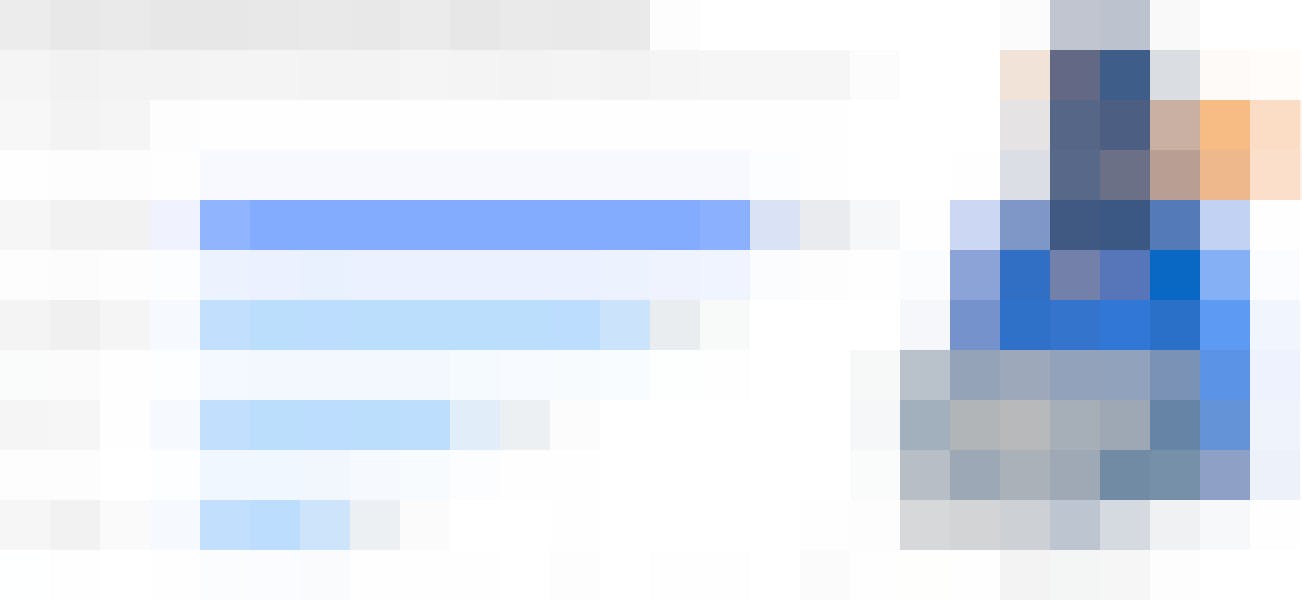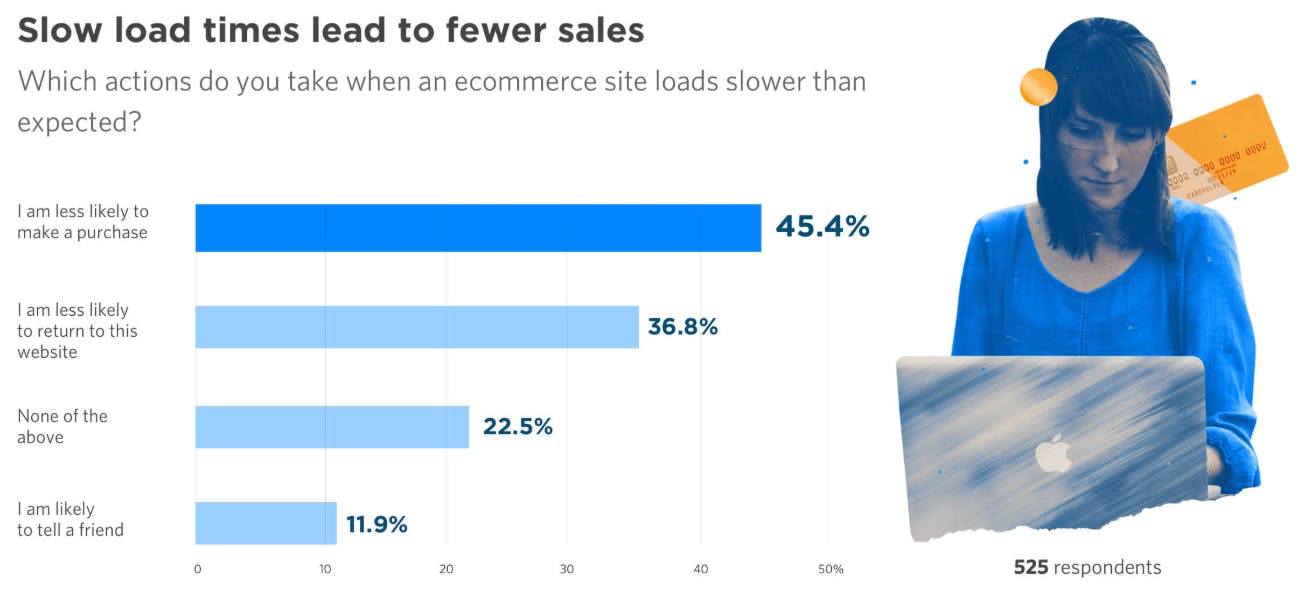 Put another way, visitors don't want to wait long for the information they came for -- and that can hurt your brand if you can't speed up your website.
But there's more to worry about than page loading times. You'll also want to make sure that your site is mobile-optimized, given that 48.71% of global website traffic came from mobile devices in the first quarter of 2019.
Plus, Google announced in 2018 that they're boosting the rankings for mobile-optimized sites in their mobile search results, so having a mobile-optimized or responsive site can help you with search engine rankings, too.
Speaking of speed, with consumers forming an opinion about your website in about 0.05 seconds, you'll need to make it readily apparent that your website is informative, navigable, and visually appealing as well.


All of which is to say it's probably better for your sanity and bottom line to outsource to a website developer, designer, or both if you're new to the online game.
Some developers will even maintain your website after it's been released, so you don't need to worry about revamping your website or managing site meltdowns.
However, if you're not able to find a website designer to fit with your budget, you do have another option: Podia's creator-friendly, no-hassle website and digital product builder.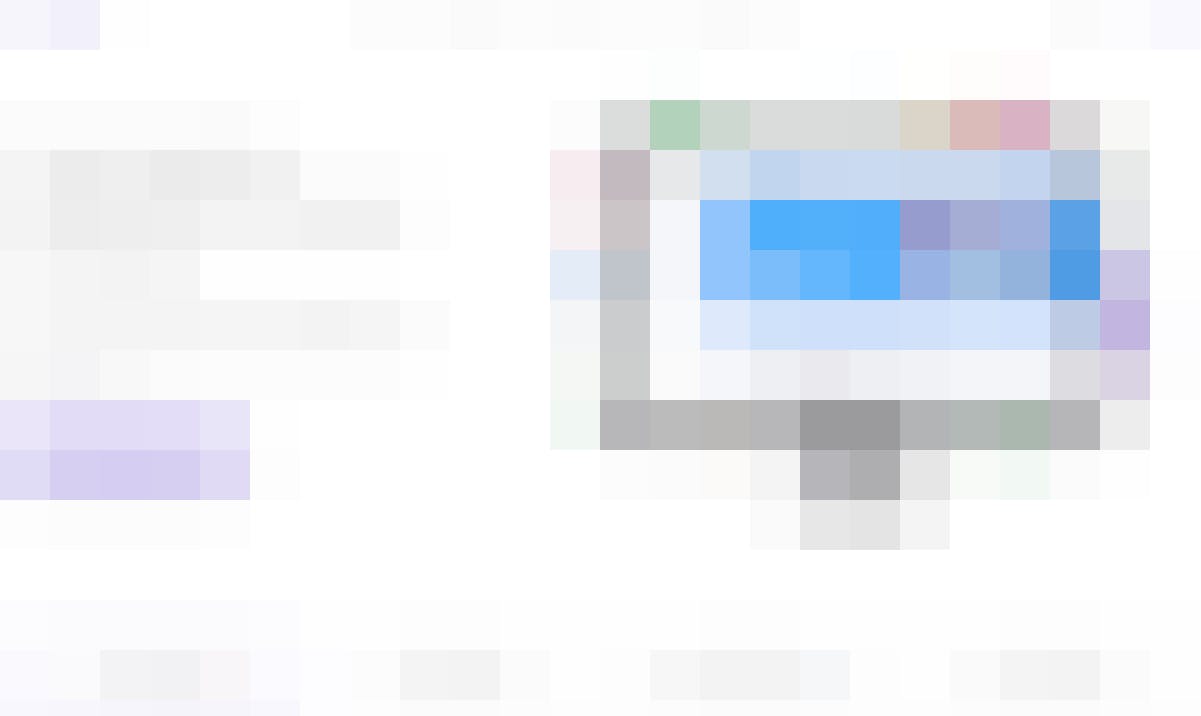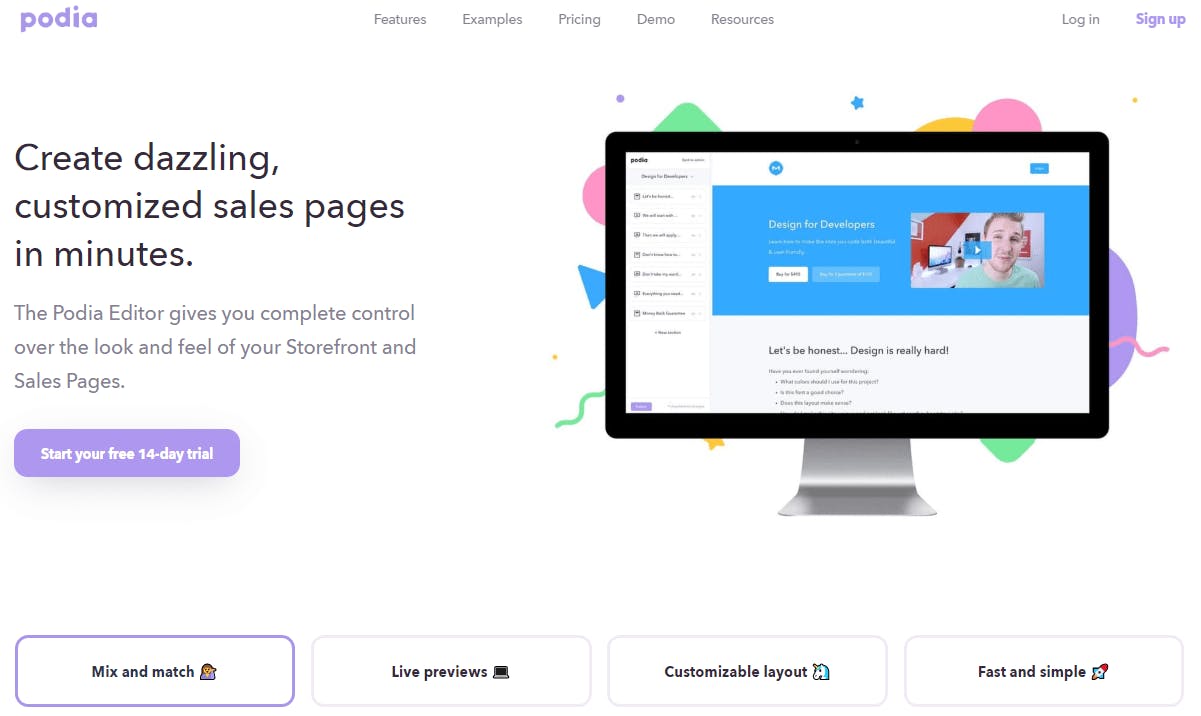 With Podia, you can create a website where you can sell an unlimited number of digital products -- online courses, memberships, and digital downloads -- without ever having to install a plugin.
Mobile optimization, site speeds, and all of the other technical hassles are handled by our team, so you don't have to worry about those and can focus on creating instead.
Give Podia a spin trial with a 14-day free trial to see just how much time and money it can save you in the long term.
(P.S.: Are you a developer yourself? Then check out this guide on how to earn more as a developer.)
Basically:
Whether you built your website on your own or hire a website developer, you need a search engine- and visitor-friendly website that encourages your visitors to stick around.
You'll need to pair smooth promotional copy with your website for maximum effect, for that matter.
Fortunately, that's something else you can outsource.
Task #3: Copywriting
When you write content for your blog or social media posts, you want it to be casual, engaging, and informative.
But when you write copy for things like your landing and sales page, you need it to grab your reader in from the first letter and convince them to take some action.
Consider this copy from 99designs' pop-up subscription box.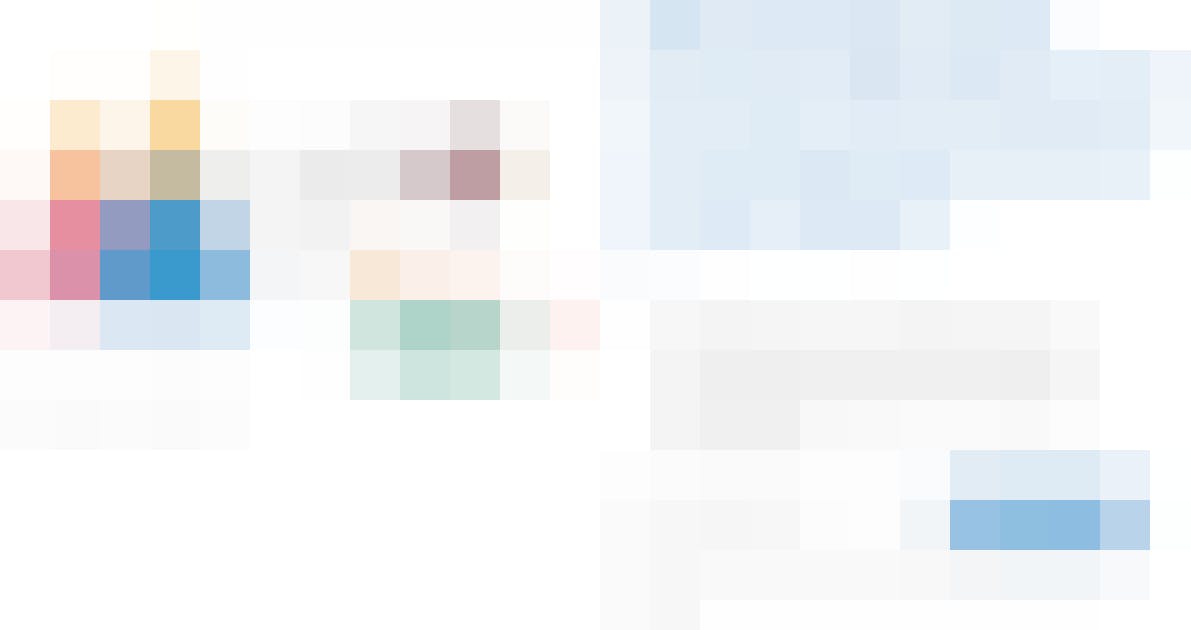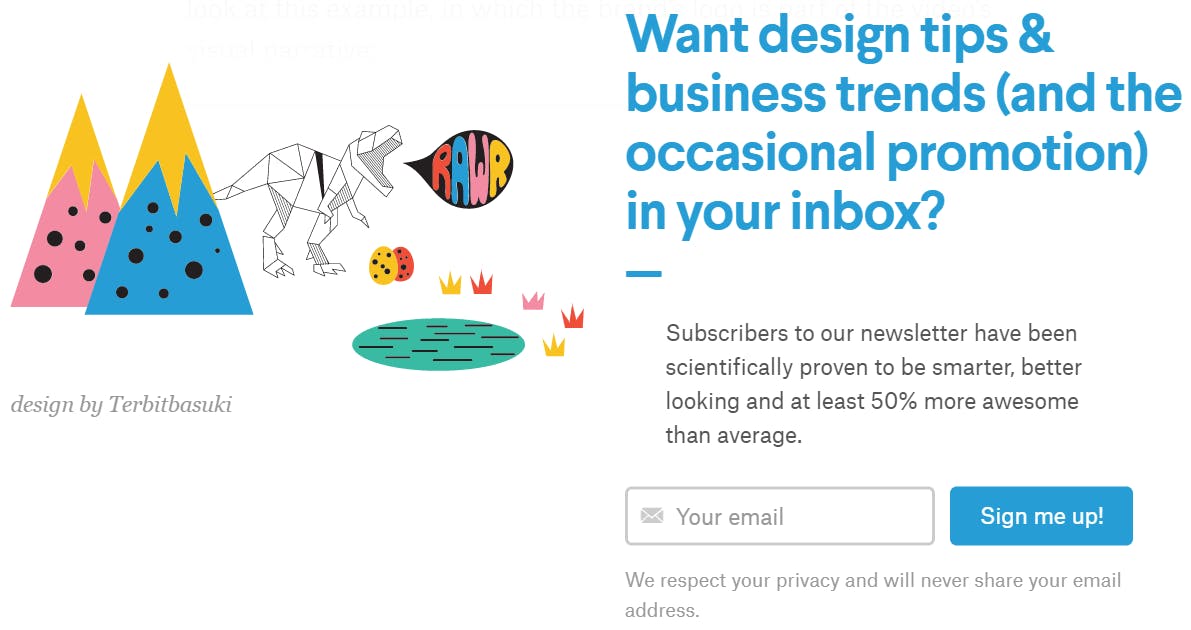 99designs makes it clear from the beginning how visitors will benefit from joining their list with their bold, to-the-point headline.
They next follow it up with funny yet memorable copy that helps the visitor understand their brand's personality more and gently compels them to action -- who wouldn't want to be at least 50% more awesome, after all?
To get copy that wonderful, you need to do one of two things: The first is to learn how to use copy as your top online salesperson so you can write sales pages that convert and other high-converting promotional copy.
Alternatively, you can hire a copywriting pro to work out the details for your sales pages, landing pages, emails, and more.
But making your copy witty and memorable is just the tip of the iceberg in terms of what a copywriter can do for your brand.
Copywriters also know how to artfully speak to your audience's desires and aspirations while subtly outlining how your brand delivers those.
Just consider this email from UrbanDaddy.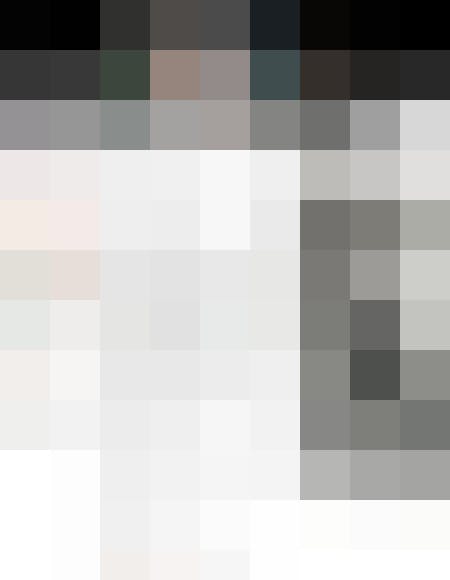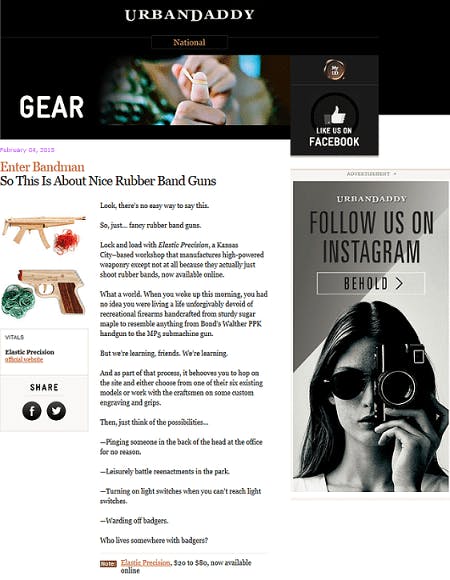 Though relatively short, the copywriter behind UrbanDaddy's email spoke to their readers' desire to have more fun by pointing out all of the ways to use the rubber band guns.
They also used self-deprecating humor ("Look, there's no easy way to say this. . . ") as a segue to talk about the product's features and design.
So, even if you feel you have a way with words, outsourcing your sales copywriting to a copywriter can drastically elevate the quality of your sales writing. Better sales writing means better sales, period.
If you do choose to tackle writing on your own, though, you'll definitely want to outsource the next task: the editing side of content creation.
Task #4: Editing (articles, videos, and podcasts)
Consumers love content from brands.
For example, 60% of Americans over age 12 have listened to some sort of online audio in the past week, with an average listener spending 16.43 minutes listening to online audio each week.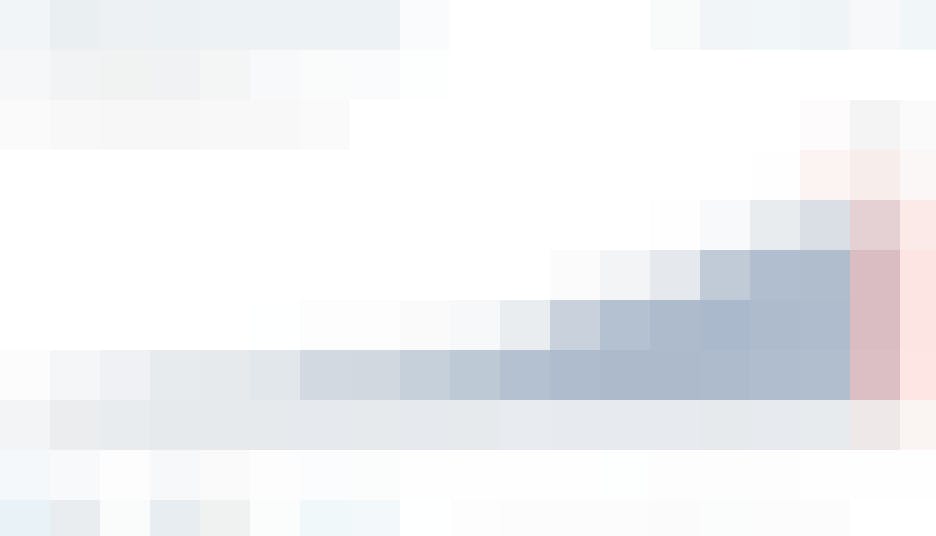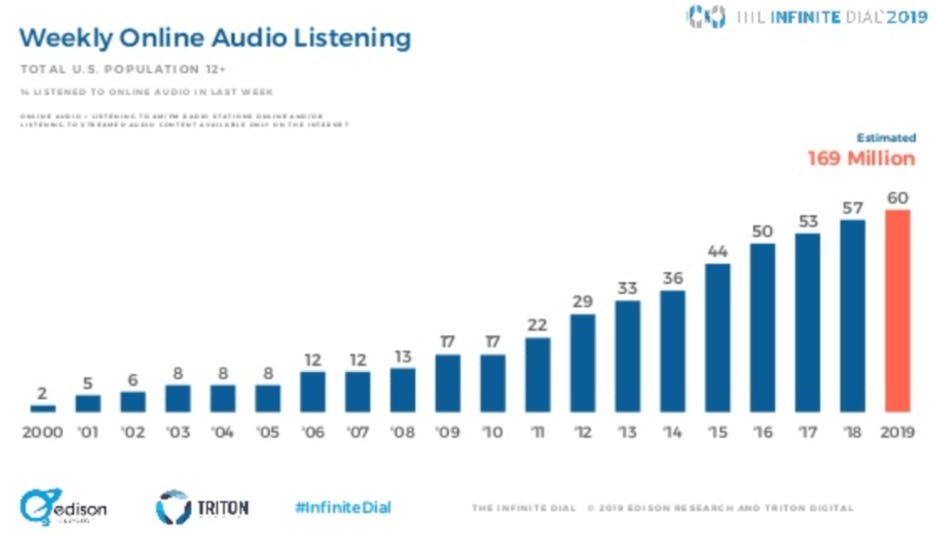 86% of consumers say they use YouTube to learn new things, and over 7 in 10 people go to YouTube for help solving a problem.
18% of consumers want to see more blog articles from brands.
That's a lot of content your audience could potentially enjoy from you, and a lot of content you could use to earn your audience's trust, loyalty, and dollars.
Content that has typos, flubs, or isn't as refined as possible won't convert your followers into customers or encourage repeat sales, however.  
So to both attract and convert more leads, you'd be well-served by hiring an editor to make your work shine.
Because each medium -- text, video, and audio -- has so many quirks and intricacies, make sure to find an editor who specializes in one medium, such as Podcast Buddy, which focuses on podcast editing, or the countless content and copy editors online.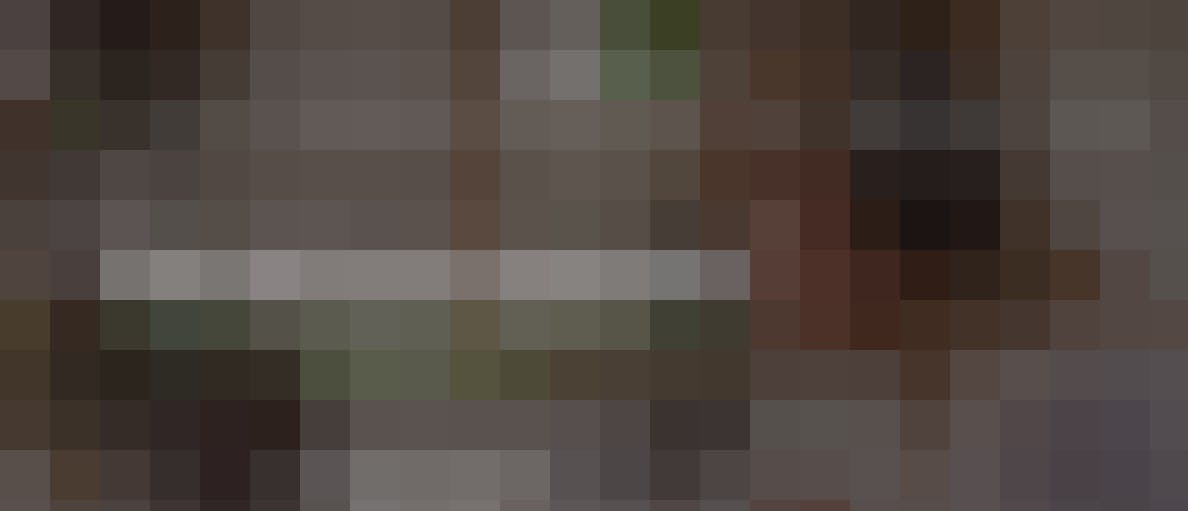 This is a simple one, so I won't spend much longer on it:
Having content that is well-scripted and -edited is a must for any digital creator serious about earning their customers' trust and respecting their customers' time and money.
A second set of eyes isn't a luxury if you're trying to sell products. It's a critical part of quality assurance.
So, whether your content is written, recorded, or presented, don't neglect the opportunity to make it better and find an editor who can elevate your brand.
And while you're at it, look for a graphic designer who can do the same.
Task #5: Graphic design
Whether you're selling digital downloads from your website or using free digital downloads as lead magnets, you'll need a stellar design to match your ebook's content.
That's where graphic designers come in. Although graphic designers often know their way around website design, where they shine most is with visual content.
And with 32% of marketers saying visual images were the most important type of content and 80% of marketers using them in their social media marketing, you'll need that same shine to stand out from the crowd.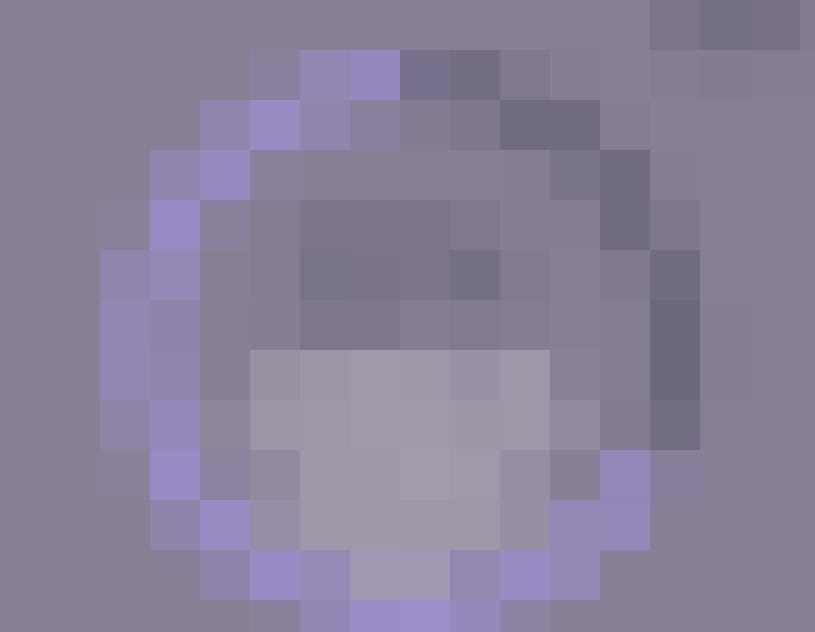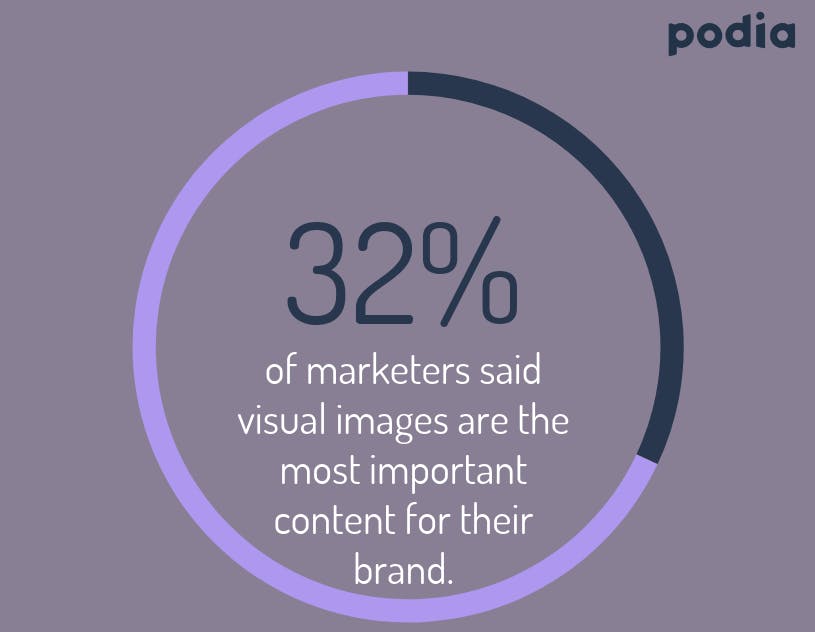 So if you were never one for toying with color codes and layouts, there are plenty of graphic designers who could create stunning graphic content for your business.  
Graphic designers can help you to pick templates that work with your brand and content and which naturally move the reader from section to section.
This report from Sprout Social, for example, gracefully balances eye-catching design with information that's presented in an easy-to-understand way.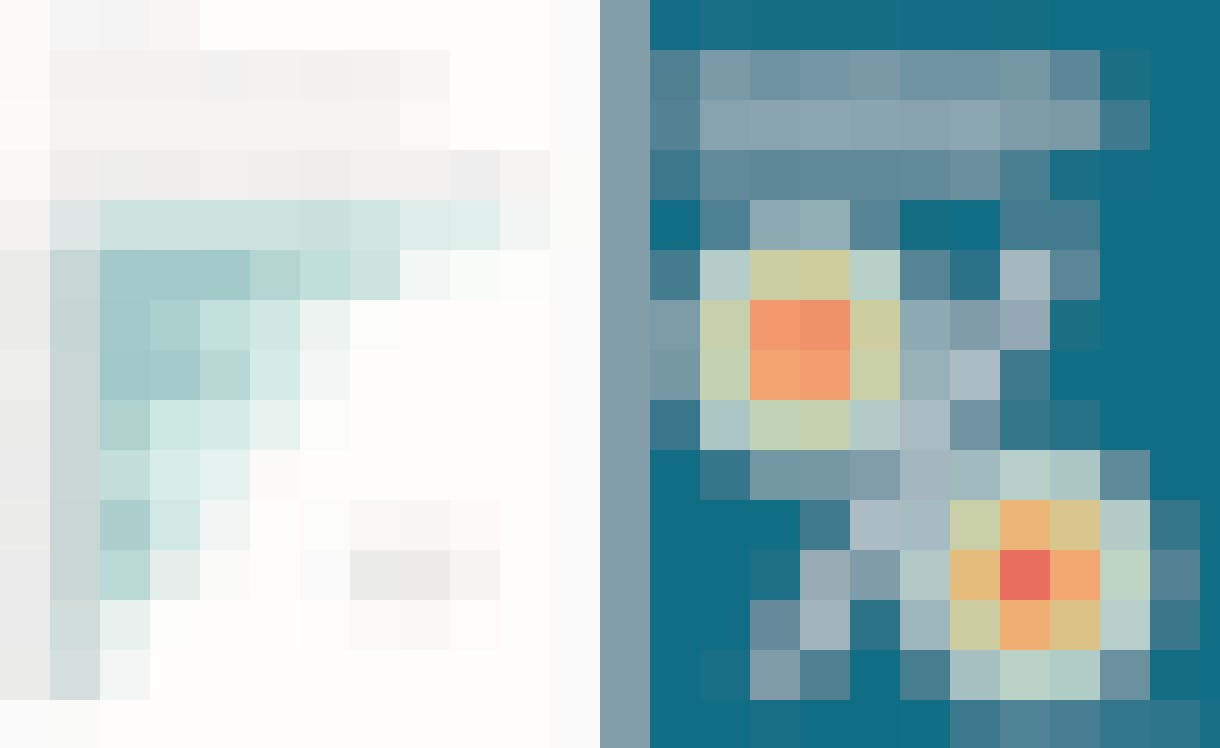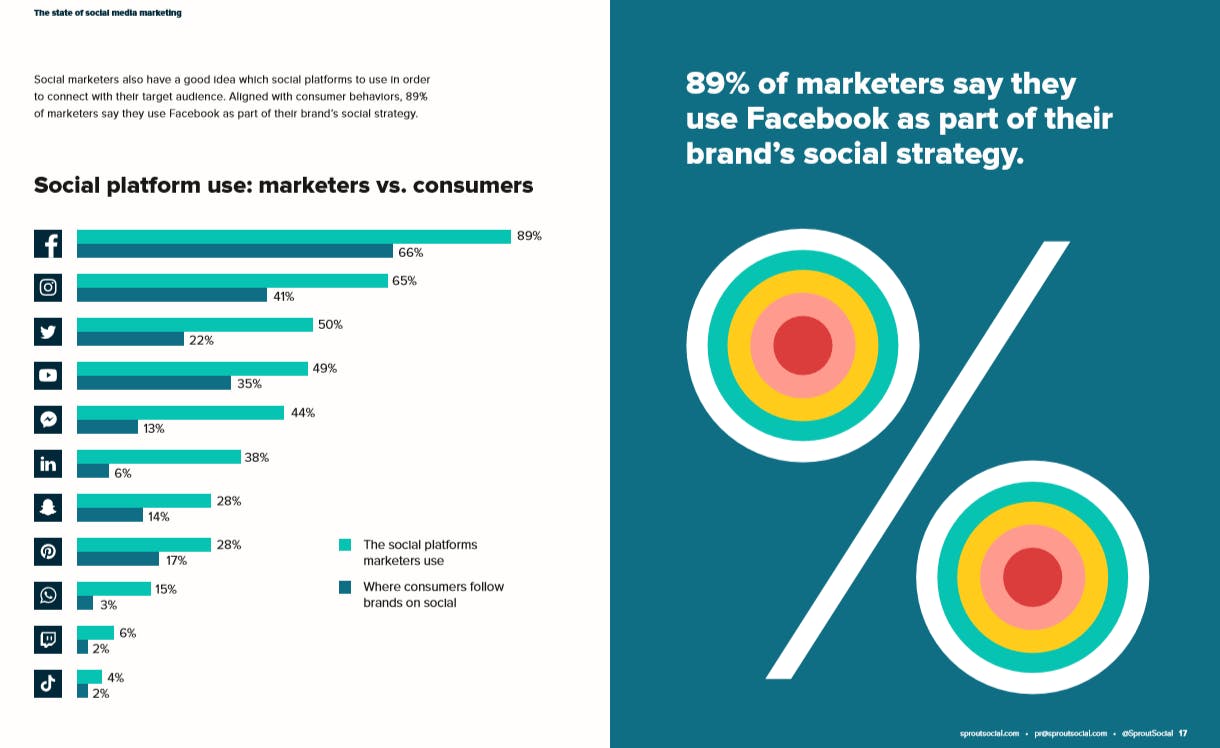 Don't sweat it if your digital download isn't a data-heavy case study or report like Sprout Social.
There are plenty of graphic designers, such as Audrey Keszek, who help publishers and authors to create visually-stunning ebooks.
A graphic designer can also help you to repurpose your written and video content into graphical forms, such as turning a popular blog post into an infographic or graphic series for Instagram instead.
They can do wonders for improving your social media outreach, too, which is something else you can outsource.
Task #6: Social media marketing
On social media, brands need to be authentic yet professional, informative but not overly promotional.
You'll also need to tailor your message to each platform, given that each one serves a different purpose.
YouTube is good for consumers who want to find out about new stories and offerings, whereas Instagram is good for connecting followers with brands and helping consumers to find new trends.
It's a lot to keep track of, and probably why 59% of marketers have said time keeps them from doing strategic social media work.
17% of the same group of professionals said they feel unsure of where to start.
For those reasons, coupled with the average business owner being responsible for 4.2 roles in their business, it probably makes sense to work with a social media manager.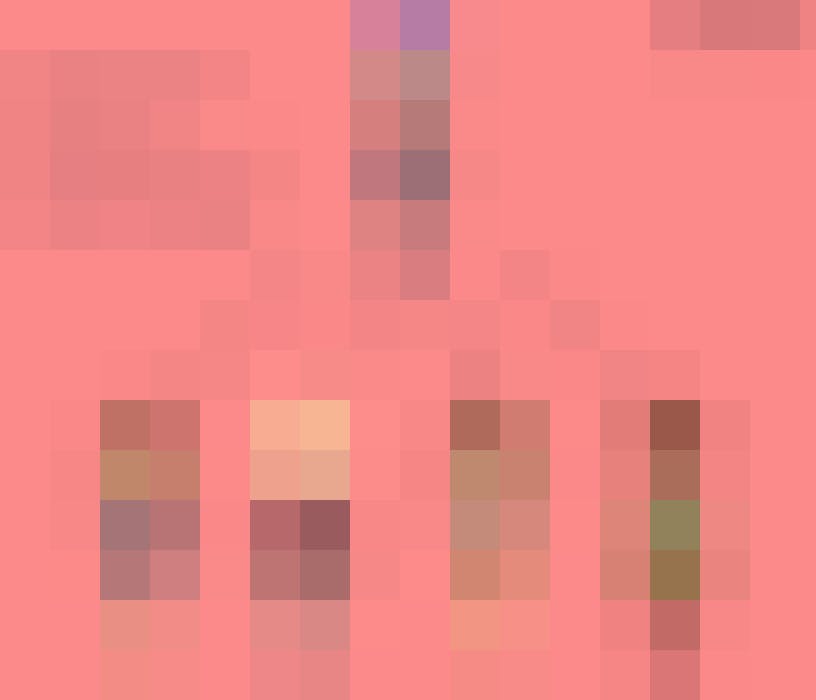 Social media managers can do more than guarantee that you have content to share every day.
Among many other things, a social media manager can:
Offer customer support on your brand's channels

Find and archive content to share from both your own brand and related brands

Measure your engagement rates, follow rates, etc.

Help you put together a solid lead-generating social media strategy
Whether you need help with some or all of these things, you're bound to find a social media manager at your price points, from large established agencies to smaller businesses like James + Park which can work with growing brands to set up their social media.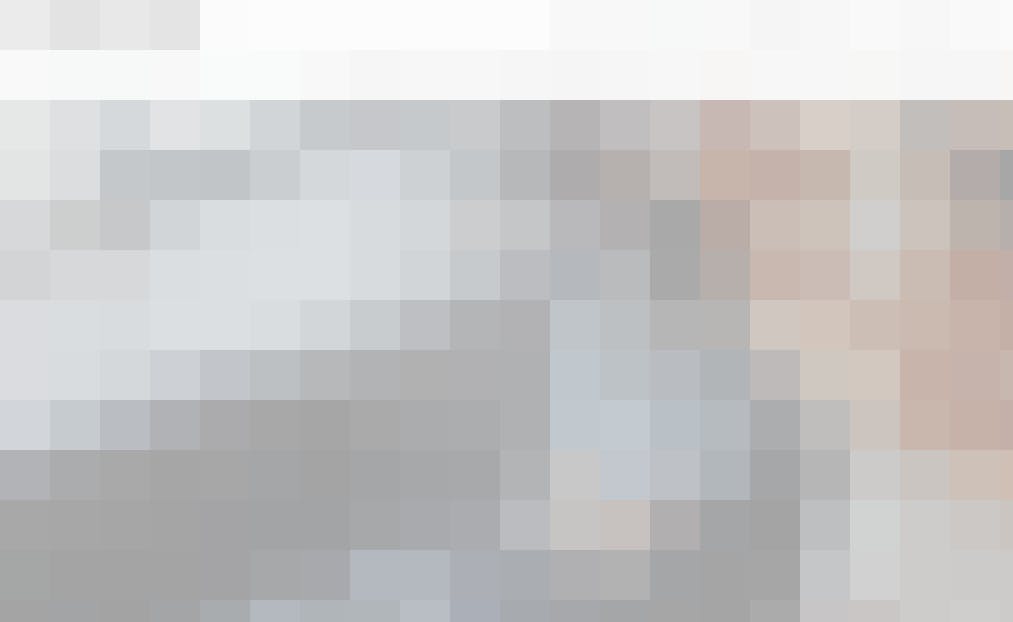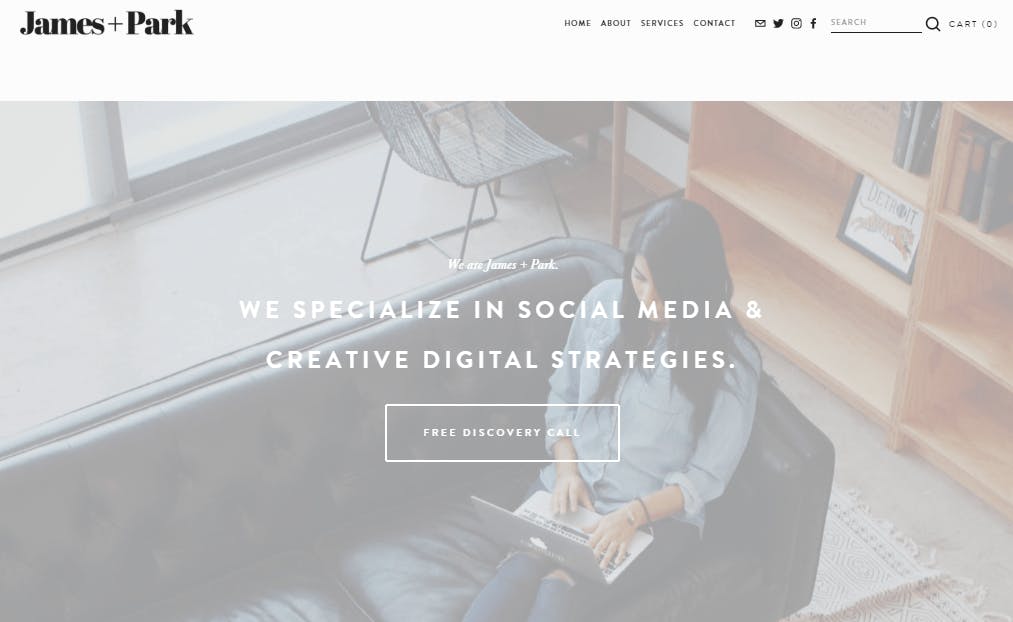 It breaks down like this:
Hiring a freelance social media manager is one of the savviest moves you can take as an entrepreneur who wants to raise awareness of their brand, connect with their customers, and attract more leads without giving up every vacation day of the year.
As is hiring someone for the final outsource-friendly task for the day. Often, they can even be the same freelancer.
Task #7: Email marketing
Given email's potential for high ROI -- around $39 for every dollar spent, according to recent research -- email marketing is certainly worth outsourcing to an email marketing specialist.
And if you're thinking of using an email marketer just to take your weekly newsletters off your plate, you're not thinking big enough.
Email marketers can also create welcome and onboarding for new subscribers so they can learn more about your brand and what you can offer them.
This email copy from Casper is a standout example that other welcome emails should aspire to be like (you can read the full email here).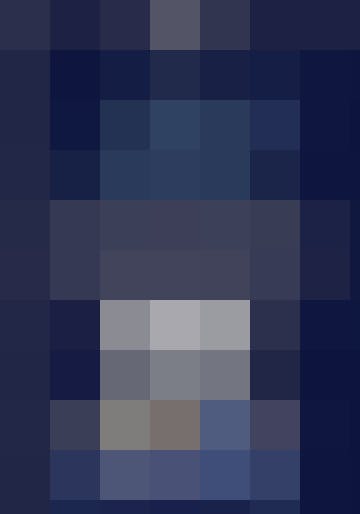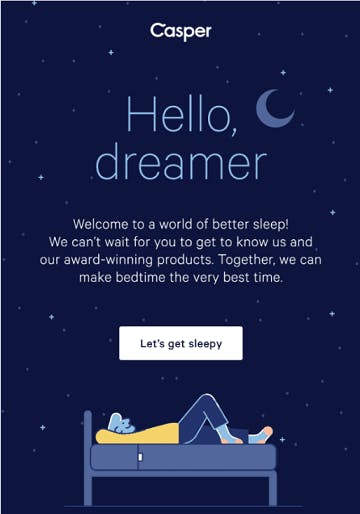 Although a short email, Casper used wordplay to reveal the brand's personality while also encouraging the reader to learn more about Casper. There was an excellent email marketer behind this email.
Email marketers typically aren't one-trick-ponies, either. An email marketer can also help you create automated nurture sequences to encourage your subscribers to make a purchase or promotional emails to advertise a sale.
Think emails can't do much to impact your customers' behaviors? If your customers are millennials, the data disagrees.
68% of millennials say promotional emails have affected their buying behavior at least on a few occasions.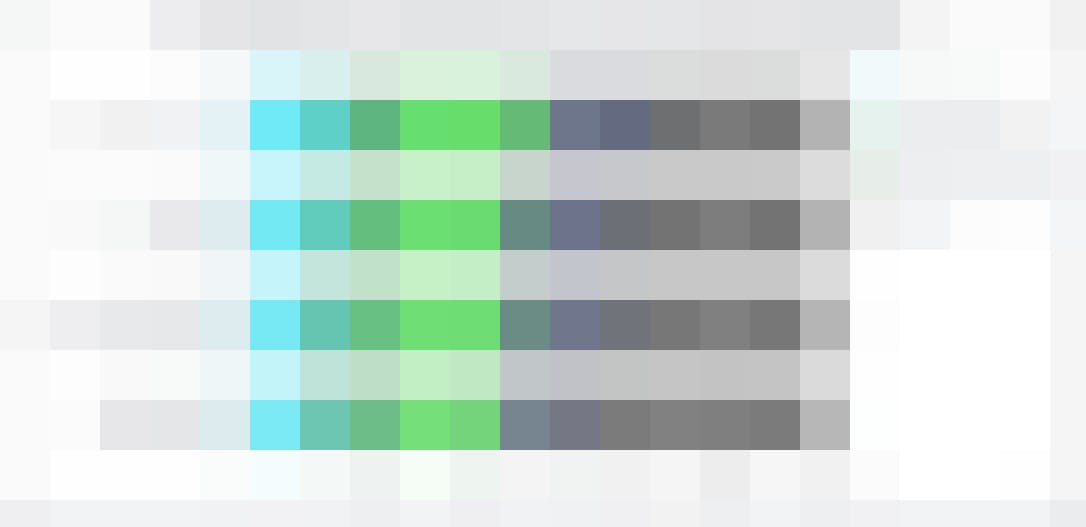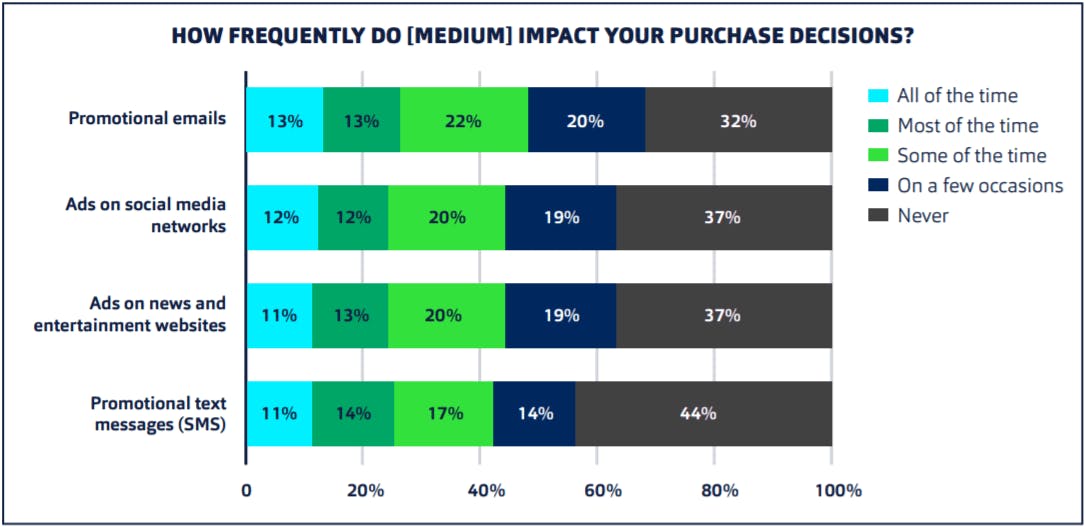 And since millennials make up a quarter of the US population, chances are they constitute a significant minority (or more) of your audience, as well.
Lastly, an email marketer can help you to convince happy customers to spread the word about your brand and reward them for it, too.
46% of shoppers seek information from friends for buying decisions, so chances are your happy customers are already talking about you to others.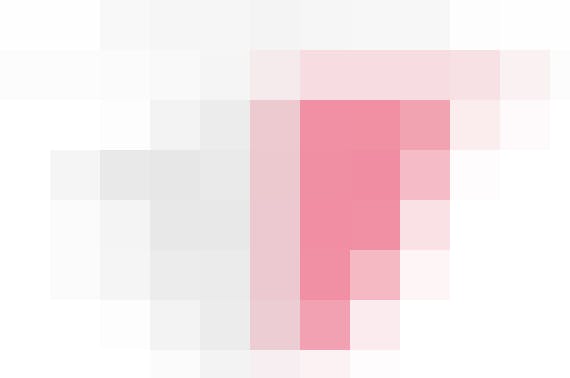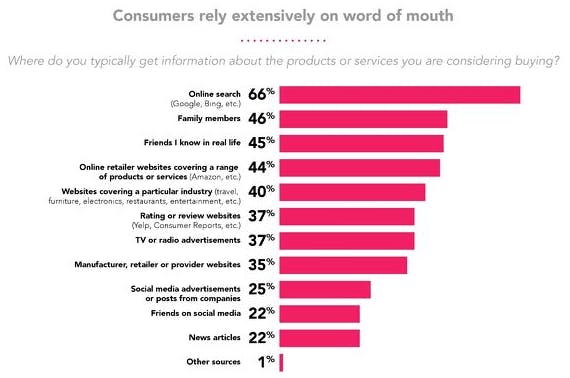 Besides, given 64% of consumers are willing to exchange their data for things like coupons and loyalty points, it makes sense to use email to promote a referral program for your customers.
Postable, for example, offered subscribers $5 for every new customer they recommended, whereas apparel company Bombas offered a pair of free socks for every referred customer.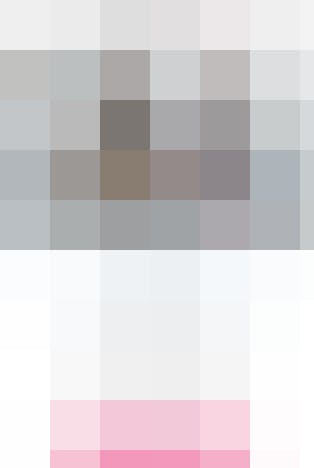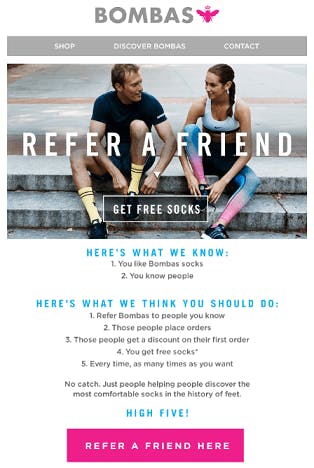 Of course, feel free to tailor the referral award to whatever makes the most financial sense for your brand and audience.
Otherwise, as long as you have a competent email marketer at the helm, you can't go wrong.
The 10-Step Product Bootcamp
Your next successful project starts now. Learn everything you need to know to create AND launch your next digital product in 10 steps.
Get access
Earn more money by saving your time
As an entrepreneur -- whether a solopreneur or side-hustler -- there's no shame in outsourcing work to other professionals who can help your business to succeed and give you a little breathing room.
Practically any business project imaginable can be delegated to a professional, but some of the most common outsourceable tasks include:
Bookkeeping and accounting so you don't have to worry about managing your business' cash flow or staying on top of new tax laws

Website design so you can have a customer-optimized website without hours of technical hassle and frustration.

Copywriting so you can have well-written sales pages and marketing copy that turn leads into customers

Editing for your blog, digital downloads, videos, online courses, podcasts, and other free and paid content so you always have superb content to share with your audience

Graphic design if you're a creator who doesn't have time (or the knack) for visual content.

Social media marketing if you feel social media is an under-utilized marketing channel for your business

Email marketing so you can nurture your subscribers into customers and reward existing customers for referring their friends and family to your business
As a digital product creator, it can feel strange to delegate projects to others when you've nurtured your business alone for so long.
However, seeking external help is integral if you want your business to grow, and give yourself breathing room to focus on tasks where you excel.
So whether you can only work with one or two freelancers part-time or are looking for a long-term partnership, now's the time to start seeking out other professionals to help you. When you're drowning in to-do lists, you can only benefit from bringing more hands on deck.